Photographs of my train journey to Srimangal. The natural beauty of a winter morning.(part-3)
Hello,
How are you all!! I'm fine. Got a lot of support by posting on the photography lovers community. Today I will share some other photos. Today's post is a bit special. Train journey is my favorite. Today I will share some photos taken at different stations during the winter morning train journey. Hope you like it. I haven't done a lot of train journeys. Opportunities do not come easily. Because traveling by train takes more time, while traveling by bus takes less time. But last winter I went to Sylhet by train.
I boarded the train at night. The purpose is to see Sylhet district of natural beauty in the morning. I slept on the train at night. I set the alarm for 5 am. So that I can do some photography in the morning. The train stops at many stations. Then I got off the train and was too busy to take pictures. I boarded the train again before the train left.
I will try to give a detailed description of the stations. Although I don't know most of the places. But I will try to explain as much as possible.
It was winter. All around, the cold wind of winter made people unbearable. So I went with good preparation. I don't remember the sequence of the stations. I don't know which station came after which station. I will describe it randomly.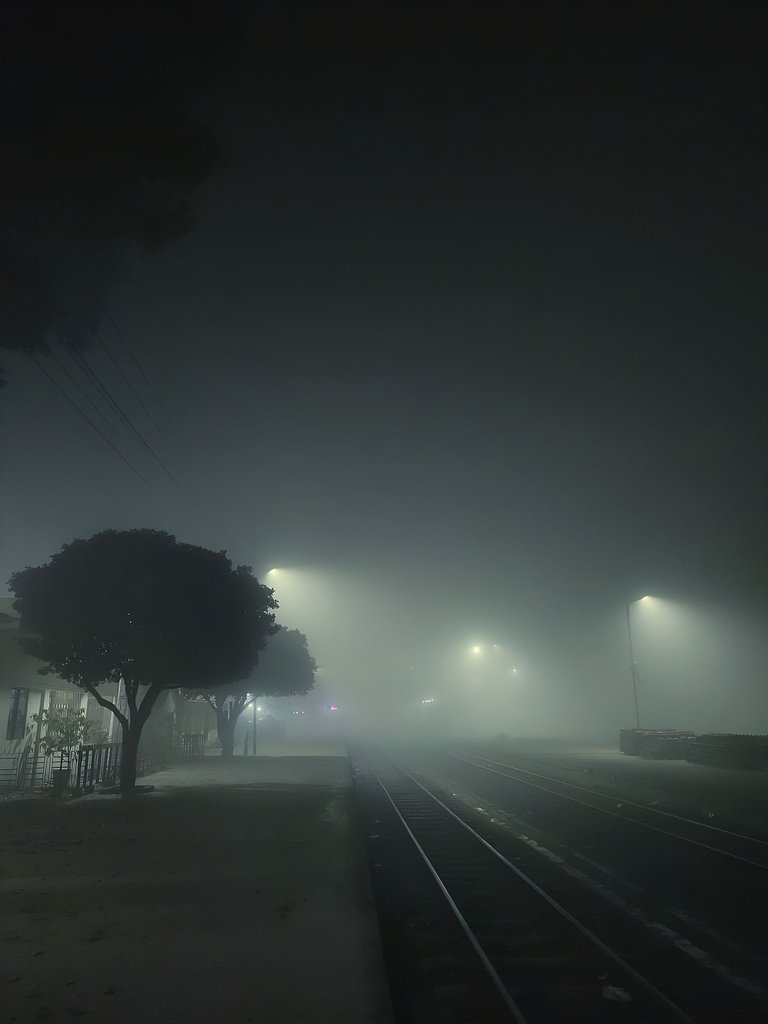 This photo was taken sometime between 5-6 am. Dense fog all around. The train stopped at this station, but no one got off. Only two people got off. An eerie atmosphere prevailed in this uninhabited station.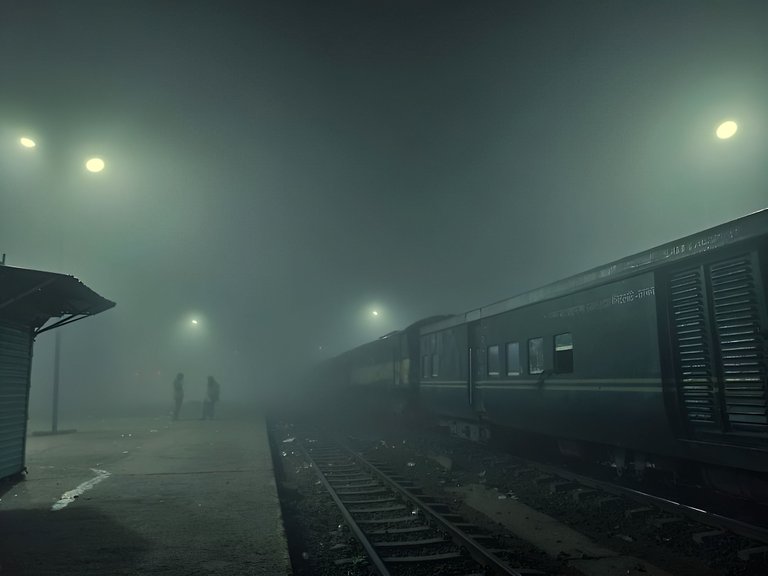 I read a story about Dracula. One such station was mentioned in that story. In that story, it was winter in the story of the station. Only there wasn't a horse-drawn carriage here. I was shivering in the extreme cold. And I was afraid. So I clicked a few pictures and went back to the train.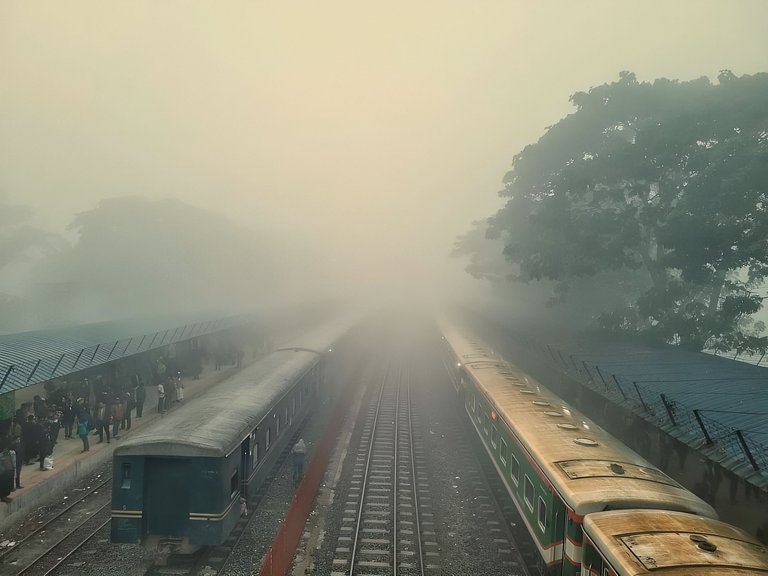 After that I passed a few more stations. But the train did not stop at those stations. Then the train stopped at another station around 6 am. I don't remember the name of the station. There was an overpass at this station. Another train in the opposite direction stopped. I climbed the overpass very quickly to take in this beautiful view. Because the train can leave quickly. I clicked a picture of my mind. I quickly went down from the overpass. Then I lit a cigarette and stood at the door of the train, just then the train left.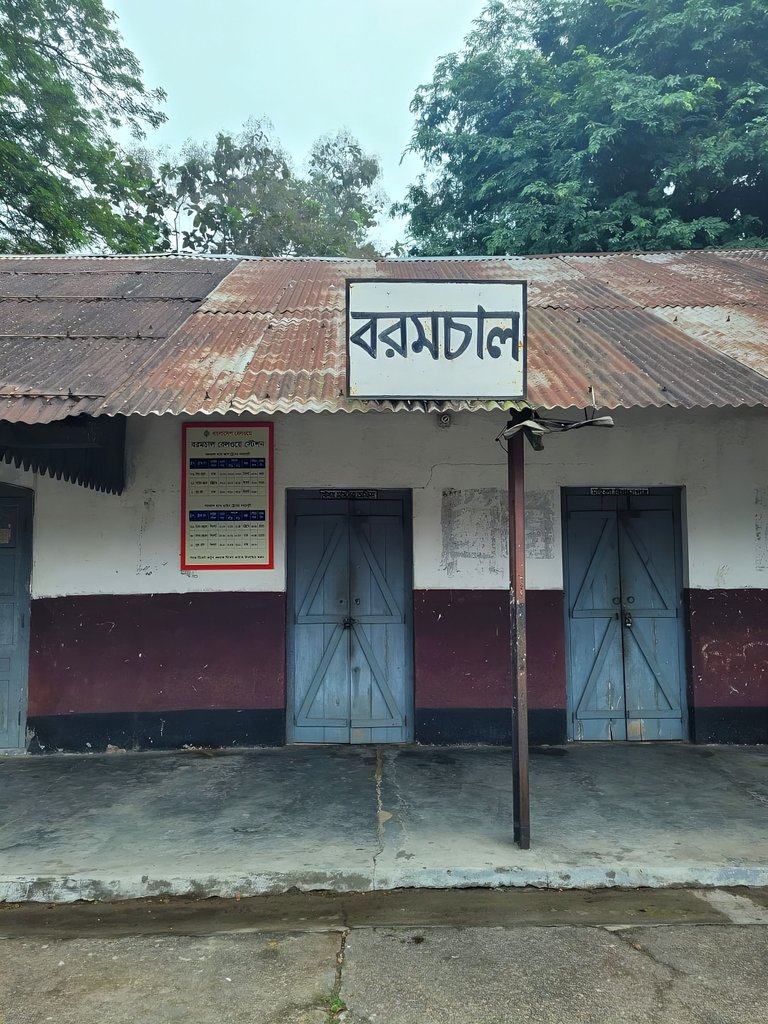 The train did not stop at this station. But it slowed down a bit. It is not a big station. Only local trains stop here. Such an ancient form of this station. Old days door, old style station master's room. Old tin rice. Only the train timetable signboard is new. Antiquity prevailed in everything else.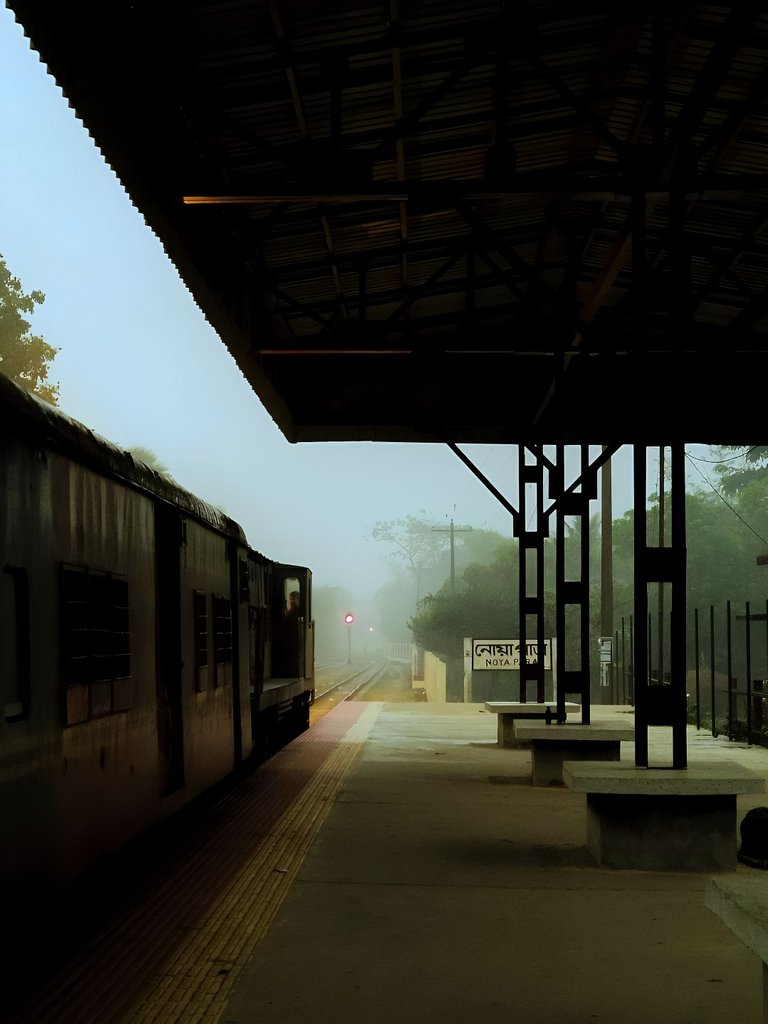 Then the train stopped at Noapara station. There is no sign of a human being at the station either. Not many passengers got off here. Shops were closed. There was no labor. Due to very cold weather, no one was in this open place. The train did not stop here for long. He started running again.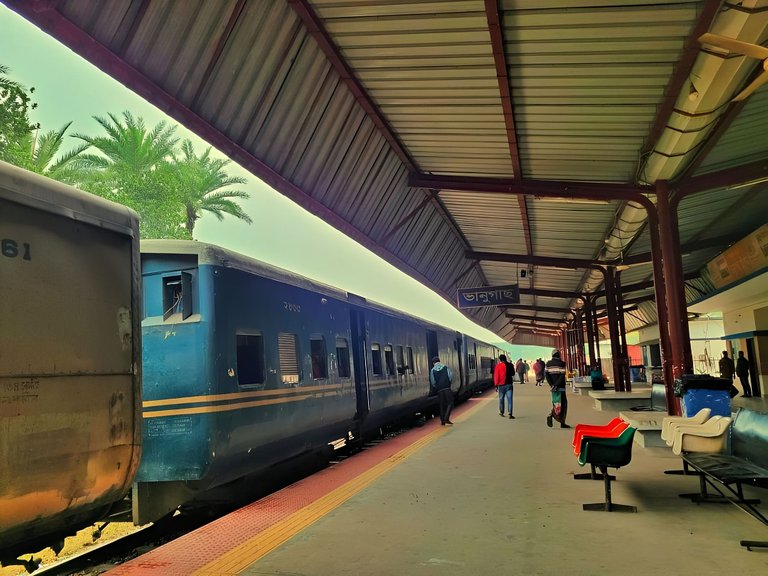 It is very likely that I went to Bhanugach from Noapara. The time was around 7.30 am. There were many people here. Srimangal had many passengers. Shops were open. I drank a cup of tea at this station. Here the train took a break for about 10 minutes. The natural environment on the other side of this station is very charming. I stood at the door of the train and enjoyed the whole time.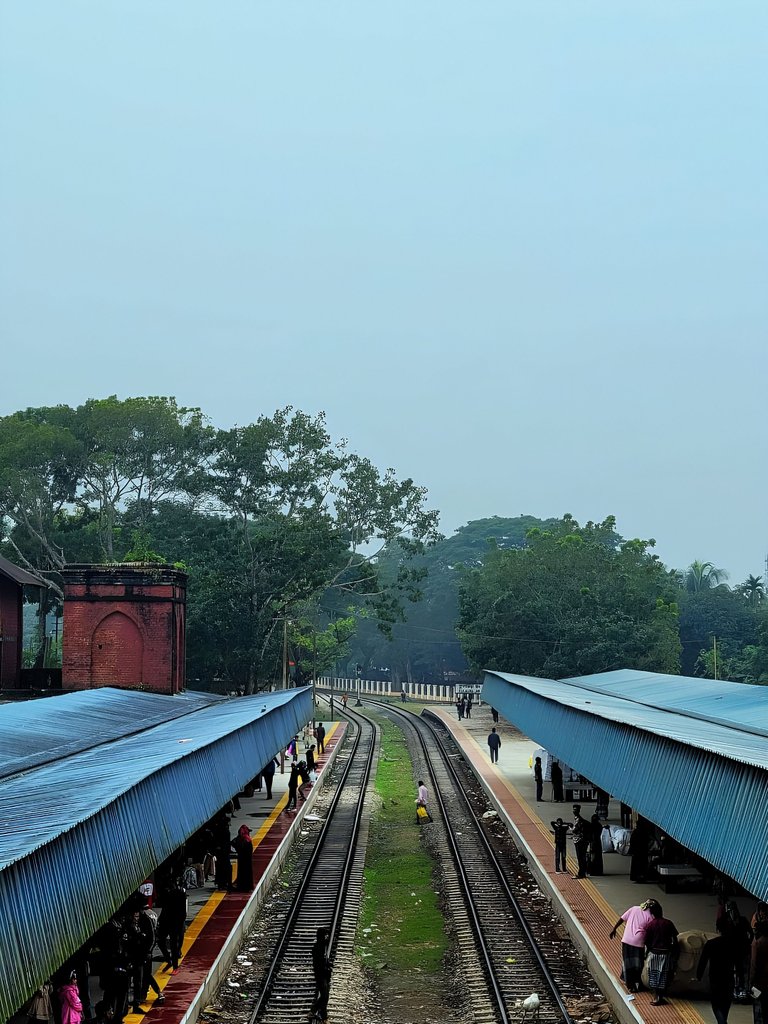 Then the train stopped at this station for 5 minutes. There was an ancient building here. If you look at the picture, you can see. In Hinduism people are brought to such places and burnt after death. Although this station building is abandoned now. People flock here. So these things are not done here now.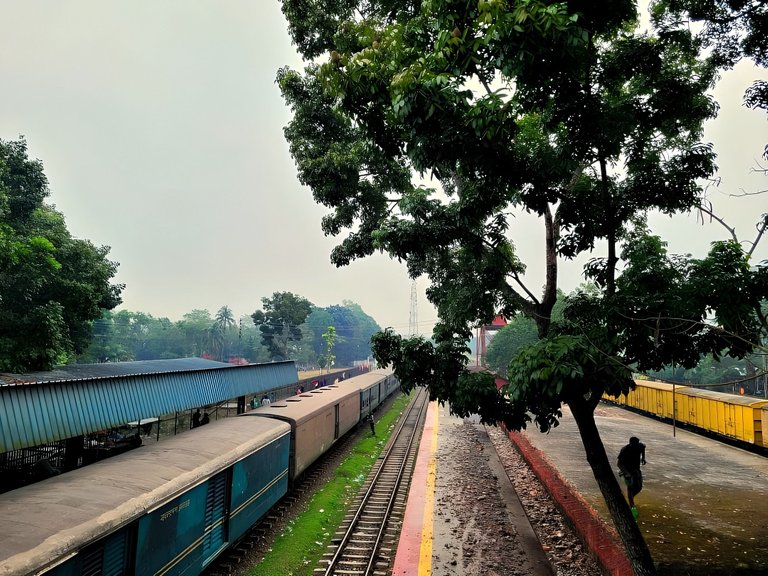 This station is very beautiful. It is a very big station. Many train lines are there. This station has a very large area. A freight train was standing on the other side of our train. Freight trains run very slowly. And by looking at the color of this train, it can be said that it is a freight train.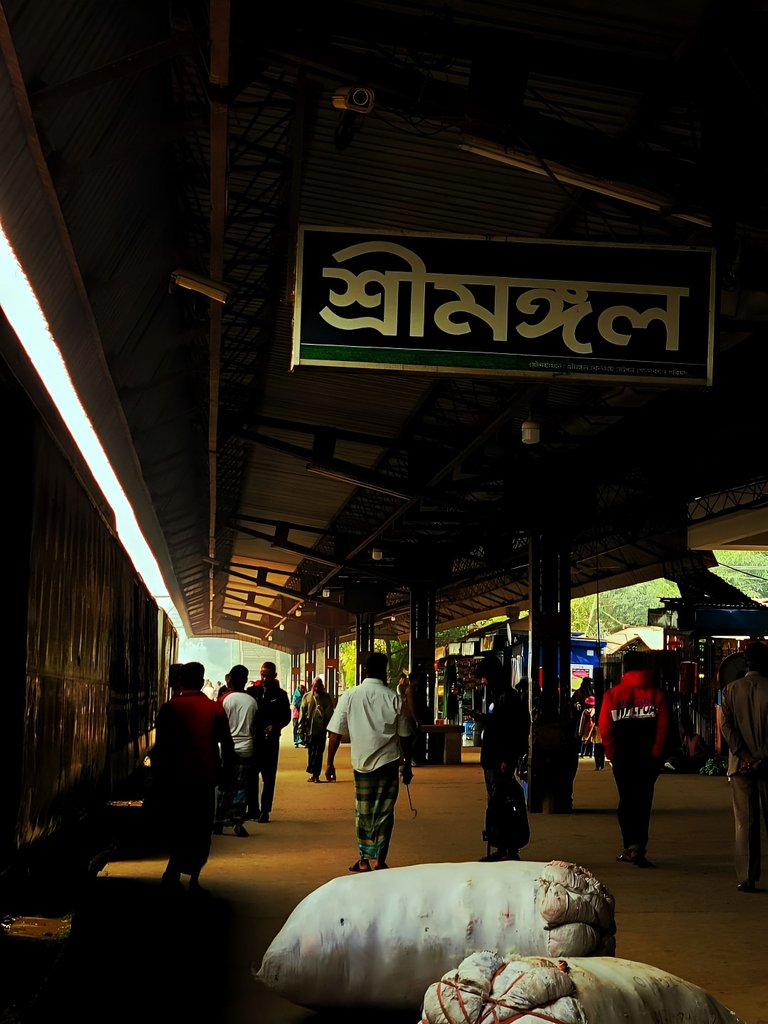 My last destination is Srimangal. After the train stopped here I got down with the luggage. I did not take pictures anymore. Now I have reached the destination, so I got off. But I took a few pictures to keep the sequence of the pictures.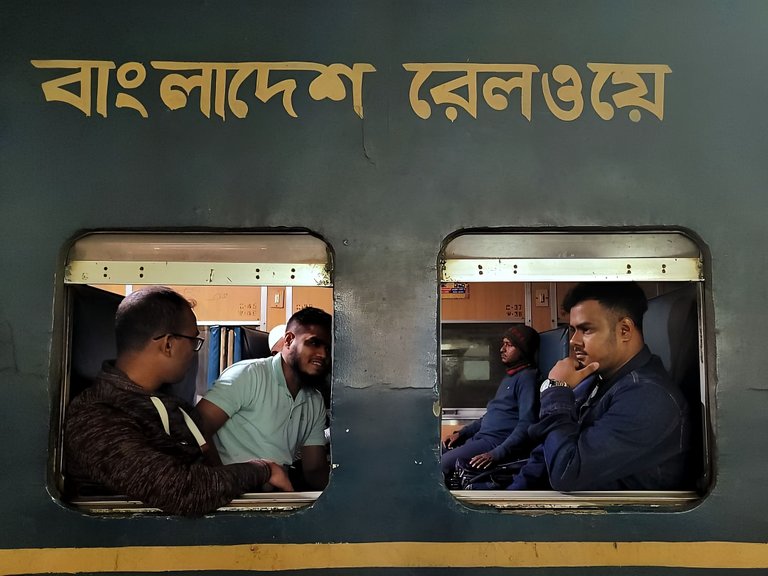 I took this picture while boarding the train at night. Picked up from Dhaka Airport Station. I gave this picture at the end of it all on purpose.😃
Today I have shared only one train journey and train station photos. Next posts will be about the description and pictures of the natural beauty of Srimangal. Srimangal is my favorite place. Being so close to nature fills the mind. See you soon in another blog. Stay well till then.
Thank you for taking the time to enjoy my blog.
---
---