La Evolución de Miley Cyrus – The Evolution of Miley Cyrus
Cuando tenía yo unos nueve años, Miley ya estaba en la cima del estrellato musical gracias a la serie de televisión de Disney. Era una rubia simpática, chistosa, de esas niñas a las que reconoces como ángeles en voz y alma. Nada más lejos de la realidad. Dentro, afloraba un deseo creciente por la irreverencia y el descontrol, pero ¿cómo? No era lo que los niños que, al igual que yo, esperaban de ella tras ese disfraz con peluca. Miley no era rubia en verdad, tampoco era ella… cuando aquel ciclo de niños y cantos inocentes terminó para siempre, vimos a la Miley de verdad: a la alocada, rebelde y controversial cantante que marcó la industria con un talento desaforado, sí, pero no menos especial.
When I was about nine years old, Miley was already at the height of musical stardom thanks to the Disney TV series. She was a cute, funny blonde, one of those girls you recognize as angels in voice and soul. Nothing could be further from the truth. Inside, there was a growing desire for irreverence and uncontrolled behavior, but how? It wasn't what the kids, like me, expected from her behind that wigged costume. Miley wasn't blonde, nor was she... when that cycle of children and innocent singing ended forever, we saw the real Miley: the wild, rebellious, and controversial singer who marked the industry with an unbridled talent, yes, but no less special.
---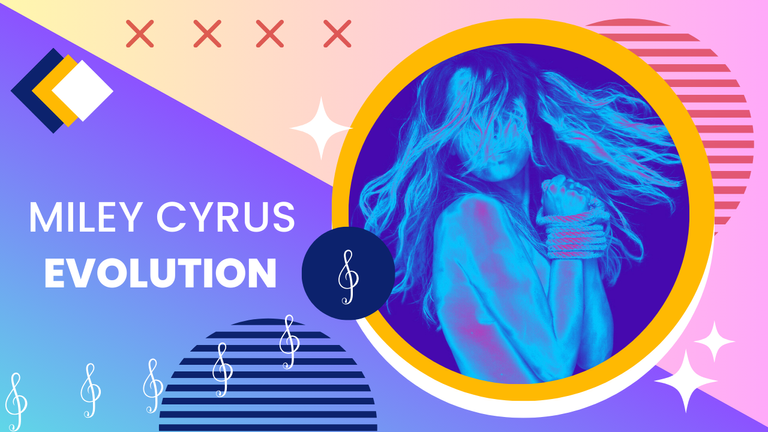 Canvas
---
¿Quién es Miley Cyrus? No es la adolescente que se ponía una peluca para transformarse en una estrella musical. Disney, al menos en aquellas épocas, fue una industria que apostó muchísimo al talento de los potenciales cantantes que protagonizaban sus series infantiles, ¡y vaya que gracias a esto muchos llegaron al estrellato! No obstante, trabajar con esta industria marcaba un difícil precedente para los artistas, al menos en la imagen y el estilo musical. Podías ser un artista de rock, sí, pero no podías pasarte de la raya… eso según lo dictara el contrato. Seamos claros, Disney es inocencia, amor, cosas pulcras. Toda canción y cantante debía amoldarse a eso.
Y es que en su etapa de Hannah Montana Miley ya había hecho historia; la chica simpática y alegre de Disney conquistó el corazón de muchos, tanto en giras, como en álbumes discográficos y conciertos. ¡Era un amor! La serie de televisión seguía siendo un éxito mundial. Claro que todo llega a su final y el embrollo con Hannah salió de las pantallas. Aquella imagen inocente estaba por cambiar. A continuación, la artista comenzaría a probar nuevos estilos… el cambio estaba próximo a llegar, y con este, una renovada Miley que deseaba dejar atrás todo rastro de su pasado, incluyendo la serie juvenil que la llevó al estrellato.
La primera canción que oí de Miley Cyrus, en su cambio de estilo trascendental, fue Wrecking Ball… sin duda, fue un notable antes y después.
Who is Miley Cyrus? She is not the teenager who put on a wig to transform herself into a musical star. Disney, at least in those times, was an industry that bet a lot on the talent of potential singers who starred in their children's series, and thanks to this, many of them reached stardom! However, working with this industry set a difficult precedent for artists, at least in terms of image and musical style. You could be a rock artist, yes, but you couldn't go over the top... that was dictated by the contract. Let's be clear, Disney is all about innocence, love, and neat stuff. Every song and singer had to conform to that.

And in her Hannah Montana stage Miley had already made history; the nice and cheerful Disney girl conquered the hearts of many, both in tours, record albums, and concerts. She was a sweetheart! The TV series was still a worldwide success. Of course, everything comes to an end and the imbroglio with Hannah left the screens. That innocent image was about to change. Next, the artist would start trying new styles... the change was about to come, and with it, a renewed Miley wanted to leave behind all traces of her past, including the youth series that brought her to stardom.

The first song I heard from Miley Cyrus, in her momentous change of style, was Wrecking Ball... Without a doubt, it was a remarkable before and after.
---
---
A partir de allí mi percepción hacia la cantante cambió rotundamente, o sea, fue un choque de estilos sin precedentes. Miley había triturado en migajas esa imagen inocente que Disney vendió por mucho tiempo, y con la cual quizás no se sentía tan identificada. Los escándalos comenzaron; esta renovada mujer deseaba impregnar al mundo con un mensaje más irreverente, más sensual y explícito. Al principio las críticas resonaron, no obstante, el talento de la artista prevaleció por encima de todo.
Miley Cyrus abarcó, entonces, nuevos géneros musicales. Cada vez que subía a un escenario, la gente enloquecía, gritaba… deseaban ser iguales de irreverentes que ella. Admito que esta faceta en su personalidad me encantó; amaba a la Miley irreverente. En parte entiendo por qué decidió hacerlo, o sea, dar ese salto tan abismal hacia una imagen de protesta femenina. No obstante, la revelación de MTV sobre el video musical de Malibu me puso en modo de duda. La imagen irreverente había sido desplazada, ahora, por aquello que identificó a la cantante en sus inicios.
From that moment on, my perception of the singer changed completely, that is to say, it was an unprecedented clash of styles. Miley had shredded into crumbs that innocent image that Disney sold for a long time, and with which perhaps she did not feel so identified. The scandals began; this renewed woman wanted to impregnate the world with a more irreverent message, more sensual and explicit. At first, the criticisms resounded, however, the artist's talent prevailed above all else.

Miley Cyrus embraced new musical genres. Every time she went on stage, people went crazy, screamed... they wanted to be as irreverent as she was. I admit that I loved this side of her personality; I loved the irreverent Miley. I partly understand why she decided to do it, that is, to take such an abysmal leap into a female protest image. However, MTV's revelation about the Malibu music video put me in doubt mode. The irreverent image had been displaced, now, by that which identified the singer in her beginnings.
---
---
Malibu fue un paréntesis entre esa rebeldía de Miley y su relación con Liam Hemsworth, al menos según lo que he leído. Sea como sea, la cantante comenzó a tocar terrenos conocidos, explorando en una imagen menos extravagante. Ya con un cabello más largo y una manada de globos en sus manos, Miley comenzó a cantarle al amor. Dudé de que este cambió duraría con el tiempo, y no me equivoqué. Por un tiempo hubo una especie de tranquilidad en la vida de la cantante, eso hasta que se conoció su ruptura amorosa. No obstante, la relación no fue la mejor ni siquiera mientras se desarrolló.
Tras la ruptura, Miley inició una nueva etapa. Ahora, más madura, pero sin dejar a un lado la irreverencia.
Malibu was a parenthesis between Miley's rebelliousness and her relationship with Liam Hemsworth, at least according to what I've read. Be that as it may, the singer began to touch familiar ground, exploring a less flamboyant image. Already with longer hair and a gaggle of balloons in her hands, Miley began to sing of love. I doubted this change would last over time, and I wasn't wrong. For a while there was a sort of tranquility in the singer's life, that is until her love breakup became known. However, the relationship was not the best even while it was going on.

After the breakup, Miley started a new stage. Now, more mature, but without leaving aside the irreverence.
---
---
Por supuesto, Miley se convirtió en una mujer empoderada. Sus canciones, enfocadas en la fortaleza de la mujer, retrataban el amor de una manera distinta: más real, más dura, más dolorosa. La propia vida de esta cantante, llena de controversias y escándalos, tocó su punto más álgido para encontrarse con un punto neutro. La música nos lleva a encontrar la identidad, o mejor dicho, nos lleva a reflejarla. Miley fue y sigue siendo la inspiración de un montón de personas, sobre todo de aquellas que desean revelarse ante lo que no las identifica.
Hace algunas pocas semanas, Miley Cyrus estrenó el video musical de "Used To Be Young". Acá, la cantante enaltece su pasado juvenil, al entonar una lírica hermosa en la que atribuye su pasado a una etapa de su vida. Ella solo disfrutaba, solo quería vivir su juventud, expresar esa esencia que tanto la caracterizaba. Una nueva etapa se vislumbra, con una Miley más racional. Una que ha aprendido de aquellas huellas que dejó, pero que no ha decidido borrarlas.
Of course, Miley became an empowered woman. Her songs focused on women's strength and portrayed love in a different way: more real, harder, and more painful. This singer's own life, full of controversies and scandals, touched its peak to meet a neutral point. Music leads us to find our identity, or rather, it leads us to reflect it. Miley was and still is an inspiration for a lot of people, especially those who want to reveal themselves in the face of what does not identify them.

A few weeks ago, Miley Cyrus released the music video for "Used To Be Young". Here, the singer praises her youthful past, singing a beautiful lyric in which she attributes her past to a stage of her life. She just enjoyed, she just wanted to live her youth, to express that essence that characterized her so much. A new stage is on the horizon, with a more rational Miley. One that has learned from those traces she left, but has not decided to erase them.
---
---
Miley Cyrus es una de las cantantes más reconocida del mundo. Sus últimos éxitos musicales apelan al espíritu aguerrido de la mujer y el empoderamiento. En cada una de sus etapas, esta cantante nos ha brindado una lección de vida: música es vivir, aunque esa música parezca alocada. El arte no tiene por qué ser un tabú, mucho menos, cuando se intenta marcar la diferencia.
Miley Cyrus is one of the most recognized singers in the world. Her latest musical hits appeal to a woman's feisty spirit and empowerment. In each of her stages, this singer has given us a life lesson: music is living, even if that music seems crazy. Art does not have to be a taboo, much less when it tries to make a difference.
---
Puedes conocer más de Miley Cirus en sus canales oficiales:
You can learn more about Miley Cirus on her official channels:
---
---