An evening with friends<3 [ENG/ESP]
Hello to all my dear hivers, I hope you are feeling great, I want to apologize for the absence I have been these last days, there is a reason why I have been absent and believe me the reason is worth everything and I hope to tell you later jskjsjd, for the moment I bring you this post to tell you a little bit about the nice afternoon I spent with some friends.
Hola a todos mis queridos hivers, espero que se encuentren fenomenal, quiero pedir disculpas por lo ausente que he estado estos últimos días, hay una razón por la cual he estado ausente y créanme que la razón lo vale todo y espero poder contarles más adelante jskjsjd, por los momentos les traigo este post para contarles un poco sobre la tarde tan linda que pase junto a unos amigos.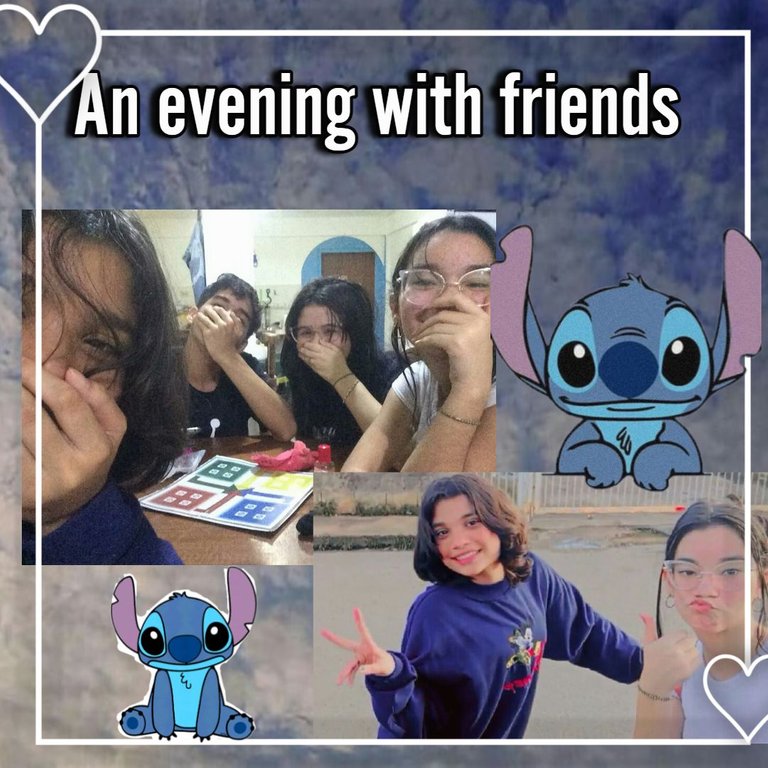 This day was super nice for not having been planned. As usual lately Angie wrote me to go for a walk and clear my mind for a while because I was a little sad so I got ready super fast, because for those who don't know I have the reputation of being known for being 3 hours late, so I arrived early or everything was canceled. When I arrived my friend was still getting ready and while I was playing with her pet who is very cute, just don't make her mad JSKDDJDJDKJD.
Este día fue super lindo para no haber sido planificado. Como costumbre últimamente Angie me escribió para salir a caminar y despejar un rato la mente porque andaba medio triste así que me aliste súper rápido, porque para los que no lo saben tengo la fama de conocerme por la que llaga 3 horas tarde, así que llegaba temprano o se cancelaba todo. Al llegar mi amiga seguía alistando y mientras yo me quede jugando con su mascota que es muy tierna solo no la hagas enojar JSKDJDKJD.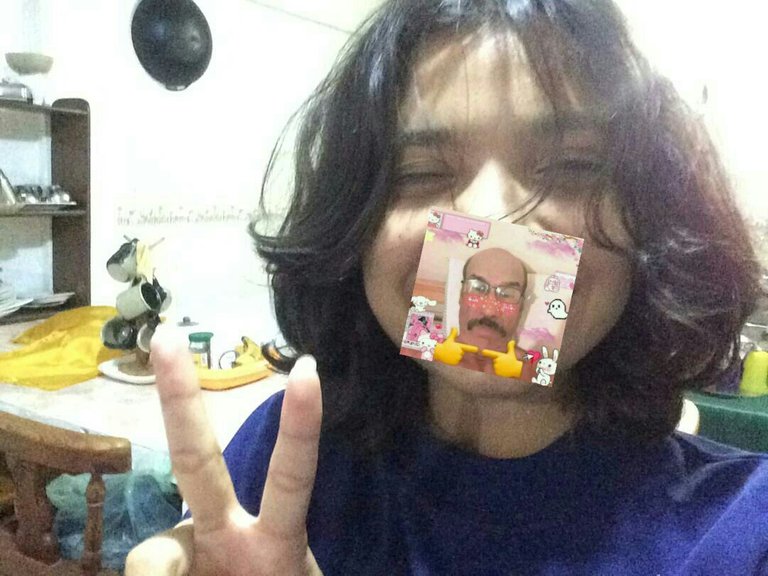 At about 4 pm we went out to look for Leo, who was just a few blocks away and my friend said to look for her boyfriend and we were all gossiping together, we went to look for him and then we looked for Leo, I do not remember well, but someone brought up the subject of going out on a bike (there are only two bikes so only two people can ride a bike) as Aaron didn't want to and Leo didn't want to, Angie and I spent the whole time on the bike, and we took many photics to heaven because there is nothing better than going out for fresh air with nice friends and a nice weather.
Como a eso de las 4 pm salimos a buscar a Leo que nos queda a unas cuadras nada más y en eso mi amiga dice para pasar buscando a su novio y estar todos chismeando juntos, lo fuimos a buscar y luego buscamos a Leo, no recuerdo bien, pero alguien sacó el tema de salir en bicicleta (solo hay dos bicicletas por lo cual solo dos personas pueden andar en bicicleta) como Aarón no quería y Leo tampoco, Angie y yo nos la pasamos todo el rato en bici, y le tomamos muchas fóticos al cielo porque no hay nada mejor que salir a tomar aire fresco con amistades lindas y un lindo clima.
We spent the whole afternoon cycling and gossiping, it was fun to walk around while talking about everything and telling anecdotes to each other, we could also see the sunset and by that time Angie and I were tired so we decided to watch the sunset in a square that is in the urbanization where we live and there we stayed until nightfall.
Pasamos toda la tarde en bicicleta y chismeando, fue muy divertido caminar mientras hablábamos de todo un poco y contando anécdotas los unos a los otros, también pudimos ver el atardecer y ya para ese momento nos habíamos cansado Angie y yo así que decidimos ver el atardecer en una plaza que queda en la urbanización donde vivimos y ahí estuvimos hasta que cayera la noche.
| | |
| --- | --- |
When we saw that the sun had already gone down we went to Angie's house to continue gossiping because those stories were really good sjkdsjdkdjd, when we arrived they sent us to buy ice cream and there was no ice cream anywhere, but this time everything was closed and there was no ice cream ToT. But something very funny happened to us, we went to ask a business to see if they sold ice cream and nobody came out and when we realized there was a dog camouflaged looking outside as if we did not exist, we laughed a lot because usually dogs bark at you until they can't, but this one looked at you as if you were the dog JSKDDJDJDKDJDJDK.
Ya cuando vimos que el sol ya se había metido fuimos a casa de Angie para seguir chismeando porque esos cuentos estaban buenísimos sjkdsjdkdjd, cuando llegamos nos mandaron a comprar helado y no había en ningún lugar por lo general suelen vender en cualquier sitio, pero esta vez todo estaba cerrado y sin helado ToT. Pero nos ocurrió algo muy chistoso, fuimos a preguntar a un negocio para ver si vendían helado y nadie nos salía y cuando nos dimos cuenta estaba un perro camuflado viendo para afuera como si no existiéramos, nos dio mucha risa porque por lo general los perros te ladran hasta más no poder, pero este te miraba como si fueras tu el perro JSKDJDKDJDK.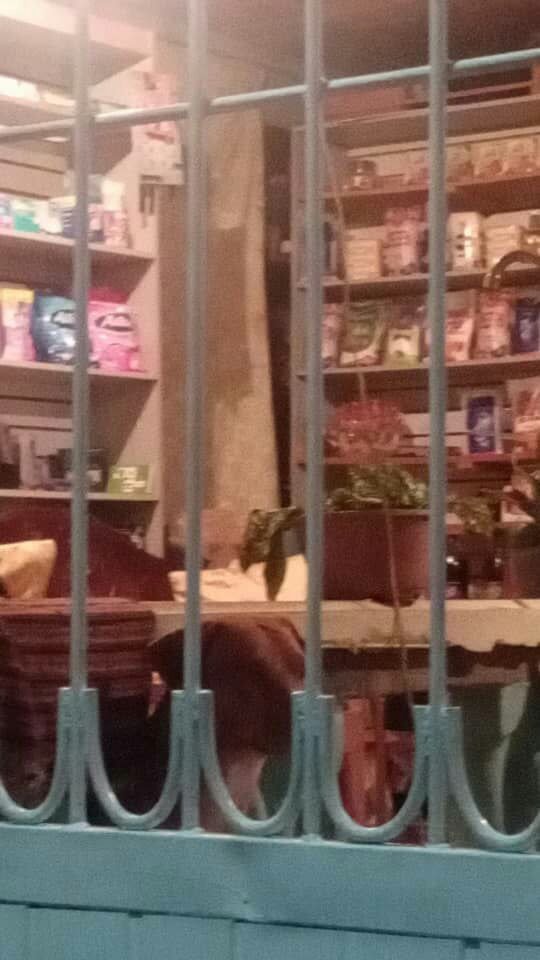 Since we couldn't find ice cream ANYWHERE we went to Angie's house to play a board game while we continued our afternoon of chismesito and her mom prepared us some buns with salsa and chorizo, the truth is I didn't take a picture of anything because we are all hungry and in less than 10 minutes there was nothing kjsksjdkjd, but everything was very tasty. Spending the afternoon has never been so relaxing and nice, whenever I went out before it was kind of annoying, but lately going out with these people has become a way to forget about the surroundings and have a nice time. I'm glad you made it this far, we'll be reading each other. Bye bye.
Como no encontramos helado en NINGÚN lado nos fuimos a casa de Angie para jugar un juego de mesa mientras seguía nuestra tarde de chismesito y su mamá nos preparó unos bollitos con salsa y chorizo, la verdad no le tome foto a nada porque somos unos hambrientos toditos y en menos de 10 minutos no había nada kjsksjdkjd, pero estuvo muy rico todo. Pasar la tarde nunca había sido tan relajante y bonito, siempre que salía antes era como fastidioso, pero últimamente salir con estas personas se ha vuelto una manera de olvidar el alrededor y pasar un rato agradable. Me alegra que hayan llegado hasta acá, nos estaremos leyendo. Chauuuu.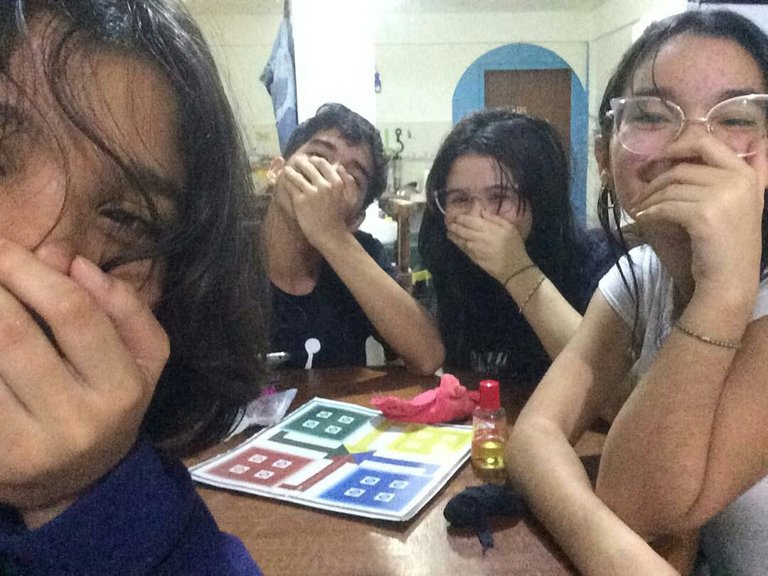 Credits
Photos taken with my friends' phones, who gave me permission to use them.
The banner was edited with PicsArt.
Fotografías tomadas con el teléfono de mis amigos quienes me dieron autorización de utilizarlas.

El banner fue editado con PicsArt.
---
---