Food vacuum sealer | Unboxing [ENG/ESP]
Hello to all my dear hivers, I hope you are very well and are having an excellent week, this is my first time posting in this community and I'll be honest, I do not know much about technology and less when it comes to explain much less about this type of technology sjkdjdkd, but I read a little on the internet and the manual that came with it is very specific and thanks to that I bring you an Unboxing about this purchase that has been made by internet. Without more to say, let's get started.
Hola a todos mis queridos hivers, espero que se encuentren muy bien y estén teniendo una excelente semana, esta es mi primera vez publicando en esta comunidad y les voy a ser sincera, no sé mucho de tecnología y menos cuando se trata de explicar ni mucho menos sobre este tipo de tecnología sjkdjdkd, pero leí un poco en internet y el manual que vino con él es muy específico y gracias a ello les traigo un Unboxing sobre esta compra que se ha hecho por internet. Sin más que decir, comencemos.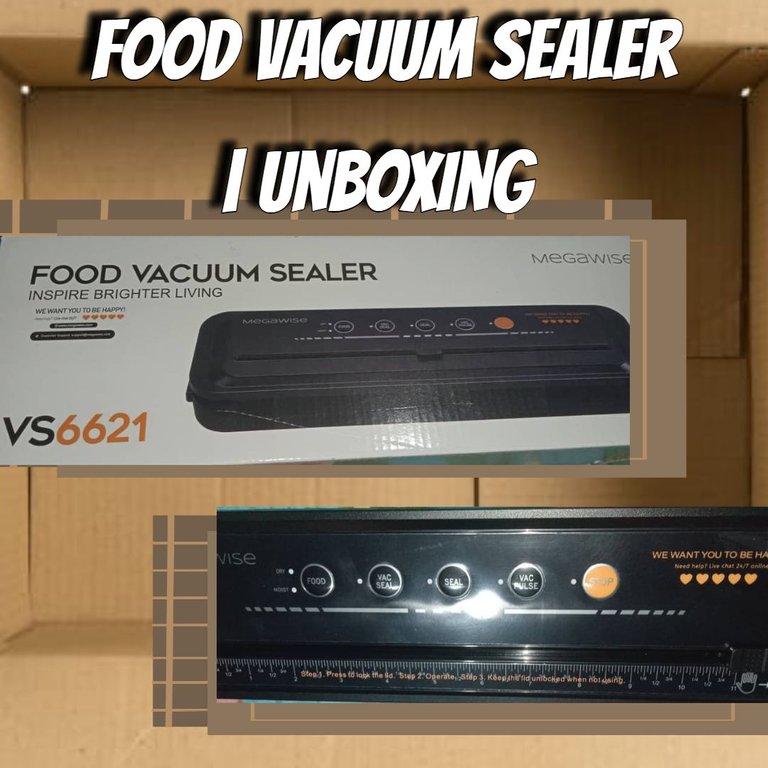 I have not told you here, but my dad and my aunts are creating an enterprise on sausages, which practically will sell smoked products, but for this to be with a better presentation and be durable when selling, we have to have some other machinery and one of the most important to start is the vacuum food sealer that as its name says helps us to seal without leaving any air inside and makes the product more durable.
The purchase was made in the U.S. from the Amazon platform, then my aunt took it to Miami and then pay for shipping here (Venezuela), this product was sent from the company Tealca and they are the ones who leave it in our house, the order took a total of 8 days to arrive.
No se los he dicho por acá, pero mi papá y mis tías están creando un emprendimiento sobre embutidos, en el que prácticamente se venderán productos ahumados, pero para que esto quede con una mejor presentación y sea duradero al momento de vender, tenemos que tener alguna que otra maquinaria y una de las más importantes para comenzar es la selladora de alimentos al vacío que como su nombre lo dice nos ayuda a sellar sin dejar nada de aire por dentro y hace que el producto sea más duradero.

La compra se hizo en UU.EE desde la plataforma de Amazon, luego mi tía la llevó hasta Miami para luego pagar su envío hasta aquí (Venezuela), este producto fue enviado desde la compañía de Tealca y son ellos mismos quienes nos lo dejan en nuestra casa, el pedido duró un total de 8 días en llegar.
| | |
| --- | --- |
As a preview it has Styrofoam padding (I think), this helps the product not to move and break during its arrival, we also have the product box in which we find the name and on the back some drawings with a brief explanation. Along with the styrofoam, he brought some receipts and a card to make more purchases if we wish.
Como vista previa tiene relleno de espuma de poliestireno (creo), este ayuda a que el producto no se mueva y llegue a romperse durante su llegada, también tenemos la caja del producto en la cual se encuentra el nombre y por la parte trasera unos dibujos con una breve explicación. Junto a la espuma de poliestireno trajo algunos recibos y una tarjeta para hacer más compras si así deseamos.
When we opened it we realized that it had its protectors and some "professional" bags, it also had a hose that at first I did not know what it was for, its plug and its respective manual. When removing the protectors you can clearly see that it has some buttons that are for the use of the mechanism, on the inside it has a hollow space that is where the air is extracted and also brings to seal the bags. On the inside it has a hose to place the hose that helps us to remove the air from containers with food. On the upper part it has a cutter to cut the excess of the bags.
Al abrirlo nos dimos cuenta de que traía sus protectores y unas bolsas "profesionales", también trajo una manguera que al principio no sabía para qué era, su enchufe y su respectivo manual. Al sacarle los protectores se puede ver claramente que trae unos botones que son para el uso del mecanismo, por la parte de adentro trae un espacio hueco que es por donde se extrae el aire y también trae para sellar las bolsas. En la parte de adentro trae para colocar la manguera que nos ayuda a sacarle el aire a recipientes con comida. Trae en la parte de arriba para cortar lo sobrante de las bolsas.
| | |
| --- | --- |
| | |
| --- | --- |
| | |
| --- | --- |
Now let's talk about the operation of this device, as you noticed in the pictures it has some buttons on the top and only one on the inside. The first step is to place our bag on the inside and close the device, then we give the first button "FOOD" and choose the dry or wet option depending on the state of our product, then we give the button "VAC SEAL" which is where it does everything at once and after 20 sg and everything is ready, we can remove the excess bag with the instrument at the top. The other buttons serve for the same purpose, only that it is done manually, and there is also the option of sealing without vacuum. The inside button is used for the hose, which is separate, place the hose in the device and the other part in the container and press the button.
Ahora hablemos acerca del funcionamiento de este aparato, como se dieron cuenta en las fotos trae algunos botones en la parte superior y uno solo en la parte de adentro. El primer paso es colocar nuestra bolsa en la parte de adentro y cerrar el aparato, luego le damos al primer botón "FOOD" y escogemos la opción seco o húmedo dependiendo del estado de nuestro producto, luego le damos al botón de "VAC SEAL" que es donde hace todo de una vez y luego de 20 sg ya está todo listo, podemos quitar lo sobrante de bolsa con el instrumento de la parte de arriba. Los otros botones sirven para lo mismo, solo que se hace manual, y también se encuentra ahí la opción de sellado sin ser al vacío. El botón de adentro sirve para la manguera que es como aparte, se coloca la manguera en el aparato y la otra parte en el recipiente y se presiona el botón.
| | |
| --- | --- |
| | |
| --- | --- |
Now I will show you in more detail how perfect the bags are, did you know that they have these lines for a specific reason, it turns out that this helps the product to be more compressed at the time of vacuum sealing. I thought it was a very good experience to tell you a little bit about this purchase, believe me I will be here more often now sjksjd. We'll be reading each other, bye.
Ahora les mostraré más a detalle lo perfectas que son las bolsas, sabían que traen estas líneas por algo específico, resulta que esto ayuda a que quede más comprimido el producto al momento de sellar al vacío. Me pareció una muy buena experiencia contarles un poco sobre esta compra, créanme que ahora estaré más seguido por acá sjksjd. Nos estamos leyendo, chauuu.
Credits
Pictures taken by my dad's phone a Xiaomi Redmi 9C.
The banner was edited with PicsArt.
Fotografías tomadas por el teléfono de mi papá un Xiaomi Redmi 9C.
El banner fue editado con PicsArt.
---
---