Haven Park [Eng+Spa]

---
English
---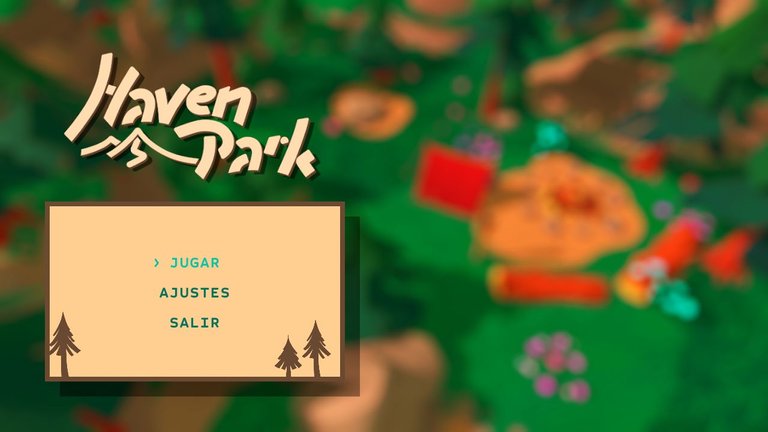 With my best wishes to all, may this week be to move forward and improve ourselves on the road we are going through. And if you can't move on, it's okay, gather your strength and then move on: everyone fights their own battles the way they can.
I've really wanted to do a second Wonder Boy post, I'm having a pretty good time, but first I want to try to get a little further along. I admit it, I have not been able to overcome the fourth boss of the game. Lack of skill, they tell him.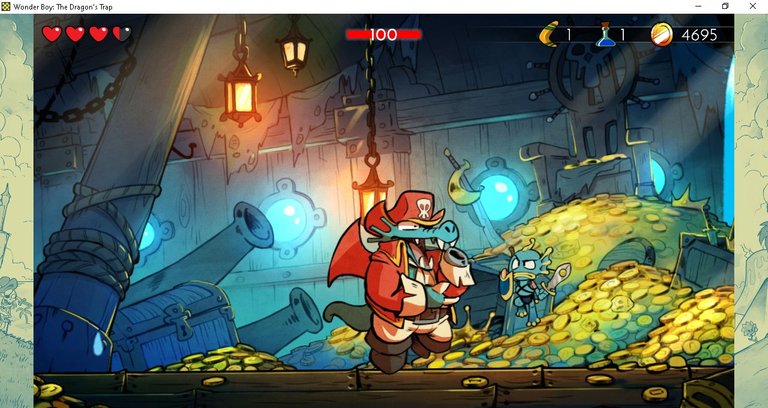 (Image of Wonder Boy and the fourth boss.)

So I present to you a very entertaining and interesting game: Haven Park, which is an indie game developed by Mr. Fabien Weibel, from Bubblebird studio and edited by Mooneyes studio, (in the references I found that Mooneyes are the same creators from Lost Ember). Haven Park is a game that we can enjoy from August 2021.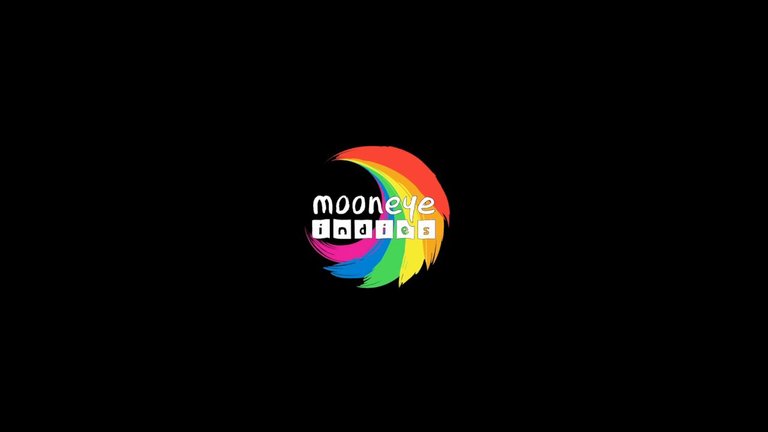 The genre that defines the game is a term that, unknown to me, is called: Wholesome. The theme itself is a game of exploration, crafting and resource management, within this kind of genre you forget about time pressure, objectives, statistics. The aim is for the game to be calm, without violence, to be beautiful and very relaxing. (Okay, I didn't imagine being able to enjoy a game so much without explosions, violence, or mass destruction)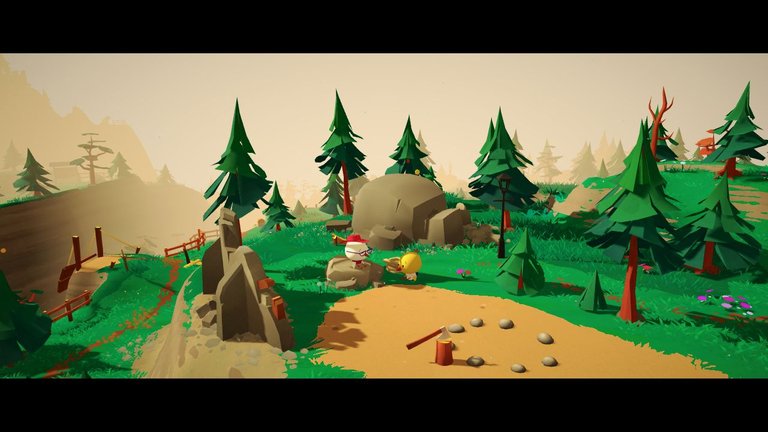 In the story we play a nice chick named Flint, and in the introduction of the game we find ourselves calmly talking with our old and beloved grandmother. Who asks us for help to be able to repair and maintain the park that she had in her care, since she is not in a position to do the work. And she sends us on our first mission.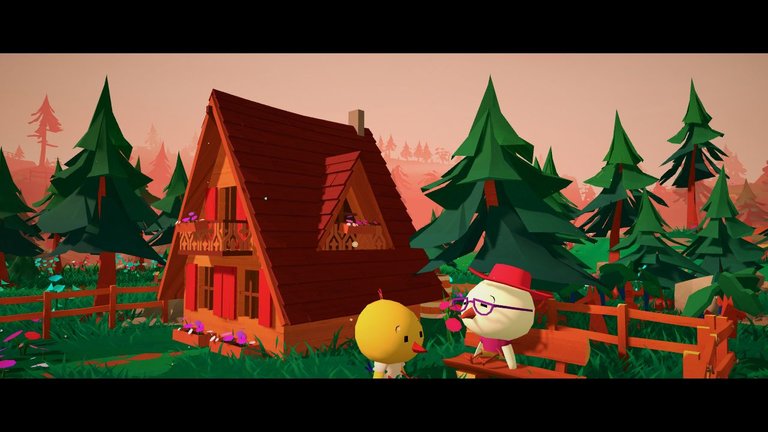 It can be operated with the keyboard, or with play control (the keyboard is a bit cumbersome, better if you can use the controller. In my case I fail to make it work with command, other players indicate that if it works for them. It can be a brand issue.). You can jump, swim, you run all the time by the way and I haven't seen you take fall damage. The landscape is beautiful, for me that I am not very fond of the aerial view of a game, I have seen myself enjoying the design and views of this world.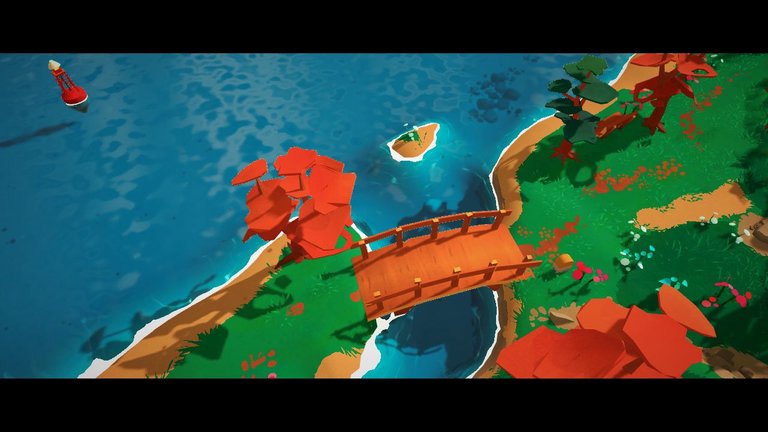 Along the way, we find materials: wood, metal, fabrics, mushrooms. When collecting the objects we are gaining experience, we will see the amount in the upper right part of the screen. Eventually, more materials will continue to appear. We will also come across damaged road signs and downed headlights, which we must restore and thus gain more experience.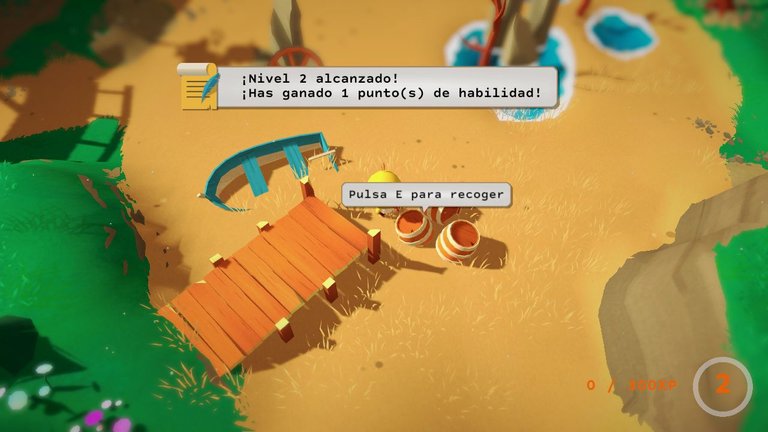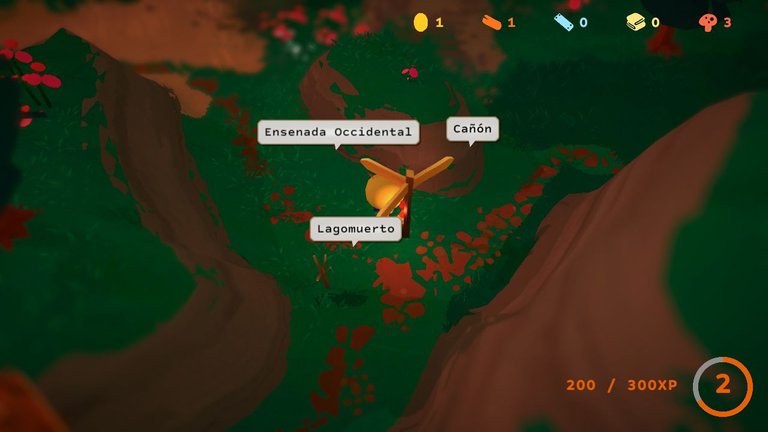 The mechanics in the camps are simple, it reminds me distantly of the era of empires and a bit of other games of its type: the location of that area is discovered, it then appears on the map, and it is time for the creation phase.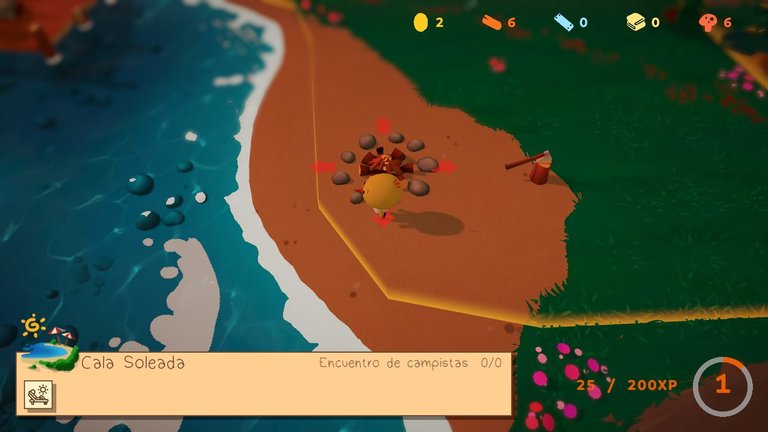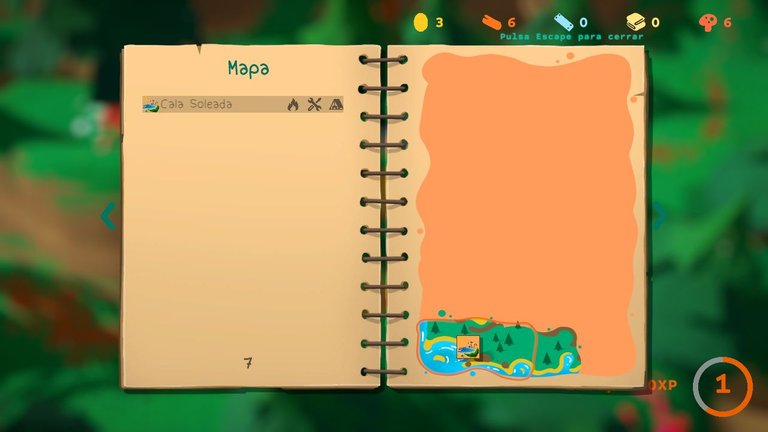 We create with the resources that we collected the campfire and a camper will arrive immediately. So now we have to make him a tent to sleep in, a food stall, a diversion.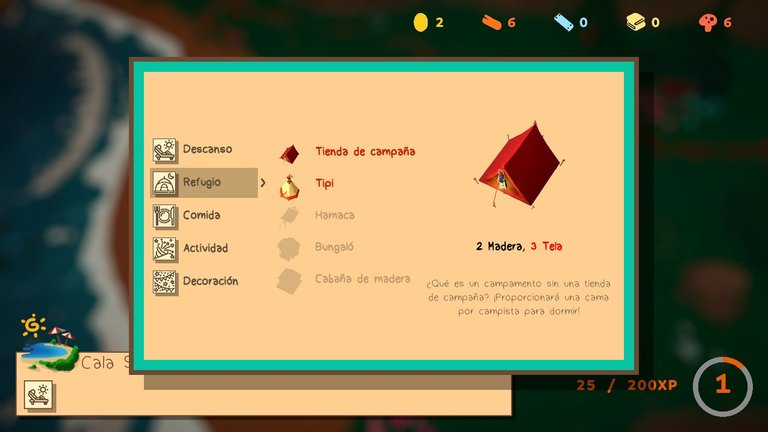 Thus, every time a new camper arrives, there will be a requirement for the camping area. Each zone has a limit number of campers, so it doesn't get heavy.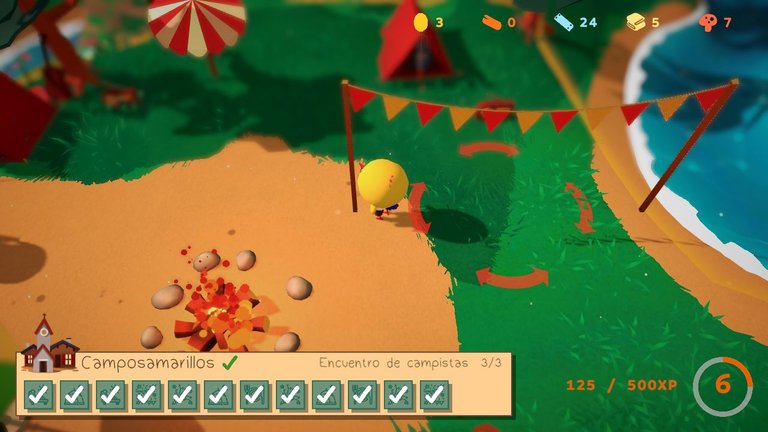 There is day and night, in terms of climate we have only two zones, the warm climate and the snowfall in the highest peaks of the place.
There are twelve camps in total, we will go exploring and restoring them, and making repairs to the elements that we can find along the way.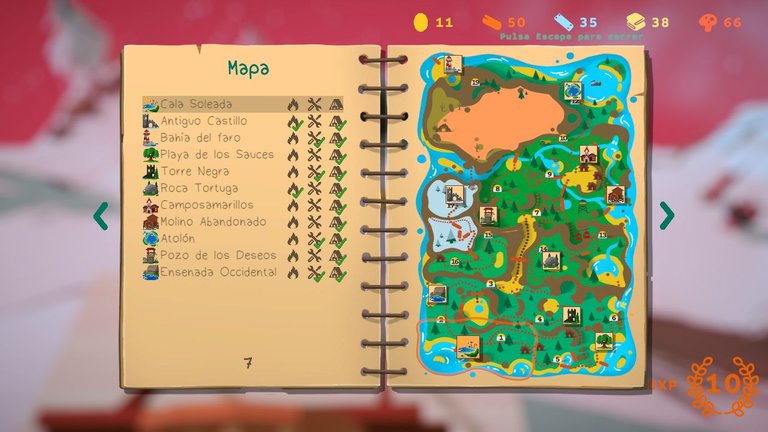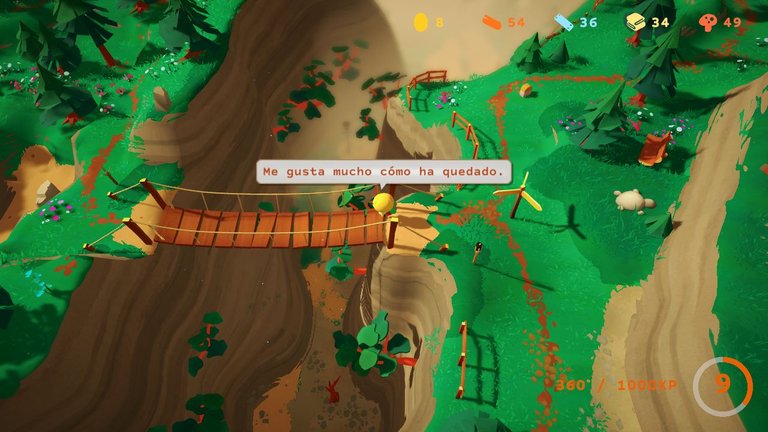 There are skills that we can unlock by leveling up, the improvement of obtaining more resources, carrying more objects and improving the map are very necessary.
We can see the discovered areas on the map, but we don't have our location in real time. On the map, if we have the improvement, we can see some milestones or numbered marks of the road that will serve as a reference to locate ourselves, which with the improvement will be indicated on the map.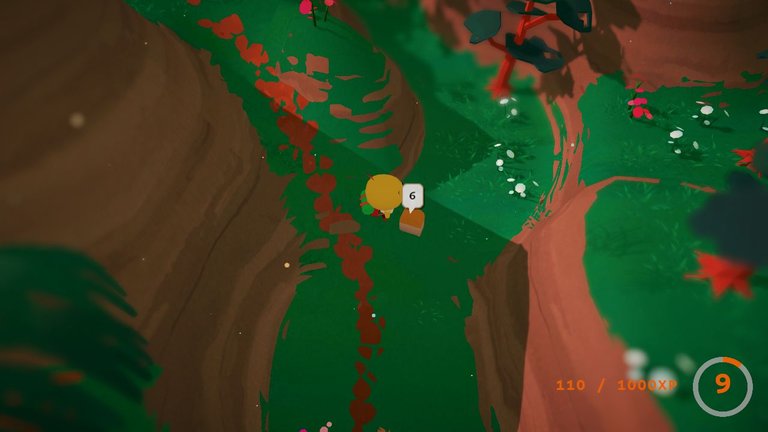 The npc can give us some quests or quest hints. We also find objects, which activate side quests, like lost letters, some rare flowers to find.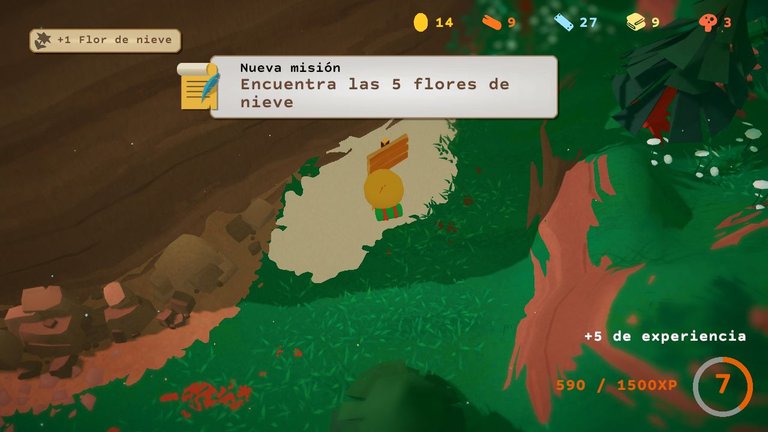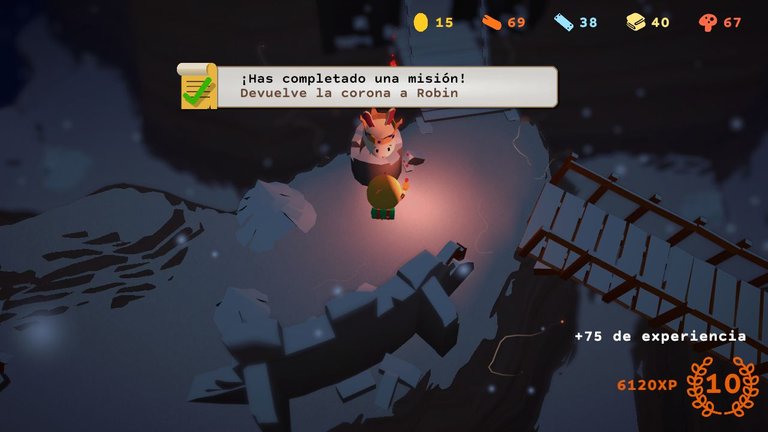 The menu is simple, the game can run on machines with modest configurations without problems, and it only takes up 300 MB of disk space. In Steam the game has achievements, I understand that in GOG too. The approximate duration can be about 4 or 5 hours.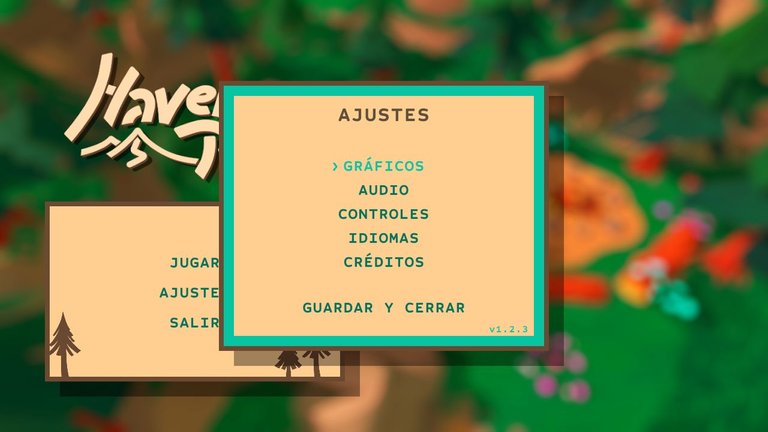 You can have a very fun afternoon, but I would like to improve it with more skills, a fast trip. In missions going from one end of the map to the other despite the mobility improvement is not my favorite part: but I understand that you have to collect materials along the way for future repairs.
I would like the map to indicate my location, however, after playing for a while, one can locate oneself with the numbered road markings.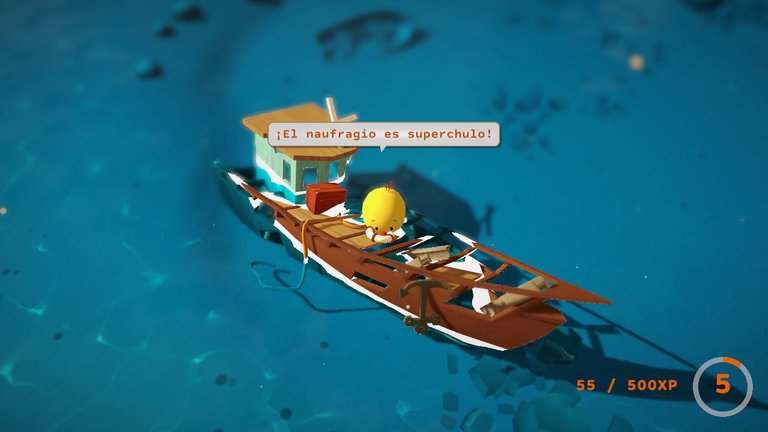 It's relaxing, it's fun, the world design is pretty. It's not perfect, but you can have a good time. And there are recent updates, the last era with the reasons for Christmas celebration. It's a good indie game, if you get the chance, you can try it and enjoy the journey of Flint, to maintain the park and take care of the campers.
Thank you very much for stopping by and reading.

I have used Google translate for the English language.
The images in the post are screenshots of my game.
Have an excellent week.
Peace.



---
Español
---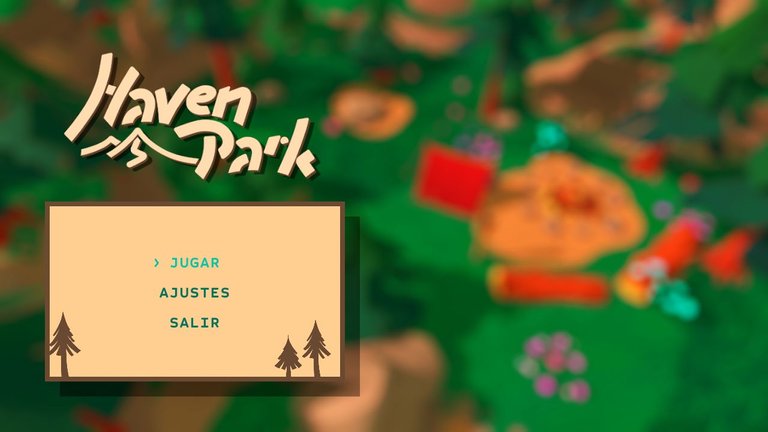 Con mis mejores deseos para todos, que esta semana sea para avanzar y superarnos en el camino que estemos pasando. Y si no puedes avanzar, no pasa nada, reúne fuerzas y luego sigue adelante: que cada uno lleva sus propias batallas de la forma en que pueda.
Había querido hacer en verdad una segunda publicación de Wonder Boy, lo estoy pasando bastante bien, pero antes quiero tratar de avanzar un poco más. Lo reconozco, no he podido superar el cuarto jefe del juego. Falta de habilidad, le dicen.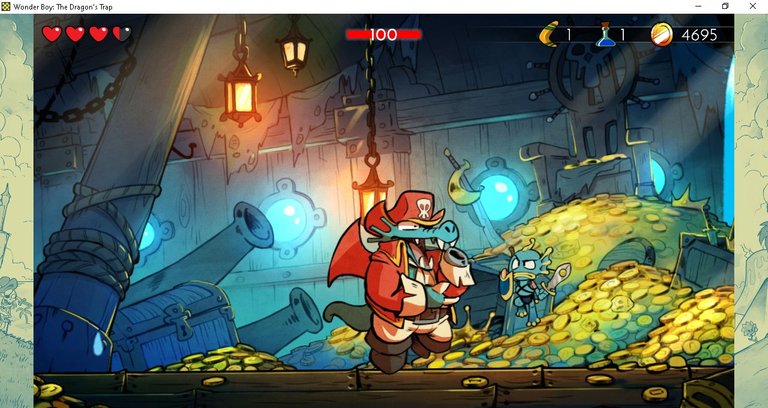 (Imagen de Wonder Boy y el cuarto jefe.)

Así que les presento mientras un juego bastante entretenido e interesante: Haven Park, que es un juego indie desarrollado por El Sr. Fabien Weibel, del estudio Bubblebird y editado por el estudio Mooneyes, (en las referencias encontré que, Mooneyes son los mismos creadores de Lost Ember). Haven Park es un juego que podemos disfrutar desde agosto del año 2021.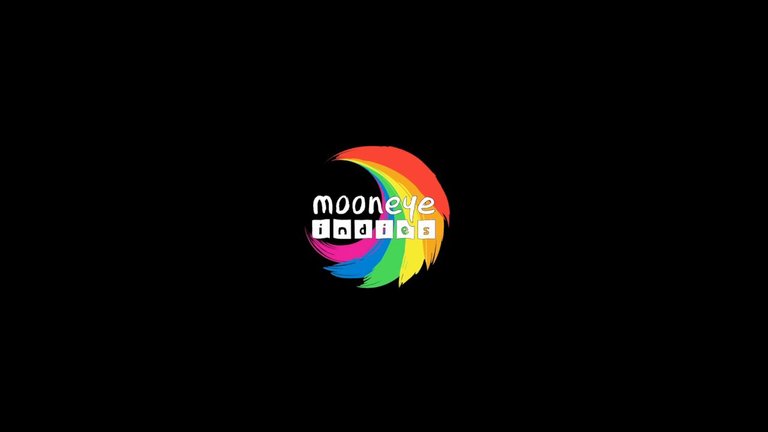 El género que define al juego es un término que, desconocía, se le llama: Wholesome. El tema en sí es de un juego de exploración crafteo y gestión de recursos, dentro de esta clase de género se olvida de la presión del tiempo, objetivos, estadísticas. Se busca que el juego sea tranquilo, sin violencia, que sea bonito y muy relajante. (vale, que no me imaginaba poder disfrutar tanto un juego sin explosiones, violencia, ni destrucción masiva)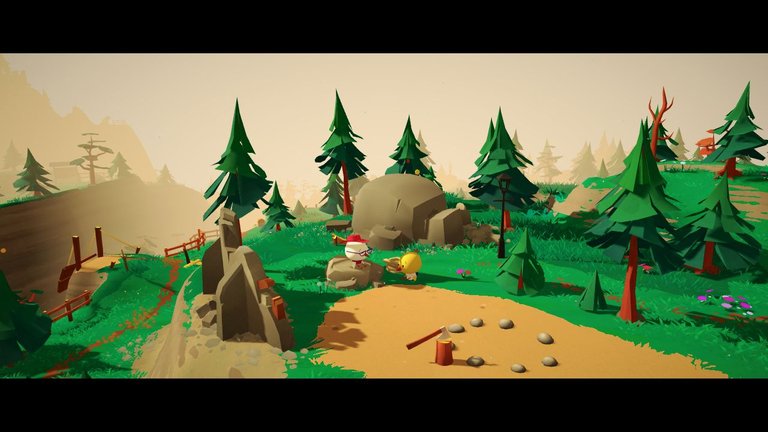 En la historia encarnamos a un simpático pollito llamado Flint, y en la introducción del juego nos encontramos tranquilamente conversando con nuestra anciana y querida abuela. Quien nos pide la ayuda para poder reparar y mantener el parque que ella tenía a su cuidado, ya que ella no está en condiciones de hacer los trabajos. Y nos envía a nuestra primera misión.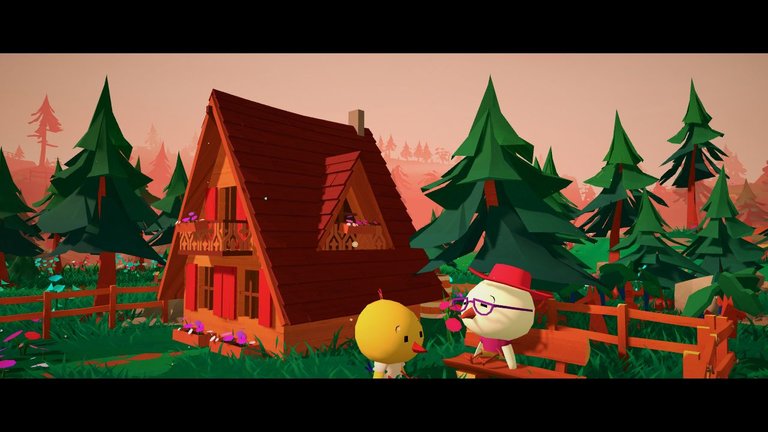 Se puede operar con el teclado, o con mando de juegos (el teclado es un poco engorroso, mejor si puedes usar el controlador. En mi caso no logro hacer que funcione con mando, otros jugadores me indican que si les funciona. Puede ser un asunto de la marca.). Puedes saltar, nadar, corres todo el tiempo por cierto y no he visto que sufras daños por caídas. El paisaje es precioso, para mí que no soy muy amigo de la vista aérea de un juego, me he visto disfrutando del diseño y las vistas de este mundo.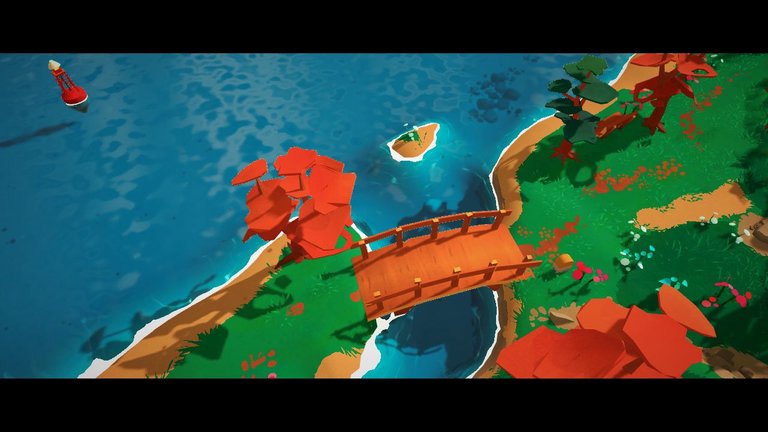 Por el camino, vamos encontrando materiales: madera, metal, telas, setas. Al recoger los objetos vamos ganando experiencia, iremos viendo la cantidad en la parte superior derecha de la pantalla. Eventualmente, seguirán apareciendo más materiales. También nos toparemos con señales de caminos dañadas y faros caídos, que debemos ir restaurando y así ganamos más experiencia.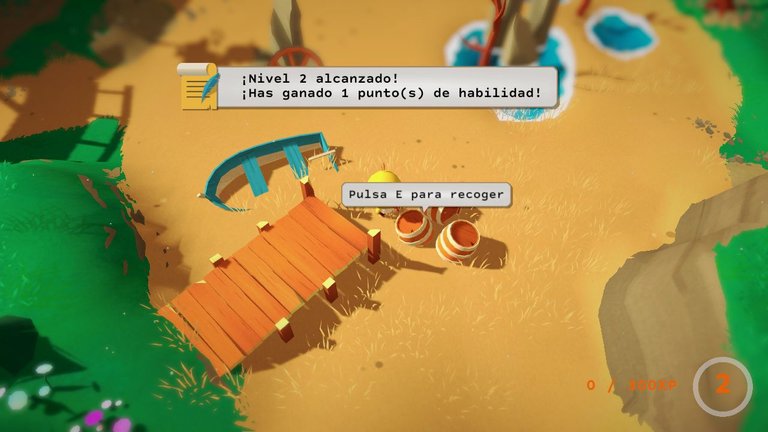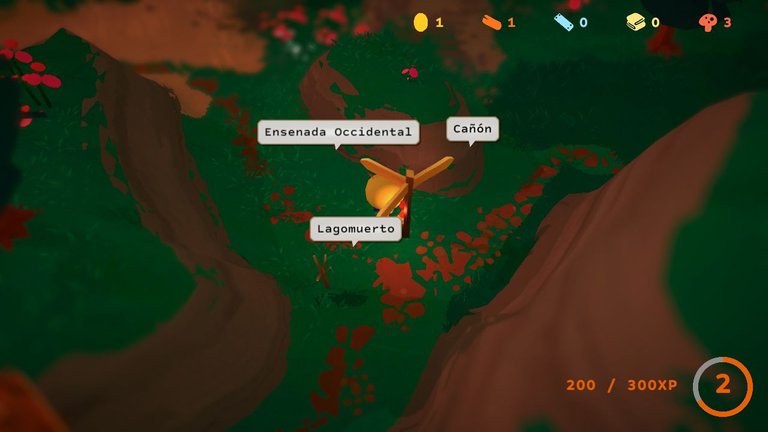 La mecánica en los campamentos es simple, Me recuerda de forma lejana a la era de los imperios y un poco a otros juegos de su tipo: se descubre la ubicación de esa zona, aparece entonces en el mapa, y toca la fase de creación.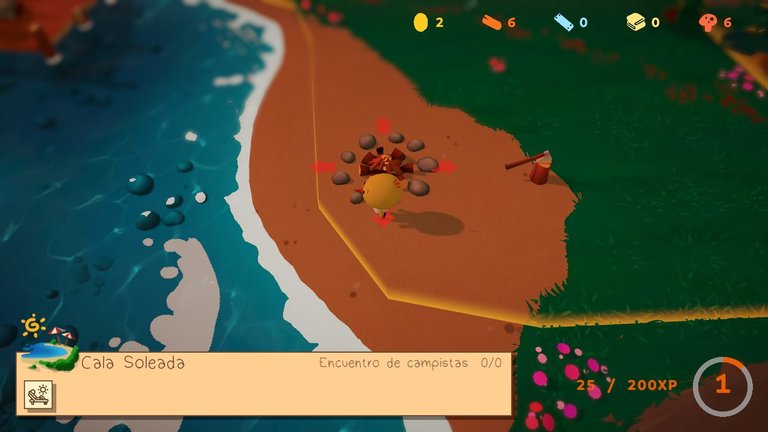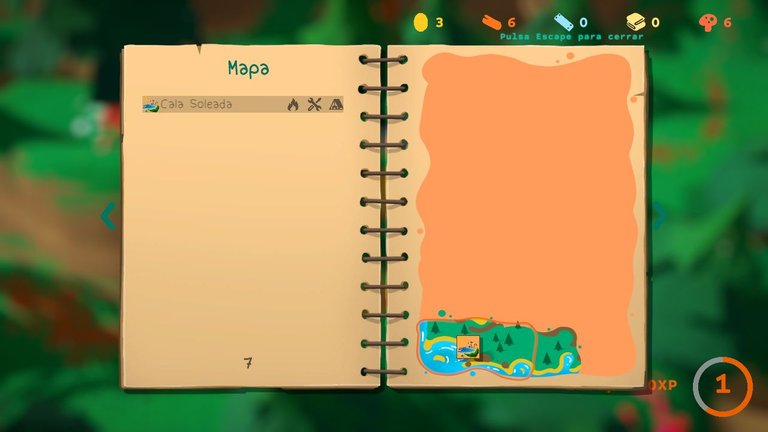 Creamos con los recursos que recogimos la fogata y de inmediato nos llegara un campista. Así que ahora tenemos que hacerle una tienda para dormir, un puesto de comida, una distracción.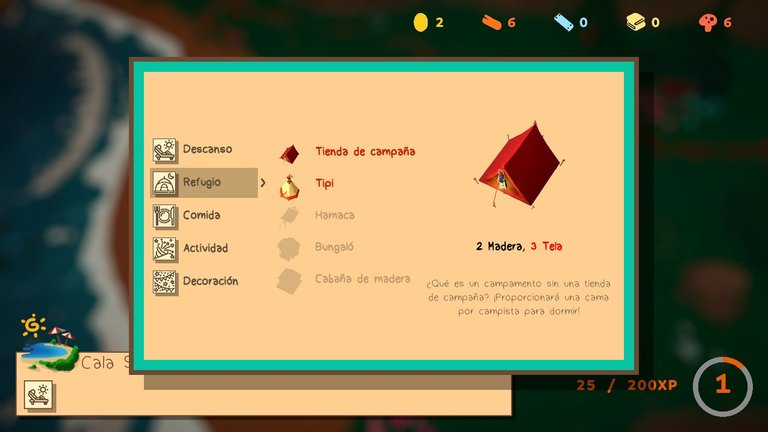 Así, cada vez que llegue un nuevo campista, habrá un requerimiento para la zona de acampar. Cada zona tiene un número de campistas límite, así que no se hace pesado.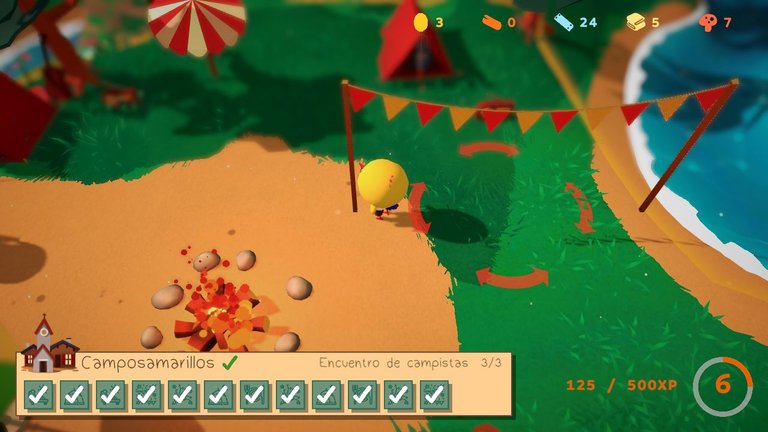 Hay día y noche, en cuanto a clima tenemos solo dos zonas, el clima cálido y las nevadas en los picos más alto del lugar.
Son doce campamentos en total, iremos explorando y restaurándolos, y haciendo reparaciones de los elementos que podamos hallar por el camino.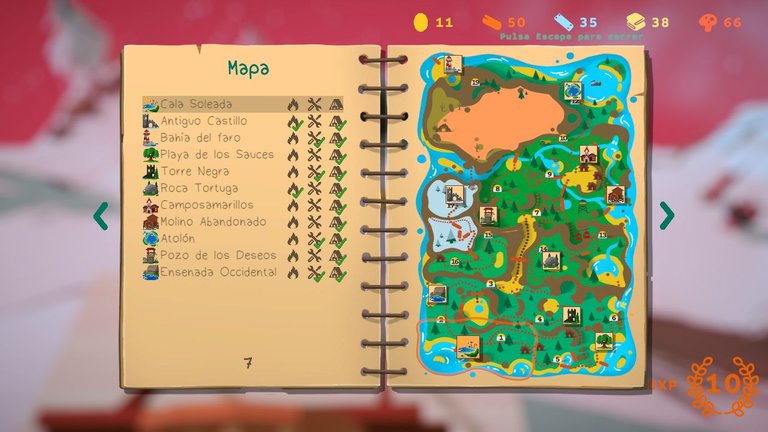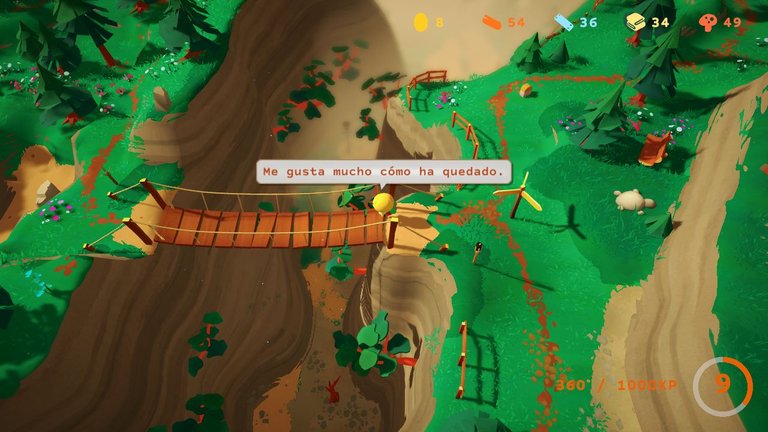 Hay habilidades que podemos ir desbloqueando al subir de nivel, la mejora de obtener más recursos, cargar más objetos y la mejora del mapa son muy necesarias.
Podemos ver las zonas descubiertas del mapa, pero no tenemos nuestra ubicación en tiempo real. En el mapa, si tenemos la mejora, podemos ver unos hitos o marcas numeradas del camino que nos servirán como referencia para ubicarnos, que con la mejora se indicaran en el mapa.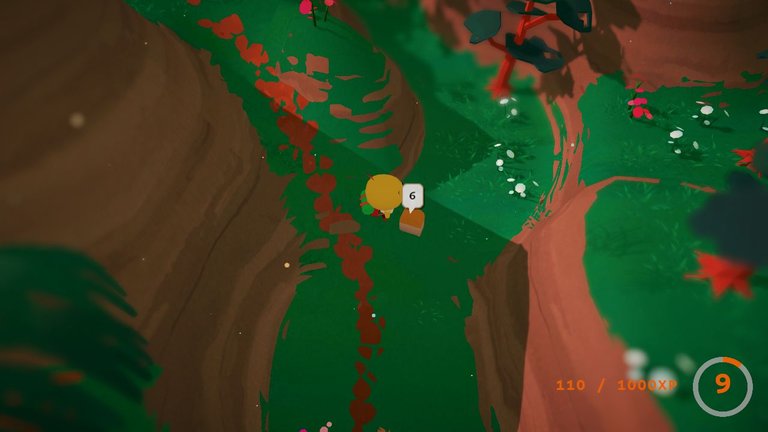 Los npc pueden darnos algunas misiones o pistas de misiones. También encontramos objetos, que activan misiones secundarias, como cartas perdidas, algunas flores raras de encontrar.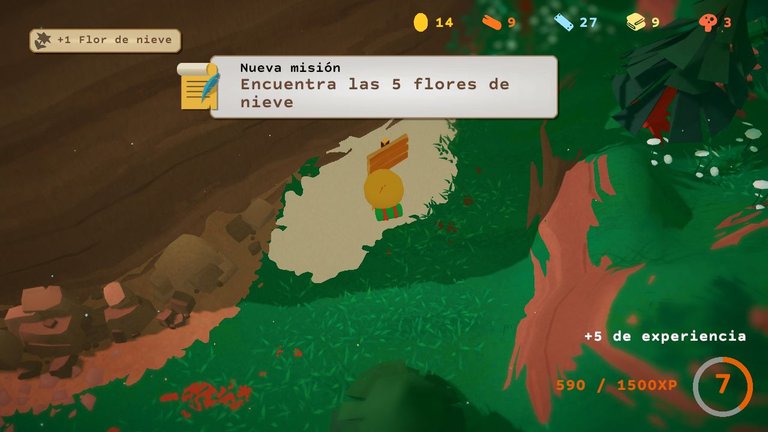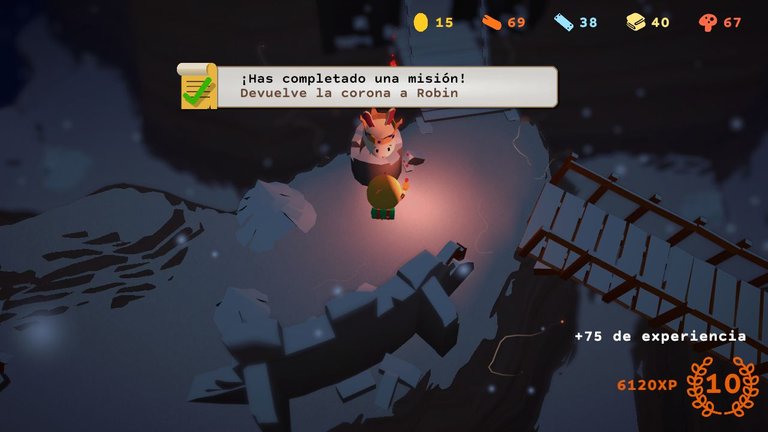 El menú es simple, el juego puede funcionar en máquinas con configuraciones modestas sin problemas, y tan solo ocupa 300 MB de espacio en el disco. En el Steam el juego cuenta con logros, tengo entendido que en el GOG también. La duración aproximada puede ser de unas 4 o 5 horas.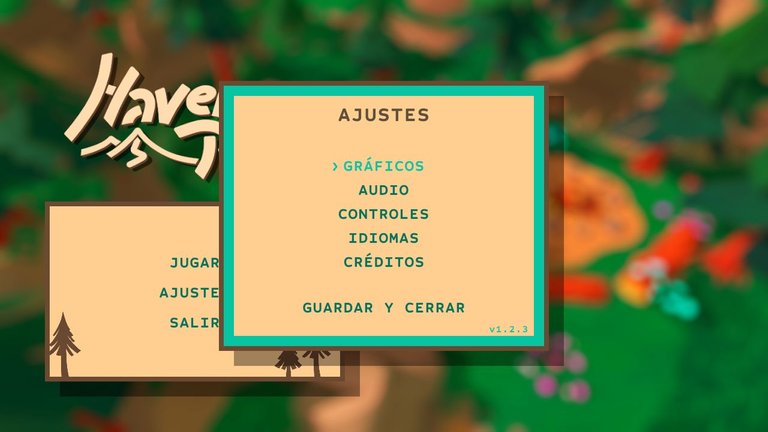 Puedes pasar una tarde muy divertida, pero me gustaría mejorarlo con más habilidades, un viaje rápido. En misiones ir de un extremo al otro del mapa a pesar de la mejora de movilidad no es mi parte favorita: pero entiendo que hay que ir recolectando materiales durante el camino para futuras reparaciones.
Me gustaría que el mapa indicara mi ubicación, aun así, después de jugar un rato, uno puede ubicarse con las marcas numeradas de los caminos.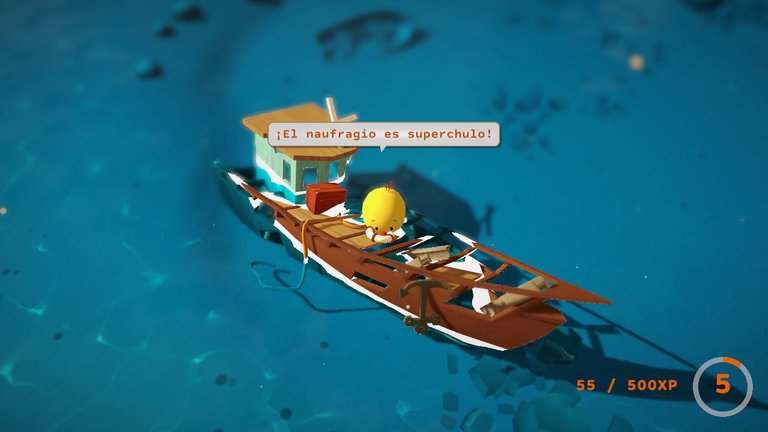 Es relajante, es divertido, el diseño del mundo es bonito. No es perfecto, pero se puede pasar un buen rato. Y hay actualizaciones recientes, la última era con los motivos de celebración navideños. Es un buen juego indie, si tienen la oportunidad, pueden probarlo y disfrutar el viaje de Flint, para mantener el parque y cuidar de los campistas.
Muchas gracias por pasar y leer.

He utilizado el traductor de Google para el idioma inglés.
Las imágenes de la publicación son capturas de mi juego.
Que tengan una excelente semana.
Paz.
---
---