New NFT dropped on NFTshowroom – BST giveaway ongoing!
GIVEAWAY at the bottom!
Lucky as I am I sold 3 art pieces in 24h! I don´t know if Beeple managed to do that but I did.
Of course the numbers are a bit different but hey, I don´t really care. I just like to create fun stuff and experiment around and by that grow my skills.
I hope of course, that my art is going to sell even more but I am here for the sake of creation. My life is not depending on me selling NFTs so I can go slow and steady building my portfolio and hopefully selling some pieces along.
@richardfyates told us on discord to be patient about it. I want to thank him again here out in the open for the HBD tip he sent me along with a message:

Keep up the cool work! (And be patient! Sometimes art sits for a year, then BAM is sells!!!)
thanks to the sales I made I could afford to mint another piece titled Mesmerize it
It is a single edition as all my recent pieces. I will be sticking to that strategy just to make sure my pieces stay scarce and hopefully store value for the owners.
The thumbnail looks shitty but that is going to change soon after I saw the announcements @nftshowroom made yesterday. There will be a possibility to use MP4 format for thumbnails as well and they also will raise the maximum size of the thumbnail to 5MB giving my giffy nature some more space to play.
Yes but what about the giveaway? You will have to go to another post of mine! Then comment on it according to the rules set in that article!
Click HERE
Don´t forget your sandwich!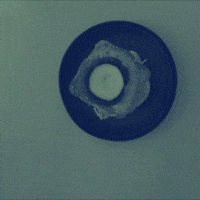 ---
---