Ranged cards will hate her, meet Ilthain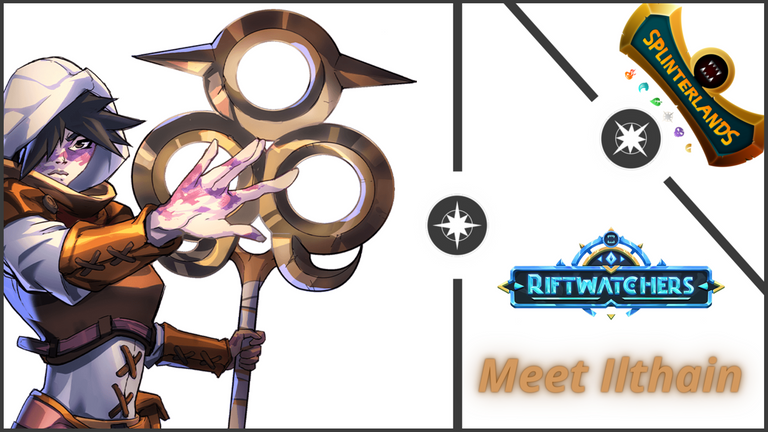 Summoners have very important roles in Splinterlands and with the arrival of Riftwatchers, 6 new summoners have arrived and with incredible uses in battles. For this post I will talk about one in particular that, in addition to being very useful, is the most expensive among the 6 and also very popular in battles, especially in the modern league.
The Summoner I'm going to talk about is Ilthain and I believe that many must already know her since it's not that uncommon to find her in battles, but let's go by parts so you can better understand how this summoner works.

Who is Ilthain?
Ilthain is an epic summoner from the Riftwatchers edition and she belongs to the life deck, her main use will be to give speed and also a powerful weapon against ranged cards but I will leave it to talk more about that part soon.
First you need to know how to find her and for that it's quite simple, you'll just need to go to the Marketplace and filter by: Edition - Riftwatchers / Rarity - Epic / Element - Life / Role - Monsters. After that you will have access to all the information you need about Ilthain, such as its current price to buy or rent, its statistics and even its LORE.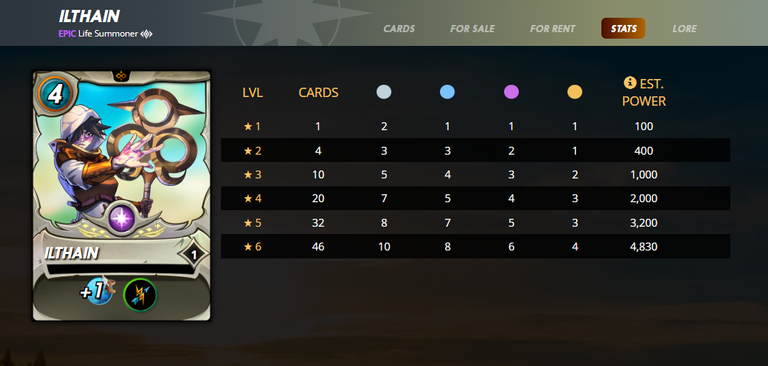 The image above shows your statistics, to find it just follow the steps I mentioned and go to STATS.
As Ilthain is a summoner her role will be to support her monster cards through basic attributes and abilities, this will vary from summoner to summoner. In the case of Ilthain it will give +1 speed to all its cards and also the ability Return Fire which will be very useful against ranged cards, to understand more about it I will give a brief explanation.
I won't explain the basic speed attribute too much because it's very simple, its usefulness is to give the card a chance to attack first so the card with the highest speed will attack first, the only exception is when there is the Reverse Speed ​​rule where the opposite happens.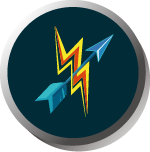 The Return Fire ability will only work against ranged cards and its utility is to deal some of the damage back when a ranged card attacks a card of yours that has that ability. Basically the ranged card that attacks will receive 1/2 of the ranged damage dealt back and this value is rounded up, so if a card with 3 ranged attack attacks a card of yours that has the Return Fire ability, it will receive 2 of damage back.
In addition to granting basic attributes and abilities, summoners also have another important role in Splinterlands which is to level the cards that you can use in battles, this means that if you have a high level monster and a low level summoner, you will not be able to use that monster at the level you have it. The statistics image shows more details of Ilthain's levels and even what level of cards it allows to use in battles.

Remembering that there are also level restrictions in leagues, you can find this information by going to the battles in Splinterlands and then in leagues.

Current Value
To have Ilthain in your battles there are only 3 options, the first is to buy her, the second is to rent and the third is to buy packages and try your luck.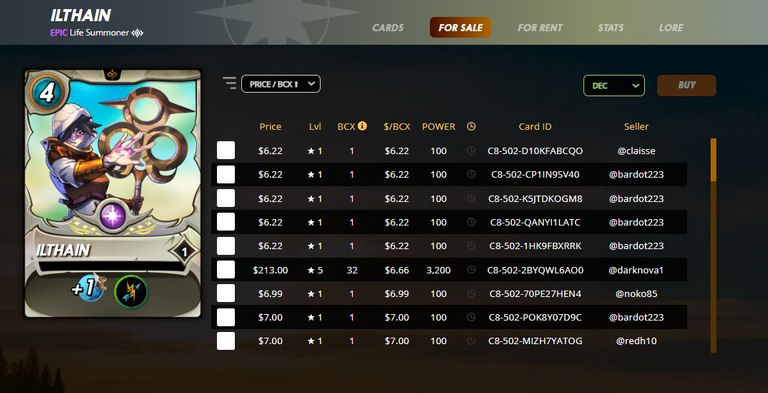 In the first option, which is to buy the card, you just need to follow the steps I mentioned before and go to For Sale to see the prices that Ilthain is being negotiated and select how many you want to buy, its current price is $6.22.
In the second option, which is to rent the card, you will have a big variation in the values ​​because there are few Ilthains in circulation, but currently you can rent it at level 1 for 15~20 DEC.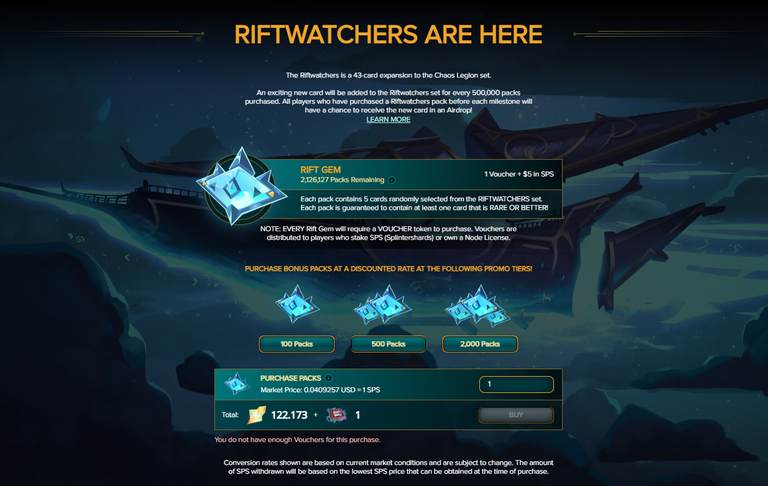 The third and last option is to buy Riftwatchers packs and its value is 5$ in SPS + 1 Voucher as shown in the image above. You can also buy the packs on the Hive Engine for a lower price but you will not be eligible for the edition airdrops.
In my opinion, buying packs to have a specific card will depend a lot on your luck and also on the amount you buy, it usually pays more to get the cards you want in the marketplace but as the value of Ilthain is not cheap so maybe buying some packs is a good idea, but it will depend on your luck.
Remembering that this is not an investment tip.
That was my post about the Ilthain card, if you want you can also look and participate in my daily giveaway that can be found on my blog. Bye!

LORE
Pledged into service by the Silver Shield, Ilthain was a warrior trained in the martial arts. She spent her days working in communities and helping those less fortunate. At night, however, she acted on behalf of the Silver Shield to rid the land of the corrupt, using her unique abilities to bring peace to Khymeria by purging it of its lawless rebels. She became so well known among the people that when she passed on, thousands of mourners followed her body as it was carried to the Peace of Light Monastery and entombed within a great mausoleum.
Following a great number of supplications from the people, Ilthain was eventually named a saint on the first anniversary of her death. There was much rejoicing. Every year, celebrations were held to honor and remember her deeds—that is, until the Chaos Legion invaded.
On the seventy-first year of her death, when the people made their way to the tomb of their lady, Ilthain, they discovered someone had moved the stone door aside. The crypt was empty. The people painted holy symbols upon the mausoleum and prayed for days, asking the gods to strike down with holy fire whoever had desecrated the tomb.
Ilthain watched, shrouded beneath a cloak and hidden in a nearby thicket. She did not know what had happened or why she had been resurrected, but she knew the people wouldn't accept her—not with the blight that plagued her and rotted her skin. She looked more like a revenant of the Dark Eternals than a champion of the Silver Shield.
After hearing of the Chaos Legion, she set out to find them and determine if it had been they who had breathed new life into her… and, if so, why. Never did her love for the people diminish, though. Ilthain continued to do everything she could to help them, even if she had to remain in the shadows.
---
---