Panqui | Elegant and arrogant like a diva 📸🐈
Hello again, pet lovers. I'm back, after having introduced my other kitty Waffle several days ago. Today it's Panqui's turn, a very introverted cat but she lets her arrogant side show through with elegant demeanor. She is an adult cat of 2 years old and is a beautiful specimen, I think she knows it and that is the reason for her diva air.
So much so that she prefers to do her presentation herself.
📸🐈
Meow... Let's skip the name part, my owner already said it.
Well, okay, I'm Panqui. And it's a pleasure to be on Hive for you to admire me. Today I'm posing for you in my lovely pink sweater, the one chosen by my owner who will take some pictures of me with the camera.
---
Hola de nuevo, amantes de las mascotas. Estoy de vuelta, luego de haber presentado a mí otra gatita Waffle hace varios días. Hoy le toca el turno a Panqui, una gata muy introvertida pero que deja ver su lado arrogante con porte de elegancia. Ella es una gata adulta de 2 años y es un hermoso ejemplar, creo que lo sabe y por eso es el motivo de su aire de diva.
Tanto es así que ella misma prefiere hacer su presentación.
📸🐈
Miau... Saltemos la parte del nombre, ya mi dueño lo dijo.
Bueno, está bien, soy Panqui. Y es un placer estar en Hive para que me admiren. Hoy me presento posando para ustedes con mi encantador suéter rosa, el elegido por mi dueño quien me hará algunas fotografías con la cámara.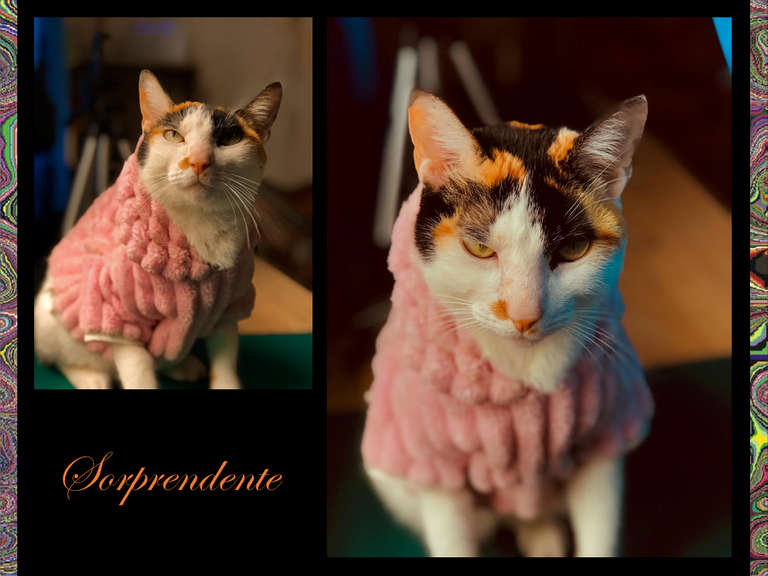 As we are coming into the cold season that brings the upcoming month of December, this sweater is a good choice to give ideas of appropriate attire for your pets for Christmas.
---
Como estamos llegando a la época del frío que trae el próximo mes de diciembre, este suéter es una buena elección para dar ideas del atuendo apropiado para sus mascotas en navidad.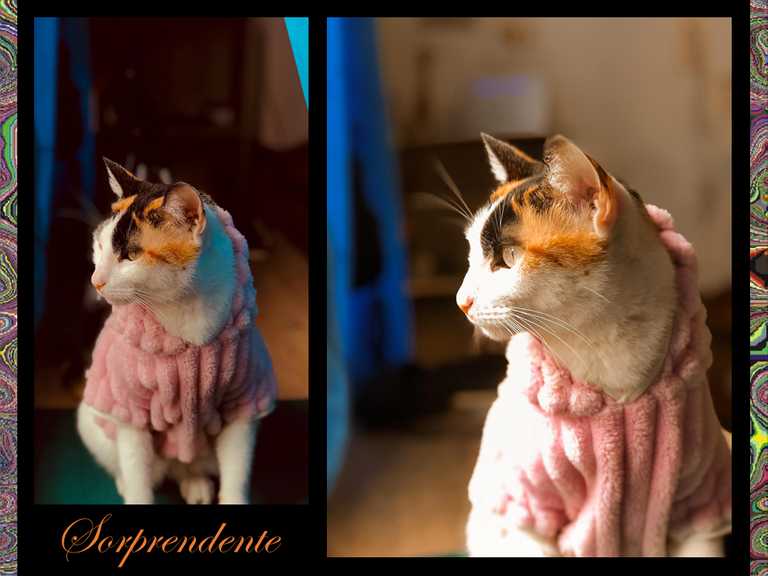 Before you judge me, I admit I'm very impatient but I'm also a sugar cube. Don't get carried away by my cold stare.
---
Antes que me juzguen, reconozco que soy muy impaciente pero también soy un terrón de azúcar. No se dejen llevar por mi mirada fría.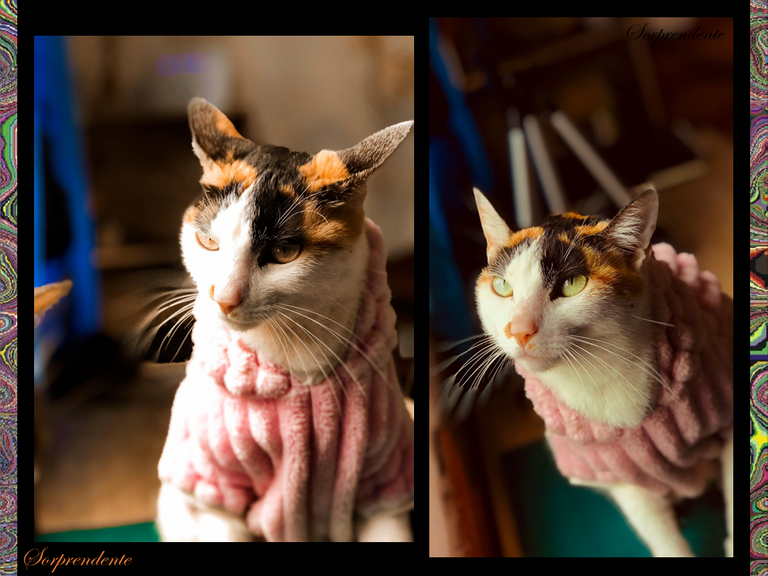 From the look on my face you might think I'm having a bad time but even though it doesn't look like it I'm happy to be here, for all you.
---
Por la expresión de mi cara pudieran pensar que la estoy pasando mal pero aunque no lo parezca me siento feliz de estar aquí, para todos ustedes.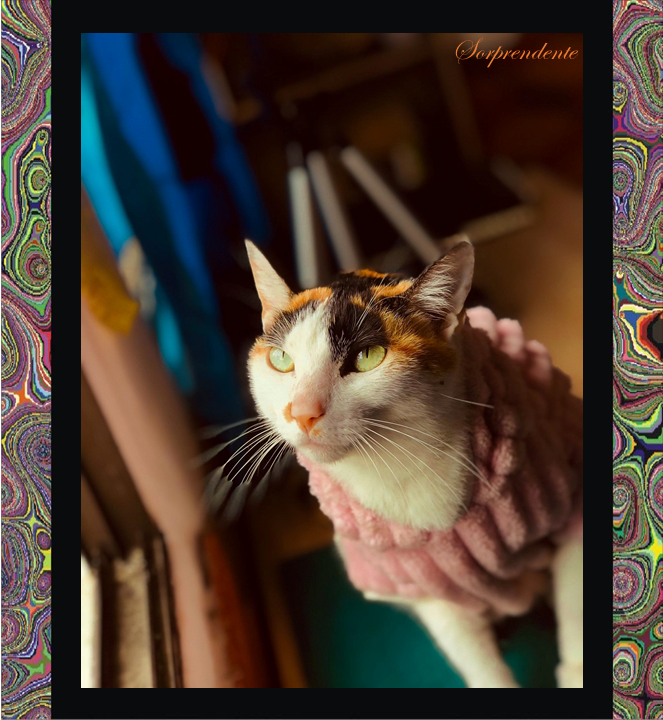 What's the matter?
Meow... This can't be true!
My sister Waffle arrives to interrupt my photo shoot. She wants to steal exclusivity from me when it's my special moment for Hive. My owner couldn't make her leave and my photo shoot is stopped because of her.
---
¿Qué sucede?
Miau... ¡Esto no puede ser cierto!
Mi hermana Waffle llega para interrumpir mi sesión de fotos. Ella quiere robarme exclusividad cuando es mi momento especial para Hive. Mi dueño no pudo hacer que se fuera y mi sesión fotográfica se detiene por su culpa.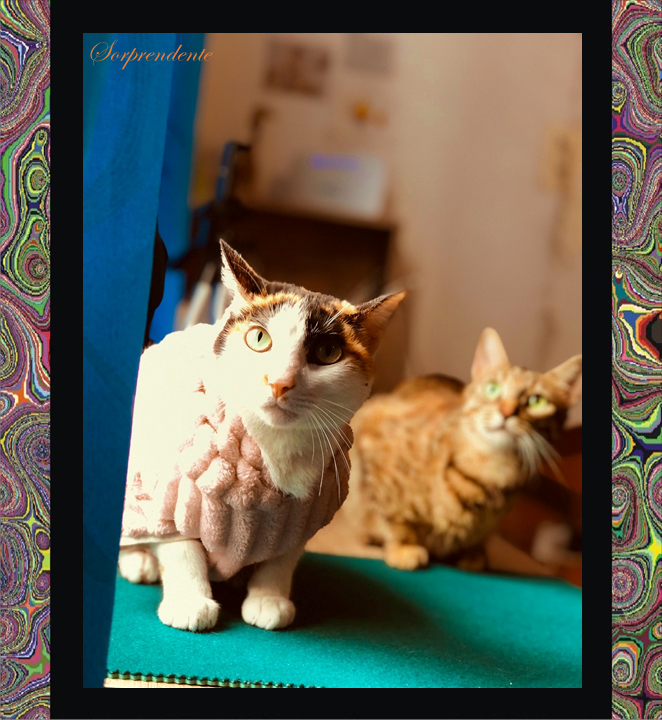 She leaves me without any more of my pictures and there you can see her at the window as usual. As indifferent as if nothing.
---
Me deja sin más de mis fotografías y allí la pueden ver en la ventana como es su costumbre. Tan indiferente como si nada.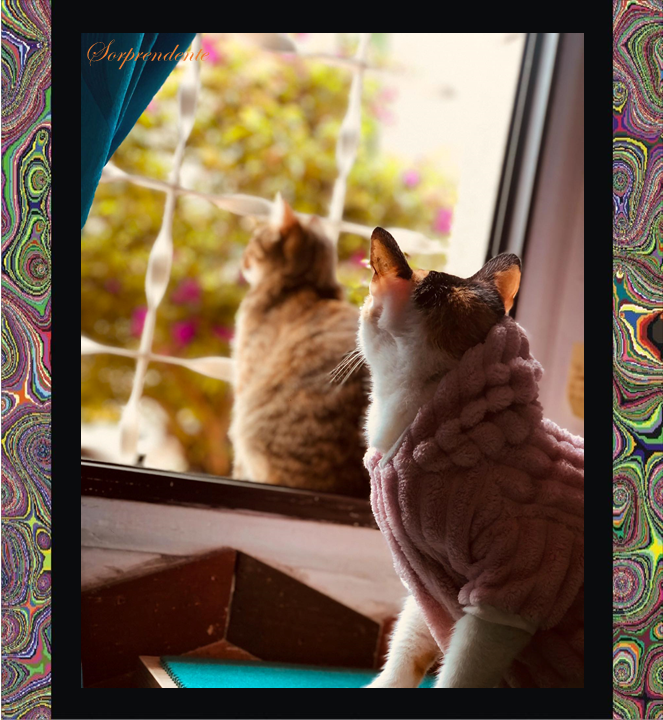 But I know she planned it all. Even though she looks at me with her cute tender eyes. Do you see the reason for my bad mood with my sister?
---
Pero yo sé que ella lo planeo todo. Aunque me mire con sus lindos ojos tiernos. ¿Ven la razón de mi mal humor con mi hermana?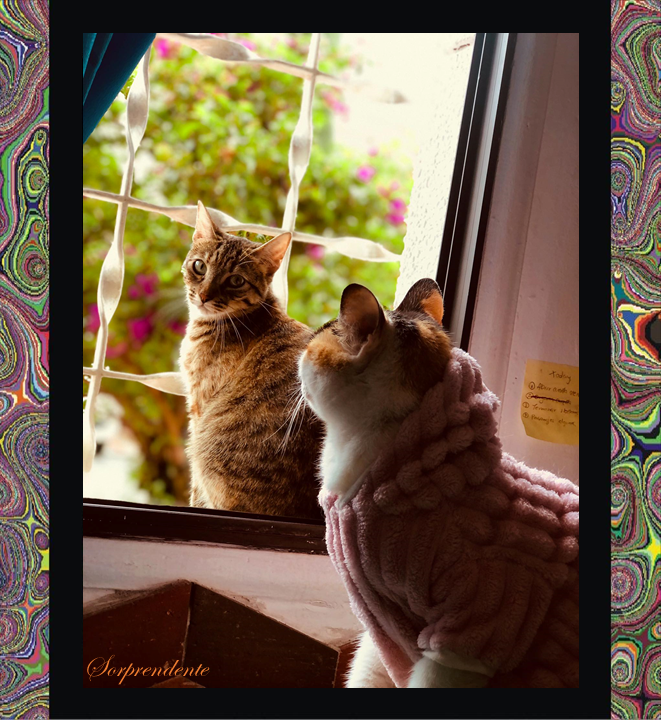 However, I love her and we are still just good sisters. It's the best thing ever.
---
Sin embargo, la amo y soló seguimos siendo buenas hermanas. Es lo mejor de todo.
📸
I've really enjoyed this, believe me! Meow...🐈
Esto realmente lo he disfrutado. ¡Créanme! Miau…🐈
---
---
This has been my other cat Panqui | Elegant and arrogant like a diva.
Esta ha sido mi otra gata Panqui | Elegante y arrogante como una diva.
📸🐈
---
---
Translated with www.DeepL.com/Translator
Gracias por la visita
Thanks for the visit
Bienvenidos a mi blog
Welcome to my blog

---
---
Contenido original / Autor @sorprendente
Fotos e imágenes de mi propiedad.
Si desea usar alguna como referencia
destaque mi nombre como fuente: @sorprendente
Original content / Author @sorprendente
Photos and images of my property.
If you want to use one as a reference,
please highlight my name as a source: @sorprendente
---
---
Nos seguimos viendo y leyendo.
We keep watching and reading.

---
---