Parroquia La Inmaculada | A church that taught me to love it
Greetings again to good friends and lovers of architecture, I tell you that I risk to bring to my blog a publication about a temple, this would be the second time I do it because I do not usually present temples although I like to admire those that show some friends, that's because religious architecture in my opinion is very attractive and especially the largest can be imposing but there is something that I do not like since childhood and are the images that are worshiped, I do not condemn anyone, I am respectful of all people but I am afraid of those figures. Before continuing you can see the first temple I showed in this publication.
On this occasion I present the Parroquia La Inmaculada which is located in the neighborhood of La Floresta, La América, Comuna 12 in the city of Medellín, Colombia. I do not know the exact style of its architecture but it seems to me postmodernism with inspiration from colonial art, typical of the influence of colonialism in America.
Saludos de nuevo a los buenos amigos y amantes de la arquitectura, les cuento que me arriesgo a traer a mi blog una publicación sobre un templo, esta sería la segunda vez que lo hago porque no acostumbro a presentar templos a pesar que me gusta admirar los que muestran algunos amigos, eso es porque la arquitectura religiosa a mi parecer es muy atractiva y sobre todo los más grandes pueden ser imponentes pero hay algo que no me gusta desde niño y son las imágenes que se adoran, no condeno a nadie, soy respetuoso con todas las personas pero me da miedo esas figuras. Antes de continuar pueden ver el primer templo que mostré en esta publicación.
En esta ocasión les presento la Parroquia La Inmaculada que está en el barrio La Floresta, La América, Comuna 12 de la ciudad de Medellín, Colombia. No conozco el estilo exacto de su arquitectura pero me parece posmodernismo con inspiración del arte colonia, típico de la influencia del colonialismo en América.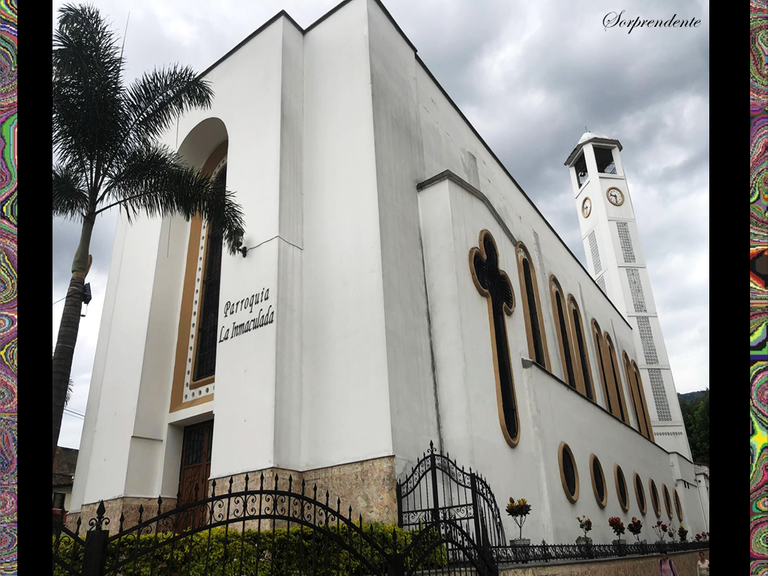 Many times I have passed by the front of this church but it is always closed, in fact in May last year I took a few pictures but I did not dare to publish about it because I did not value it which I regret because it is a beautiful temple. At least from the outside I can admire it because I have not been able to go inside, because incredibly every time I have passed by it is closed, so both last year and now, I only took pictures of the main facade and the side facades. I wish you could see the most recent photos and also the old photos I have of the Parroquia La Inmaculada.
Muchas veces he pasado por el frente de esta iglesia pero siempre está cerrada, de hecho en Mayo del año pasado le tomé unas pocas fotos pero no me animé a publicar sobre ella porque no la valoré de lo cual me arrepiento porque es un templo hermoso. Al menos por fuera es que puedo admirarlo pues no he podido pasar al interior, porque increíblemente cada vez que he pasado por aquí está cerrado, así que tanto el año pasado como ahora, solo le tome fotos a su fachada principal y las fachadas laterales. Deseo que puedan ver las fotos más recientes y también las fotos viejas que conservo de la Parroquia La Inmaculada.
---
Parroquia La Inmaculada (Mayo del 2021)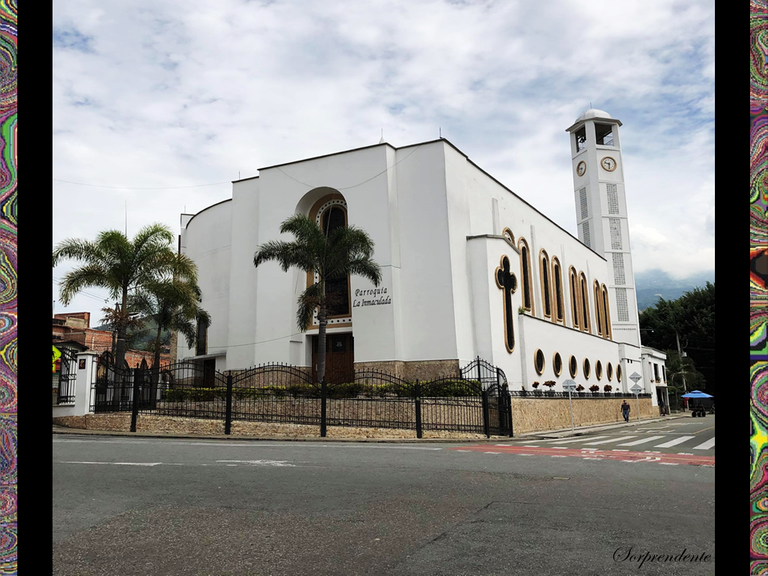 ---
---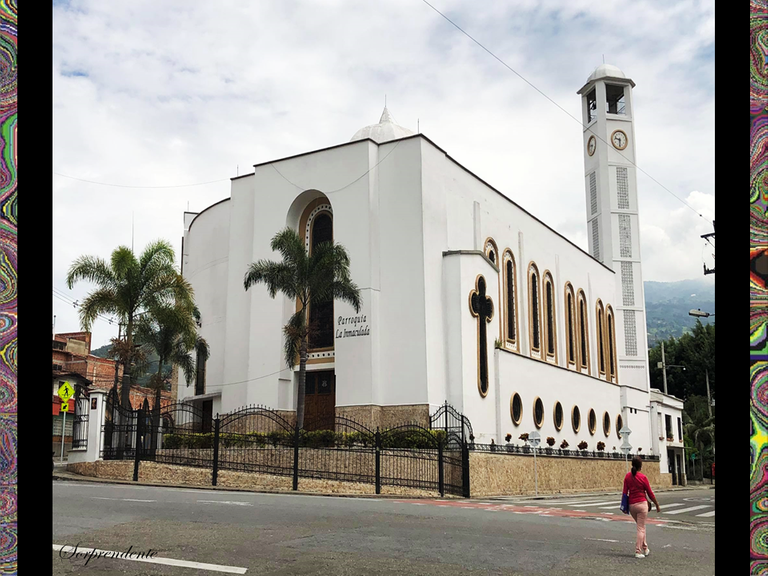 ---
Parroquia La Inmaculada (Actual)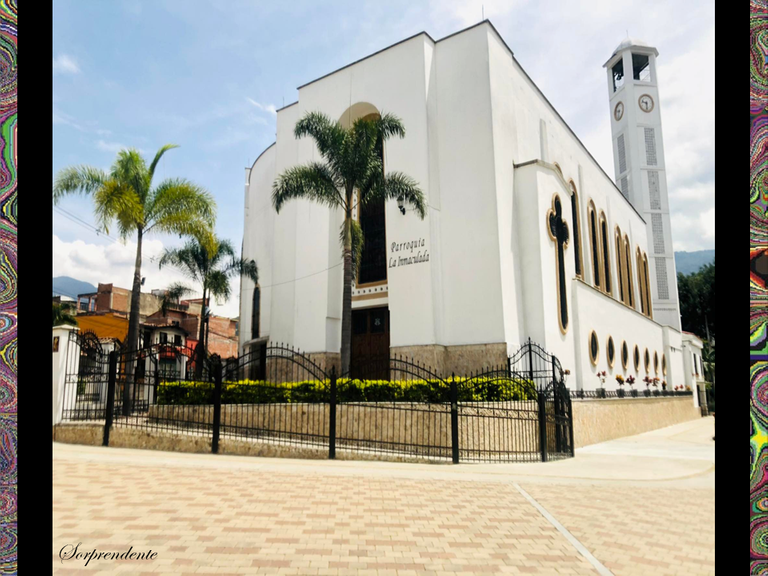 ---
As you will notice, there are no changes in the façade of the church, but look at the street, last year it was asphalt and now it is tiled. This is because there was a remodeling in the area that benefited even more the appearance of this temple.
Como se darán cuenta, no hay cambios en la fachada de la iglesia pero fíjense en la calle, ésta el año pasado era de asfalto y ahora es de baldosas. Esto se debe a que hubo una remodelación en la zona que benefició aún más la apariencia de este templo.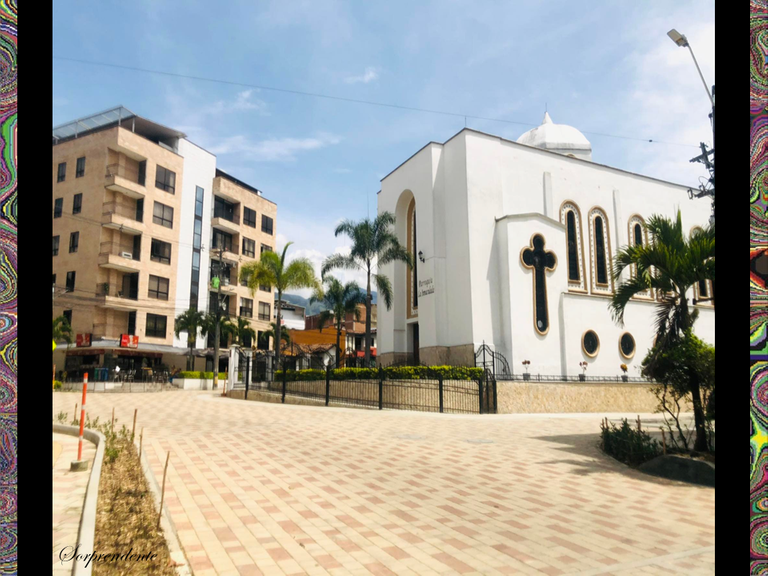 In front of La Inmaculada Parish is La Floresta Park, which underwent restoration work by the Mayor's Office of Medellín in May of last year. As part of the restoration work, the road around the park was renovated, which is no longer for vehicular traffic.
You can learn about the recovery of La Floresta Park in a paper I presented to the community in two parts. 1 and 2
Frente a la Parroquia La Inmaculada está el Parque La Floresta el cual fue sometido a trabajos de recuperación por parte de la Alcaldía de Medellín precisamente en el mes de Mayo del año pasado. Como parte de los trabajos de restauración la vialidad alrededor del parque fue renovada, la cual ya no es para circulación de vehículos.
Pueden conocer sobre la recuperación del Parque La Floresta en un trabajo que presenté en la comunidad en dos partes. 1 y 2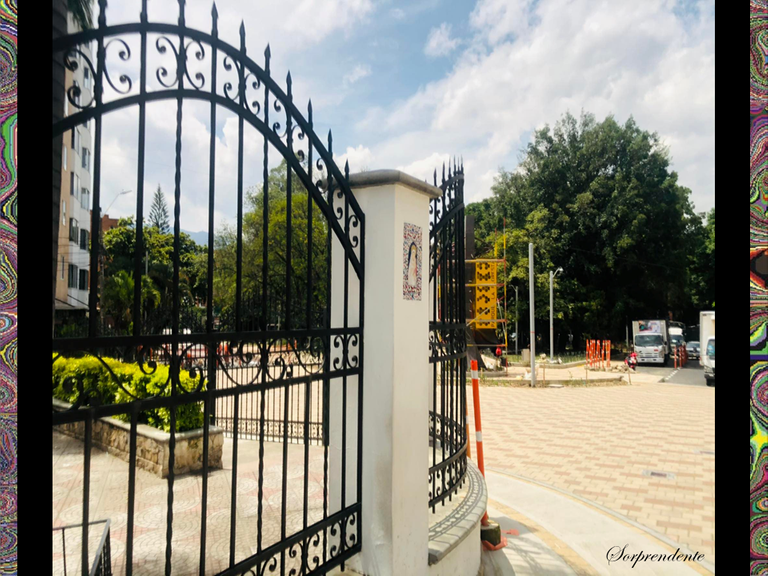 I will show you another photo of the church before the restoration of the road so you can see how wide the street was between La Floresta Park and the Parroquia La Inmaculada.
Les mostraré otra foto de la iglesia antes de la restauración de la vialidad para que vean lo amplia que era la calle entre el parque La Floresta y la Parroquia La Inmaculada.
---
Parroquia La Inmaculada (Mayo del 2021)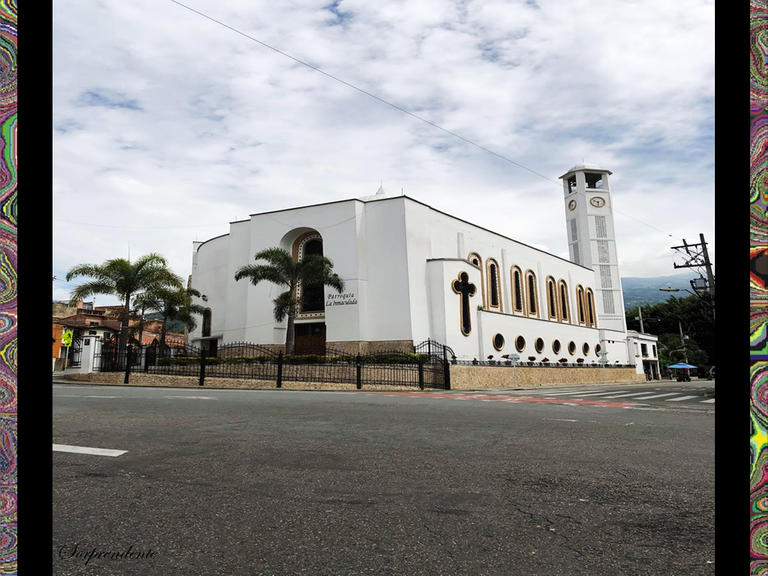 Looking at the current Parroquia La Inmaculada, notice that it preserves the order of the natural elements, such as the three chaguaramos and the planters that are well preserved, giving a nice contrast to the white tone that predominates in the high walls of the main facade.
Viendo bien la Parroquia La Inmaculada actual, fíjense que conserva el orden de los elementos naturales, como los tres chaguaramos y las jardineras que están bien conservadas dándole un bonito contraste al tono blanco que predomina en las paredes altas de las fachada principal.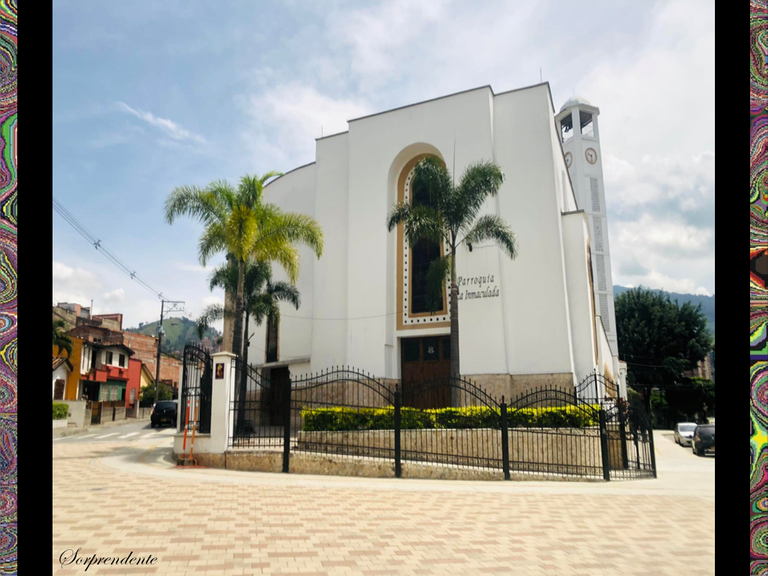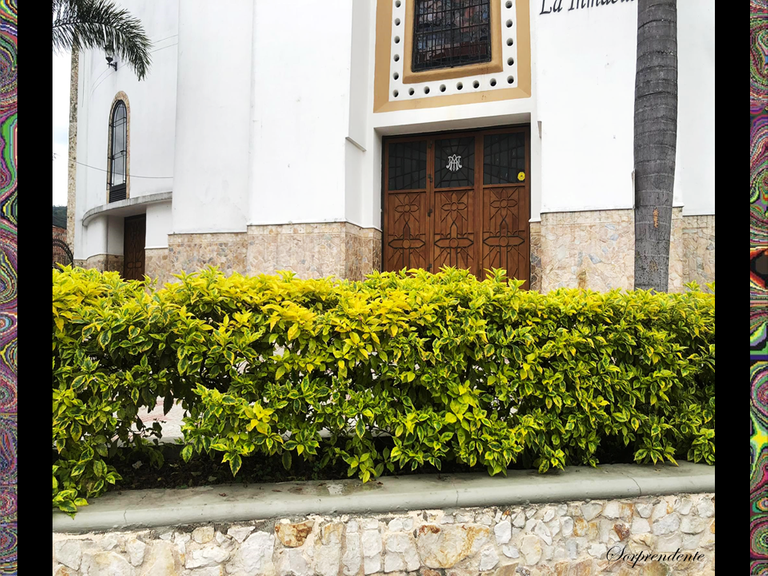 This is a temple that is striking when seen from afar, it is imposing in appearance and when seen up close, it is also very impressive. You can notice the details that adorn its exterior such as the large stained glass window in the arch over the main door of carved wood, also the columns for the trellis, made of concrete and decorated according to the Catholic religion.
Este es un templo que viéndolo de lejos es llamativo, es de aspecto imponente y viéndolo de cerca también lo es. Se nota los detalles que adornan su exterior como el gran vitral en el arco sobre la puerta principal de madera labrada, igualmente las columnas para el enrejado, hechas de concreto y decoradas de acuerdo a la religión católica.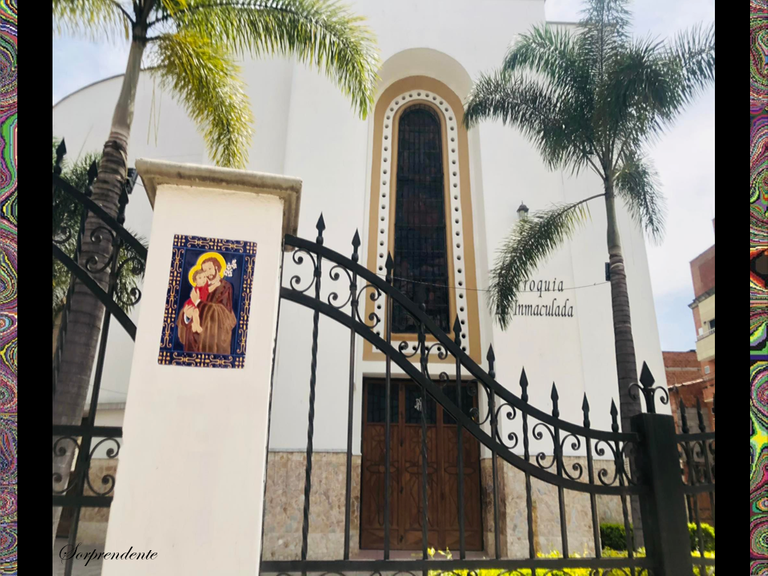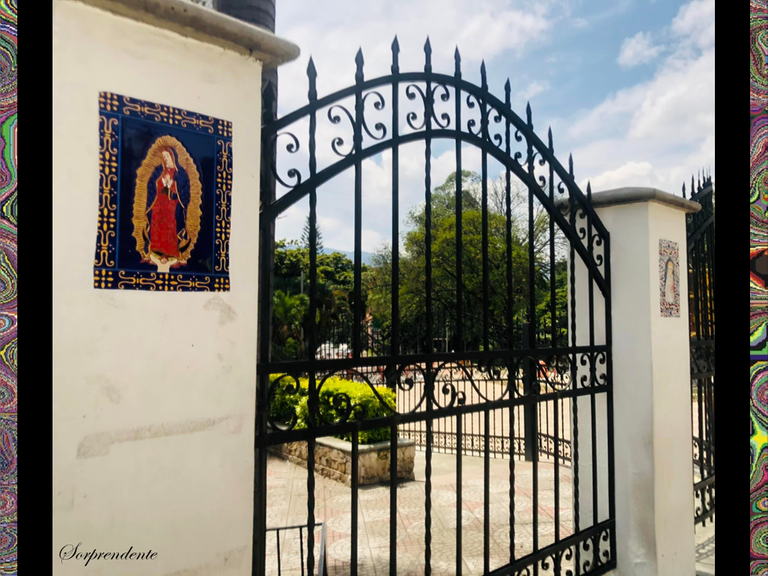 I like the grille that borders the front of the church made with turned iron bars and wrought iron.
Me gusta la reja que bordea el frente de la iglesia hecha con barras de hierro torneado y con hierro forjado.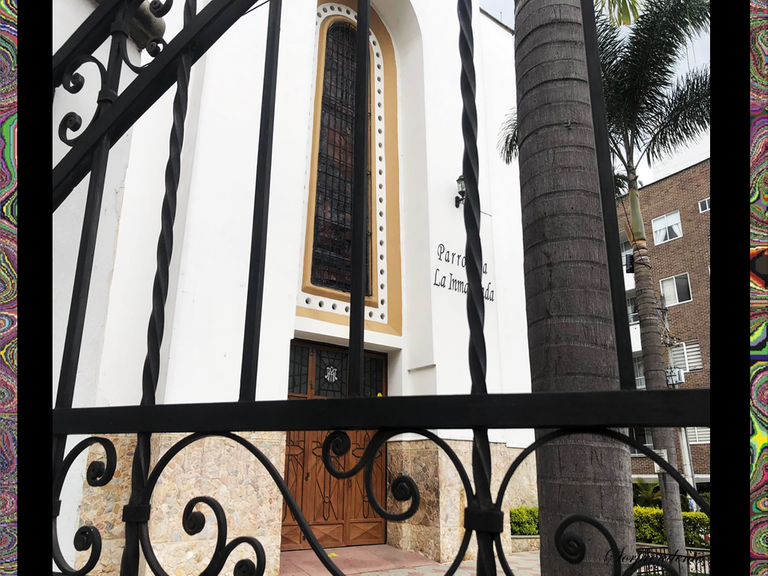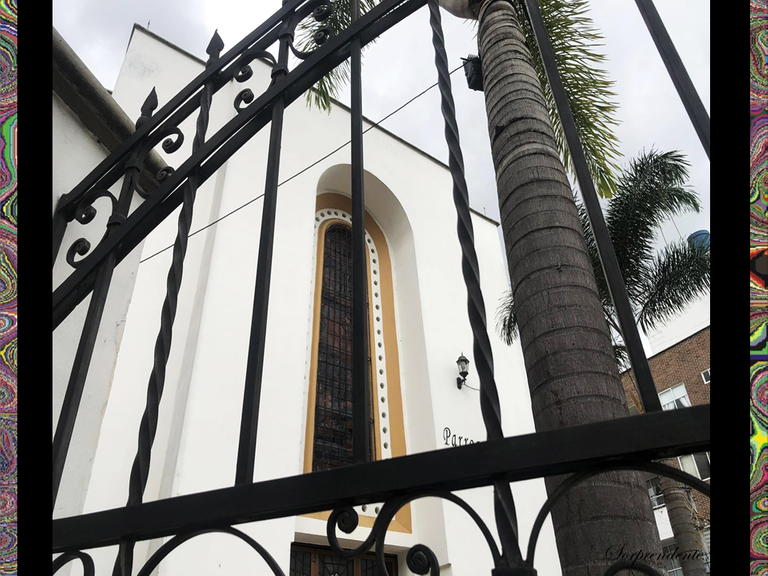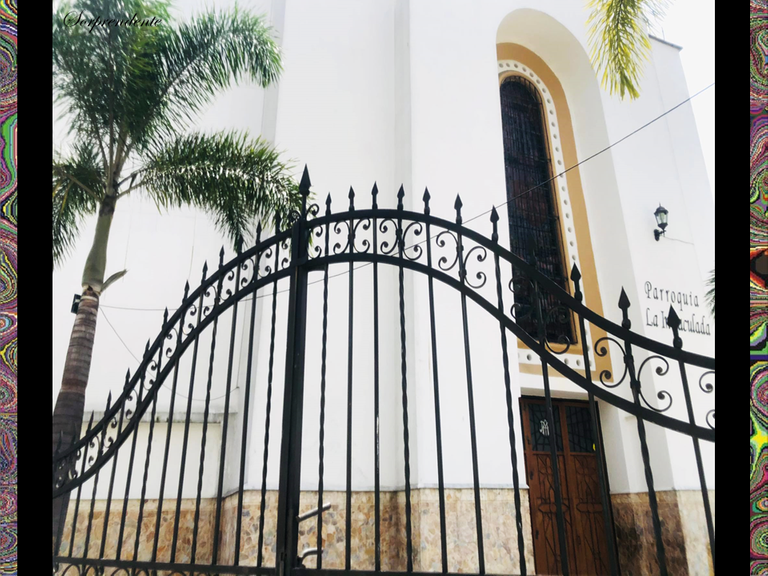 Right side facade
Fachada lateral derecha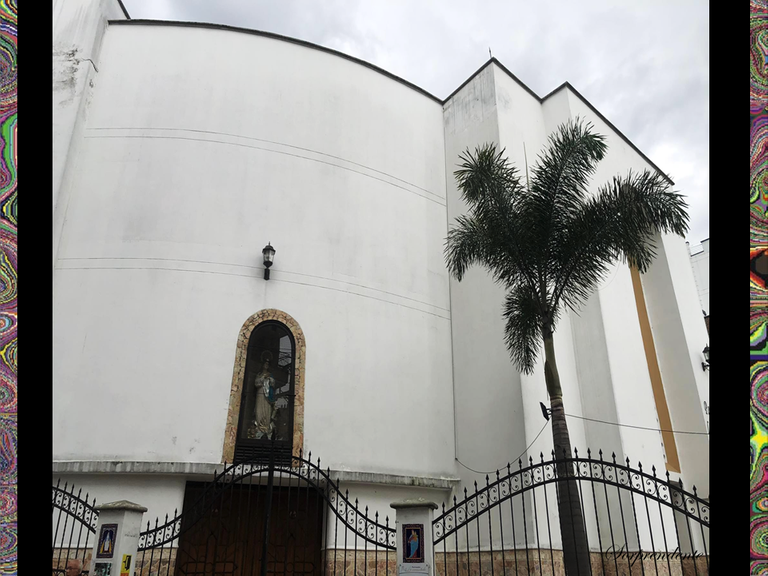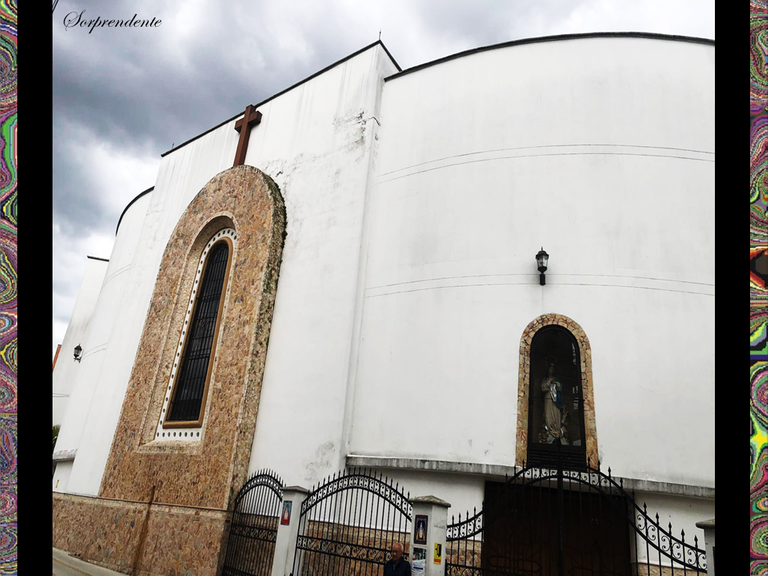 A stained glass window adorns this side façade inside a large stone arch that gives it a beautiful baroque touch. Undoubtedly, this element is the most striking.
Un vitral que adorna esta fachada lateral dentro de un gran arco de piedras que le da un hermoso toque barroco. Sin duda, este elemento es el que más llama la atención.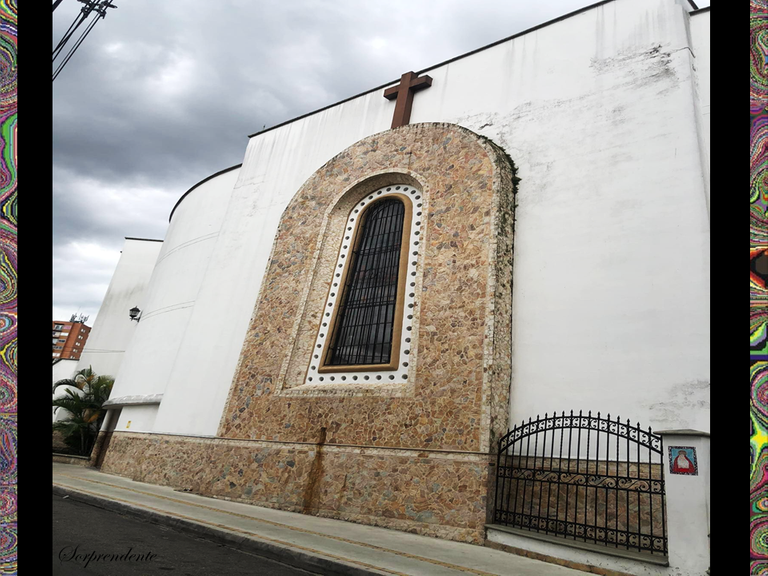 I zoom out for other photos and you can see two domes, one large and one small.
Me alejo para otras fotos y se puede ver dos cúpulas, una grande y otra pequeña.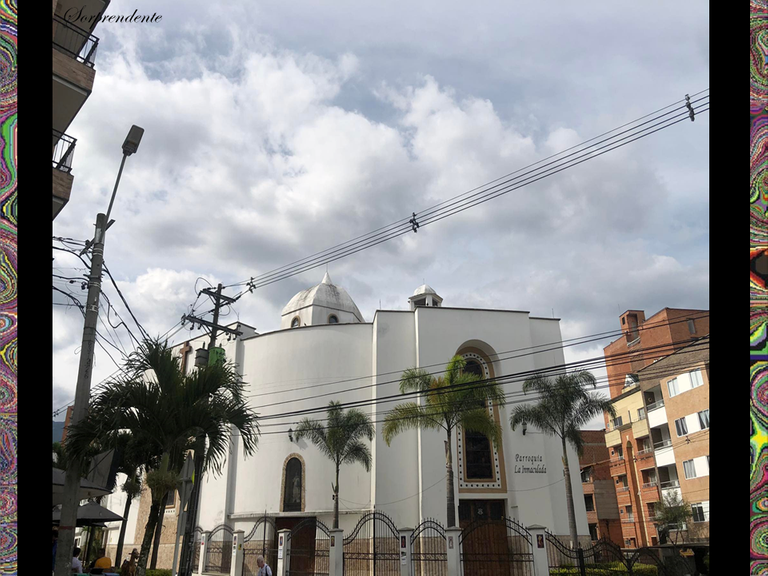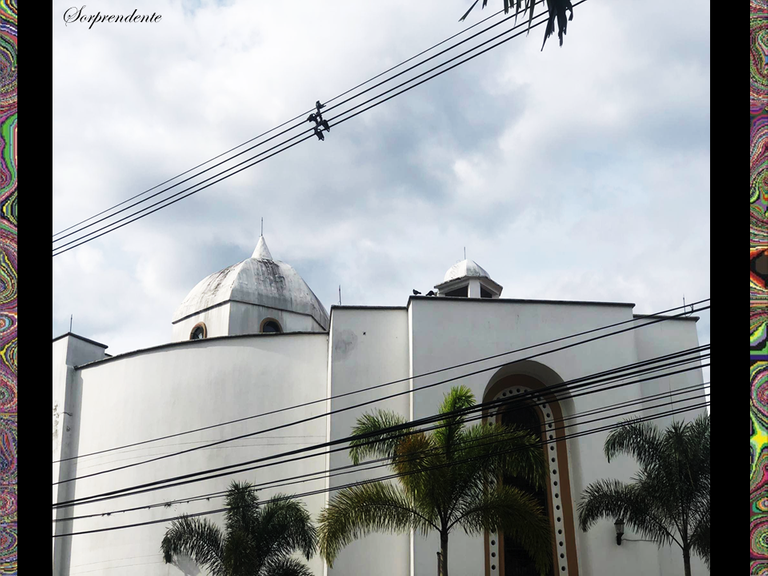 The big dome I think is over the altar in the interior of the temple, I regret that I could not get a photo that showed it better, however the small dome I could see it in the other side facade of the church.
La cúpula grande creo está sobre el altar en el interior del templo, lamento que no pude conseguir una foto que la mostrara mejor, sin embargo la cúpula pequeña la pude ver en la otra fachada lateral de la iglesia.
Left side facade
Fachada lateral izquierda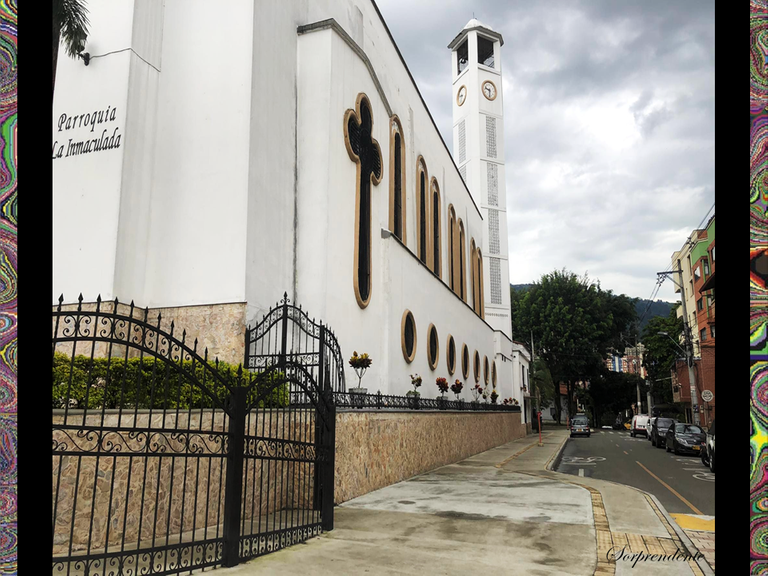 At the end you can see the bell tower, which has an integrated clock, which I like as a useful and attractive element. As you can see the tower ends in the small dome.
Se puede ver al final la torre del campanario, que tiene un reloj integrado lo que me gusta como elemento útil y atractivo. Como ven la torre finaliza en la pequeña cúpula.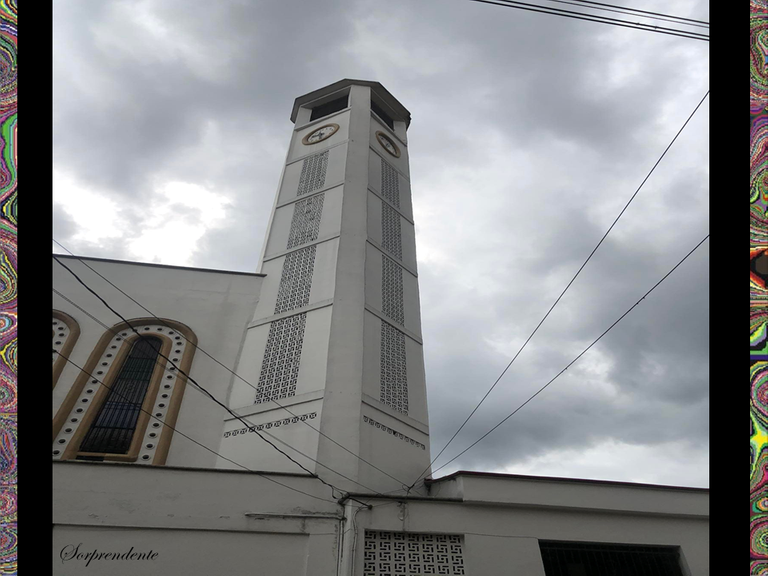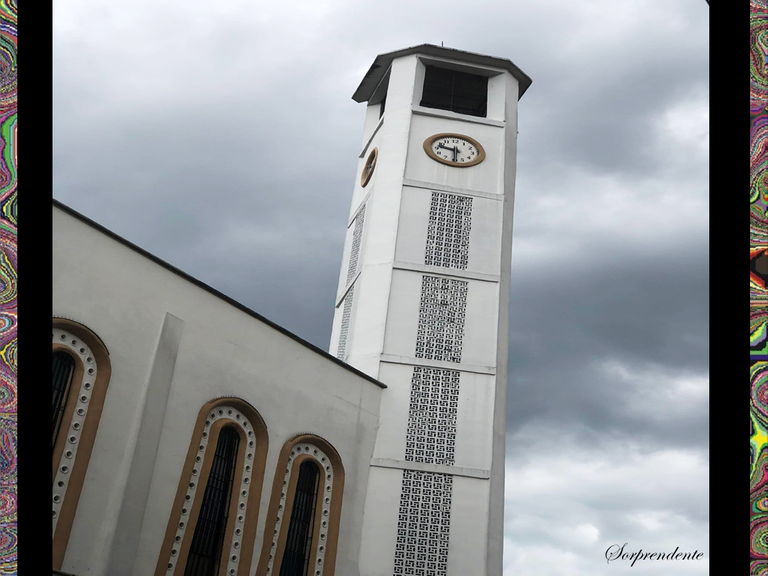 The left side facade has more elements, as you can see there are several stained glass windows, among them the largest is a very beautiful cross-shaped one, others in the form of arches and other circular ones called portholes which suggests to me that it is a temple with a lot of natural lighting inside.
La fachada lateral izquierda tiene más elementos, como pueden ver hay varios vitrales, entre ellos el más grande es uno en forma de cruz muy hermoso, otros en forma de arcos y otros circulares llamados ojos de buey lo que me sugiere que es un templo con mucha iluminación natural en su interior.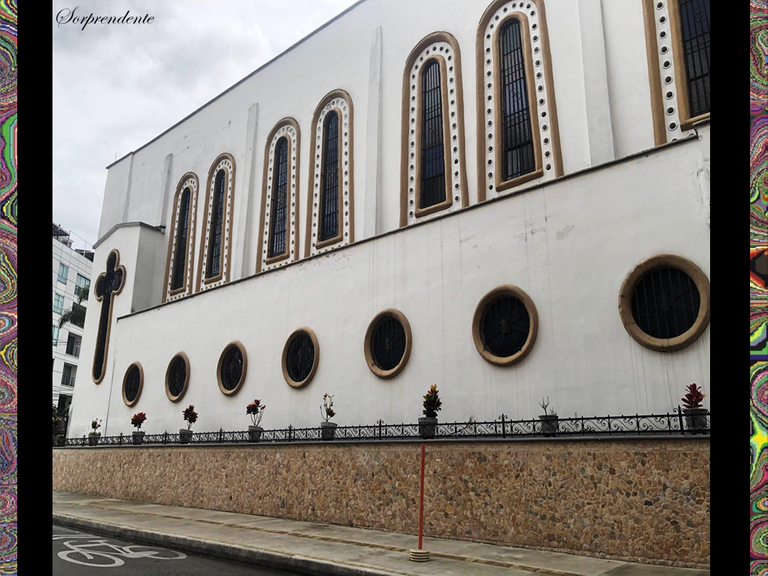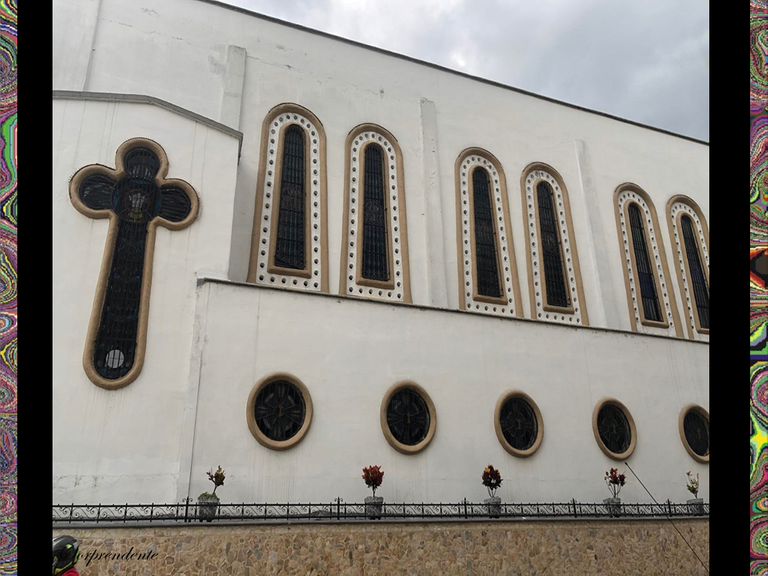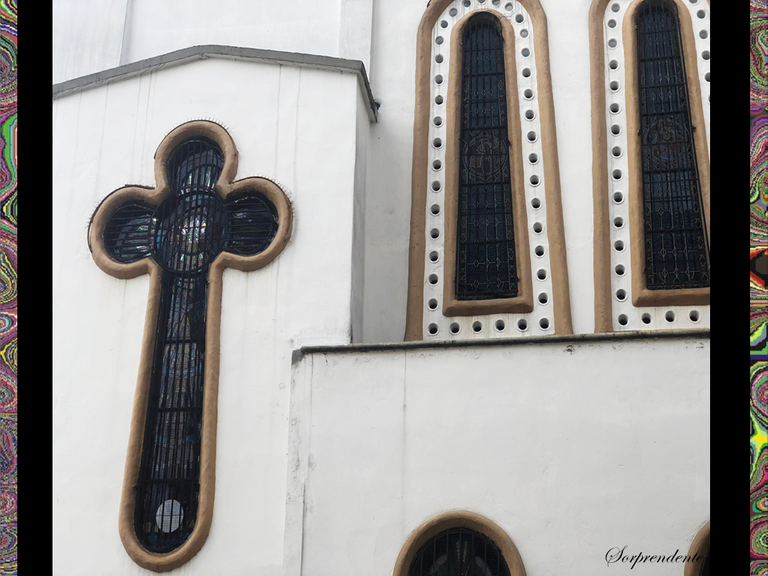 All the stained glass windows of this church are protected with the same style of the iron grille that borders the front of the church, in my opinion it is a perfect detail this combination of elements because the black painted iron does not overshadow the series of stained glass windows but enhances it. The tones and colors used on the outside of the church are nice, they make it more attractive and modern, of course the planters give it more life with the natural touch that can not be missing in the green city of Medellin.
Todos los vitrales de esta iglesia están protegidos con el mismo estilo de la reja de hierro que bordea el frente de la iglesia, a mi parecer es un detalle perfecto esta combinación de elementos porque el hierro pintado de negro no opaca la serie de vitrales sino que lo realza. Los tonos y colores usados en la parte externa de la iglesia son agradables, la hacen más atractiva y moderna por supuesto las jardineras le dan mayor vida con el toque natural que no puede faltar en la ciudad verde de Medellín.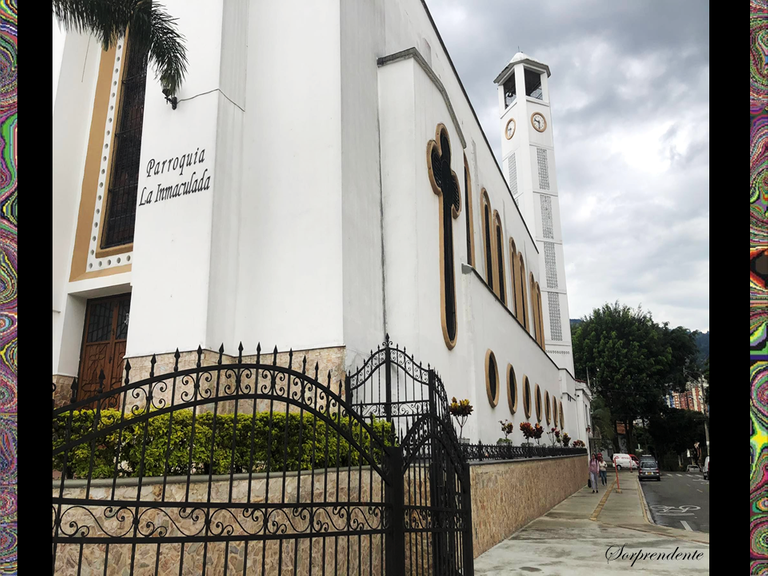 The streets on the sides of the church are still asphalt, only the front of the church was left as a boulevard for pedestrians because it is connected to La Floresta Park, but in general the streets are quiet spaces for walking, especially because of the wide sidewalks.
Las calles de los laterales de la iglesia sigue siendo de asfalto, solo el frente de la iglesia quedó como boulevard para peatones por estar unido al parque La Floresta, pero en general las calles son espacios tranquilos para caminar especialmente por sus amplias aceras.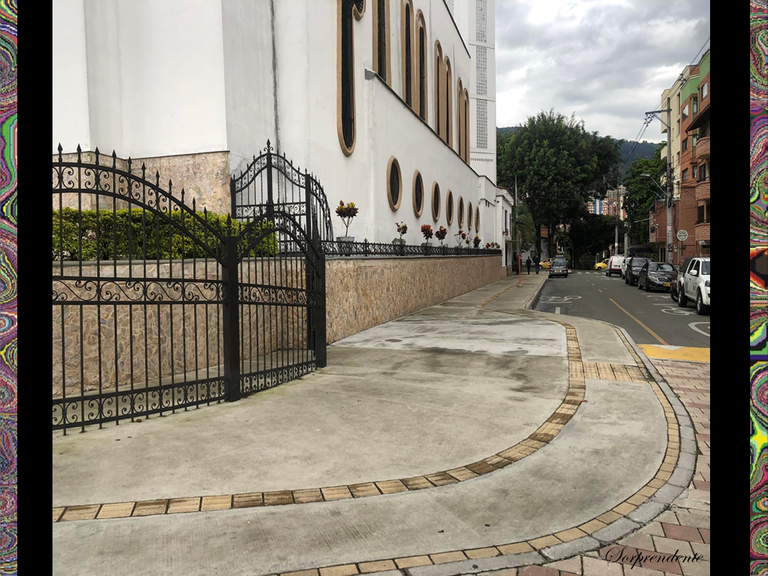 Well friends, I hope you liked the temple called Parroquia La Inmaculada in its external aspect. I hope to continue daring to present other temples here in Medellín as beautiful as this one.
Bien amigos, espero les haya gustado el templo llamado Parroquia La Inmaculada en su aspecto externo. Espero seguir atreviéndome a presentarles otros templos que hay aquí en Medellín tan hermosos como este.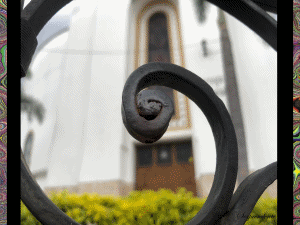 ---
This publication dedicates 10% to the account @aplusd to support the valuable work being done in this wonderful community by the hand of @storiesoferne, to whom I am very grateful for the support I have received and also the one given to the rest of the architecture lovers. I make this delegation of my own free will and without any personal interest.
Esta publicación dedica el 10 % a la cuenta @aplusd para apoyar el valioso trabajo que se realiza en esta maravillosa comunidad de la mano de @storiesoferne, a quienes agradezco mucho por el apoyo que he recibido y también el dado al resto de los amantes de la arquitectura. Esta delegación la hago por voluntad propia y sin ningún interés personal.
---
---
Translated with www.DeepL.com/Translator
Bienvenidos a mi blog
Welcome to my blog
Gracias por tu visita
Thanks for your visit

Contenido original / Autor @sorprendente
Fotos e imágenes de mi propiedad.
Si desea usar alguna como referencia
destaque mi nombre como fuente: @sorprendente
Original content / Author @sorprendente
Photos and images of my property.
If you want to use one as a reference,
please highlight my name as a source: @sorprendente

C/Architecture+Design 🌀 C/Mundo Autismo
Logos propiedad de las comunidades. / Logos owned by the communities.
---
Nos seguimos viendo y leyendo. / We keep watching and reading.
---
---
---