Recreation is important 🐾| Waffles and Panqui have fun
This time Waffles and Panqui give me a new story to share in the pet friendly community at Hive. How not to bring the good stories of my adopted girls? Wow, our pets give us a lot of material to inspire us, without leaving the house we can live between worries and joys with our little friends. This time my feline girls Waffles and Panqui, give life to my publication so you can see that they enjoy being at home with some hobbies.
Esta vez Waffles y Panqui me regalan una nueva historia para compartir en la comunidad amiga de las mascotas en Hive. ¿Cómo no traer las buenas historias de mis chicas adoptadas? Vaya que nuestras mascotas nos dan mucho material para inspirarnos, sin salir de la casa podemos vivir entre preocupaciones y alegrías con nuestros pequeñas amigas. En esta oportunidad mis chicas felinas Waffles y Panqui, dan vida a mi publicación para que ustedes vean que ellas disfrutan estar en casa con algunos pasatiempos.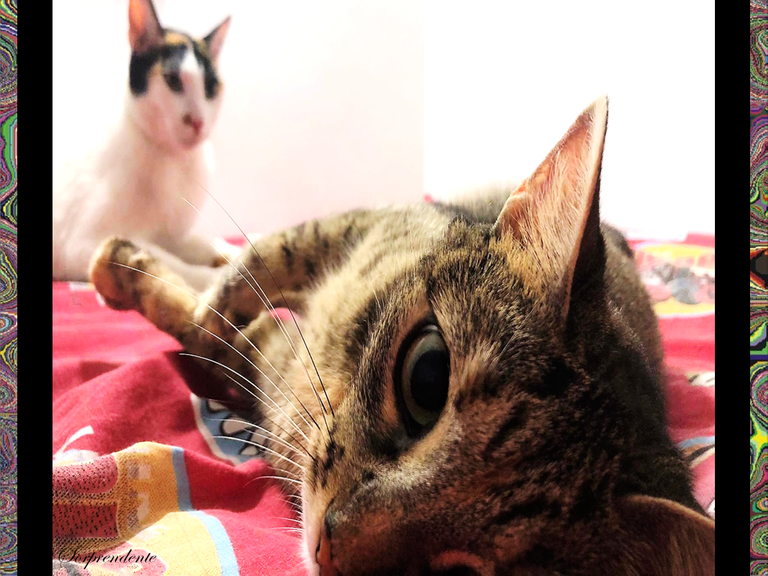 Look at Waffles looking at the camera, she wants to play with everything. Although Panqui often prefers to skip the fun while Waffles is the opposite, the truth is that they are two very close sisters despite the age difference. I don't say ages so as not to offend Panqui, she's my big girl with a look of few friends.
Mira a Waffles mirando la cámara, ella quiere jugar con todo. Aunque Panqui muchas veces prefiere saltarse la diversión mientras Waffles es todo lo contrario, lo cierto es que son dos hermanas muy unidas a pesar de la diferencia de edad. No digo edades para no ofender a Panqui, ella es mi chica grande y con una mirada de pocos amigos.
If I want to see Panqui more animated, I take them both out for a walk. Panqui is the first one at the door, anxious to go out.
Si quiero ver a Panqui más animada las saco a las dos a dar una vuelta. Panqui es la primera que está en la puerta, ansiosa por salir.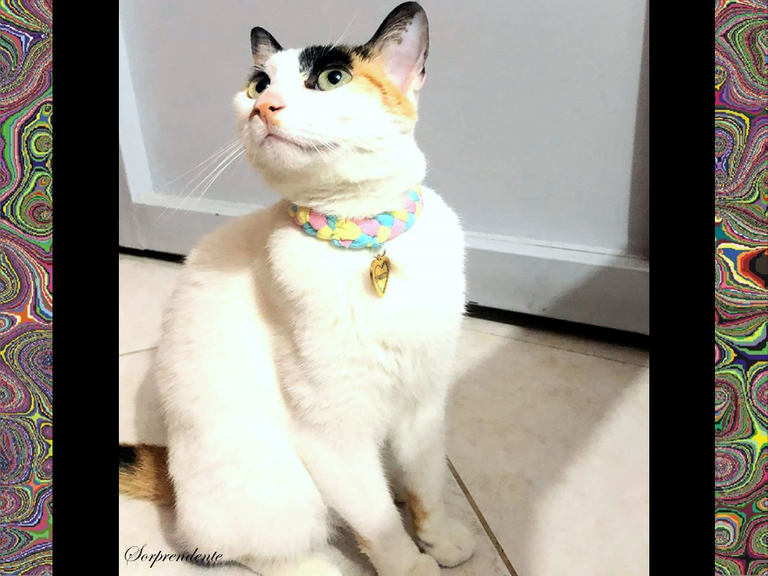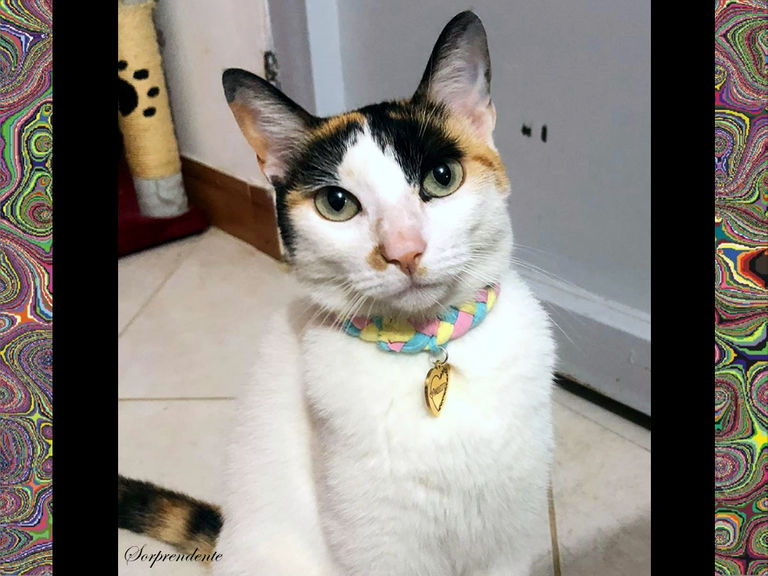 Waffles is also ready for a walk. This little one's anxiety jumps out of her eyes.
Waffles también está lista para el paseo. La ansiedad de esta pequeña le salta por los ojos.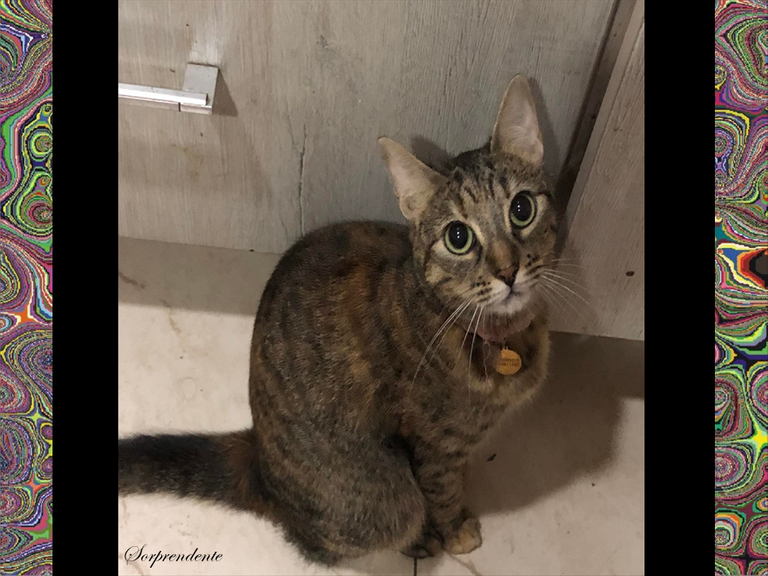 The ride will be by bus and once there look at how they go quietly looking out the window at the city of Medellin. Each one settles in and together they enjoy the ride like well-behaved girls.
El paseo será en bus y una vez allí miren como ellas van quietas viendo por la ventanilla la ciudad de Medellín. Cada una se acomoda y unidas disfrutan el paseo como niñas bien portadas.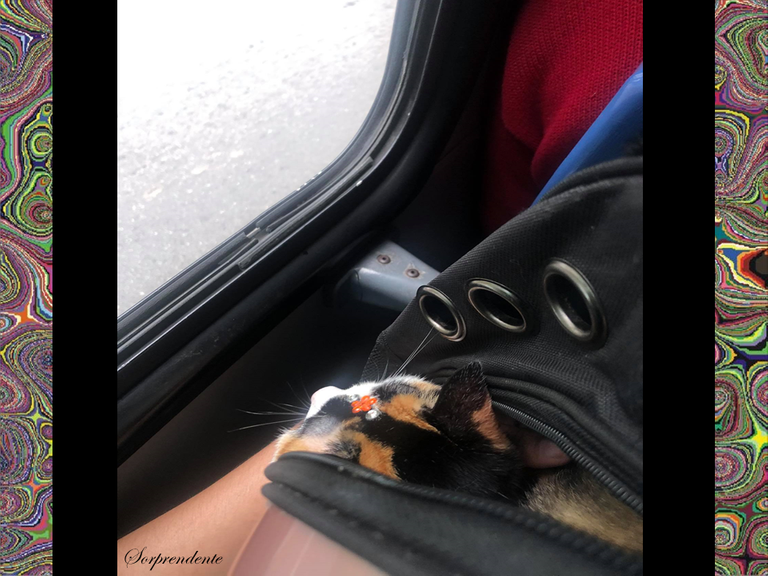 The bus ride relaxes them. The bus is like a pill for anxiety but I can't say the same for me, especially at peak times. But hey, for Waffles and Panqui the experience is positive as you can see.
El paseo en bus las relaja. El bus es como una píldora para la ansiedad pero no puedo decir lo mismo sobre mí, especialmente en las horas picos. Pero bueno, para Waffles y Panqui la experiencia es positiva como pueden ver.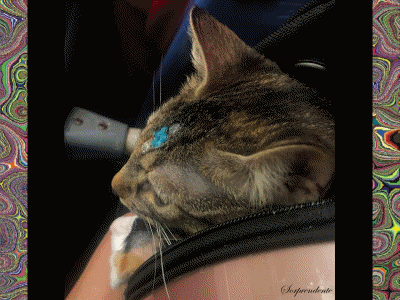 When they arrive at the house, each one settles down anywhere for a nap. For Waffles and Panqui any place is comfortable.
Al llegar a la casa cada una se acomoda en cualquier lugar para una siesta. Para Waffles y Panqui cualquier lugar es cómodo.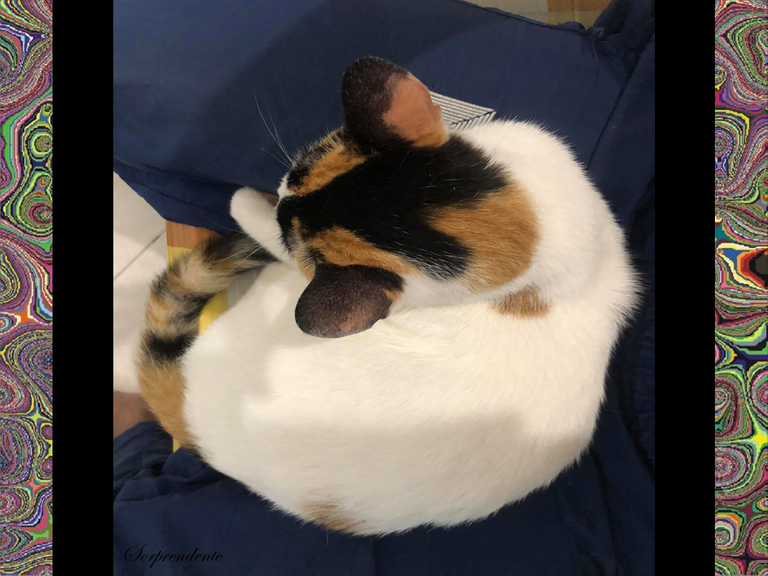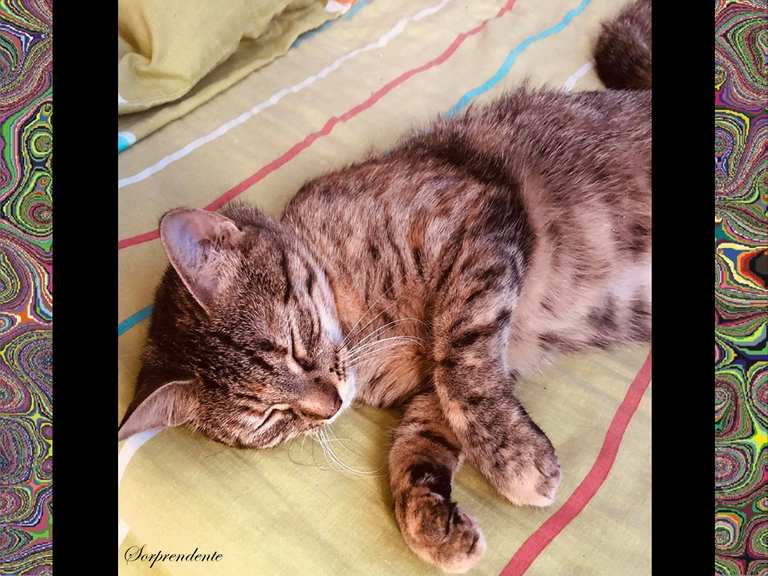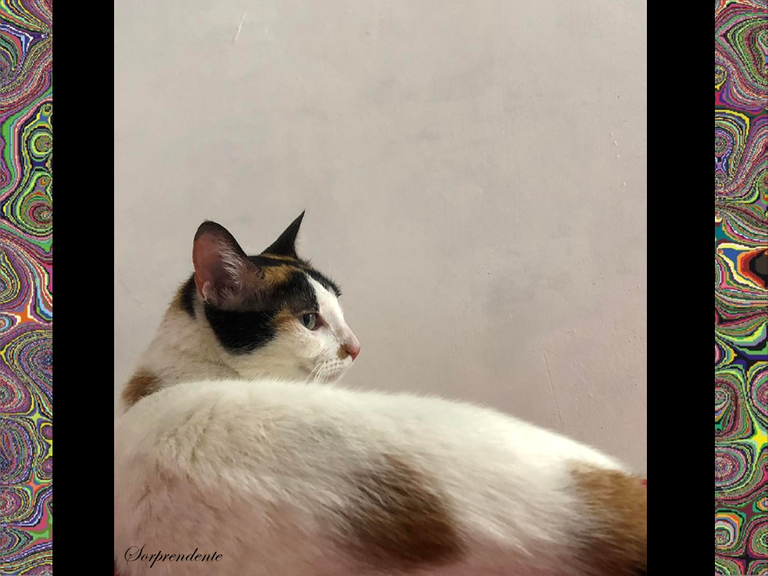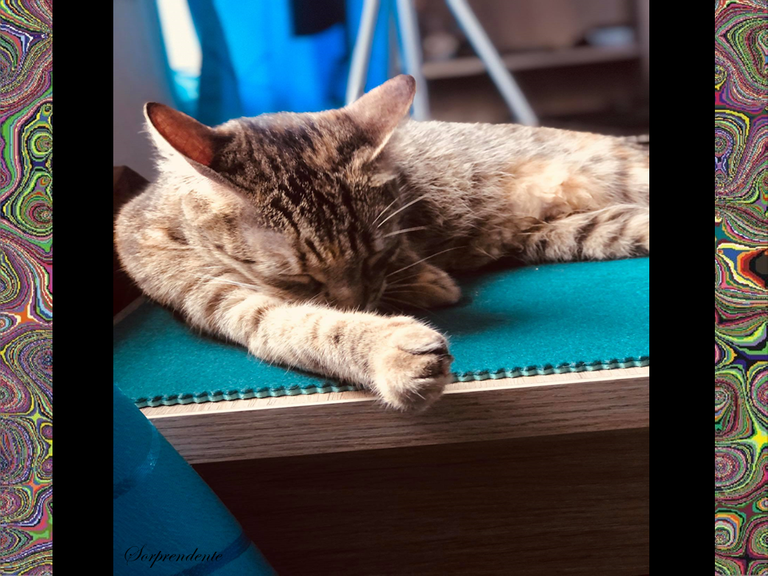 They woke up. Sometimes it is very funny to see them divorced. At those moments they look like they hate each other but they don't.
Ya se despertaron. A veces es muy gracioso verlas divorciadas. En esos momentos parecen que se odian pero no es así.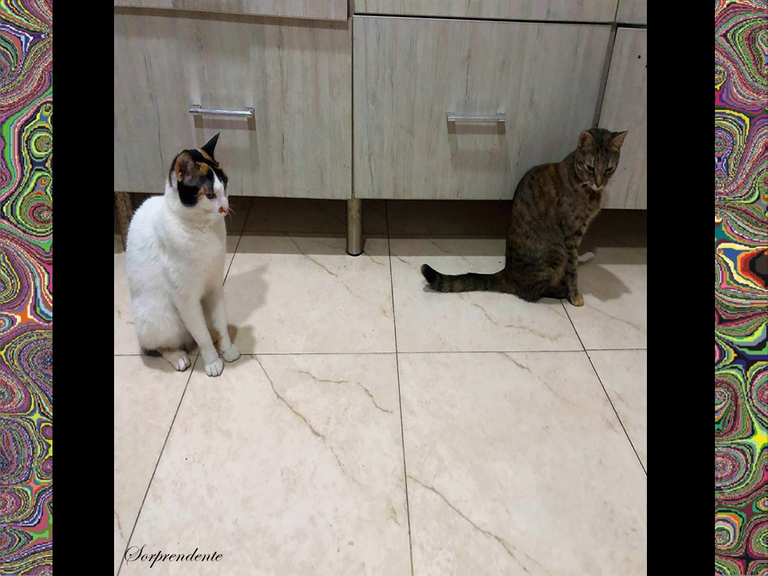 At nightfall they are in front of the window waiting for something. Time for another favorite pastime. Looking out the window towards the street. But first I put two marks on the table, two Colombian peso coins, one that matches the color of Waffles' fur and one for Panqui.
Al caer la noche ellas están frente a la ventana esperando algo. Es hora de otro pasatiempo favorito. Mirar por la ventana hacia la calle. Pero antes pongo dos marcas sobre la mesa, son dos monedas de pesos colombianos, una que combina con el color del pelaje de Waffles y otra para Panqui.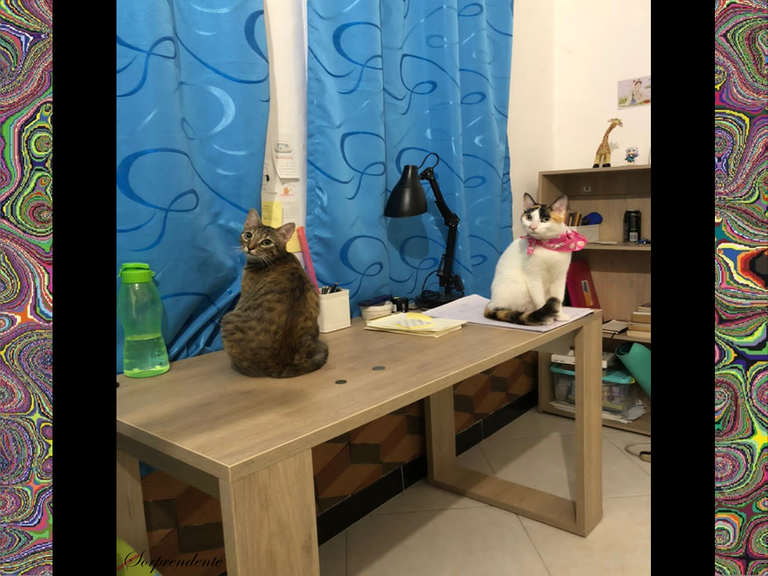 See the coins on the table? I bet 200 HIVE (without me having them) that my girls will stand in their corresponding place to look out the window. Do you accept the bet?... If you've already decided, let's move on to the next picture...
¿Ven las monedas en la mesa? Yo apuesto 200 HIVE (sin tenerlos yo) a que mis chicas se pondrán en su lugar correspondiente para mirar por la ventana. ¿Aceptan la apuesta?... Si ya decidieron pasemos a la siguiente foto...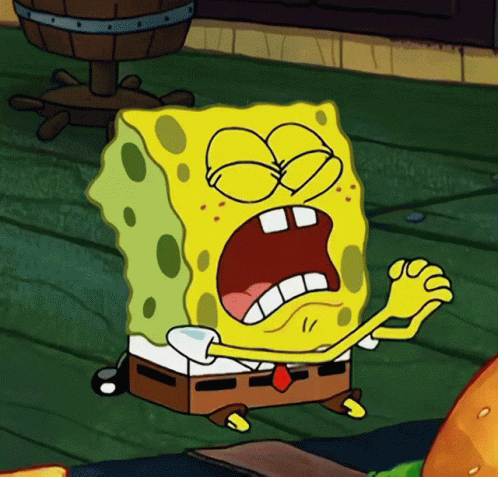 Are you ready?... I'm not, but we need to move forward with this post.
¿Están preparados?... Yo no, pero hay que avanzar con este post.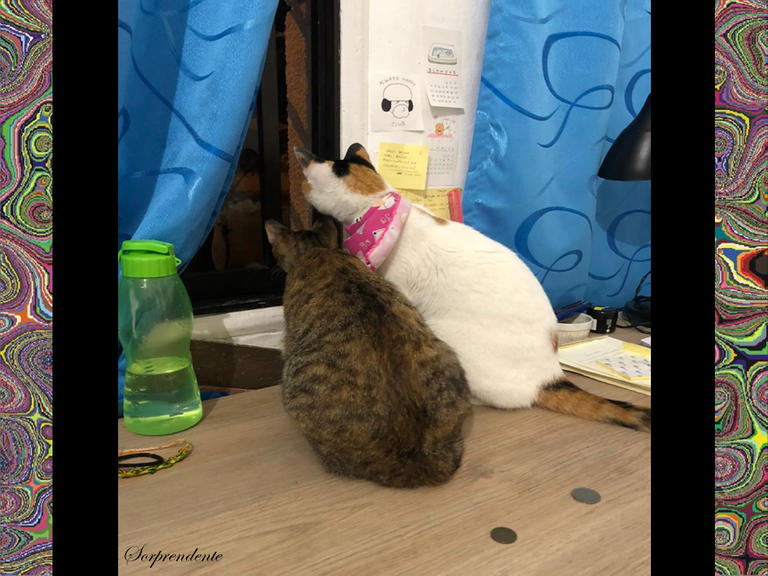 Those are my girls! There they are, each one looking out the window according to the mark with the coins. So folks, better luck to you next time. Well you can transfer 200 HIVE to my wallet, while Waffles and Panqui snoop through the window into the lives of the neighbors.
¡Esas son mis chicas! Allí están, cada una viendo por la ventana de acuerdo a la marca con las monedas. Así que amigos, mejor suerte para ustedes la próxima vez. Bueno pueden transferir 200 HIVE a mi cartera, mientras Waffles y Panqui husmean por la ventana en la vida de los vecinos.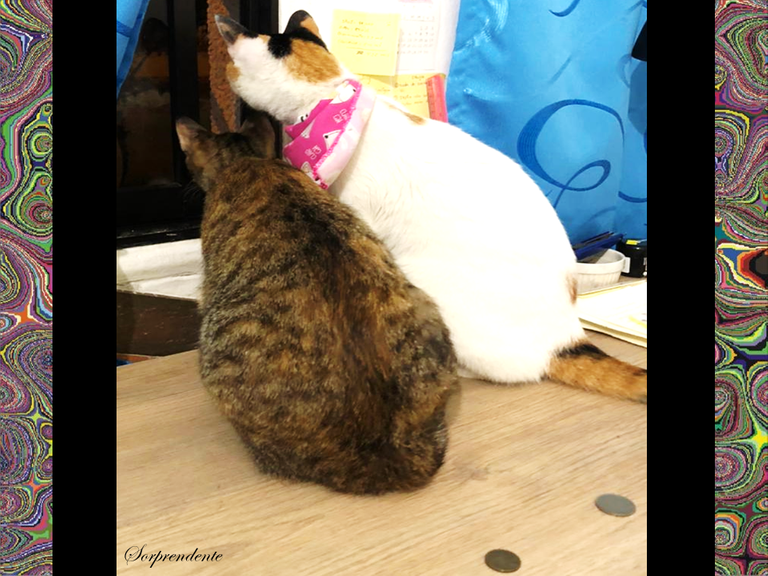 My feline girls have different temperaments but they love each other and are allies like good sisters. Although Panqui sometimes takes a few bites out of Waffles, she makes up for it with tender kisses.
Mis chicas felinas tienen temperamentos diferentes pero se quieren y son aliadas como buenas hermanas. Aunque Panqui a veces le de unos cuantos mordiscos a Waffles, con besos tiernos compensa todo.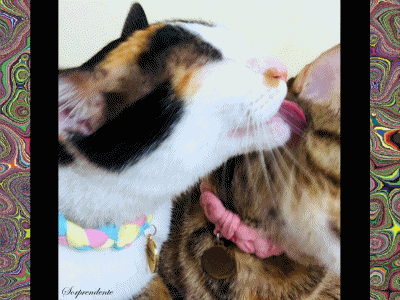 They enjoy being at home and I like having them, giving them walks, taking care of them not only giving them food because pets need recreation too.
Until a new story 🐾
Ellas disfrutan estar en casa y a mi me gusta tenerlas, darles paseos, cuidarlas no solo dándoles alimentos porque las mascotas necesitan también recreación.
Hasta una nueva historia 🐾
---
---
Translated with www.DeepL.com/Translator
Bienvenidos a mi blog
Welcome to my blog
Gracias por tu visita
Thanks for your visit

Contenido original / Autor @sorprendente
Fotos e imágenes de mi propiedad.
Si desea usar alguna como referencia
destaque mi nombre como fuente: @sorprendente
Original content / Author @sorprendente
Photos and images of my property.
If you want to use one as a reference,
please highlight my name as a source: @sorprendente

C/Architecture+Design 🌀 C/Mundo Autismo
Logos propiedad de las comunidades. / Logos owned by the communities.
---
Nos seguimos viendo y leyendo. / We keep watching and reading.
---
---
---