(ESP/ENG) Iniciativa: 5 preguntas variadas | Initiative: 5 different questions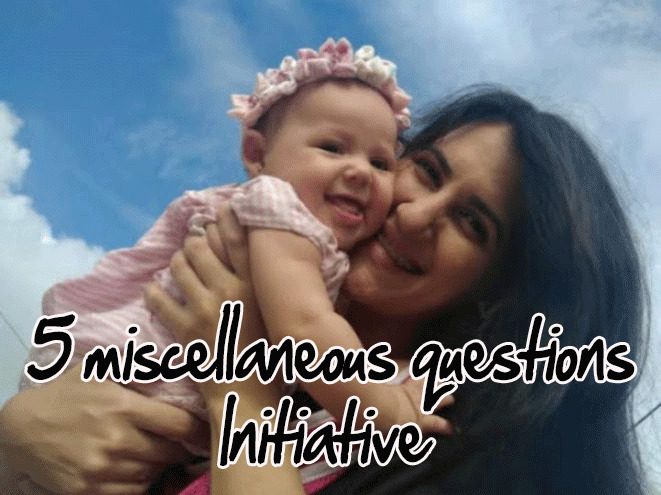 Hola mis Hiver's de esta comunidad hoy vengo con esta buena iniciativa de la amiga @mayvil y me gustó mucho por las preguntas se trata de cosas de interés y bueno a mí me encanta estar contando historias, conversar y hablarles un poco de mi vida, por eso para mí es perfecta la iniciativa porque me recuerda muchas cosas importantes para mi vida día a día, porque es una lucha disfrutar a pesar de las circunstancias que podamos pasar, debemos tomar en cuenta que de eso se trata la vida unos días arriba y otros abajo.
Hello my Hiver's of this community today I come with this good initiative of the friend @mayvil and I liked it a lot for the questions it is about things of interest and well I love to be telling stories, talk and tell you a little of my life, so for me the initiative is perfect because it reminds me of many important things for my life day by day, because it is a struggle to enjoy despite the circumstances that we can pass, we must take into account that this is what life is about some days up and others down.
---
¿Qué te motiva a crear contenido en Hive?
La verdad es que como periodista me encanta escribir, desde muchacha veía como en otros países utilizaban blog para contar sus vidas, viajes o simplemente escribir y bueno siempre quise tener un blog así que para mí es un sueño cumplido tener este espacio, esto es fascinante pues lo hago de manera natural, me encanta escribir sobre cualquier tema que conozca, me gusta dar consejos, hacer cosas nuevas y bueno Hive es un libro abierto puedes hablar de lo que quieras, hay una retroalimentación y por eso me enamoré de plataforma y es que lo que más me motiva es la internación, las personas te leen y te sigue y tú te das cuenta de eso, es maravilloso.
What motivates you to create content on Hive?
The truth is that as a journalist I love to write, since I was a child I saw how other countries used blogs to tell their lives, travels or just write and well I always wanted to have a blog so for me it is a dream come true to have this space, this is fascinating because I do it naturally, I love to write about any topic I know, I like to give advice, do new things and well Hive is an open book, you can talk about whatever you want, there is feedback and that is why I fell in love with the platform and what motivates me the most is the internation, people read you and follow you and you realise that, it is wonderful.
---
Si por alguna razón te llegarás a ganar un valor de 10 millones de dólares, ¿qué harías con ese dinero?
Comprar una casa, lamentablemente siempre creí que a mis 30 años podría tener una casa siendo una profesional y bueno luego la situación en el país. Ahora tengo 31 y aún no tengo casa propia y sigue siendo mi mayor anhelo, tener una casa, un hogar para mi hija y es difícil lograrlo con los sueldos de Venezuela, por más esfuerzo que haga, así que con ese dinero lo primero sería comprar una casa para mi hija.
Mi mamá es Cristiana y su sueño siempre ha sido tener una iglesia cristiana y bueno pues sin dudarlo yo le regalaría una iglesia, siempre le he dicho que tenemos que tener fe.
Y mi tercera compra sería un local para montar un negocio propio ese es mi gran sueño y es que a mí me gusta tanto conversar que quiero hacer un negocio solo para hablar con mis clientes y atenderlo yo misma sé que es una cantidad bastante grande de esta manera que llevaría comida para las comunidades a diario, sé que muchos niños de Maracaibo están pasando por situación de calle y me entristece tanto saber que no todos tienen un hogar o a sus padres por eso yo ayudaría en lo que pueda.
If for some reason you were to earn 10 million dollars, what would you do with that money?
Buy a house, unfortunately I always thought that in my 30s I could have a house being a professional and then the situation in the country. Now I am 31 and I still don't have my own house and it is still my biggest dream, to have a house, a home for my daughter and it is difficult to achieve that with the salaries in Venezuela, no matter how hard I try, so with that money the first thing I would do would be to buy a house for my daughter.
My mother is a Christian and her dream has always been to have a Christian church and well, without hesitation I would give her a church, I have always told her that we have to have faith.
And my third purchase would be a place to set up my own business, that is my big dream and I like to talk so much that I want to set up a business just to talk to my clients and attend to them myself, I know that it is quite a big amount so I would take food to the communities every day, I know that many children in Maracaibo are in a street situation and it saddens me so much to know that not all of them have a home or their parents so I would help in any way I can.

¿De todas las comidas habidas y por haber, en estos tiempos de pandemia, que es lo que te ha provocado comer y que aún no lo has logrado?
Pollo rostizado, parecerá mentira que algo tan básico, pues si en Venezuela es un lujo, nosotros íbamos en familia 1 vez al mes a comer pollo rostizado, lamentablemente todo empezó a decaer en el país, los negocios vendían cada día más caro y un día con la pandemia varios negocios cerraron entre esos el de los pollos que los tenía súper cerca de mi casa y era el restaurante favorito de mis papás, más nunca probé un pollo como ese, tampoco hemos salido después de la pandemia y es que Arturo's está súper lejos y el delivery no llega aquí, pero pronto tengo la esperanza de comerlo.
Of all the foods there are, in these times of pandemic, what is the one thing that has provoked you to eat and that you still haven't managed to eat?
Rotisserie chicken, it will seem unbelievable that something so basic, because in Venezuela it is a luxury, we used to go as a family once a month to eat rotisserie chicken, unfortunately everything started to decline in the country, Businesses were selling more and more expensive every day and one day with the pandemic several businesses closed down, among them the chicken shop that was very close to my house and was my parents' favourite restaurant, but I never tasted a chicken like that, we have not gone out after the pandemic and Arturo's is very far away and the delivery does not arrive here, but soon I hope to eat it.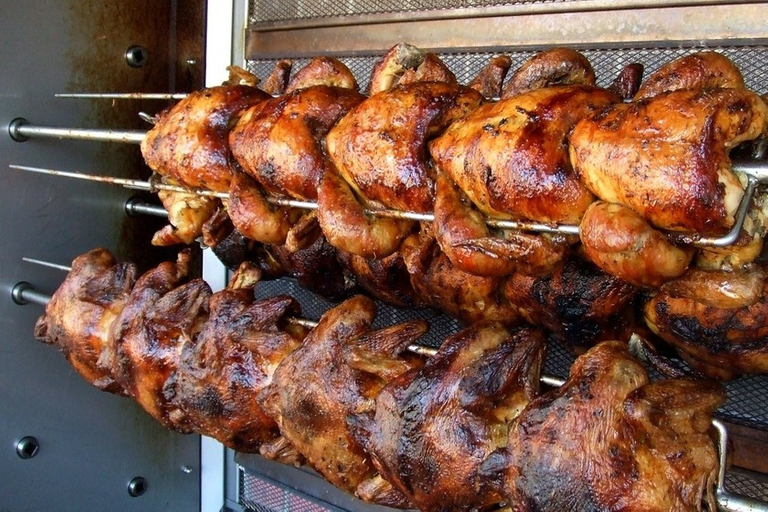 ---
Si pudieras devolver el tiempo, ¿qué momento exacto te gustaría revivir?
Siempre que me hacen una pregunta así pienso en mi abuela materna, murió en el 2019 y yo tengo sentimiento de culpa porque la vi, en agosto del 2019 y me enteré de mi embarazo en octubre, yo pensaba hacer un viaje y contarles a todo, sin embargo, paso lo peor, hablé con ella y por decirles algo, ayer, no podía decirles por qué era sorpresa, bueno hoy me llaman para decirme que la entubaron, fue muy fuerte saber que la familia pasaba por dos momentos opuestos, felicidad y tristeza, yo sufrí mucho y aún no superó que no se lo conté, eso me dejó una enseñanza, decir las buenas noticias siempre de manera espontánea, pase unas excelentes vacaciones a su lado, la disfrutamos mucho, pero si pudiera revivir ese momento sin dudarlos le contaría que seria bisabuela.
If you could turn back time, what exact moment would you like to relive?
Whenever I am asked a question like this I think of my maternal grandmother, she died in 2019 and I have feelings of guilt because I saw her, in August 2019 and I found out about my pregnancy in October, I was thinking of going on a trip and telling everyone, however, the worst happened, I spoke to her and to tell them something, yesterday, I could not tell them because it was a surprise, well today they call me to tell me that they intubated her, It was very strong to know that the family was going through two opposite moments, happiness and sadness, I suffered a lot and she still didn't get over that I didn't tell her, that left me a lesson, always tell the good news in a spontaneous way, I had a great holiday by her side, we enjoyed it a lot, but if I could relive that moment without hesitation I would tell her that she would be a great-grandmother.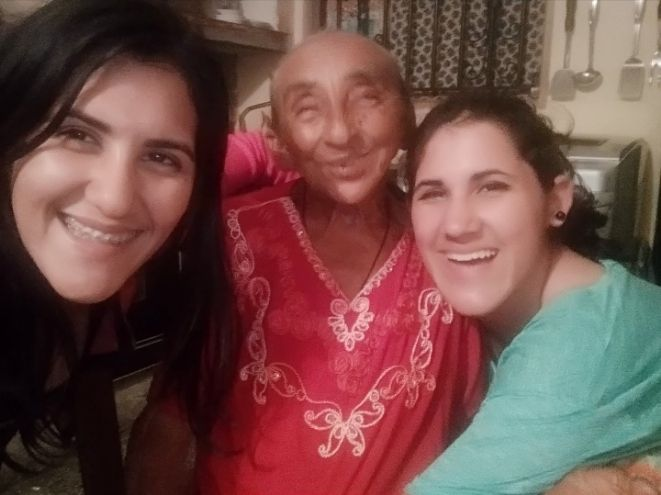 ¿Qué actividad han realizado aquí en Hive y no has podido participar por alguna razón?
Que rabia, tengo días viendo publicaciones del #HiveFest, de este año, debido a tanto trabajo que he tenido estas últimas semanas, a causa de una nueva etapa profesional, que pronto les contaré, no he tenido tiempo para asistir a ninguna de las presentaciones de este año en este evento, que ciertamente espere mucho y ahora no lo pude vivir con ustedes, solo me ha quedado leer las maravillas que escriben sobre él.
What activity have they done here in Hive and you have not been able to participate for some reason?
What a rage, I have days seeing publications of #HiveFest, this year, due to so much work I've had these last weeks, because of a new professional stage, that soon I will tell you, I have not had time to attend any of the presentations of this year in this event, which I certainly expected a lot and now I could not live it with you, I have only read the wonders that you write about it.
---
Disfrute mucho responder a la iniciativa, sobre todo porque es de preguntas diferentes, me gustaría invitar a participar a mi hermana @fotorincon12, por mi parte me despido y nos leemos en la próxima.
I really enjoyed responding to the initiative, especially because it is of different questions, I would like to invite my sister @fotorincon12 to participate, for my part I say goodbye and we'll read each other in the next one.

Recursos Utilizados | Resources Used
La imagen del banner y el divisor fueron realizadas y editadas con Photoshop Cs 6 | The image of the banner and the divider were made and edited with Photoshop Cs 6.
Traducido con www.DeepL.com | Translated with www.DeepL.com/Translator.


---
---