(ESP/ENG) Sueño anhelado y cumplido | Dream longed for and fulfilled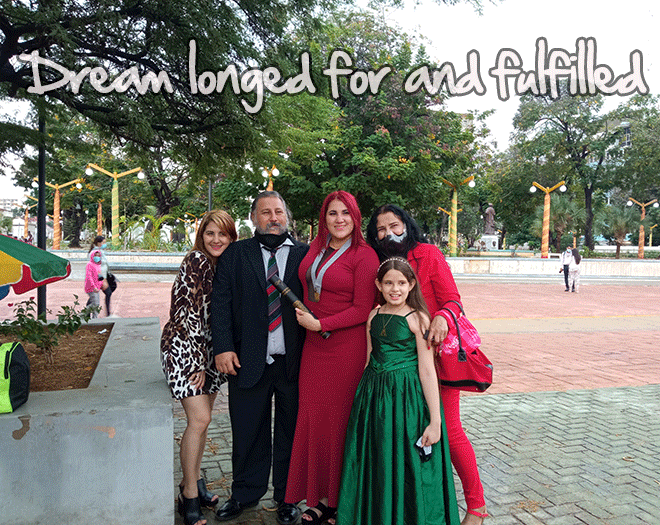 Desde la juventud entendí que su destino era ser mi amiga por siempre, desde lo más profundo de nuestro corazón, a los 8 años me enteré de que tendría una hermana, pero yo quería ser hija única, fue con los años que entendí que su destino era a mi lado, noche de peleas y mañanas intensas por el quién se bañara primero o despertara después, siempre hemos sido una gota de agua y una de aceite, muy diferente en muchas cosas, ella de azul yo de rojo, música rock y yo merengue, una relación de hermanas con gustos diferentes, pero felices a la hora de compartir un chocolate y contarse el día, nuestro cuarto fue el cómplice de miles de travesuras y si las paredes hablarán contarían la fidelidad de nuestra amistad, ese cariño que va más allá de una hermana, dónde había además un respeto por la personalidad de cada una.
Since I was young I understood that her destiny was to be my friend forever, from the depths of our hearts, when I was 8 years old I found out that I would have a sister, but I wanted to be an only child, it was with the years that I understood that her destiny was by my side, night of fights and intense mornings for who would bathe first or wake up later, we have always been a drop of water and a drop of oil, very different in many things, She wore blue and I wore red, rock music and I merengue, a relationship of sisters with different tastes, but happy to share a chocolate and tell each other about the day, our room was the accomplice of thousands of pranks and if the walls could talk they would tell the loyalty of our friendship, that affection that goes beyond that of a sister, where there was also a respect for the personality of each one of us.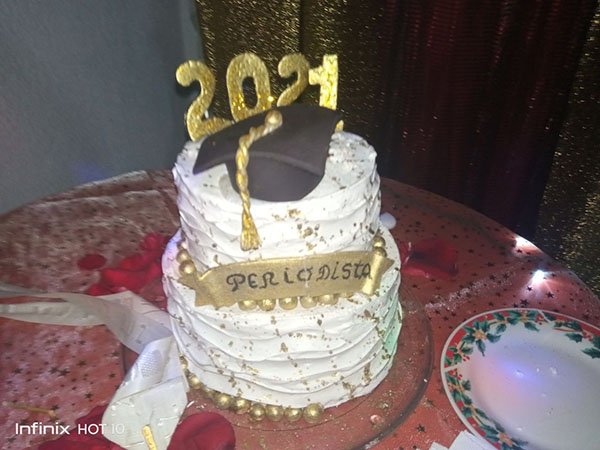 No fue fácil porque yo viví con ella hasta mis 30 años, ósea que conoce perfectamente en mis facetas, si estoy molesta o estoy muy contenta, para nadie es un secreto en mi familia que tengo a la mamá más estricta, así que no había fiesta, no pijamadas en su vocabulario, mucho menos un permiso para salidas nocturnas, esa regla contaba para toda niña de la casa y cuando crecimos no había edad para salir pues no lo permitieron nunca y agradezco que allá ha sido así, ahora de mujer comprendo todos esos riesgos.
It was not easy because I lived with her until I was 30 years old, so she knows my facets perfectly well, whether I am upset or very happy, it is no secret in my family that I have the strictest mother, so there was no party, no sleepovers in her vocabulary, much less a permission for a night out, that rule counted for every girl in the house and when we grew up there was no age to go out because they never allowed it and I am grateful that it has been like that, now as a woman I understand all those risks.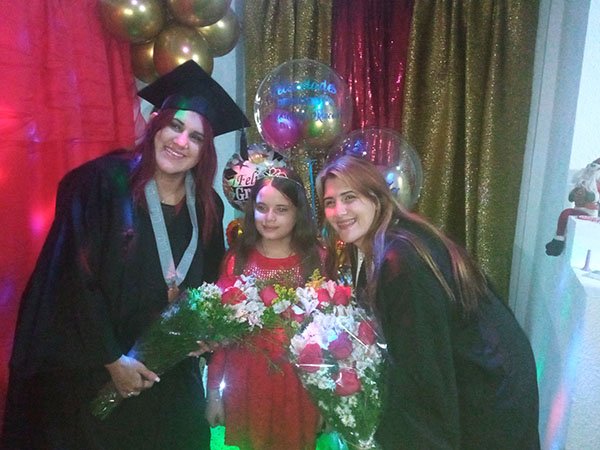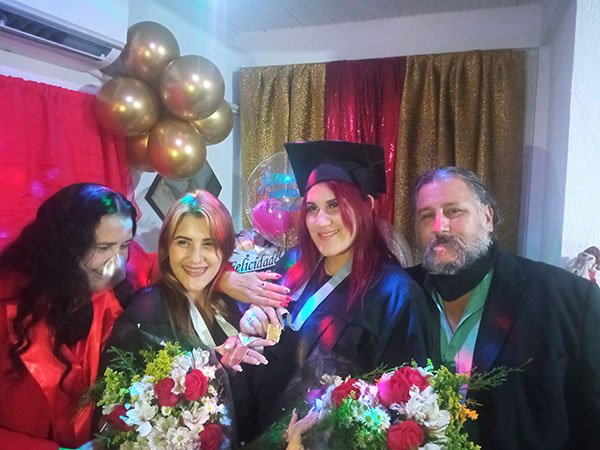 Siempre fui dedicada a una meta, mis títulos y no descanse hasta obtenerlos, quisimos estudiar juntas, pero solo alcanzamos a ver juntas mis últimas materias, pero fue el tiempo más valioso e importante de mi vida, estudiar con ella y son tantas las historias por contar sobre esos maravillosos momentos dónde compartimos tantos amigos de universidad, la empecé a llevar al núcleo universitario de 10 años y cuando estudio ahí, esa ya era su casa desde hace rato, siempre quiso seguir mi ejemplo, yo le enseñe todo lo que sabía y ella sintió pasión por la fotografía y tenía mi apoyo, pero también tenía otras actitudes que le sumaban, ella siguió mis pasos porque sentía esa misma pasión, logro hacer grandes cosas y siempre me acompañaba a mis actos de esta manera tuvo una gran trayectoria de aprendizaje y ayer recibió su título como comunicadora social de la Universidad del Zulia.
We wanted to study together, but we only got to see my last subjects together, but it was the most valuable and important time of my life, studying with her and there are so many stories to tell about those wonderful moments where we shared so many university friends, I started to take her to the university core of 10 years and when I studied there, that was already her home for a long time, She always wanted to follow my example, I taught her everything I knew and she felt a passion for photography and had my support, but she also had other attitudes that added to it, she followed my steps because she felt that same passion, she managed to do great things and always accompanied me to my events, in this way she had a great learning trajectory and yesterday she received her degree as a social communicator from the University of Zulia.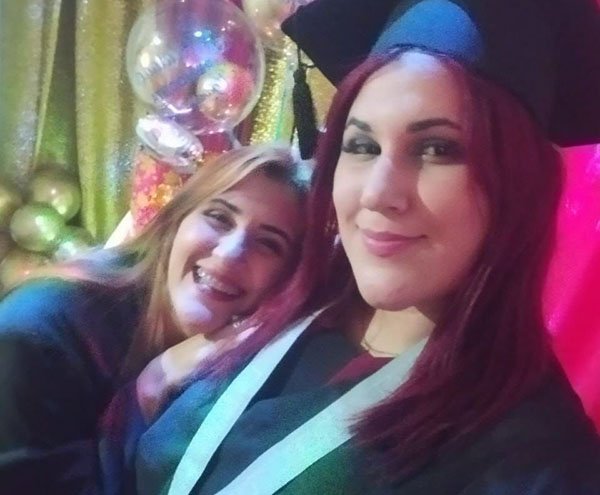 Momento mágico para mis padres, su segunda hija, para mí la primera, mi moro, mi primera bebé, mi orgullo, cada día valoro más la vida, por lo corta, por lo efímera que puede llegar a ser, así que ayer disfrute a mis padres, les di besos y los veía tan felices, tan orgulloso, lo único que ellos pueden sentir es que hicieron un buen trabajo, que triunfaron y son exitosos de saber que tienen unas espléndidas hijas, ahora nos toca encaminar a los retoños y algún día sentirnos así de orgullosos como ellos, mi gran sueño ahora es ver a mis papás disfrutando de las graduaciones de mi hermana menor y mi hija, ya está es la segunda y vamos dos de cuatro, esperando que siempre tenga salud, hoy mi bella es periodista porque un papel lo dice, pero en mi corazón solo es un papel, porque para mí ella nació con el espíritu profesional y es mi gran orgullo, la amo con todo y sé que muchas puertas se le abrirán en este nuevo camino, una niña que se convirtió en una buena mujer y tendrá tanto éxito como se lo proponga.
Magical moment for my parents, their second daughter, for me the first, my Moor, my first baby, my pride, every day I value life more, because of how short, how ephemeral it can be, so yesterday I enjoyed my parents, I gave them kisses and I saw them so happy, so proud, the only thing they can feel is that they did a good job, that they succeeded and are successful to know that they have splendid daughters, now it is our turn to take care of the offspring and one day feel as proud as they are, My great dream now is to see my parents enjoying the graduations of my younger sister and my daughter, she is already the second and we are two of four, hoping that she will always be healthy, today my beautiful girl is a journalist because a paper says so, but in my heart it is only a paper, because for me she was born with the professional spirit and she is my great pride, I love her with everything and I know that many doors will open for her on this new path, a girl who has become a good woman and will be as successful as she sets her mind to it.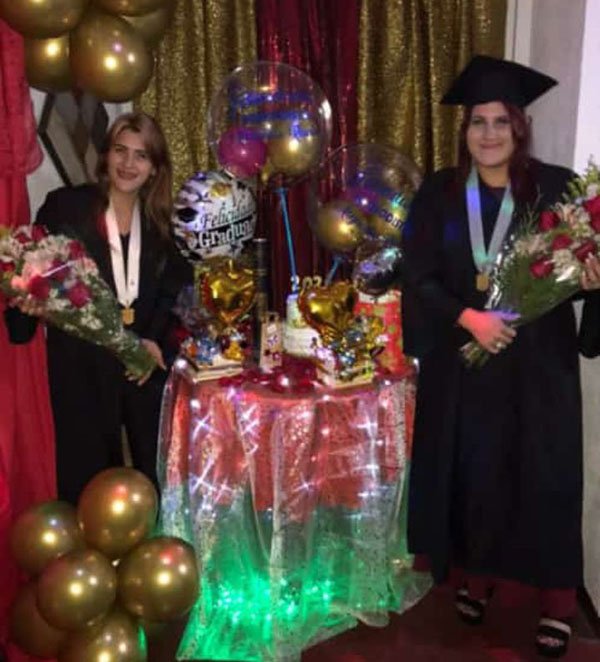 Porque fue además su sueño graduarse de Periodista y comenzar una nueva etapa de vida, por eso la felicito, porque siempre tuvimos aspiraciones altas sobre nuevos estudios y queríamos que nuestros padres estuviesen orgullosos.
Because it was also her dream to graduate as a journalist and start a new stage of life, so I congratulate her, because we always had high aspirations for new studies and we wanted to make our parents proud.

Recursos Utilizados | Resources Used
La imagen del banner y el divisor fueron realizadas y editadas con Photoshop Cs 6 | The image of the banner and the divider were made and edited with Photoshop Cs 6.

Todas las imágenes fueron tomadas por mi con mi celular Realme C3 | All images were taken by me with my Realme C3 cell phone.

Traducido con www.DeepL.com | Translated with www.DeepL.com/Translator.


---
---