Preparing a delicious mojito to go with my diet
Greetings,
Dear friends hey I come with a very healthy and tasty recipe, well first I tell you that I have a few weeks since I have left aside the carbohydrates I only have breakfast with a tosti arepa arepa, the rest of the meals is only vegetables and proteins.
I've also cut out sugar consumption, I think I use a spoonful a day for a good espresso coffee and that's it.
But well what we came to, with this food system that I'm starting to take you have to be very creative to vary the dishes without the budget is very high.
At the beginning of the week I went shopping to a supermarket that I rarely go to but believe me it was worth the visit, first it has very good prices on some products and the other thing is that the vegetables are very fresh and at fair prices.
Among the products that I got on offer the most relevant was an extra virgin olive oil and the liter cost me 10$ with that price I did not hesitate to buy it to try and accompany my vegetables.
---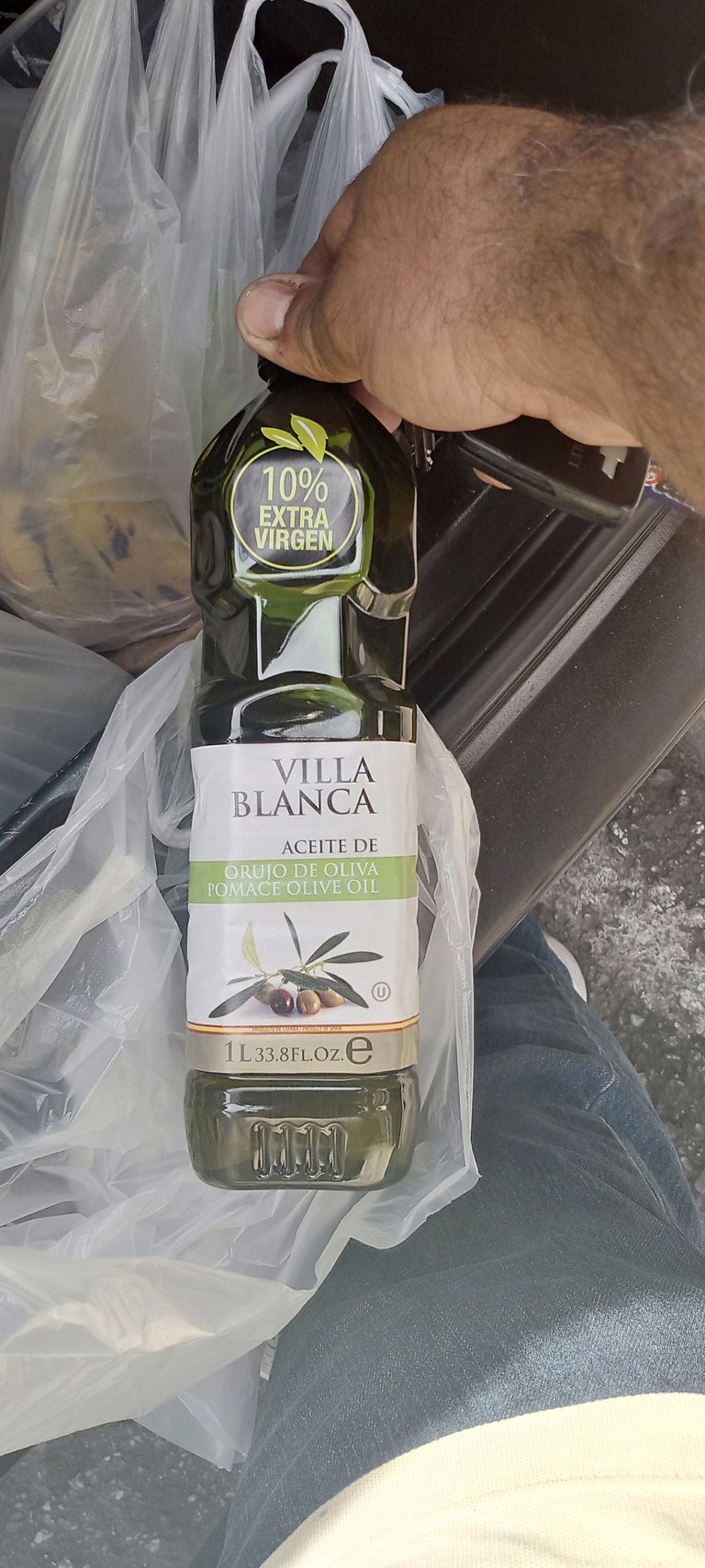 ---
Of course I had already applied it to my meals but today I decided to prepare something more outstanding and this is the recipe I'm going to share with you.
Join me to prepare a mojito or chimichurri.
---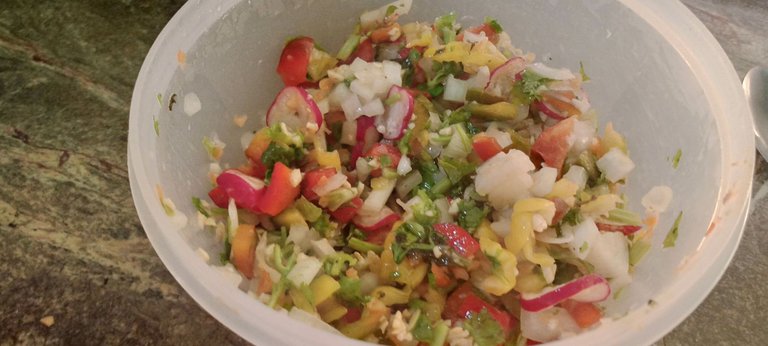 ---
Well I know that what you see in the picture is not the Argentine chimichurri itself but it was the name that can best describe its flavor.
For the recipe we need:
Onion.
Paprika.
Sweet bell pepper.
Radish.
Garlic.
Cilantro.
Hot bell pepper 🌶️.
Lemon.
Olive oil.
---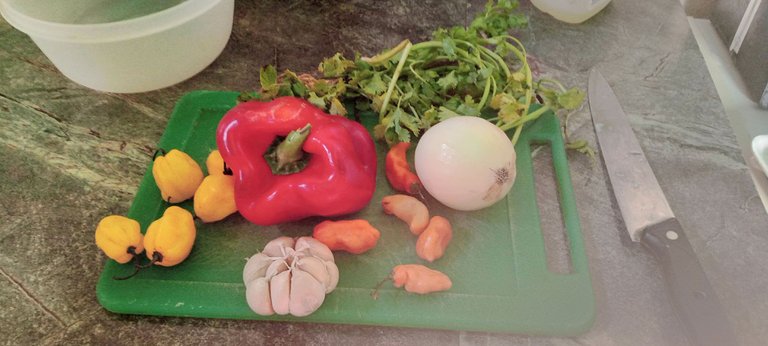 ---
Preparation:
The preparation is quite simple we just take all our vegetables wash them well and proceed to chop.
---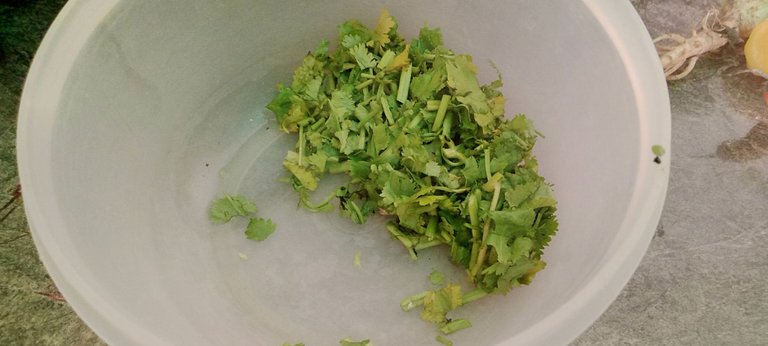 ---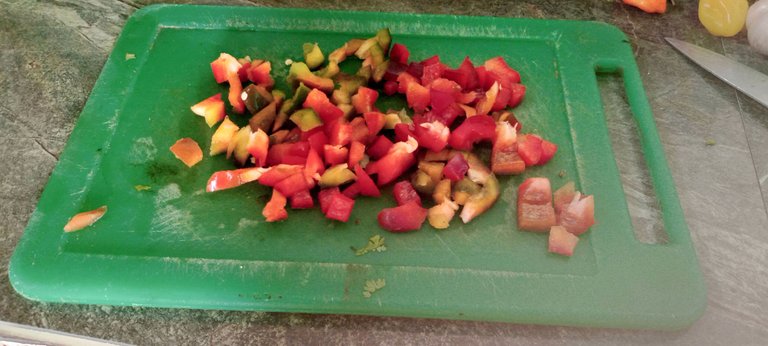 ---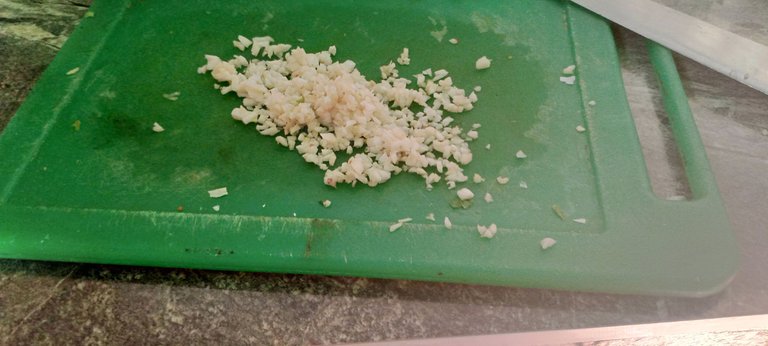 ---
After we have all the vegetables chopped we add them in a bowl to mix them and add the liquid ingredients.
In this step we are going to season with salt and pepper to taste, add the lemon juice and olive oil 🫒.
We mix well and taste to verify that no touch of seasoning is missing.
---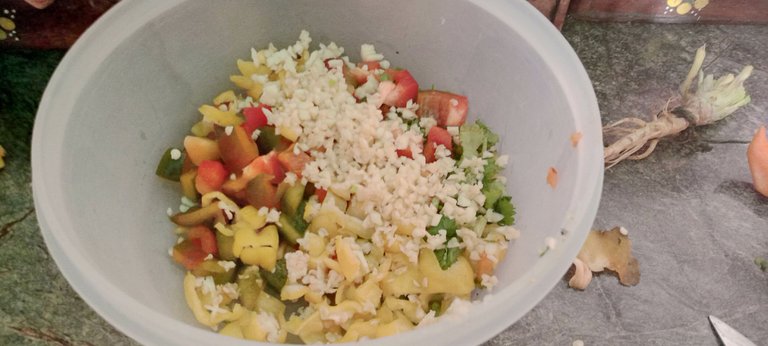 ---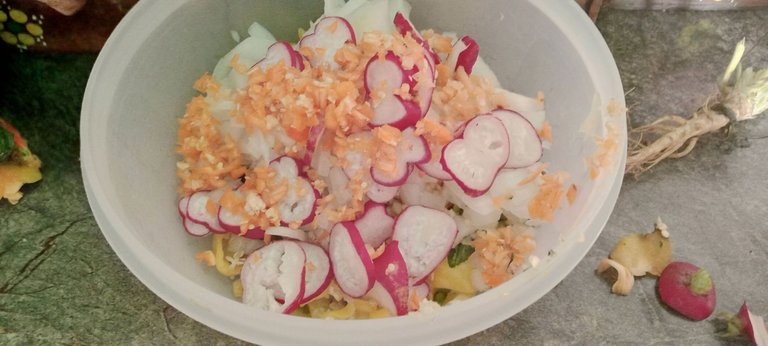 ---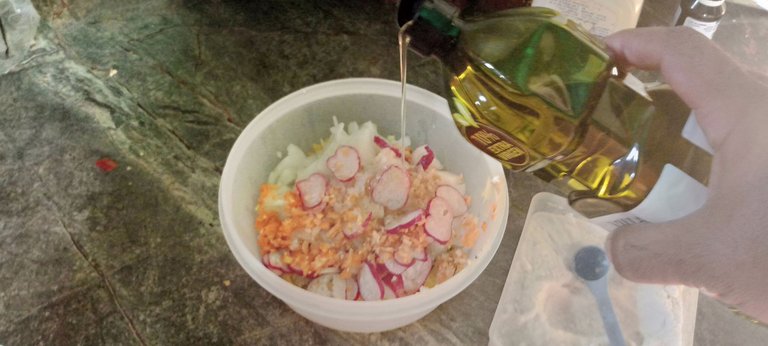 ---
Once everything is ready, put it in the refrigerator for at least one hour so that the salt dehydrates the vegetables a little and the flavors intensify.
This preparation is a good pasapalos ideal to accompany in different ways, in my case I served them with cassava for a snack.
---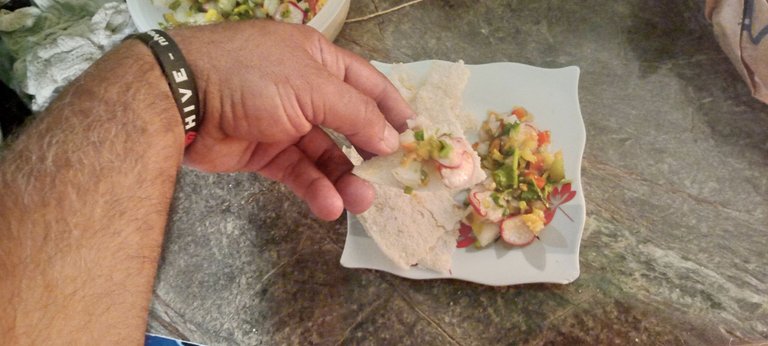 ---
And for dinner I prepared some pieces of parboiled yucca but you can also serve it with bread (the more rustic the better) or with a good grilled or fried arepa as you prefer.
---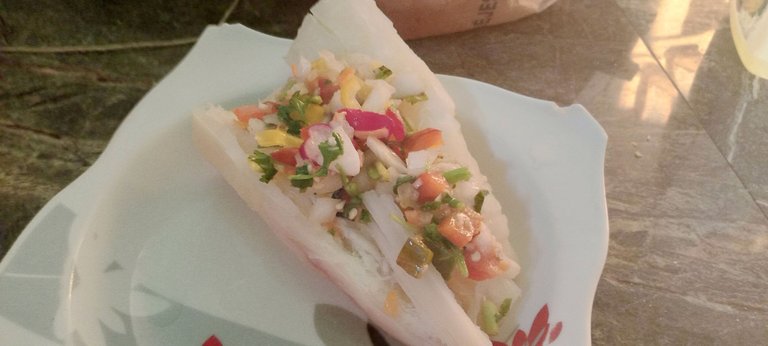 ---
For the recipe I did not want to put portions because it will depend on the amount you are going to prepare and as I added horseradish and hot peppers it will also depend on how much you tolerate spicy in your meals.
Also if you want the flavor a little stronger you can add some cumin and Soya sauce, how you can also be creative in the variety of vegetables to add, I was thinking of adding some celery branches but my wife does not like it and I was going to despise this rich dish 😁.
---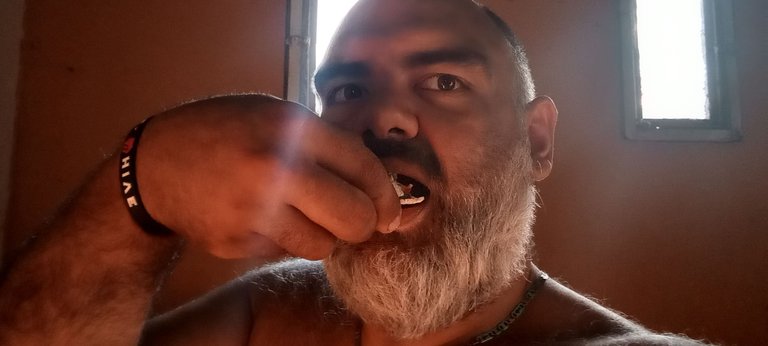 ---
I hope this preparation is to your liking and any questions I am at your service.
Thank you for joining me in this preparation and may God bless you greatly.
The photos are my property taken with the Infinix Hot 10 i cell phone.
---
SPANISH
---
Saludos,
Queridos amigos oye les vengo con una receta muy sana y rica, pues primero les cuento que tengo algunas semanas ya que he dejado de un lado los carbohidratos solo me desayuno con una arepa de tosti arepa, el resto de las comidas es solo vegetales y proteínas.
También he retirado el consumo de azúcar creo que uso una cucharada al día para un buen café expreso y listo.
Pero bueno a lo que vinimos, con este sistema de alimentación que estoy empezando a llevar hay que ser bien creativos para variar los platos sin que el presupuesto sea muy elevado.
A principio de semana fui a realizar las comprar a un supermercado que frecuento muy poco pero créanme que valió la pena la visita, primero tiene muy buenos precios en algunos productos y lo otro es que los vegetales son muy frescos y a precio de ferias.
Entre los productos que conseguí en oferta el más relevante fue un aceite de oliva extra virgen y el litro me costó 10$ con ese precio no dude en comprarlo para probar y acompañar mis vegetales.
---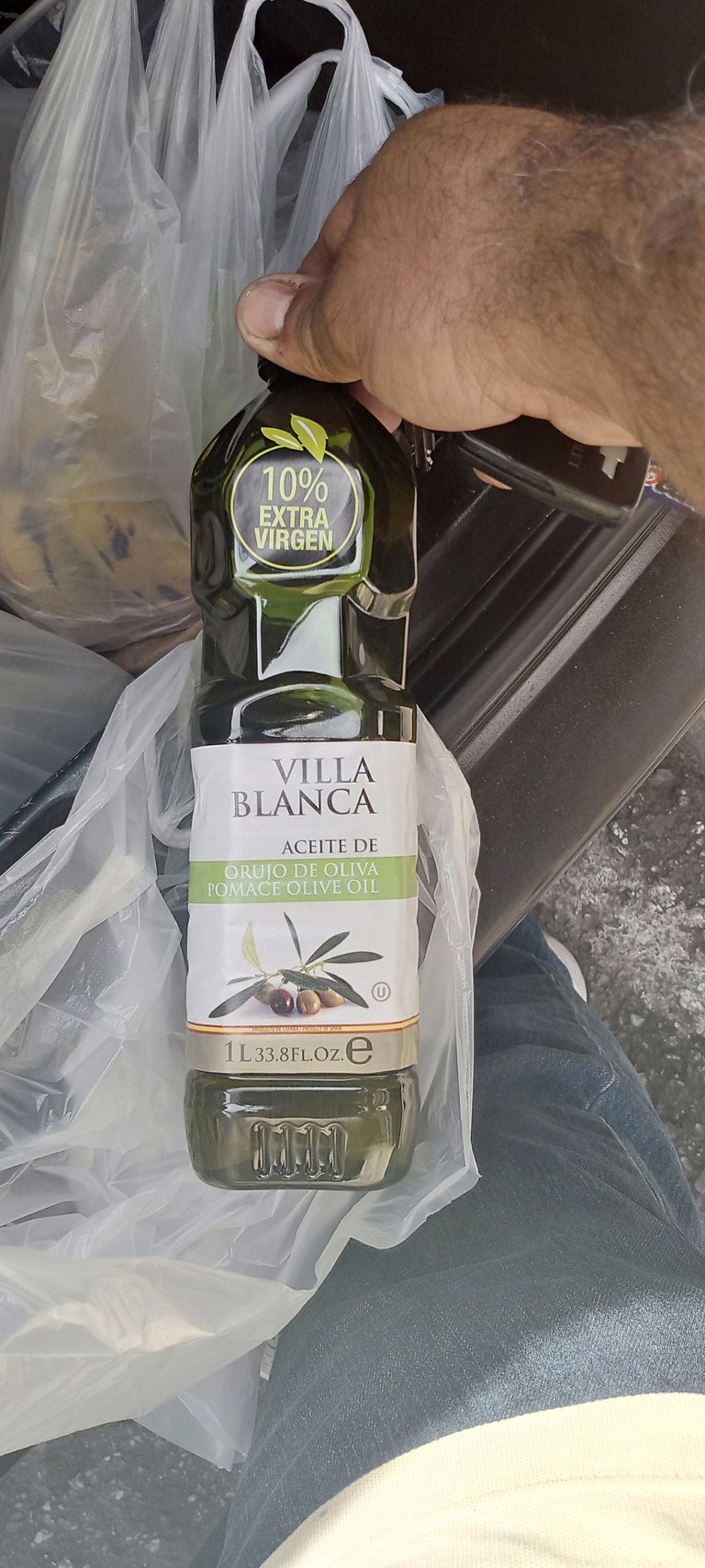 ---
Por supuesto que ya lo había aplicado a mis comidas pero hoy me animé a preparar algo más resaltante y es la receta que les voy a compartir.
Acompañame a preparar un mojito o chimichurri.
---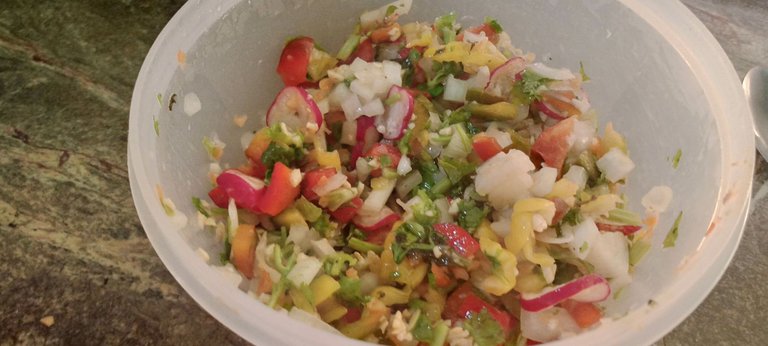 ---
Bien se que lo que ven en la foto no es el propio chimichurri argentino pero fue el nombre que mejor puede describir su sabor.
Para la receta necesitamos:
Cebolla.
Pimentón.
Ají dulce.
Rábano.
Ajo.
Cilantro.
Ají picante 🌶️.
Limón.
Aceite de oliva.
---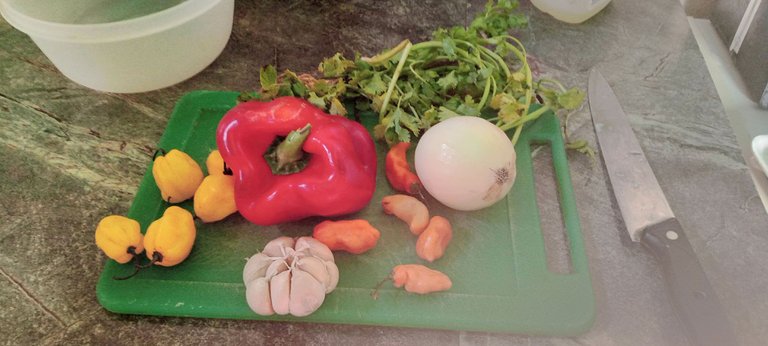 ---
La preparación:
La preparación es bastante sencilla solo tomamos todos nuestros vegetales los lavamos bien y procedemos a picar.
---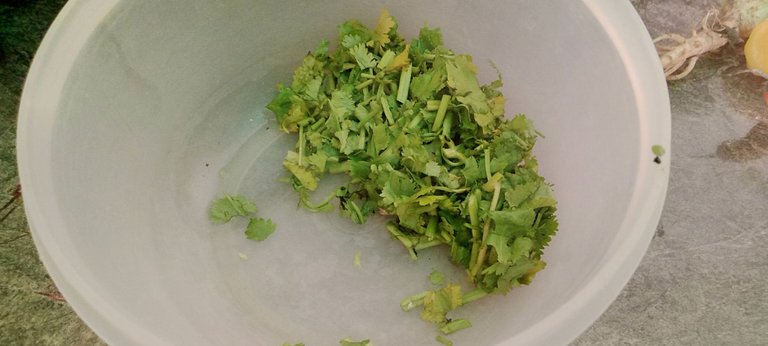 ---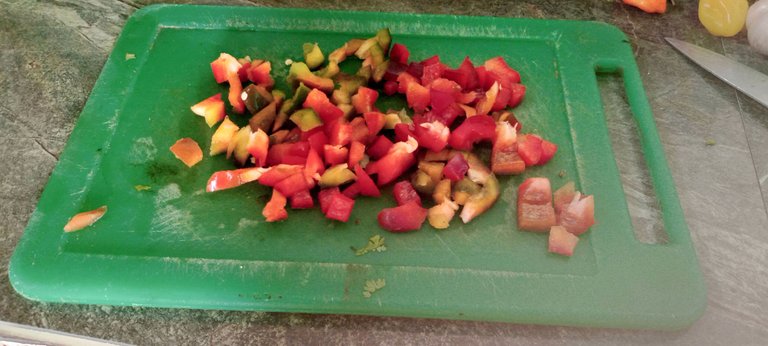 ---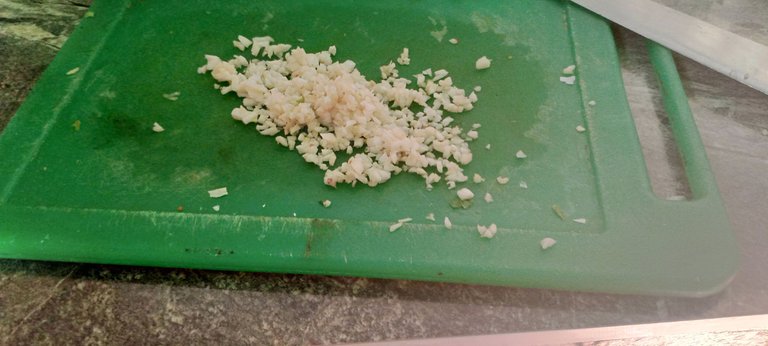 ---
Luego que tenemos todos los vegetales picados los agregamos en un bol para mezclarlos y agregar los ingredientes líquidos.
En este paso vamos a sazonar con sal y pimienta al gusto, agregamos el jugo de limón y el aceite de oliva 🫒.
Mezclamos bien y probamos para verificar que no falte ningún toque de sazón.
---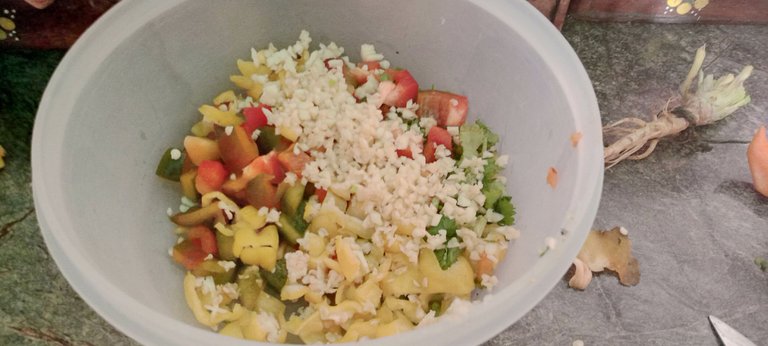 ---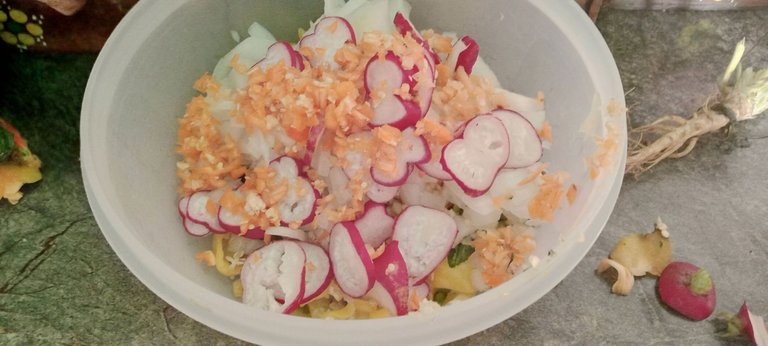 ---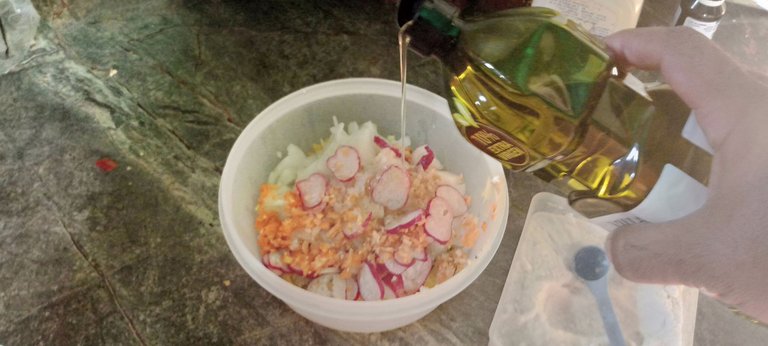 ---
Una vez todo este listo lo llevamos a la nevera por mínimo una hora para que la sal deshidrate un poco los vegetales y los sabores se intensifiquen.
Está preparación es un buen pasapalos ideal para acompañar de diferentes formas, yo en mi caso los servi con casabe una parte para la merienda.
---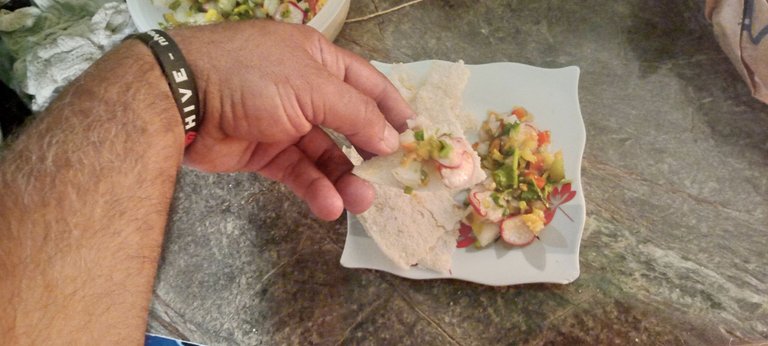 ---
Y para la cena prepare unos trozos de yuca sancochada pero también lo puedes acompañar con pan(mientras más rústico mejor) o con una buena arepa asada o frita como sea de tu preferencia.
---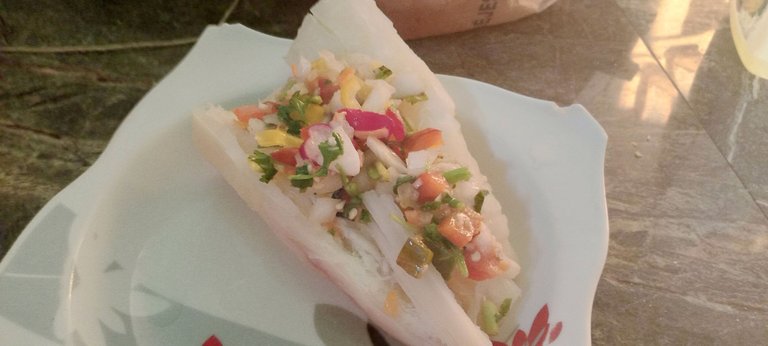 ---
Para la receta no quise colocar porciones porque va a depender de la cantidad que vayas a preparar y como le agregué rábanos y ajíes picantes eso también va a depender de cuánto toleras el picante en tus comidas.
También si quieres el sabor un poco más fuerte puedes agregar algo de comino y salsa de Soya, cómo también puedes ser creativo en la variedad de vegetales a agregar, yo pensaba colocar unas ramas de celery pero a mi esposa no le gusta y me iba a despreciar este rico platillo 😁.
---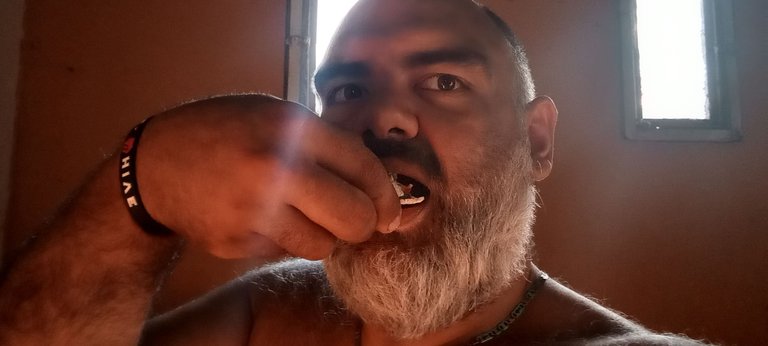 ---
Espero que está preparación sea de su agrado y cualquier duda estoy a la orden.
Gracias por acompañarme en esta preparación y que Dios les bendiga grandemente.
Las fotos son de mi propiedad tomadas con el celular Infinix Hot 10 i.
---
---