NEW HIVE GAME, KING OF DUELS! ESP/ENG
KING OF DUELS
Este post que les traigo hoy es bastante especial, quizas en algunos años gracias a este post se sientan agradecidos de haberlo leido! Les voy ha hablar de la nueva joya de la corono de Hive, uno de los pocos juegos dentro de la red de Hive que considero que tiene un futuro bastante prominente y exitoso! Y les hablo de King of Duels! Les dare las razones por las cuales considero que asi es y como todos los juegos que me gustan dentro de Hive y se que tienen futuro tambien le invertire para ser grande y poderoso! Me gusta poner mi dinero en el mismo sitio donde pongo mis palabras.
This post I bring you today is quite special, maybe in a few years thanks to this post you will feel grateful for having read it! I'm going to talk about the new jewel in the crown of Hive, one of the few games within the Hive network that I consider to have a very prominent and successful future! And I'm talking about King of Duels! I will give you the reasons why I consider it to be so and like all the games I like within Hive and I know it has a future I will also invest in it to be big and powerful! I like to put my money where my mouth is.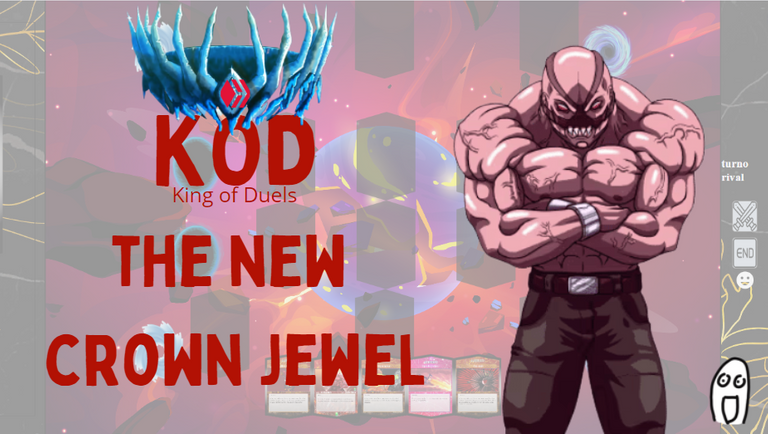 Receta del exito
Considero que KING OF DUELS tiene todo lo necesario para tener exito y no me malinterpreten, tener exito para mi es que mucha gente lo juegue, se divierta y que sea activa, si eso sucede, el play to earn se añade solo!
Un Developer realmente comprometido, recuerdo como hace meses veia a @lavino hablar en un grupo de discord en comun sobre los avances que hacia de un juego que estaba construyendo, le deseaba suerte sin imaginar lo que se vendria, sin conocerlo tampoco, pense que solo era un amateur aprendiendo a programar y ya, de vez en cuando aparecia y hablaba sobre su juego, me parecia interesante y le decia que lo iba a apoyar, en ese momento eran solo palabras que se dicen por decir y ya! Con el tiempo lo fui tomando mas en serio, hasta que un dia anuncio que el juego estaba casi listo, nos enseño lo que habia, me dejo boquiabierto y no lo pense 2 veces para apoyarlo al 100%! Lo que mas me impresiono fue que todo lo hizo el, todo lo financio el, no hubo preventa, no vendio el token antes para recaudar fondos, todo lo saco de su bolsillo y eso me demostro su gran compromiso y amor por el proyecto, diria que es el developer perfecto!
Recipe for success
I consider that KING OF DUELS has all the necessary to be successful and don't get me wrong, to be successful for me is that many people play it, have fun and be active, if that happens, the play to earn adds itself!
A really committed Developer, I remember how months ago I saw @lavino talking in a common discord group about the progress he was making on a game he was building, I wished him luck without imagining what was coming, without knowing him either, I thought he was just an amateur learning to program and that's it, from time to time he appeared and talked about his game, it seemed interesting and I told him I was going to support him, at that time they were just words that are said just to say and that's it! With time I took him more seriously, until one day he announced that the game was almost ready, he showed us what he had, he left me speechless and I didn't think twice to support him 100%! What impressed me the most was that he did it all, he financed everything, there was no pre-sale, he didn't sell the token before to raise funds, he took everything out of his pocket and that showed me his great commitment and love for the project, I would say that he is the perfect developer!

Un Juego Original
Otro ingrediente del exito es algo que le falta al 95% de los juegos play to earn, ORIGINALIDAD, King of Duels no tiene ese problema, es un juego que NO ES PARA NADA COMO SPLINTERLANDS, no es un juego de cartas mas, la primera impresion es que es otro splinterlands, pero para nada, es algo totalmente distinto asi que ojo con eso, si esa fue tu primera impresion, puedes olvidarla rapidamente! Es un juego mas parecido a YU GI OH si has visto esa serie animada, bueno es exactamente asi, un juego de cartas muy estrategico, cada partida es especial, es un PVP en vivo, esta dirigido a un publico especial que es realmente amante de ese tipo de juegos asi que por eso considero que tendra una buena afluencia de usuarios, en lo personal nunca he jugado Yu Gi Oh y este juego me tiene atrapado, asi que es bastante atractivo para el publico en general solo necesita tiempo para darse a conocer!
An Original Game
Another ingredient of success is something that 95% of play to earn games lack, ORIGINALITY, King of Duels does not have that problem, it is a game that is NOT AT ALL LIKE SPLINTERLANDS, it is not just another card game, the first impression is that it is another splinterlands, but not at all, it is something totally different so be careful with that, if that was your first impression, you can forget it quickly! It is a game more like YU GI OH if you have seen that animated series, well it is exactly like that, a very strategic card game, each game is special, it is a live PVP, it is aimed at a special audience that really loves this type of game so that's why I think it will have a good influx of users, personally I have never played Yu Gi Oh and this game has me trapped, so it is quite attractive to the general public just needs time to be known!

Los NFTS
Los artes de los NFTS son creaciones originales, hechos por diseñadores de King of Duels, son hermosos y dan ganas de coleccionarlos, estoy seguro que con el tiempo, todo sera mucho mas agradable y limpio a la vista, por el momento lo mas importante es que el juego sea jugable con la menor cantidad de bugs posibles, las ultimas pruebas han sido bastante alentadoras! Asi que tenemos unos NFTS que no son insipidos y son visualmente atractivos, ademas de que son NFTS con jugabilidad!
The NFTS
The NFTS arts are original creations, made by King of Duels designers, they are beautiful and make you want to collect them, I'm sure that over time, everything will be much nicer and cleaner to the eye, for the moment the most important thing is that the game is playable with as few bugs as possible, the latest tests have been quite encouraging! So we have a NFTS that is not bland and is visually appealing, plus it's NFTS with playability!

La Red de Hive
Es un juego que esta construido en la red de Hive y ya de por si eso es una receta para el exito ya que en Hive los fees son NULOS! Podemos jugar sin estar preocupandonos por los fees que tenemos que pagar, algo que no sucede mucho en otras redes, la comunidad de Hive es pequeña asi que se corre la voz rapido y el apoyo tambien sucede bastante rapido, aqui entre nosotros empezamos y luego nos expandimos al resto del mundo! Si funciona entre nosotros funcionara para todos!
The Hive Network
It is a game that is built on the Hive network and that in itself is a recipe for success because on Hive the fees are NULL! We can play without worrying about the fees we have to pay, something that doesn't happen much in other networks, the Hive community is small so the word spreads fast and the support also happens pretty fast, here among us we start and then we expand to the rest of the world! If it works for us it will work for everyone!

PLAY TO EARN
El play to earn, algo muy importante, importante para mi, importante para todos, la obsesion de algunos, esta parte es delicada ya que a la mayoria le gustan los Ponzis donde metes 10 dolares y en unos dias se vuelven 100$ o 1000$, este juego no es un ponzi de esos, es un play to earn a largo plazo! Porsupuesto que generas ganancias al instante por jugarlo pero si quieres de verdad verlo jugoso tienes que tener paciencia, eso si, si entras ahora mismo tienes la ventaja de comprar los primeros NFTS, los que tendran mas poder, los que seran mas exclusivos y ya saben que significa eso con el pasar de los años, que su valor aumenta considerablemente, mi estrategia es simple, acumular lo mas que pueda y aprovechar que ahora soy de los que esta iniciando y despues cosechar los frutos en el futuro, creo que el play to earn de King of Duels dara mucho de que hablar de manera positiva, ya que esta dirigido a un publico que es muy fiel y jugara el juego porque le gusta!
PLAY TO EARN
The play to earn, something very important, important for me, important for everyone, the obsession of some, this part is delicate because most people like the Ponzis where you put 10 dollars and in a few days they become 100$ or 1000$, this game is not a ponzi of those, it is a play to earn in the long term! Of course you generate profits instantly by playing it but if you really want to see it juicy you have to be patient, that if you enter right now you have the advantage of buying the first NFTS, which will have more power, which will be more exclusive and you know what that means over the years, that its value increases considerably, My strategy is simple, accumulate as much as I can and take advantage that now I am one of those who are starting and then reap the rewards in the future, I think the play to earn of King of Duels will give much to talk about in a positive way, as it is aimed at a public that is very faithful and will play the game because they like it!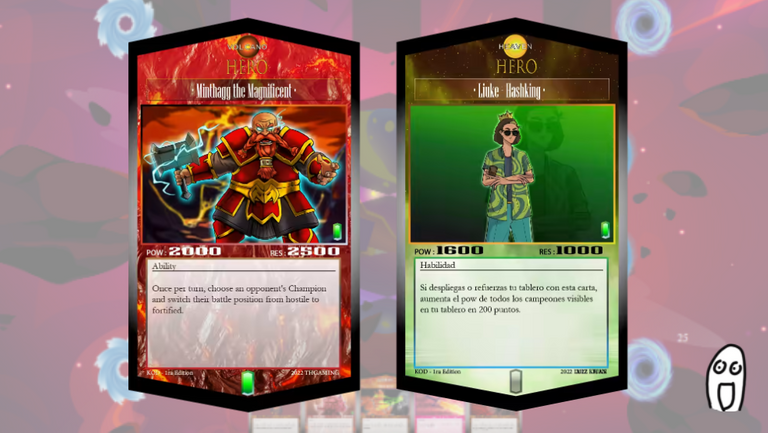 La Comunidad
El principal protagonista es la comunidad y vemos como la comunidad en general que ha estado llegando a King of Duels esta muy comprometida y vemos tambien como el juego muestra compromiso con la comunidad y la red de hive, ya se han hecho colaboraciones con @thgaming y @hashkings ambos proyectos tienen cartas especiales dentro del juego limitadas a solo 200 y son unas bellezas! Estoy seguro que en el futuro vamos a ver muchas personalidades y gente de la comunidad de hive plasmada en los NFTS de King of Duels!
The Community
The main protagonist is the community and we see how the community in general that has been coming to King of Duels is very committed and we also see how the game shows commitment to the community and the hive network, there have already been collaborations with @thgaming and @hashkings both projects have special cards within the game limited to only 200 and they are beauties! I'm sure in the future we are going to see many personalities and people from the hive community featured in the King of Duels NFTS!

Este es todo el post por hoy, les recomiendo que le den un vistazo a KING OF DUELS, es espectacular, unanse con mi link de referido AQUI por cierto tienen un programa de referidos MUY JUGOSO! Algo que no se ve mucho asi que aprovechenlo! El paquete de entrada es bastante completo y economico, hay muchas opciones para monetizar, stake y mucho mas!
Les recomiendo seguir tambien a mi cuenta alterna @Titoraffles tengo muchos giveaways activos y muy buenos! Estare dando Giveaways de King of duels bastante seguido no se lo pierdan!
Todas las imagenes las edite con canva y saque screenshots de la pagina oficial de King of Duels.
Hasta la proxima!
That's all the post for today, I recommend you to take a look at KING OF DUELS, it's spectacular, join with my referral link HERE by the way they have a VERY JUICY referral program! Something you don't see much so take advantage of it! The entry package is quite complete and affordable, there are many options to monetize, stake and much more!
I recommend you also follow my alternate account @Titoraffles I have many active and very good giveaways! I will be giving giveaways of King of duels quite often don't miss it!
I edited all the images with canva and took screenshots from the official King of Duels website.
See you next time!

Posted using Neoxian City
---
---