Timing Gives Rainfall Either A Good Or Bad Experience

Rain can be very beautiful but then sometimes it has a poor timing..... It would have been better if all the rainfall happened while we were all asleep, you know how sweet it is at those times.
However, going out and getting stuck because of heavy downpour can automatically change your whole day from a very good one to a bad one with ease.

It happened a long time ago when I was still in primary school actually but the memories is just there like it was yesterday...
I was in Primary 5 then and we went to school... After dismissal my siblings, friends and I started walking back home.
Just few minutes after we started trekking, it started drizzling and we hastened up as much as we could.
Just 30seconds into the drizzling, a heavy downpour started and we had to run into a nearby shop for the rain to reduce before we could continue our trekking back home.
You won't believe me when I tell you we waited for more than 20minutes and the rain was not even reducing at all....It was rather increasing.
It was as if the sky just decided to let open her tear glands or lacrimal glands and cry for the whole year just that evening
Around 30minutes into the wait, I was tired and told my siblings and friends that I will be going home despite the heavy downpour.... They resisted a bit but later agreed.
We entered the rain and as expected were drenched in no time but we continued... Never give up vibes😂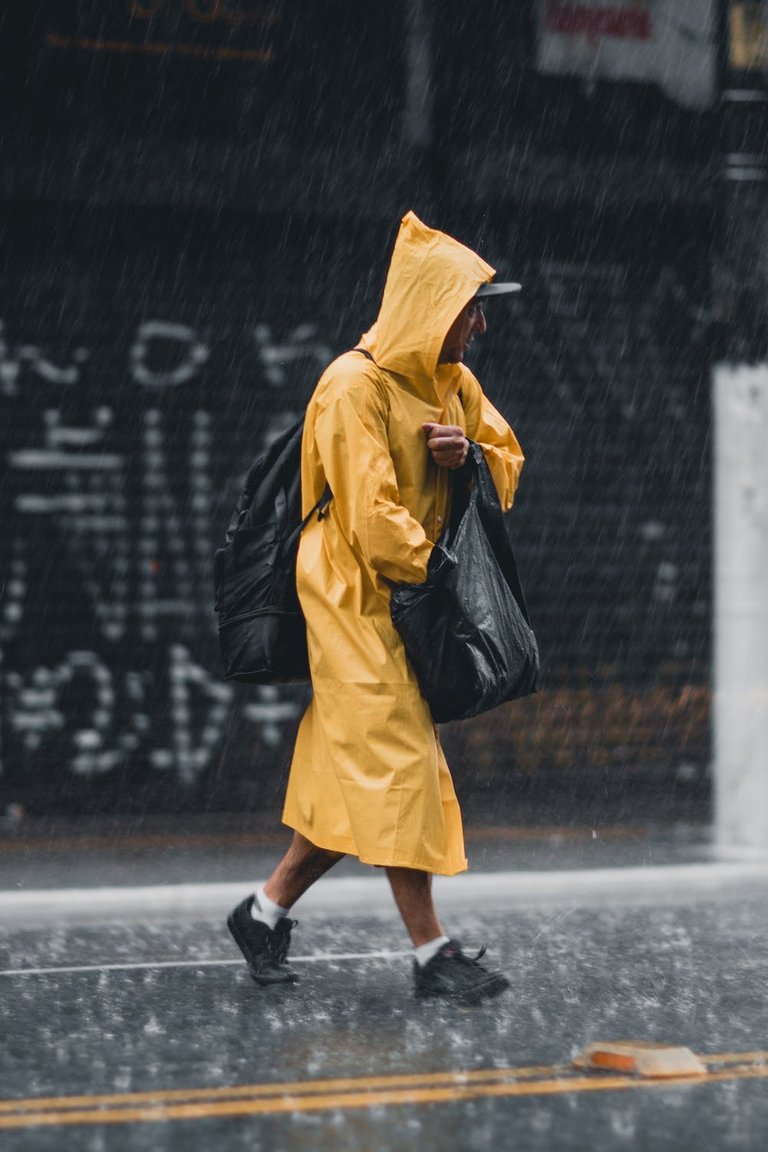 Source
It was honestly terrible, even the shoes were not spared but we were lucky we were using waterproof bags so our books were spared because honestly we didn't think that deep before jumping into the rain.
What actually made this memory stick was actually the aftermath of the decision 😂
We ran inside our home as if we were chased by dogs.
My parents were around and next thing I saw were stars all over my face followed by questions that came back to back like a hit album.....
Why did you enter the rain?
Why did you make these little ones enter the rain instead of waiting for the rain to stop?
What are you rushing home to do?
I didn't have any reason except the fact that I just wanted to enjoy the moment so I stayed mute.
That didn't end it.... Just the next day, I couldn't move my body, it was cold and fever.
I regretted ever entering that rain but the deed has been done already.
I was later treated for Malaria and ever since then till today, I always avoid heavy downpour to the best of my ability.... I'll rather sleep where I was than let those heavy downpour rain on me ever again but that doesn't stop me from playing football under drizzles😂

Nevertheless, Heavy rainfalls are good once in a while.
---
Thanks for reading and have a nice weekend
---
---