Fish On!! ~ A Splatts Family Steelhead Fishing Trip on the Clearwater River in Idaho
Steelhead fishing on the Clearwater River is next level!! It's the home to the biggest Steelhead in the lower 48 states. Anglers from all over the world come here to get in on the action. Steelhead aren't a salmon, they are actually a trout. These steelhead travel from the Clearwater into the Snake River, then the Columbia River and finally out to the ocean. The A-run Steelhead spend a year in the ocean and end up on the Snake River. The B-run Steelhead spend 2 years in the ocean and make their way all the way to the Clearwater River. They travel over 800 miles!! That's insane!! Now to mention they have to avoid predators, climb thousands of feet in elevation and go through 8 Dams. 4 on the Columbia River and 4 on the Snake River. Absolutely mind blowing!!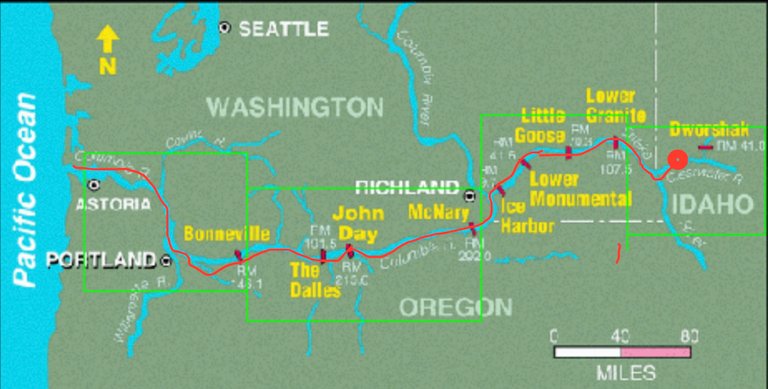 source
Now that you and I both know a little about Steelhead, it's time to reel some of these big boys in!! My Dad has to be one of the coolest around. He is 73, retired, had polio as a child (leaving him a little crippled), and has been living with a form of leukemia for around 13 years. Since retirement he basically duck, goose and turkey hunts or goes fishing everyday… well almost everyday. What a life!!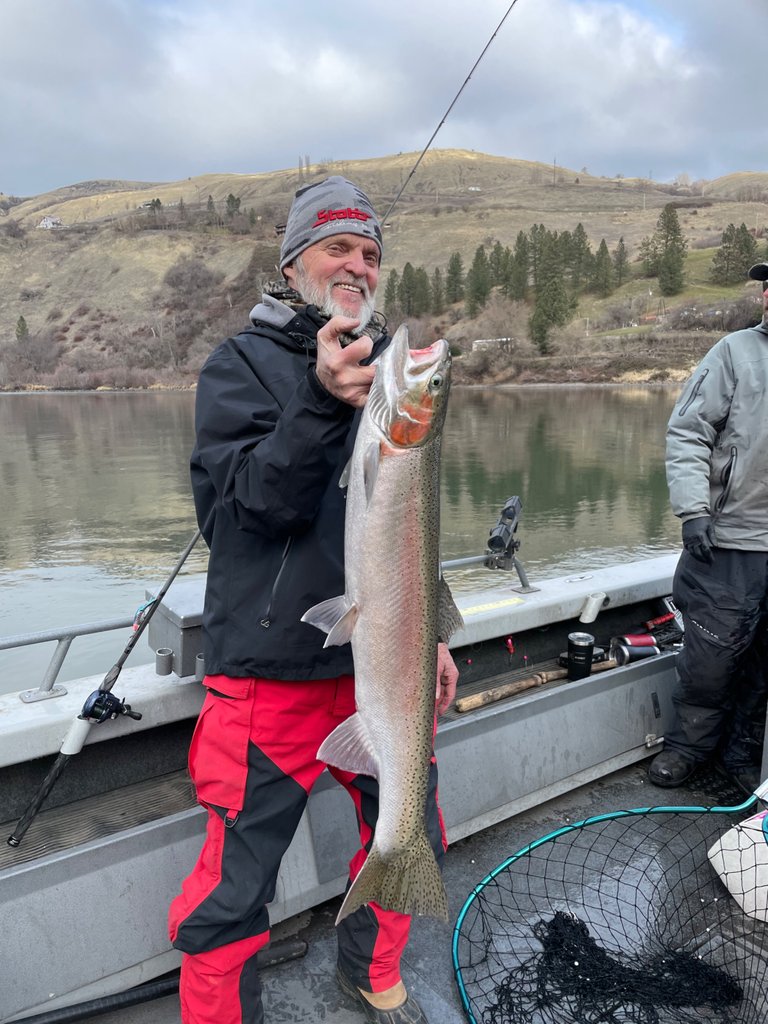 This year for Christmas he booked us a Steelhead fishing trip with Stott's Fishing Adventures. Mel Stottlemeyer Jr. is the owner and his dad, Mel Sr. was an all star pitcher for the New York Yankees back in the day. Mel Sr. and my Dad had become good friends over the past years, until Mel passed away due to his leukemia a few years back. My Dad got all 4 of us Sons an Autographed autobiography of Mel Sr. a couple years back. Pretty frikken cool!!
There I go again wondering off subject…
The Clearwater River is about 2 hours from my house. My Dad and oldest brother drove over and my first older brother and I drove over when he got off work. My second older brother lives in Oklahoma, so he wasn't able to go. So yes I am the youngest of 4 boys. We hit the water around 6:45am with Tom as our guide. I'm no fishing addict like the others, so I listened carefully to advise about catching these Steelhead. It was in the mid 20's Fahrenheit, no wind or snow and the sun was expected to come out and the temps to get up to around 40F. Now that's my kind of fishing weather!!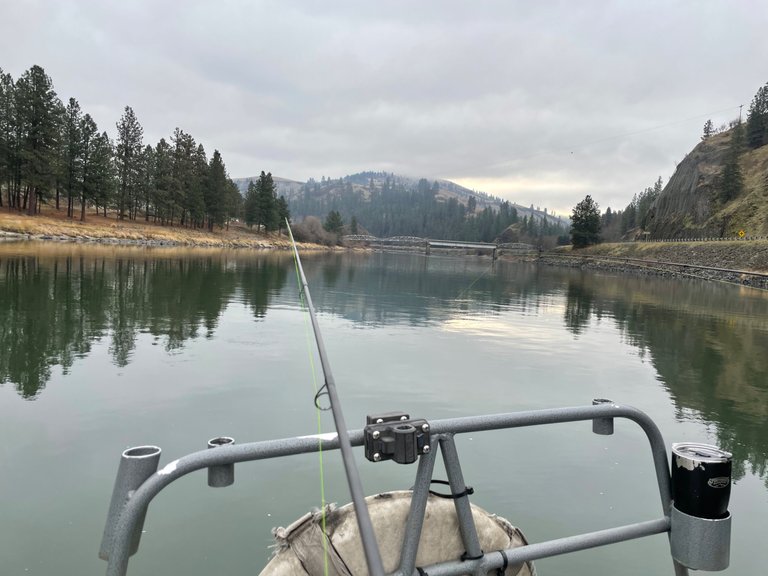 It didn't take but 1/2 hour and my rod went off! My very first Steelhead was on the hook!! Now I just got to reel him in… easier said than done. These boys like to put up a good fight. Just when he was close enough to see him in the water, he would make another run for it.

Catching only a few glimpses of it close to the surface, I was anxious to see how big this thing was…
Not Bad…
Not Bad At All!!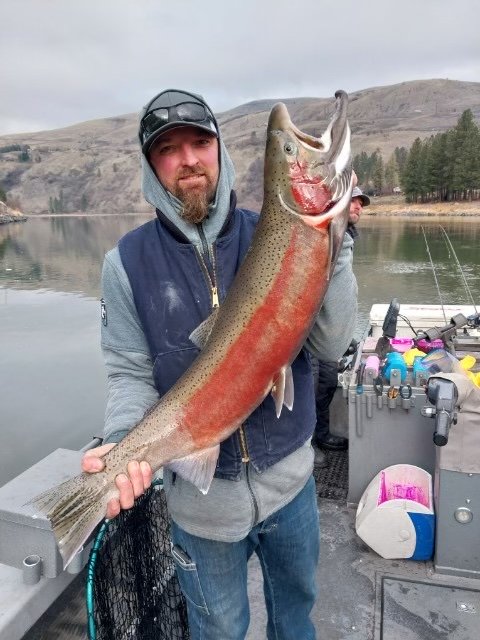 My brother said, "That's a good fish"
I'm thinkin'… "This thing is huge!!"
I guess that's the difference between someone who has been steelhead fishing many times and someone who has never gone. Or maybe it's the brotherly love thing…
In the first couple hours we put 3 fish in the boat. Things were off to a great start. With 4 of us fishing we could catch a total of 12 steelhead. It looks like we were well on our way to catching our limits.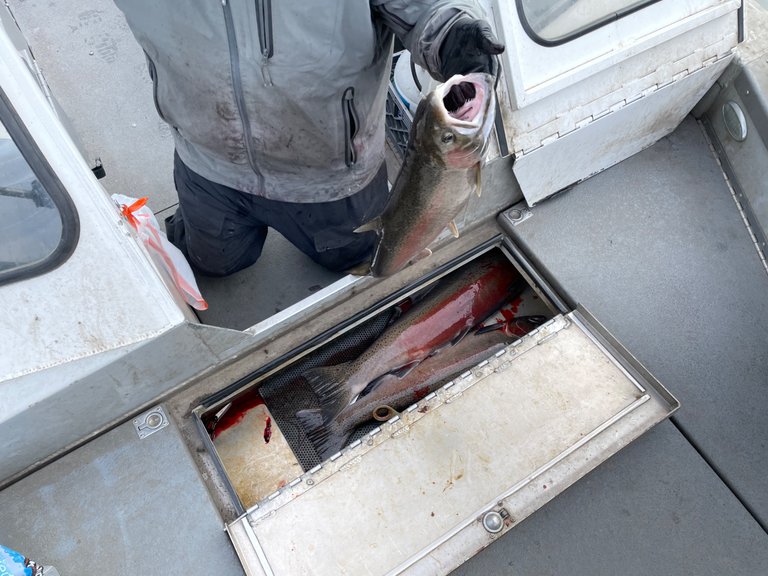 The first one I caught was a Buck or male. The second one I caught was a hen or female. Catching females is like a reward for the fishing guide. You see he keeps the eggs and uses them as bait for later fishing trips.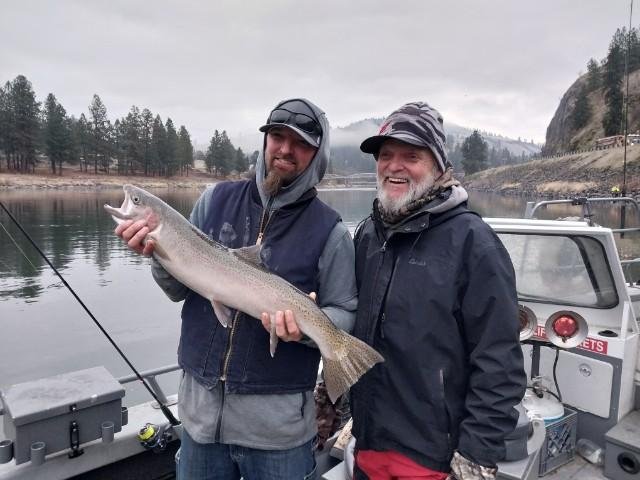 After getting 3 in the boat relatively quick, things slowed down for a couple hours. We ran down river a little ways and tried a couple of spots with no luck. It did give us a chance to admire the views of the Clearwater River Canyon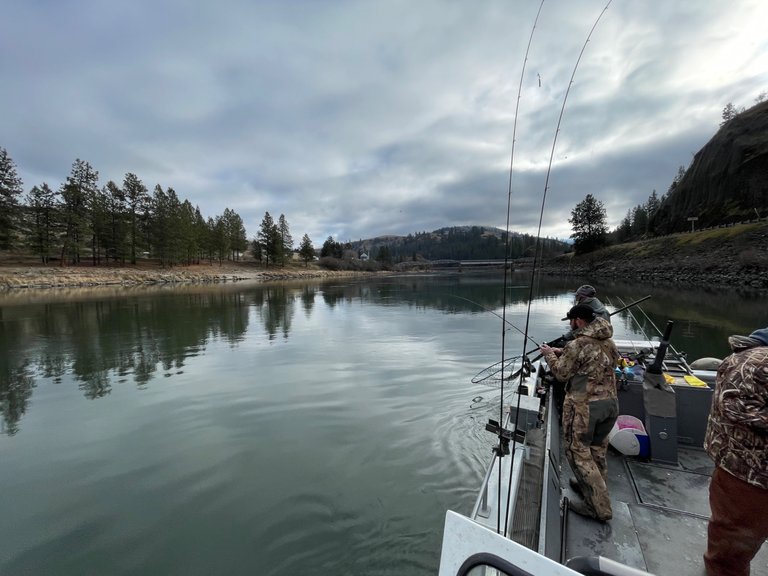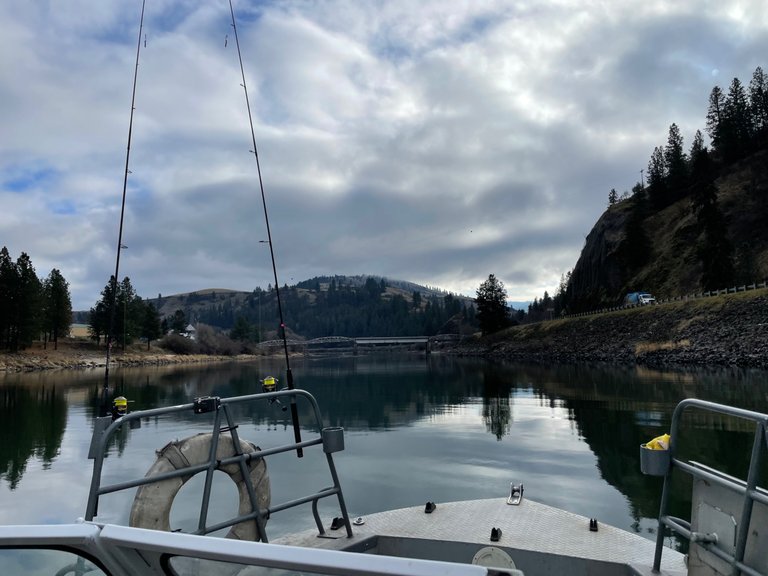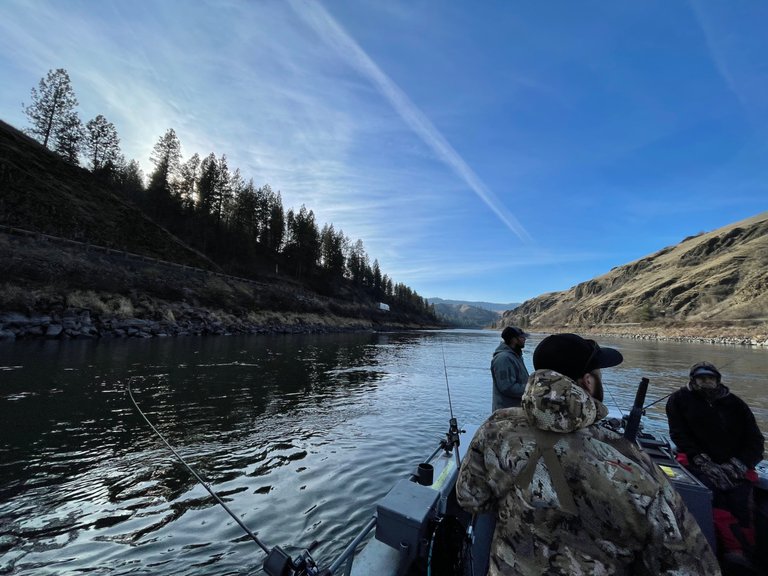 Not to mention we got to see some Bald Eagles fighting over there fishing grounds. That was absolutely amazing to watch in real life. Check out the video on 3Speak Here. Soon after that the action started again. My oldest brother landed a nice hen.

More Eggs for the Captain!!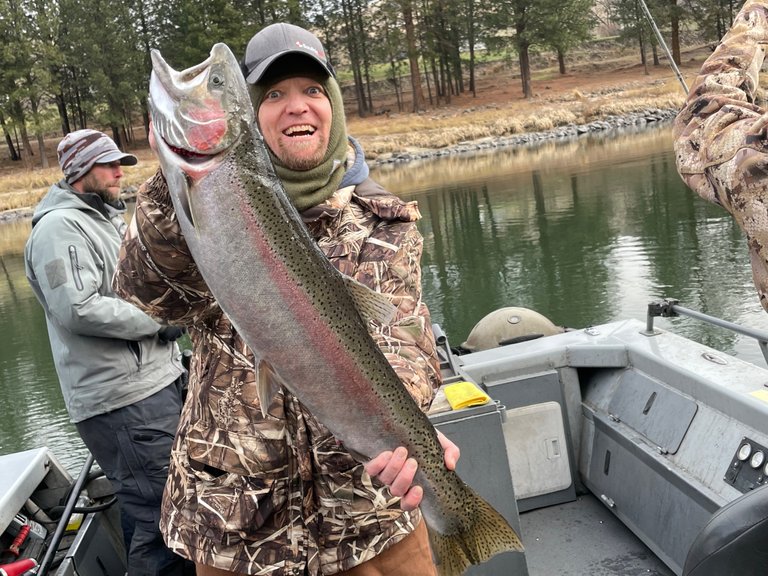 No way are we related… LOL
Of course my hunting and fishing addict of a brother caught the biggest one of the day. What a beautiful Steelhead!!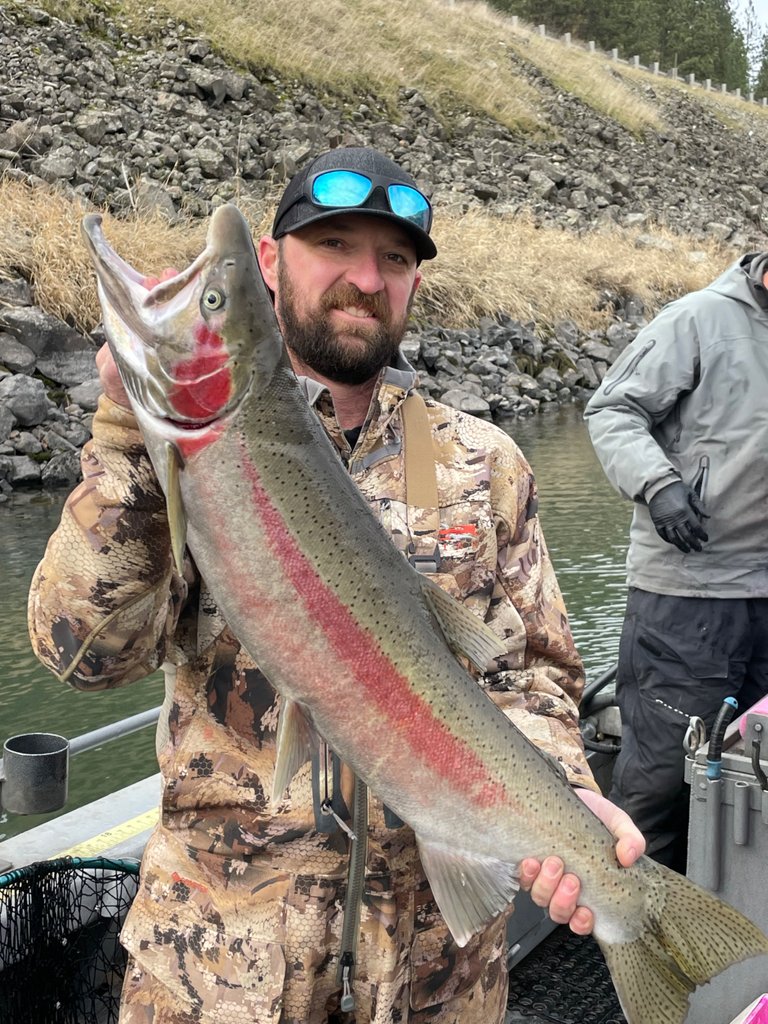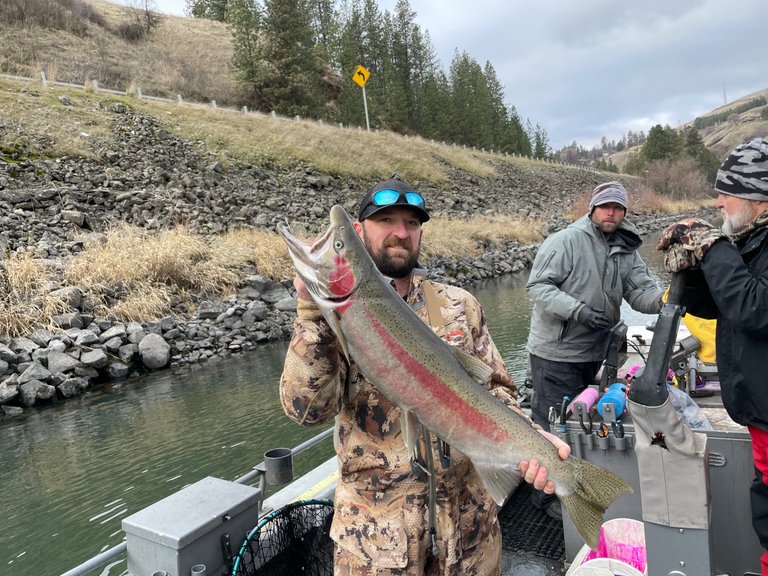 Tom the guide was getting a little frustrated. He felt like he wasn't doing his job because the fish weren't biting like crazy. His goal is to get everyone their limit of Steelhead. At one point in time he said, "These fish are starting to get me a little frustrated!" Then immediately after that we caught one. It was too funny.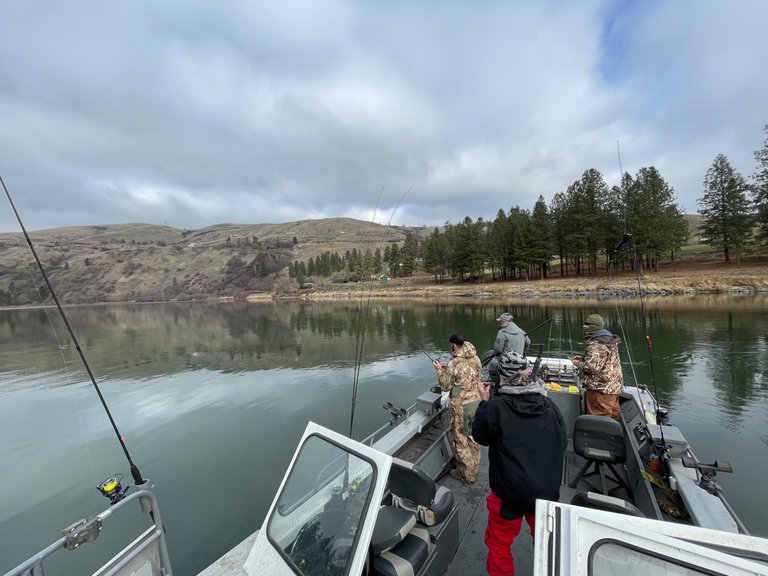 Around 2pm we headed back to the boat launch and called it quits for the day. While we unloaded our stuff, Tom filleted the 7 Steelhead we had caught. 3 bucks and 4 hens. He scored a nice bunch of eggs from those hens. His boat is bad ass!! It can go in 4-6 inches of water!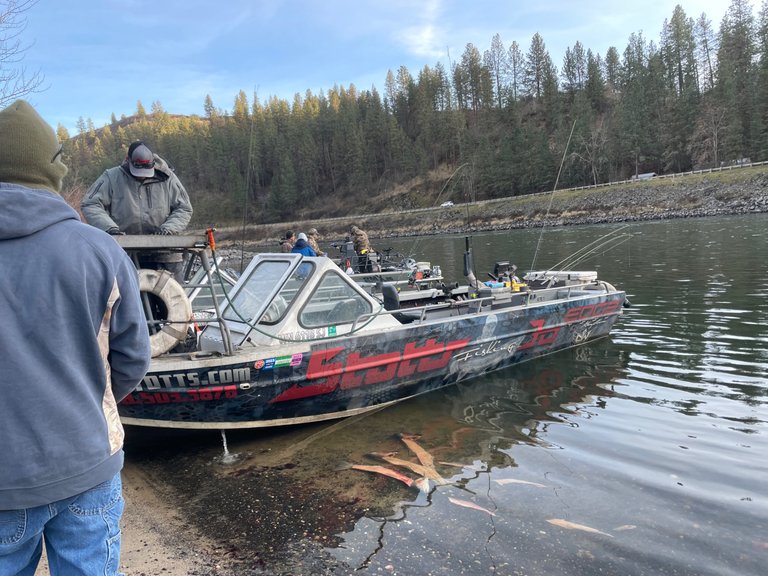 We hung out on the shore and helped him bag the fillets and the eggs. Shot the shit with him for a while and helped with whatever else we could before thanking him for taking us out and catching some nice Steelhead. Again he kept apologizing for us only catching 7 but hey, when they are biting they are biting… when they aren't… they aren't. We kicked him some tip money and were on our way back home. I really enjoyed fishing with Tom, just a calm chill guy that knows his stuff. I'm sure we will do it again in the future.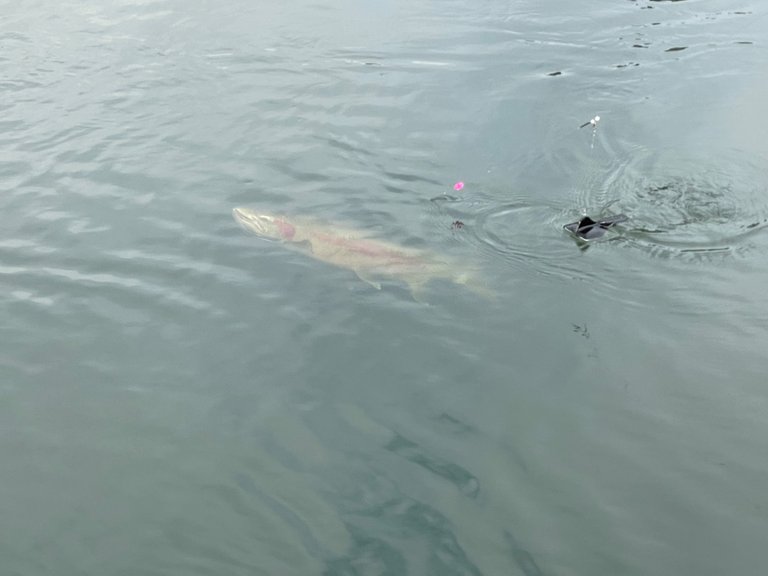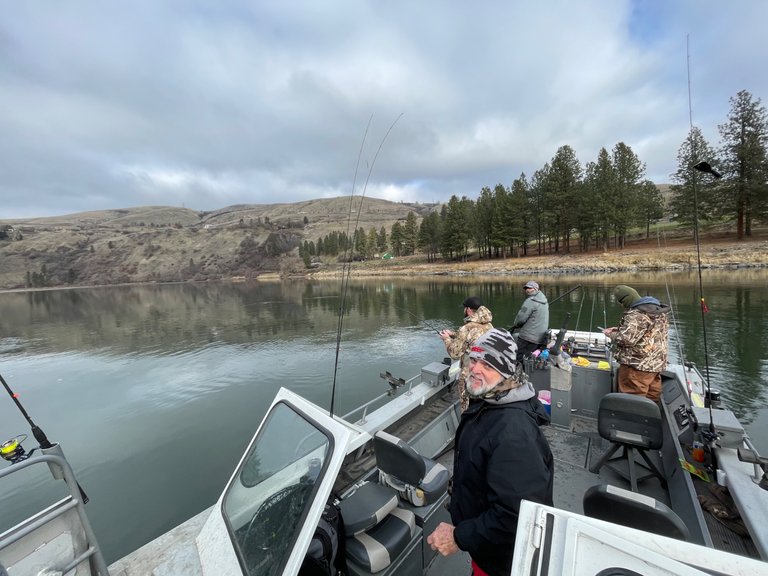 After arriving at home it was time to bag some meat and throw it in the freezer. Since it's later in the season, the meat is a little more pale than the early season.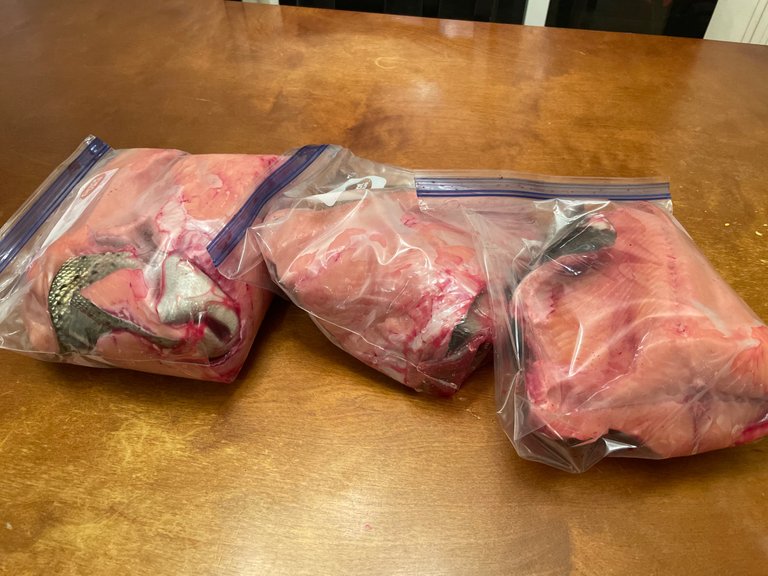 This meat is great for smokin'!! Which I love to do. One thing I do know is I need to invest in some larger vacuum seal bags!!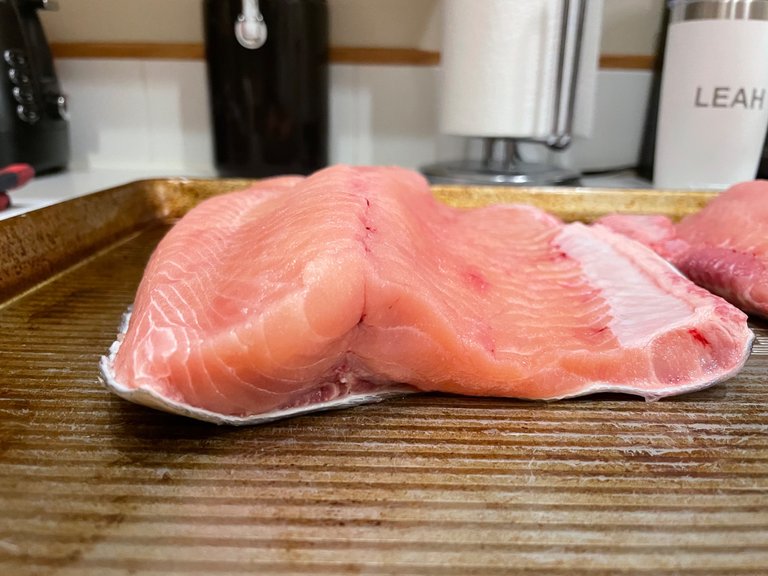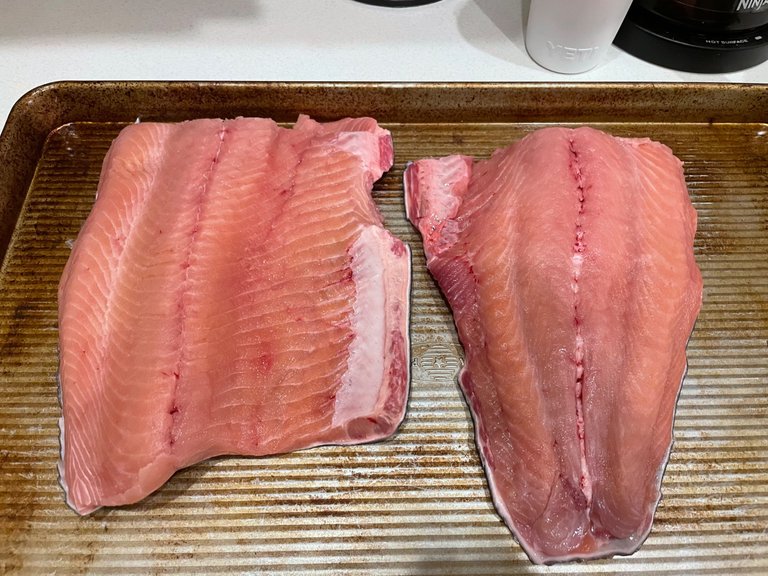 Rinse the filets off, pat dry them and stuff them in the bag. Then let the vacuum sealer do it's job.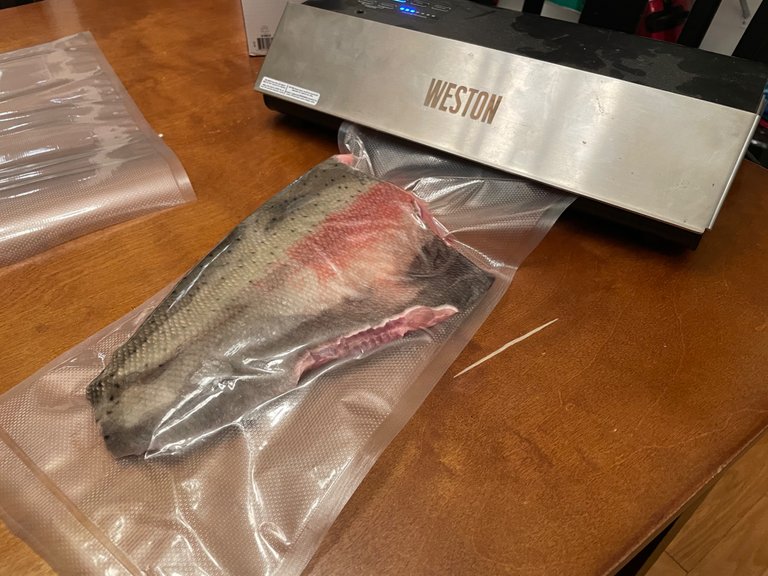 Now that's a nice arm load of meat going in the freezer! I need to do some research and find out different ways people are cooking Steelhead other than just smoking it. I'm sure others have some amazing recipes online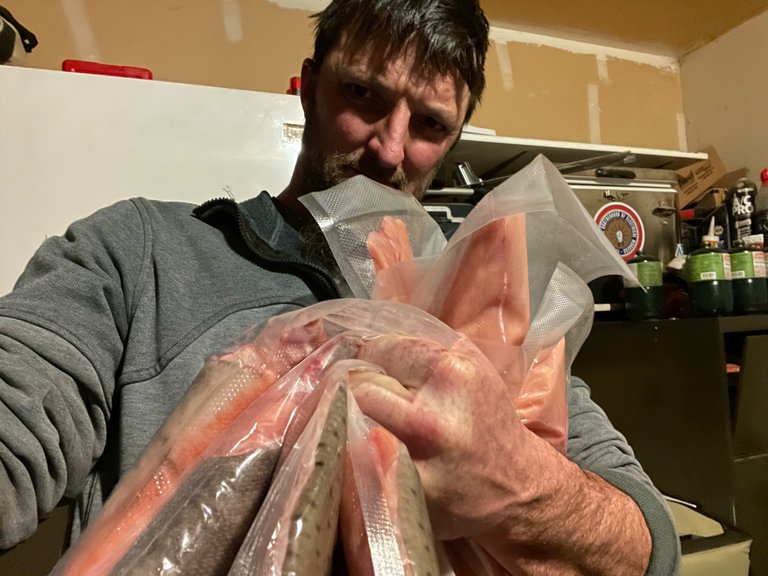 I need to get out and do a lot more of this. Get away from the everyday routine and responsibilities, get out into nature and enjoy it. All too often I feel as though I have too much do and I am sure I'm not the only one. My goal this year is to make time. Take my wife and kids out fishing, spend some quality time on one of the rivers we have close by and make some memories. Steelhead fishing on the Clearwater River is something I will never forget.
Thanks Dad!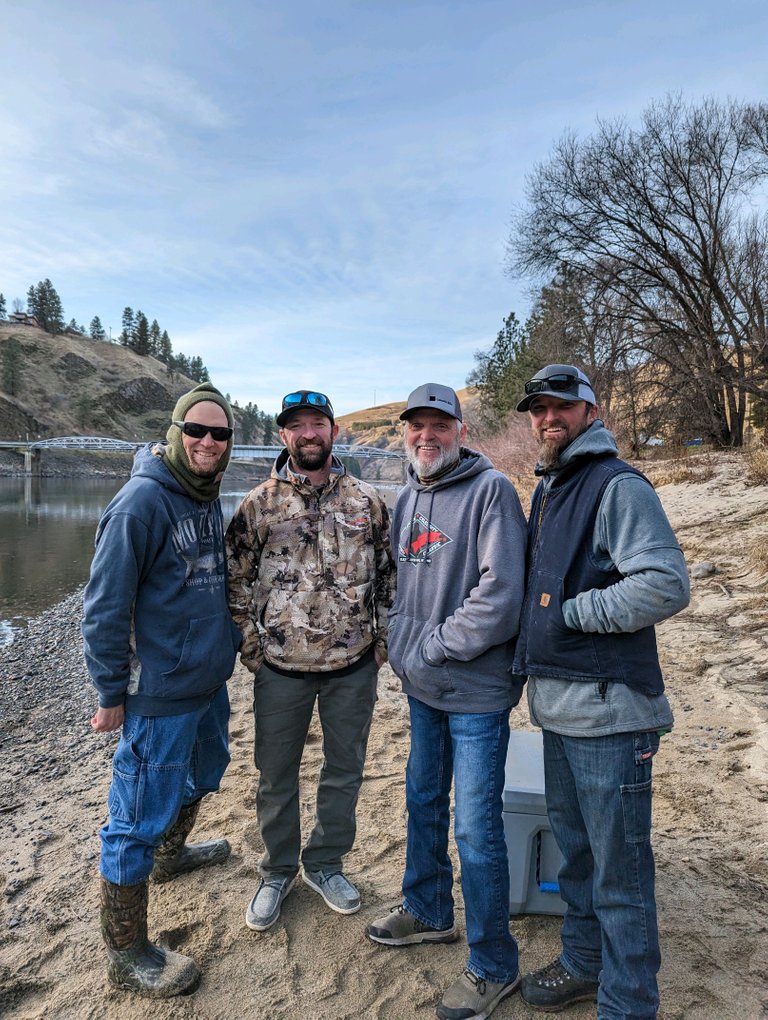 If you would like to check out another video of this Steelhead fishing trip, check it out Here

Your Random
Dose of...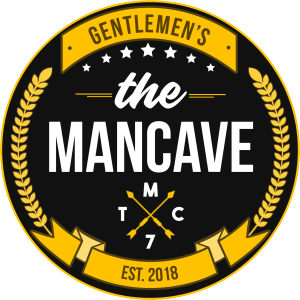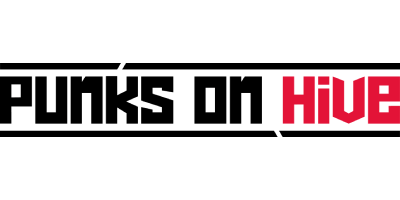 ---
---