Build Your Splinterlands Deck Using Peakmonsters
Build Your Splinterlands Deck Using Peakmonsters
---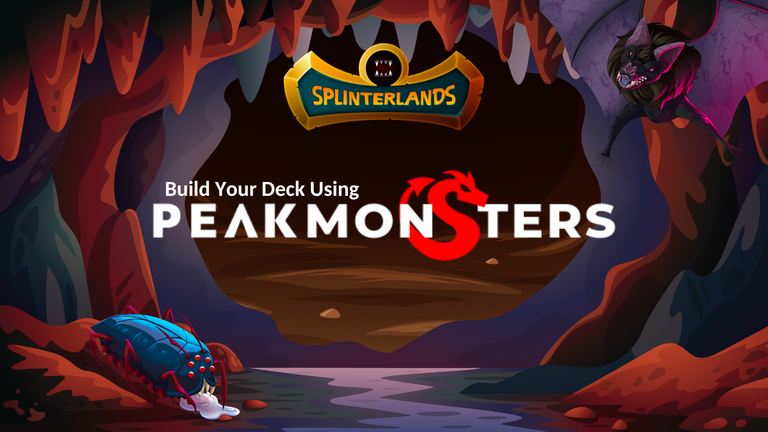 Hello everyone!
Lester
here! These past few weeks, Splinterlands undergone several changes from Renting to Ranked Plays. Good thing is cards price went down also and my goal is to build my own deck to save myself from hassles from renting cards. The goal: to hopefully buy more cards than what my token's value is. After around two weeks of patiently waiting, I was able to create my deck for Bronze League for Modern Format! Three weeks later, I started battling with a little renting cost for cards that I cannot afford yet.
For this post, I will share my experience and thoughts in building my deck for Bronze League - Modern Format using Peakmonsters. Before we proceed, let's take a quick recap of Wild and Modern Formats. According to Splinterlands,
Wild
format is -
"This format allows the use of all cards from all editions. Every battle that you are playing right now is a Wild battle."
and
Modern
format is -
"This format only allows the use of cards from newer editions: Chaos Legion, Dice, Untamed, Reward & Promo cards with an Untamed or Chaos Legion style frame are all considered Modern cards."
So basically, there are fewer cards that you can use in Modern Format. And also, you need less power to reach each league in Modern Format compared to Wild Format.
So for building my deck, I used
@peakmonsters
(
https://peakmonsters.com
). This tool is very useful that it saves me some bucks and time and I also got to earn some PKM tokens.
---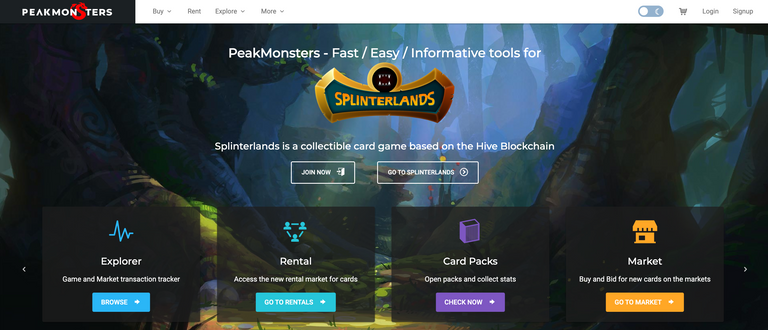 Should I Buy Multiple Level 1 Cards or 1 Max Level Card?
---
For starters, I am building a deck for Bronze League - Modern Format. And sometimes there are cards whose cost is way cheaper than when you buy the max level instead of buying single cards and then combine it. Here is an example.
---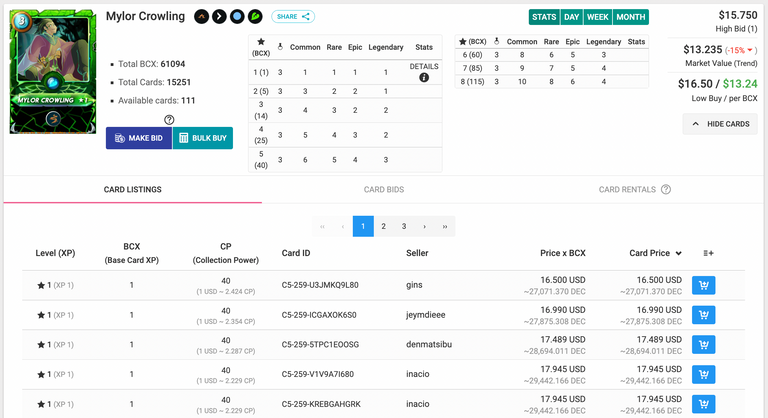 ---
Mylor Crowling here is a good example. You see, as of today, the lowest price in the marketplace is 16.5 USD. To have a Level 2 card, you need 5 BCX and at current listings you will spend around 86.869 USD. But if you check the Level 2 listing, it will only cost you 74.5 USD. And that saves you 12.369 USD! Check the comparison below.
---
| 5 Level 1 (1 BCX) | 1 Level 2 (5 BCX) |
| --- | --- |
| | |
---
Here is another example. Buying Time Mage at Level 2 (5 BCX) is cheaper than buying 5 Level 1 (1 BCX). This one will save 0.07 USD. Not much but still saves you DEC for buying other cards.
| 5 Level 1 (1 BCX) | 1 Level 2 (5 BCX) |
| --- | --- |
| | |
---
However, most of the time, buying multiple Level 1 Cards is still cheaper than buying the Level 2 or 3 card. Let's take a look at Tarsa.
---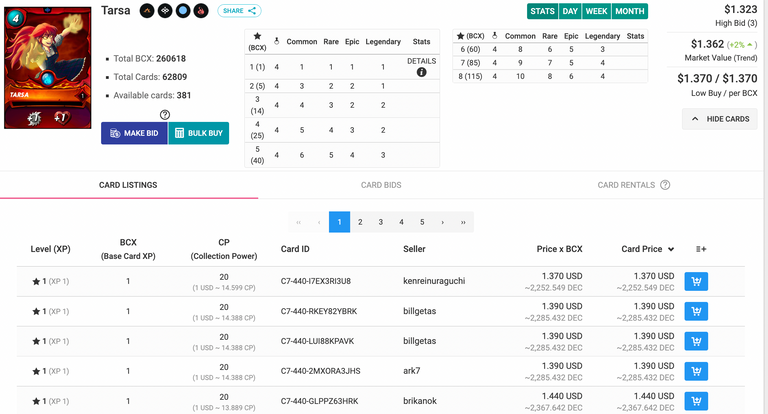 ---
Tarsa here will save you 0.283 USD when you buy 5 Level 1 cards compared to buying 1 Level 2 card. So before you go buying those cards, always compare the price of each level.
---
| 5 Level 1 (1 BCX) | 1 Level 2 (5 BCX) |
| --- | --- |
| | |

Should I Buy Regular Foil or Gold Foil Card?
---
After comparing BCX price, let's now check if we can save more if we buy the Gold Foil Card versus the Regular Foil one. Let's check Antoid Platoon here.
---

---
For this one, buying 5 Level 1 Reg Foil (1 BCX) or 1 Level 2 Reg Foil (5 BCX) is cheaper than buying 1 Level 3 Gold Foil (1 BCX). However, for this one, the difference is only 0.179 USD but the Gold Foil will give you Bonus Points in Ranked Battles. So I might chose the Gold one instead of the Regular Foil.
---
| 5 Level 1 Reg Foil (1 BCX) | 1 Level 2 Reg Foil (5 BCX) | 1 Level 3 Gold Foil (1 BCX) |
| --- | --- | --- |
| | | |

Should I Direct Buy It Or Use Bidding?
---
For this question, there are several rules that I follow. Do I need it now or it can wait? Is the lowest listing way too cheaper compared to the next one on list?
---
---
If the highest bid is quite close to the lowest card listing, I would direct buy the lowest card listing. The reason is, if I put a bid, it will be 2.621 or 2.63 and I think there are bot users that will add 0.001 to the highest bid. I really observed that a lot. So it will take time and effort to compete for the highest bid. And if the difference is not that much compared to the lowest card listing, I think it is a win for me. Also, If I really need the card, I would buy the lowest listing.
---
---
But if the highest bid will save you a few bucks compared to the lowest listing, I would go for bidding. Chances are, you might get Lorna Shine at 7.021 USD than 8.7 USD. There are other scenarios that I consider to when I should direct buy it.
---
---
Let's check Mylor Crowling's listing here. Last week, the lowest price in the card listing is around 18 USD, but now the lowest is 16.5 USD. Would I buy it? I would say yes because I have been observing this card for several weeks now and the cards listed at lower than 17 USD always get bought. And if you need Mylor Crowling in your deck right now, go for it.

Other Benefits
As I have mentioned earlier, you could save a few bucks when you analyze first the cards that you would want to buy. Currently, I have active biddings on cards that way too pricey for me to direct buy them.
---
---
But another benefit from building your deck using Peakmonsters is the PKM Airdrop token. Currently, there is PKM Airdrop:1 based on $10 order. And aside from that, you will also receive a weekly airdrop.
---
---
You can trade PKM token in Hive Engine or Tribaldex and currently, the lowest ask is 0.02927246 HIVE/PKM. Sweet, right!?
---


That's all and Thank You for reading my post. If you got interested in playing Splinterlands, here is my Game link - splintercell-01.
Visit @Splinterlands to view more amazing posts! And always keep on battling!!!
*Images used are from Splinterlands and Peakmonsters and edited in Canva.
---
---