SHARE YOUR BATTLE Weekly Challenge! DRAGONS!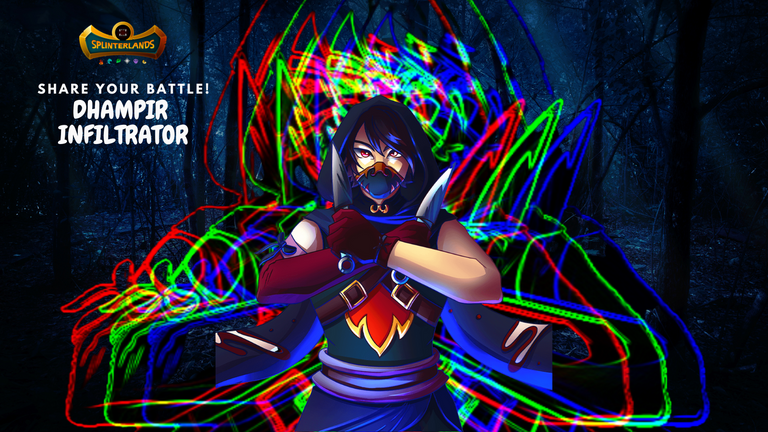 Introduction
Hello everyone! Lester here! New Season has just started in Splinterlands and players are getting more strategical and competitive each day. You might think that this game is so complex that you will might have a hard time winning each match, especially after releasing new cards sets from Riftwatchers edition. This post is to share one of my battles using Dragon Element - Dhampir Infiltrator and might help you uncover the power of one of the 6 Splinters in the world of Splinterlands - Dragons!

Among the 6 Splinters in the world of Splinterlands, the Dragon Splinters are the most unique. When you play using Dragon Elements, you can also play monsters from other Splinters aside from Dragon monsters. Dragon summoners work well with other elements ranging from magic, ranged or melee attack monsters.

Dhampir Infiltrator
For this challenge, I will use Dhampir Infiltrator - a card from Dragon element. Dragon elements are very unique in the land of Splinterlands. Aside from summoning monsters from Dragon element, they can also summon monsters from other chosen elements.
---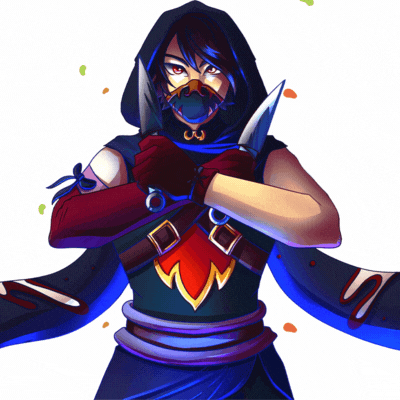 Let's take a run down first of this card's lore and stats.
Dhampir Infiltrator
Edition: Reward
Rarity: Rare
Element: Dragon
Role: Monster
Abilities: Sneak,Double Strike at Level 1, + Cripple at Level 5, + Affliction at Level 8
Lore
Unofficially, Dhampir Infiltrators are employed by the Gloridax Empire as spies, thieves, and assassins. Because of their half-vampire lineage, they are especially proficient at their work; they have the unnatural reflexes, strength, and agility of a vampire yet are not harmed by sunlight. They do, however, require blood to survive, and the blood of dragons is powerful indeed. It's rumored that the Gloridax provide the Infiltrators with an ample supply to further enhance their already unnatural abilities.
Officially, however, the Gloridax Empire denies any affiliation with Dhampir Infiltrators....
| Level | Regular BCX | Gold BCX | Attack | Speed | Armor | Health | Abilities |
| --- | --- | --- | --- | --- | --- | --- | --- |
| 1 | 1 | - | 1 | 2 | 0 | 2 | Sneak,Double Strike |
| 2 | 5 | 1 | 1 | 2 | 0 | 3 | Sneak,Double Strike |
| 3 | 14 | 2 | 1 | 3 | 0 | 3 | Sneak,Double Strike |
| 4 | 25 | 4 | 2 | 3 | 0 | 3 | Sneak,Double Strike |
| 5 | 40 | 7 | 2 | 3 | 0 | 3 | Sneak,Double Strike, Cripple |
| 6 | 60 | 11 | 2 | 3 | 0 | 4 | Sneak,Double Strike, Cripple |
| 7 | 85 | 16 | 2 | 4 | 0 | 4 | Sneak,Double Strike, Cripple |
| 8 | 115 | 22 | 2 | 4 | 0 | 4 | Sneak,Double Strike, Cripple, Affliction |

Battle Configuration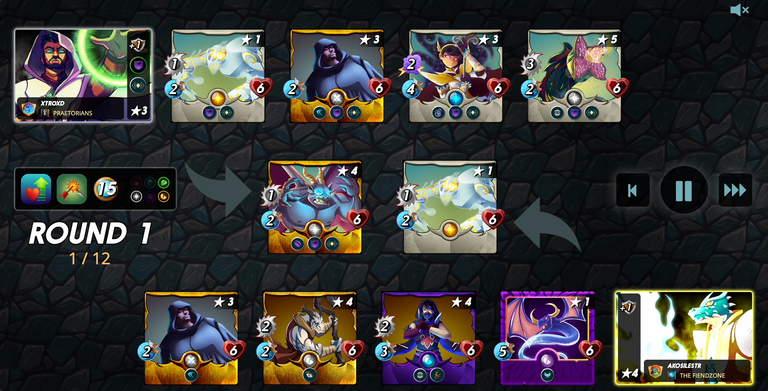 ---
In this battle, the mana cap is 15 only and the Rulesets are Equalizer and Broken Arrows. Because of the low mana cap in this battle and Equalizer ruleset, I think this is the perfect opportunity for Dhampir Infiltrator to enter the battle.
---
Rulesets
Equalizer
The initial Health of all Monsters is equal to that of the Monster on either team with the highest base Health.
Don't use high HP monsters and focus on high damage. Try to use a lot of monsters as well. Having a Tank Heal, Thorns, Triage for defense helps a lot.
Splintercards Equalizer Ruleset
Broken Arrows
Ranged attack Monsters may not be used in battles.
A high HP first monster with Void ability will deal with both melee and magic.
Give your tank a back up with a tank heal support.
Using Thorns or Magic Reflect is also very useful in this rule set.
Defend against either Magic or Melee attacks by using the right summoner and then use monsters' abilities to deal with the other attack type.
Splintercards Broken Arrows Ruleset
---
Line Up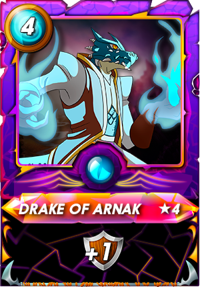 Summoner: Drake of Arnak
Ability: All Friendly Monsters have +1 Armor.

Drake of Arnak is a Dragon Summoner. Drake of Arnak's +1 Armor will be an advantage in this battle against enemy with non-magic attack. Each attack from the opponent will be negated by the armor and will give chance to my monsters, especially to Dhampir Infiltrator, to defeat first the opponent.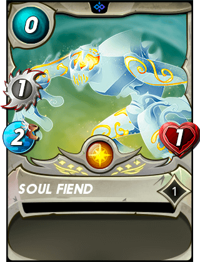 Pos 1: Soul Fiend
Ability: None.

The main purpose of Soul Fiend is to tank enemy monsters front attack. It has 0 mana cost only, has 1 Melee Attack and can be added in your line up if you have already used all your mana. What's good in using Soul Fiend in Equalizer ruleset is that you got a "free" tank.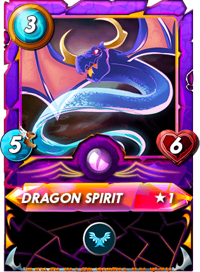 Pos 2: Dragon Spirit
Ability: Flying -Has an increased chance of evading Melee or Ranged attacks from Monsters who do not have the Flying ability

Dragon Spirit is also a Dragon monster with 5 Speed and Flying ability. The main purpose of this card in this battle is to act as my main tank after Soul Fiend was defeated, hoping that enemy monsters' physical attack will miss. And since this monster has no attack, it will attract enemy monsters with Snipe ability.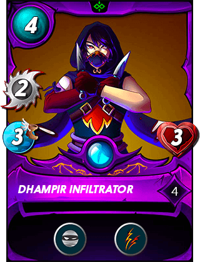 Pos 3: Dhampir Infiltrator
Ability: Sneak -Targets the last Monster on the enemy Team instead of the first Monster. Double Strike -Monster attacks twice each round.

Dhampir Infiltrator's main asset is the Double Strike ability. At Level 4, this card has 2 Melee Attack which means it can inflict 4 damage per round. It also has the Sneak ability and will target support monsters from the back of the enemy line up. In this battle, the ruleset Equalizer offsets Dhampir Infilitrator's downside, which is low HP. It also has 4 mana costs only and perfect for battles with low mana cap.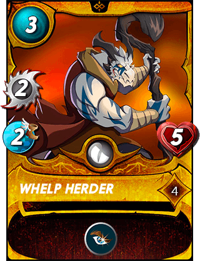 Pos 4: Whelp Herder
Ability: Opportunity -Monsters with the Opportunity ability may attack from any position and will target the enemy Monster with the lowest health.

This monster will help Dhampir Infiltrator to defeat monsters from the back. It has 2 Speed which means Dhampir Infiltrator will attack first. If the enemy monster still has some HP left after Dhampir Infiltrator's attack, Whelp Herder will do the job of defeating the monster.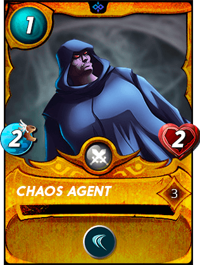 Pos 5: Chaos Agent
Ability: Dodge -Has an increased chance of evading Melee or Ranged attacks.

The main purpose of Chaos Agent is to tank the damage from enemy monsters with Sneak ability and hoping that they will miss. It has 1 mana cost only and can be easily added to your line up.
---

Let's Battle!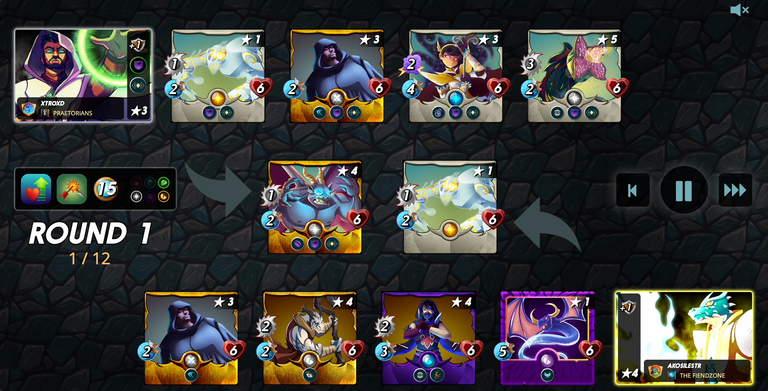 The enemy used Grandmaster Rathe as the Summoner. This summoner also gives +1 Armor to allied monsters. It also gives ability to hit Monster's armor with magic attack before its Health and increases Magic Reflect, Return Fire, and Thorns damage to all enemy monsters by 1. The enemy also has monster with Sneak ability and has a magic attack monster.
---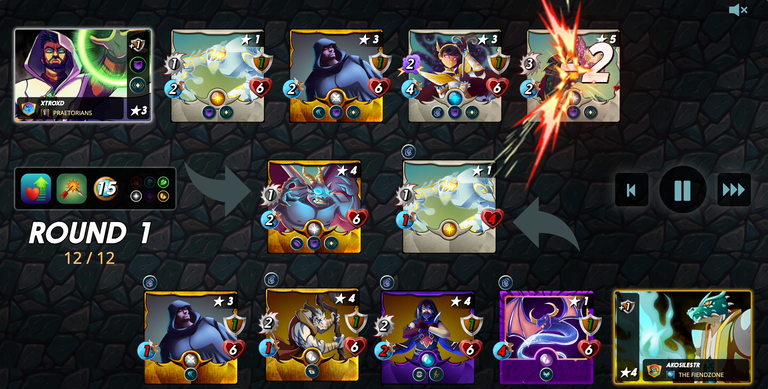 In Round 1, my Dhampir Infiltrator destroyed enemy Stitch Leech's armor and inflicted another 2 damage. Then, enemy Stitch Leech attacked my Chaos Agent and it's attack missed. Whelp Herder then inflicted another 2 damage to enemy Stitch Leech.
---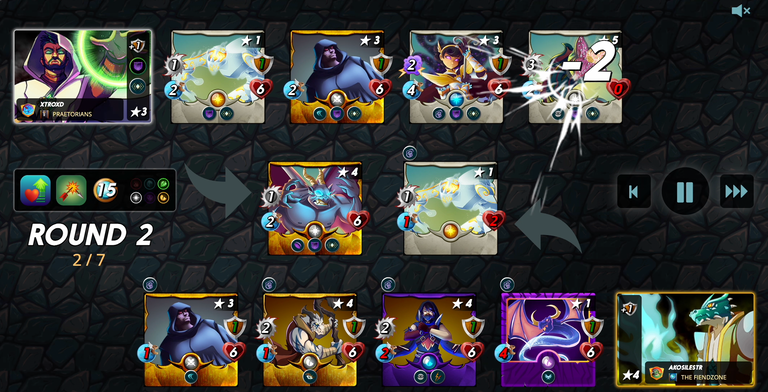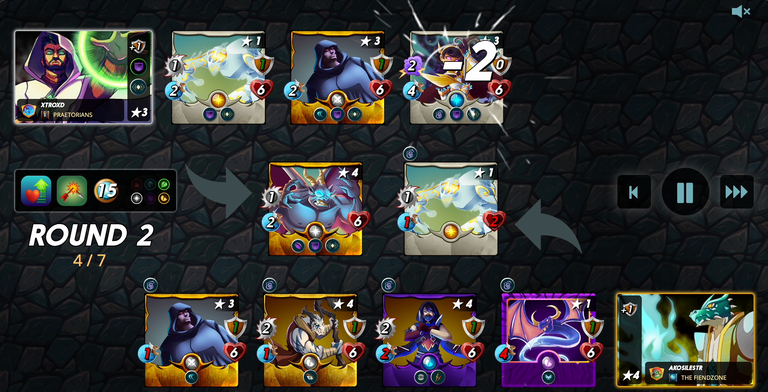 In Round 2, Dhampir Infiltrator annihilated enemy Stitch Leech and then destroyed Time Mage's armor.
---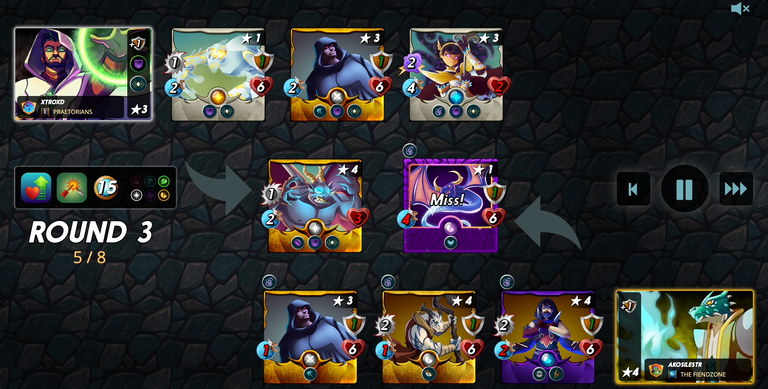 In Round 3, my Soul Fiend was defeated and enemy Time Mage was defeated by consecutive attacks from Dhampir Infiltrator and Whelp Herder while the attack on my Dragon Spirit missed.
---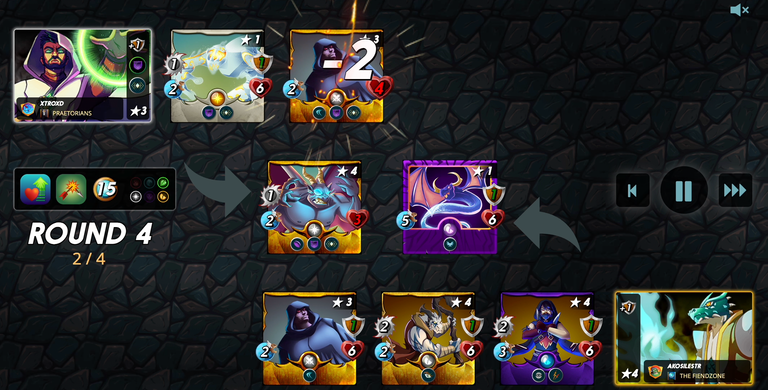 In Round 4, Dhampir Infiltrator destroyed enemy Chaos Agent's armor and inflicted 2 damage while Whelp Herder inflicted 2 damage on enemy Gargoya Scrapper.
---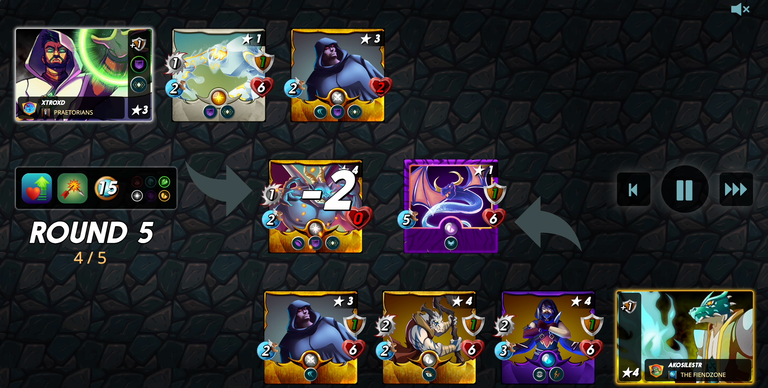 In Round, attack in enemy Chaos Agent missed and enemy Gargoya Scrapper was annihilated.
---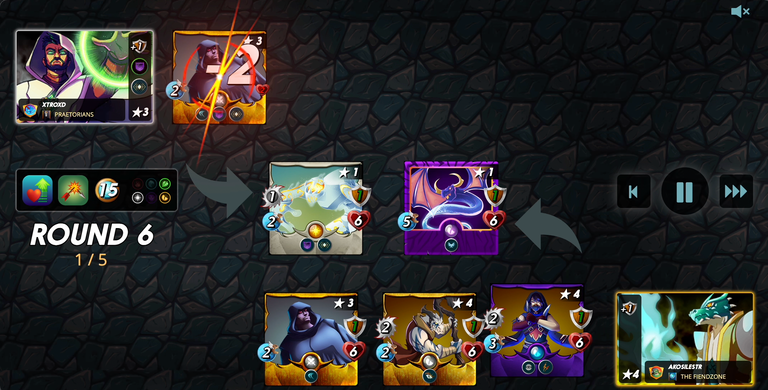 In Round 6, enemy Chaos Agent was finally annihilated.
---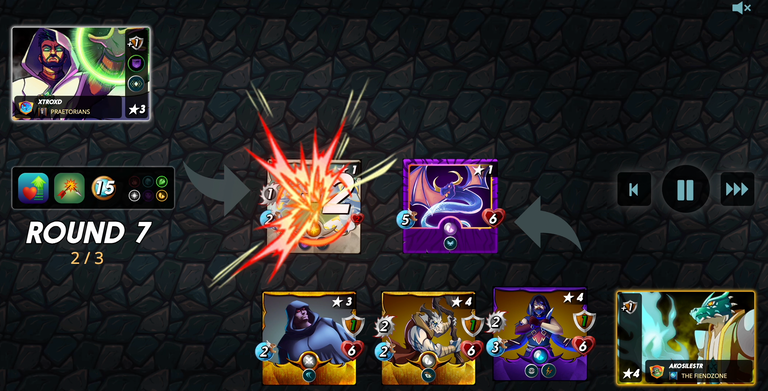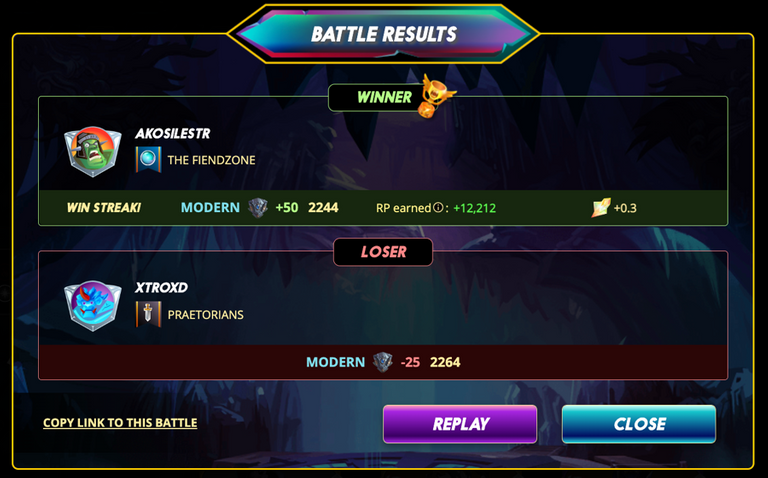 And in Round 7, enemy Soul Fiend fell making me the winner of this battle. I got 12,212 Reward Points and 0.3 SPS in this battle. Here is the full replay in
Splinterlands
.

Did my strategy work?
---
Yes, Dhampir Infiltrator played a major role in winning this battle. Its little mana cost and Double Strike ability contributed a lot and it played really well together with Whelp Herder. It missed a few attacks but its Speed is not so bad considering that it annihilated opponents quicker considering that each opponent has +1 Armor from Grandmaster Rathe. I think, starting from Silver League, Dhampir Infiltrator will be my go to card in Dragon Element because it can only have 2 Melee Damage at Level 4.

What will you try differently next time?
---
I would love to try using Dhampir Infiltrator together with a card that boost Melee Attack. Amongst my cards that has Inspire ability is Demented Shark from Water element. Good thing is that Dragon elements can be used together with other elements. With this configuration, Dhampir Infiltrator will have 3 Melee Attack and can inflict 6 damage each round. Sweet!


That's all and Thank You for reading my post. If you got interested in playing Splinterlands, here is my Game link - splintercell-01.
Visit @Splinterlands to view more amazing posts! And always keep on battling!!!
*Images used are from Splinterlands and Peakmonsters and edited in Canva.
---
---