Testing Out Land For Splinterlands (Mavs Server Test)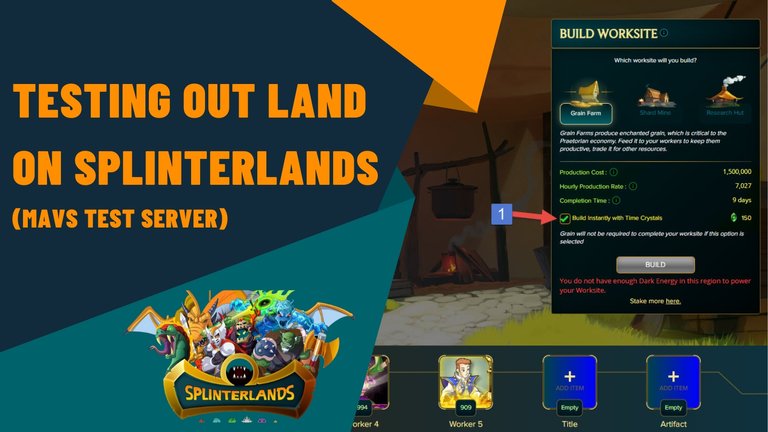 Long story short I got started in Splinterlands all the way back when it first came out. Alpha cards, Beta cards and all. My strongest most maxed out deck of which I have like 3x full decks would be Beta that's when I went hard into Splinterlands.
Taking The Plunge
Finally today I took the time to actully register my account on Discord with Splinterlands which gives me access to some nice perks including a recent one where I get to us the test server which currently has land 1.5 on it. I knew I had over 2k packs bought in the last sale which was chaos so figured I was good to go. What blew my socks off was this message after I registered.


That's right almost 10k packs in total bought! That's not including 3rd party buys and other card buys I've done off the marketplaces of Wax and Hive over the last few years. That means I have at least 50k cards now of course many of those ended up combined to level up the cards which puts me at these stats.
Now that doesn't count all of my cards because for a long while and still I have cards parked into an alt account I use for rentals. If I pull those in as well I have a total of 559 Gold foil cards leveled up and just over 7,500 cards in total. This also doesn't account for the cards I have on my wax wallet.
Finally looking at all of this I'm starting to think I was pretty stacked but the game fell apart for me personally when I couldn't win any battles or so few that I couldn't even make it hardly anywhere in bronze. This left me to stop battling and instead renting everything out which is a shame because I honestly loved the game and still love the game.
The Plan
Starting next week everything is being unrented and with that getting lands ready. I have in total 142 plots of land of which 100 are a keep and all the plots with it.
Now looking in hindsight I should have sold everything and walked away with a cool $600,000 but I didn't lol so we are going to put everything to work and attempt to try and battle again as well over these next few months. The idea is more so to build passive income streams with the game while still playing it and enjoying it.
Playing On The Test Server
With that all out of the way I decided to jump on the server and start testing some things out. I wanted to test two things. The first being what type of generation capabilities a common land has and then compare that to a epic land.
This simple test will give us an idea as to how much bonuses contribute etc. to plots and there's honestly a bunch of different matches and combinations that can take place. Things like card bonuses, title bonuses, land bonuses, runi bonuses etc.
On my first plot I just picked out some random half decent cards which gave me a production total of 7,027 which isn't all that bad. It means it would take me 9 days if I let my workers work the land.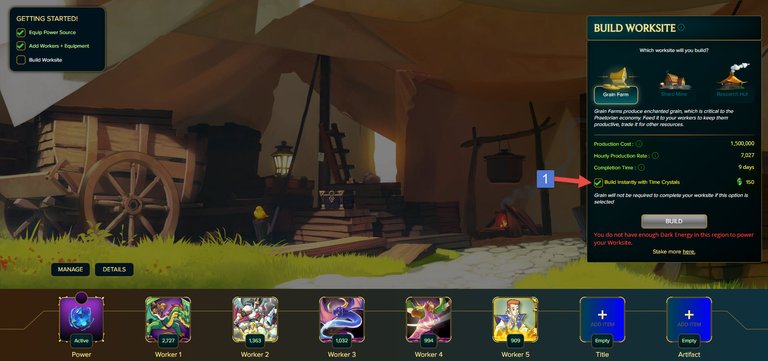 Another I did had 5,244 and would take 12 days just to clear the plot of land.
Now of course since everything is "free" on this server we are going to use time crystals and complete these projects right away.
This will then start putting the cards to work to produce grain.
Plot 1 = 140.547 grain per hour
Plot 2 = 104.881 grain per hour
So we can start to see over time what a large change in production that happens with just workers. Throw on some bonuses like a common totem that sells for under $20 on the market at the moment and you get the following.
Plot 1 = 154.602 grain per hour a increase of
Plot 2 = 115.37 grain per hour or a increase of 10.489 grain per hour or 251.736 per day more grain by adding on a simple totem. That's actully huge over time because in a month 30 days you now have an extra 7,552.08 grain that you wouldn't of had otherwise on this lower end plot and just a bit over 10,000 on the higher production plot.
You can quickly see how the bonuses because they don't cost extra DEC to manage or grain to feed them are actully a huge powerhouse for ALL plots.
Final Thoughts
This is only the start for land and next year is going to be massive in terms of what can be produced etc. My hopes are that land doesn't sit with just a few resources for months such as grain otherwise we are going to run into that massive inflation issue again.
For myself and what I think will happen is a large amount of plots will come online however they are going to most likely be all Epic and above at first in order to maximize production. I also see a mass race to getting SPS plots up and running as the payout on those at least for a few hours should be massive to those who get it up and running.
For myself at least at first it's going to be all grain and SPS as there's in my opinion really no reason to really do anything else. From what I can tell there's no buildings yet or building levels which is also suppose to be a thing at some point.
This 1.5 is honestly just scratching the surface and is maybe 1% of what land will become over the next 2-3 years as items at least in the roadmap are currently slated for 2025. We will see! For now like always I'm going in heavy as that's always worked out well. Stack in the bear take profits in the bull. Happy gaming friends.
---
---