Hivechess Tournament Round 5: @sawko did it again
Dear Chessfans,
in the fifth round we were 15 players (actually 16, but @walner, known from Steemchess, had joined and didn´t play a game)! @sawko was playing like @sawko again and won with quite a gap to the second @jaki01. @yazp (zulukill) was this time able to get a good third place, followed by @vjap55 as 4th and @kreur on the 5th spot. I got this time only the sixth place with the same points as @kreur. The remaining tournament points went to @sammy00 (migmag) (7th) and @pereu4ivatel (pereu4uwatch) (8th). For the third time in this season @rodrook ended on the unlucky 9th place!! But with so many good players it is very hard to gain points. Probably next season I will give points from 10 to 1, lets see.
This time no drama in the chat :)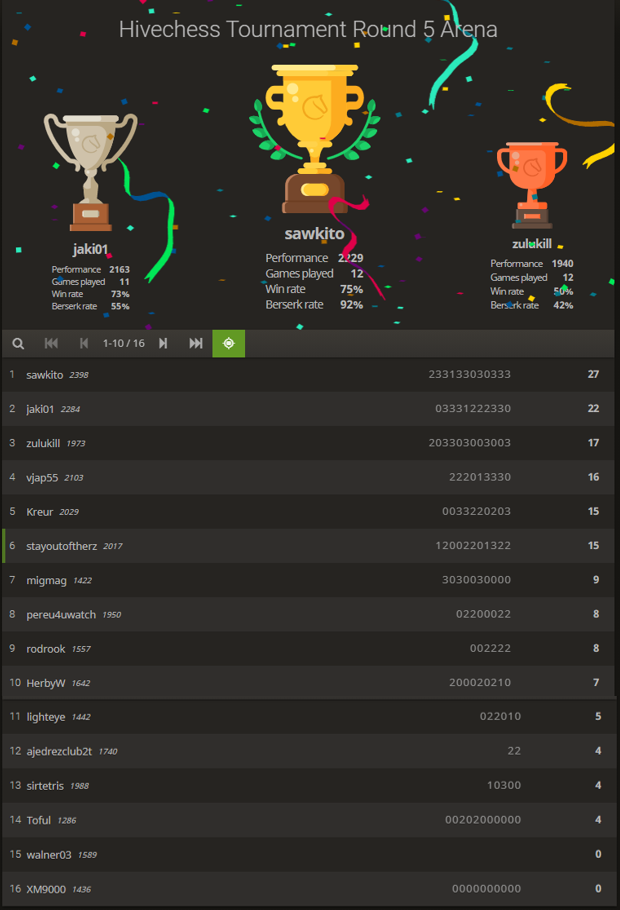 The games of this round can be found here, in case you want to replay some of them.
Season 5 "Spring": 12 Feb to 23 April 2021 / Ranking after 5 rounds:
@yazp (zulukill) could grab the third place back from me and @vjap55 could jump again a few places, otherwise no big changes.
The rules you can look up in the announcement post.
See you all next week where we will have it a bit faster again :)

---
---