Hivechess Tournament Round 6: @sawko was the winner

Dear Chessfans,
the sixth round of Hiveches season 5 was a fast one with 2+1 and many games and blunders as well. @sawko won as usual, followed by @yazp (zulukill). Congrats also to Hivechess-Newbie @maverieux000 (Keylix) for his great third place in his first appearance, even before former champion @jaki01. For me it was a disaster and I landed on the 8th place only, second worst result ever in Hivechess.
Next time we will have a slower time mode again!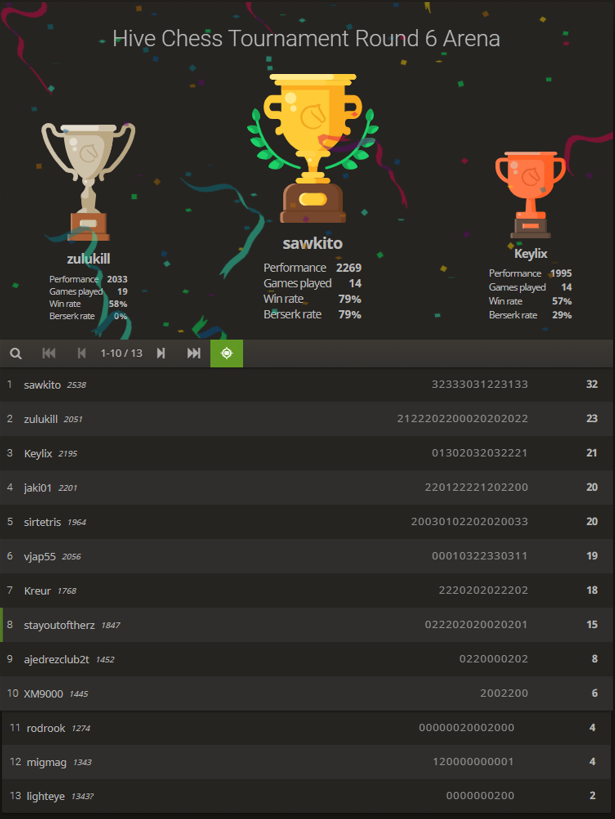 The games of this round can be found here, in case you want to replay some of them.
Season 5 "Spring": 12 Feb to 23 April 2021 / Ranking after 6 rounds:
No changes in the top ranks. @maverieux000 (Keylix) could with his good result immediately jump into the midfield, and also @zacherybinx (sirtetris) could win his first points in this season and jump up a few places.
The rules you can look up in the announcement post.
See you all next week and keep practicing.
By the way, tomorrow starts the Finals in the Magnus Invitational Rapid tournament between Anish Giri and Ian Nepomniachtchi (who kicked out Magnus Carlsen)!

---
---