Hivechess Tournament Round 8: @sawko was the winner, in a close match with @jaki01

Dear Chessfans,
in the 8th round of Hiveches season 5 we were 14 players, with an average rating of 1902 which topped even the one from the last round! And again we could welcome a new strong player, @gabotask (GVillalobos), also new on Hive, please check out his blog! It was a 4+0 in Swiss mode, and @sawko could win this time only by the better Tie break, he and @jaki01 had both 8 of 9 points. Third was @maverieux000 (Keylix) followed by @gabotask (GVillalobos) with a good fourth place in his first appearance. Congratulations to the top ranked players in this strong field.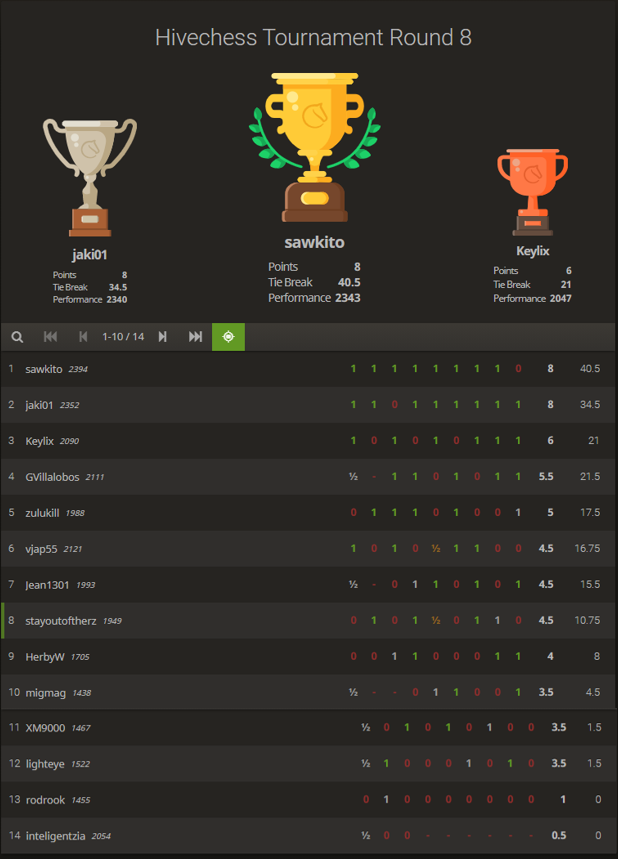 The games of this round can be found here, in case you want to replay some of them.
Season 5 "Spring": 12 Feb to 23 April 2021 / Ranking after 8 rounds:
Season 5 is slowly nearing its end, just 3 rounds to go.
The rules you can look up in the announcement post.
See you all next week and - as always - keep practicing.

---
---