Hivechess Tournament Round 9: @sawko fully berserk
Dear Chessfans,
in the 9th round of Hivechess season 5 we were 14 players (16, but 2 didn´t complete a single game). Again we could welcome a new player (@amirl). Despite the fact that @sawko (like a few other players today) entered only late, he was - with a flawless performance and a 100% berserking rate - able to still win at the end. But for sure helped by starting from the back of the field and thus easy pairings. E.g. he hadn´t to face @jaki01 and even I with my pathetic 8th place had a stronger opponents average rating than the winner. Maybe I should also start later next time to increase my chances.
Second and third places went to the usual suspects.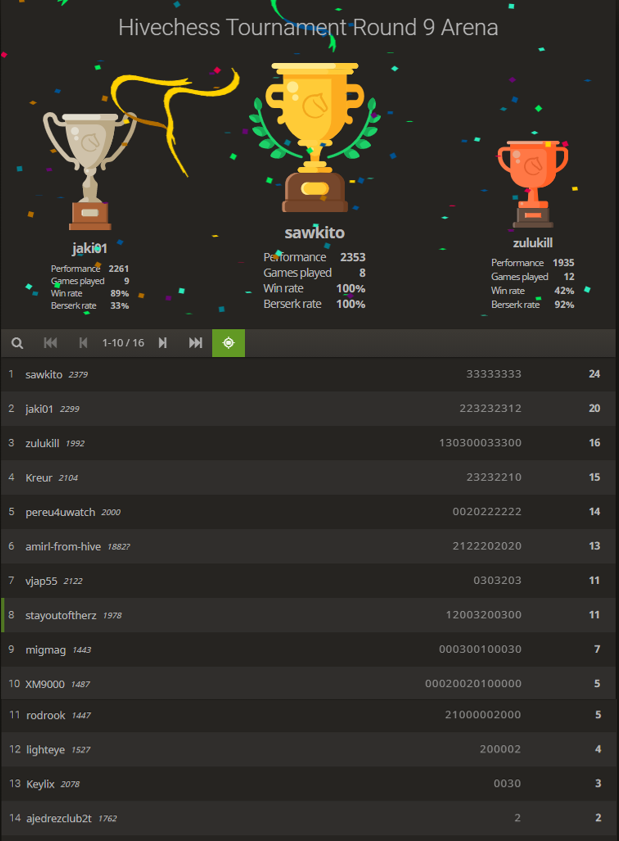 The games of this round can be found here, in case you want to replay some of them.
Season 5 "Spring": 12 Feb to 23 April 2021 / Ranking after 9 rounds:
Just 2 rounds to go in season 5. The distances between the top ranks are way too high to change anything still. A pity that some of the not so strong players just appeared for one or few rounds only and then never showed up again. Every game against a better player is an opportunity and every loss contains a learning!
The rules you can look up in the announcement post.
See you all next week!

---
---