Reminder: Round 9 of the Hivechess Tournament Season 5, Friday 19 GMT
Dear chess friends!
Time flies! Round 9 of Season 5 will start tomorrow at the usual time!
The mode in this one: 5+1 (5 minutes per game, 1 sec. increment), 70 min. arena mode, no streaks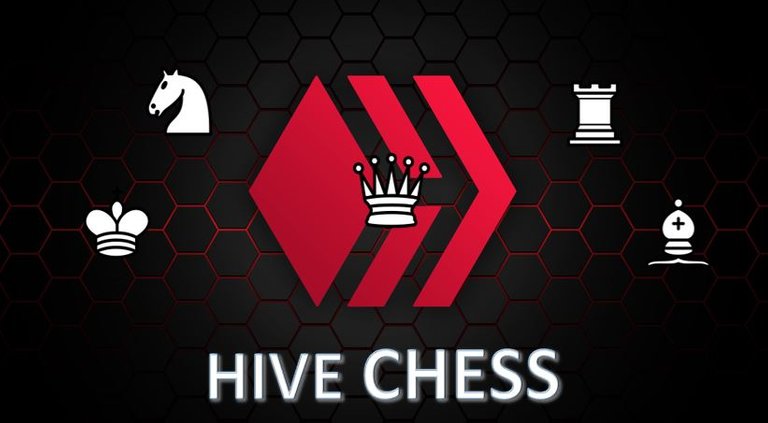 There are app. 270 Hive already in the price pool, due to some fat upvotes from @blocktrades (thanks for supporting Hivechess!).
Time zones:
Time difference from Greenwich Mean Time GMT 19.00:
| | | |
| --- | --- | --- |
| Los Angeles | -7 hours | 12.00h |
| New York, Venezuela | −4 hours | 15.00h |
| UTC, GMT, Reykjavik, Bamako, Freetown | 0 | 19.00h |
| London | +1 hour | 20.00h |
| Paris, Munich, Madrid, Nigeria, Vienna | +2 hours | 21.00h |
| Moscow, Les'ky, Istanbul | +3 hours | 22.00h |
| Beijing, Singapore | +8 hours | 03.00h |
| Tokyo | +9 hours | 04.00h |
| Sidney | +10 hours | 05.00h |
GMT time converter: https://time.is/en/GMT
RULES
For Hivers, Steemians, Blurters and all others!
Players of all skill levels are welcome, from newbies to experts, you just need a free Lichess-account!
Every Friday is one round
Time mode is varying (5+0, 3+2,...), rated, berserking allowed (except in Swiss mode)
The winner of each round gets 8 points, the second 7,... and the 8th 1 point. In case two players have the same number of points, the one who played less rounds is first. If that is equal too, then the average tournament performance decides.
PAYOUT: This season goes over 11 rounds and the tournament points are summed up. All Hivechess-related post rewards are pooled and 90% go to the price pool (PP). The tournament winner will get 20 Hive bonus and the rest of the PP is divided among all players according to (1) the no. of rounds played and (2) the tournament points achieved (1 and 2 weighed equally), but only if a player has participated at least 3 times (if no games are played in a round it will be not counted)! So everyone has a chance to get something and the more you play the better! With this change the majority of players will get more compared to the previous system.
If I don´t know your Hive username, I can´t consider you in the rankings, so please let me know your Hive name in the comments or in the Lichess chat
If you have not yet joined our team in Lichess, please do it here, so that you can participate (required for Swiss tournaments only).
Please share this announcement among your (chess) friends and colleagues!
The more participate, the more fun! And maybe some are even interested to join Hive and it´s Chess Community?
Good luck to All!
Potentially of interest for
@aakrist @alberto0607 @ambarvegas @anli @arsenal49 @behiver @bitsignal @cerati @chesthetica @darruiz @digitalis @elprofe62 @eniolw @evgsk @flaws @foxconnmars @franciscomarval @gabotask @gingerbyna @gravitcaper @heimindanger @hierro21 @hirohurl @iceblue @iobates @jaki01 @jkms @johannesboldt @juanmi96 @kintokris @klausklaus @kreur @lighteye @maciejficek @marcusantoniu26 @masterswatch @manncpt @maverieux000 @meedo @mstafford @oshiokhenhoya @parung76 @pirex @pereu4ivatel @rafaelaquino @renerondon @rodrook @samostically @sawko @schamangerbert @soluce07 @spacetoon @the01crow @therealflaws @uliseshb @vjap55 @walner @yazp @zacherybinx

Did you notice? Lichess has now new puzzle features!
In a recent post I mentioned already the puzzle storm - by the way, what is your high score? Could you beat 36 (I couldn´t beat it since a while😞, maybe it was just luck)?
Now there is a similar version, without time pressure, called puzzle streak. Take as much time as you want, but one mistake and you are out (you just once can skip a move).
And there is another one, puzzle racer, where you can match with either friends or random opponents in a shortened version. Below the board you can see yourself in a car showing the position in the race (if you have time to look at it!!)
Quite fun, but hard to get a top rank.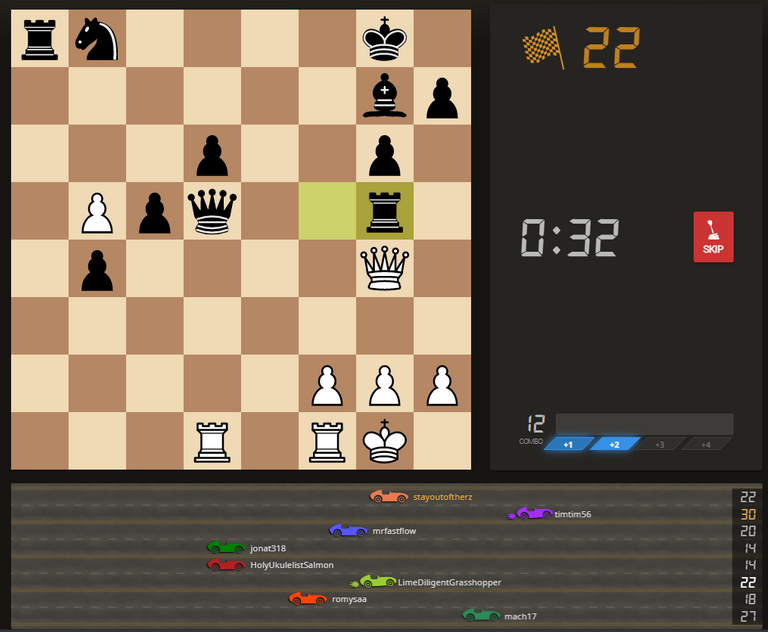 I can only recommend those puzzle activities to you. They will for sure improve your skill to find tactic patterns in Blitz games!
---
---