Discovering Amsterdam - Between Art, Monuments and Canals. My third trip to my beloved city.
Dear Hivians, today I'm taking you with me on a tour of my favorite city in the world, where I've been several times and which I love madly, I'm talking about Amsterdam. A city rich in history, art and culture, to be discovered and visited at least once in a lifetime.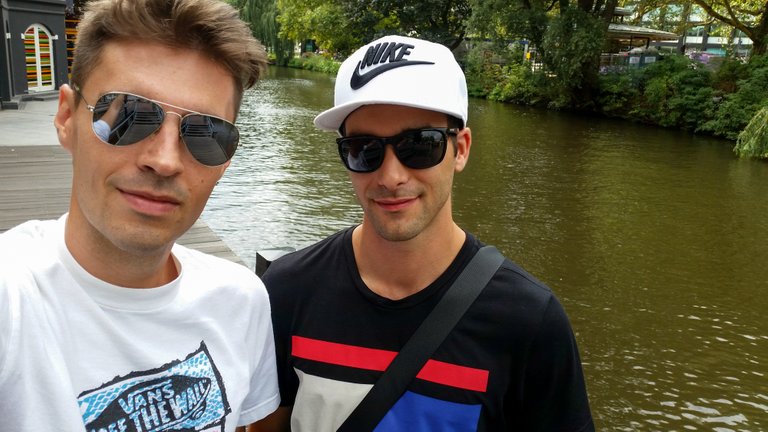 In this post, I will tell about my third trip to Amsterdam, which I did about 4 years ago with my great friend Fabio. My first visit to this wonderful city dates back to when I was 19, where together with two other friends we left Italy by car, with 1300 km to go towards Holland, a memorial journey made at that age, which made me open my eyes to the world and society outside my Italian reality. Living and seeing how different and open the Dutch mentality was compared to the indifferent people I meet every day in Italy, Amsterdam stole my heart, I fell madly in love with that city, so much so that every 3-4 years I visit it, because I miss it and when I'm there I feel free, even if for a few days, I feel like I'm reborn thanks to all that positive energy that country gives off. This year I'm planning my fourth trip to Holland, because I want to bring my partner Giovanna @giovi86, who can't wait to go there after all my stories about that beautiful country, but above all about the behavior of the people there, kind, altruistic and cordial and consequently the air and the relaxed and regenerating atmosphere that it gives you.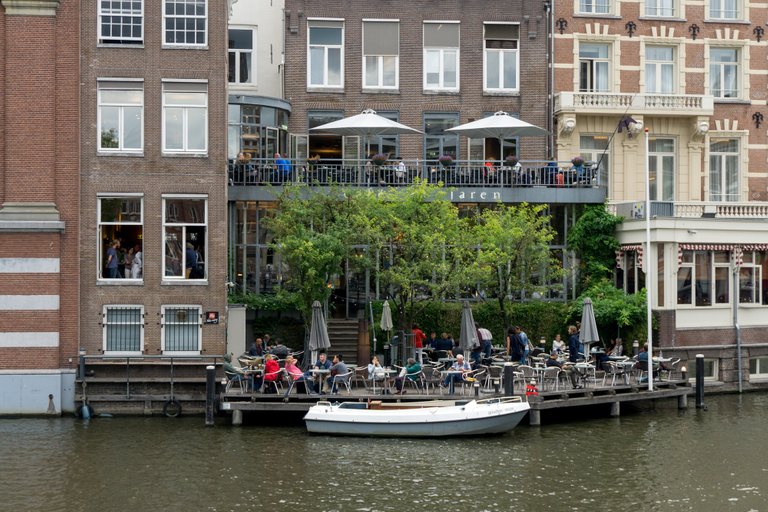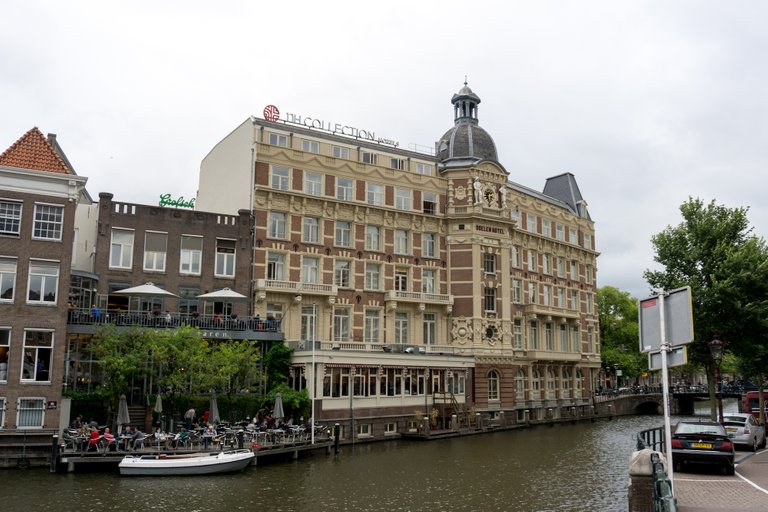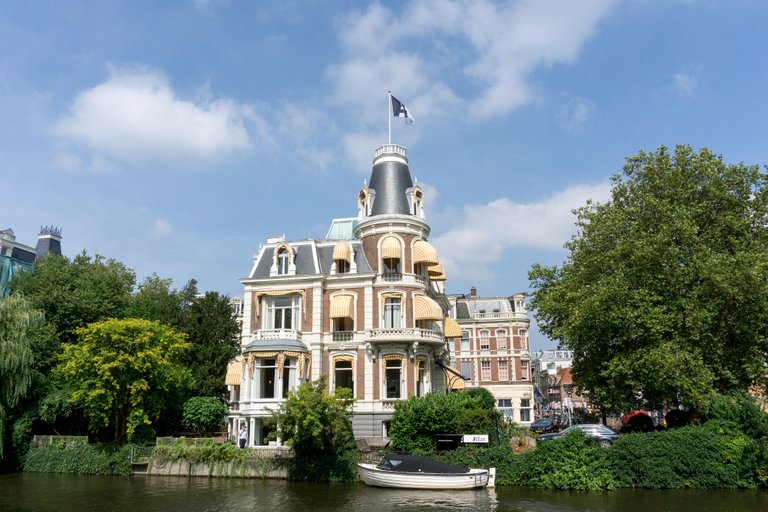 Amsterdam – Between Architecture, Canals and Monuments
But let's go back to my third experience with my friend Fabio. On this trip I was able to capture my best moments thanks to the fact that I had my Sony Alpha 6000 with me for the first time in Amsterdam, which I hadn't bought yet on previous trips. Thanks to which I captured suggestive images of the splendid canals of Amsterdam, surrounded by its characteristic architecture, very evocative, which reflects a widely evolved civilization and society. From the photographs or having personally visited it, you will have noticed that in Amsterdam the historic buildings are all or almost pendants to the street, this because in the past it was customary to go door to door to sell basic necessities, such as bread, milk, eggs, cheese etc. For shopping and not only, to facilitate the exchange of goods and not crowd the streets, the ladies lowered a basket from the balconies with a pulley or by hand, where the merchant placed all the requested goods and was directly lifted and brought back to the buyer, who in turn exchanged objects or money always through the basket and the pulley, without having to constantly go down the street, especially for those who lived on the upper floors. The slope of the buildings specifically served this function, so that the basket would not hit the structure while being lowered or raised.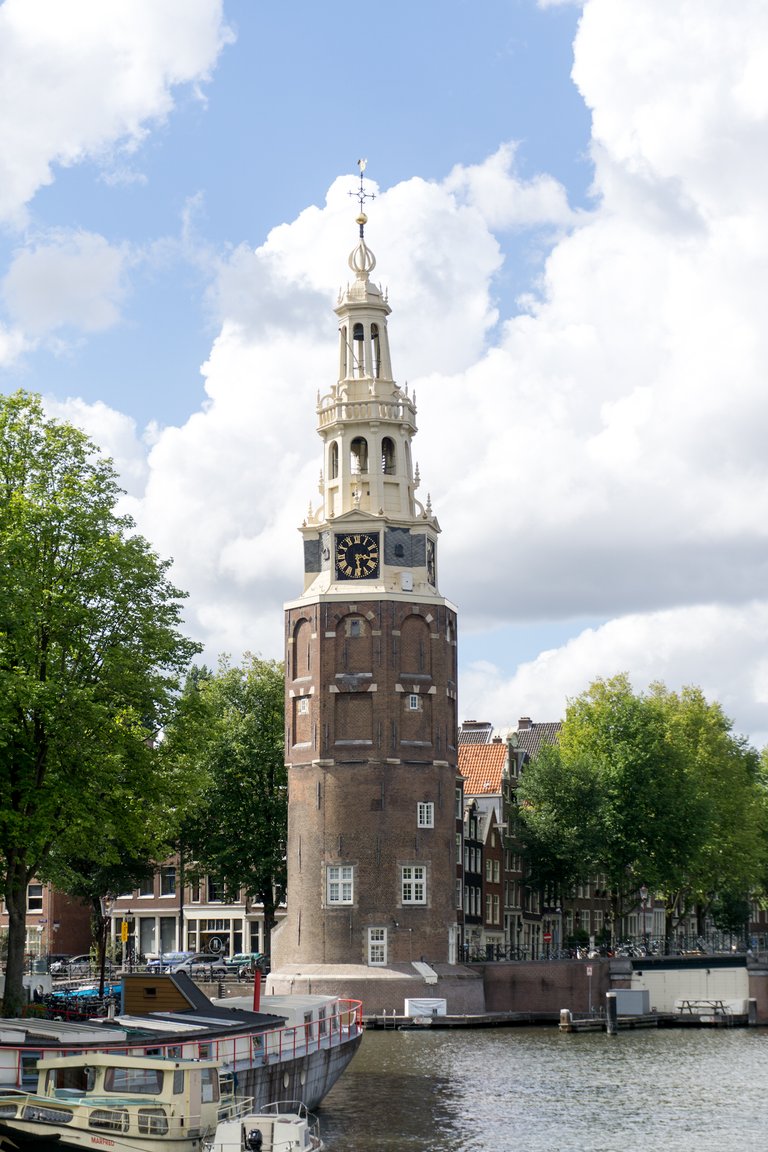 The Montelbaanstoren, it is a tower from 1516, located in the Nieuwmarktbuurt district.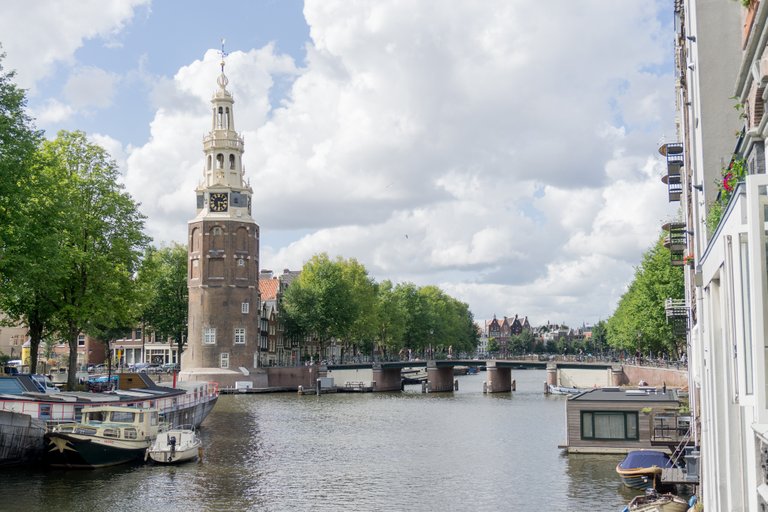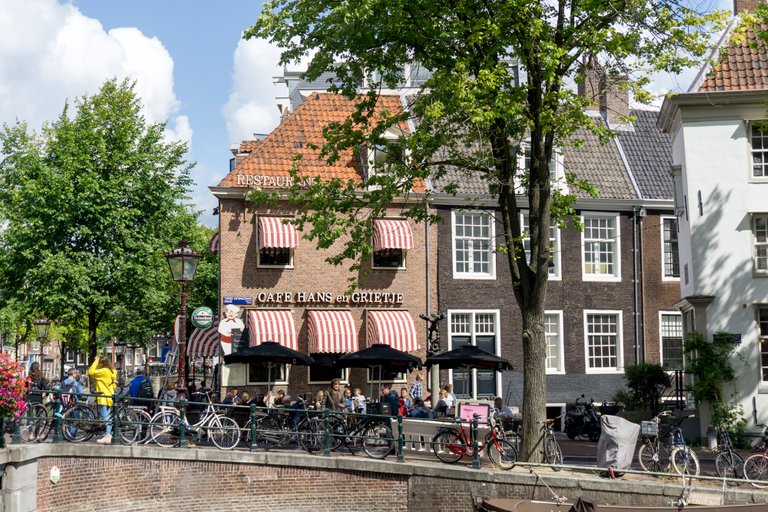 The house of Hansel and Gretel, more than a coffee house... But it is very reminiscent of the fairy tale from when we were little.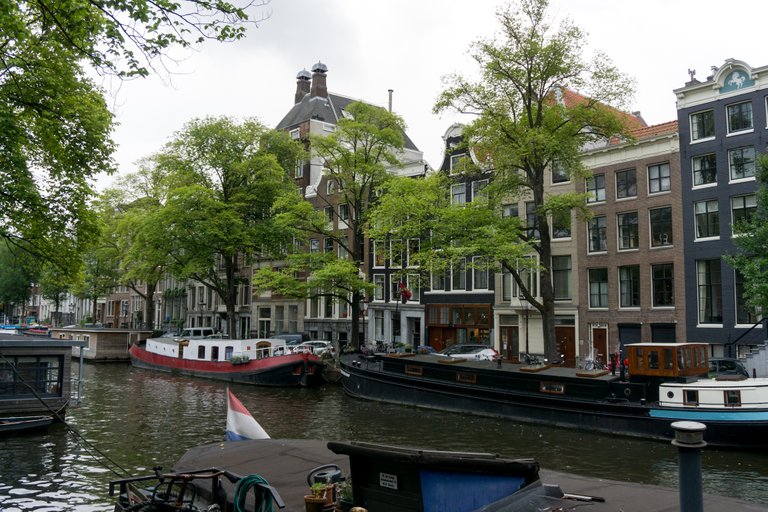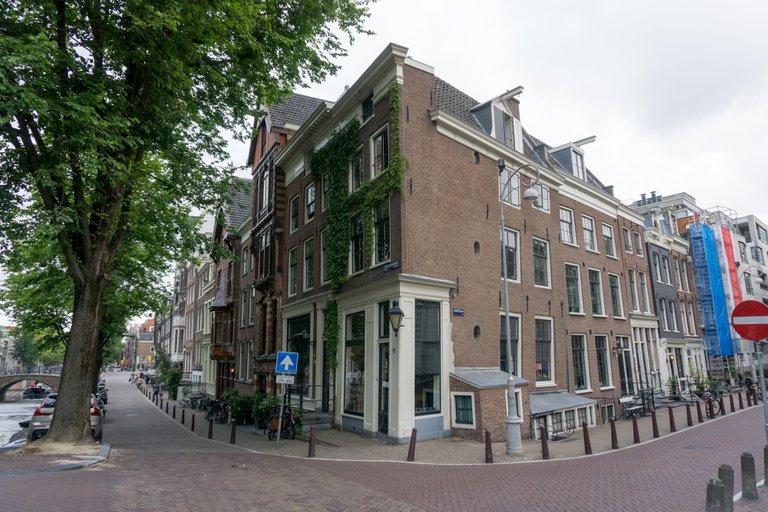 Among the places we visited, there is the Museumplein, a beautiful and large green space in the heart of the city, always very crowded with families and young people, where some of the most important museums of the city are located, such as the Van Gogh Museum, which I visited in my first time in the city, 14 years ago, while the other museums I haven't had the opportunity to visit yet, because this city has so many things to see that you should live there at least one year to discover it all. In the photos, the Van Gogh museum is the one with a circular shape that rises almost in the center from the large green expanse.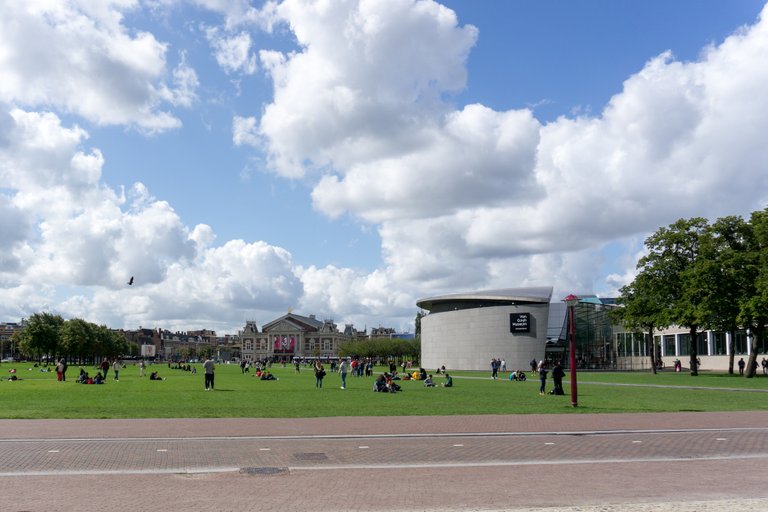 In these photos I had share what you can see in the Museumplein, where it particularly highlights the sculpture of the astronaut by Joseph Klibansky which is located near the Rijksmuseum, the museum dedicated to Dutch art of the Golden Age and a part to Asian Art.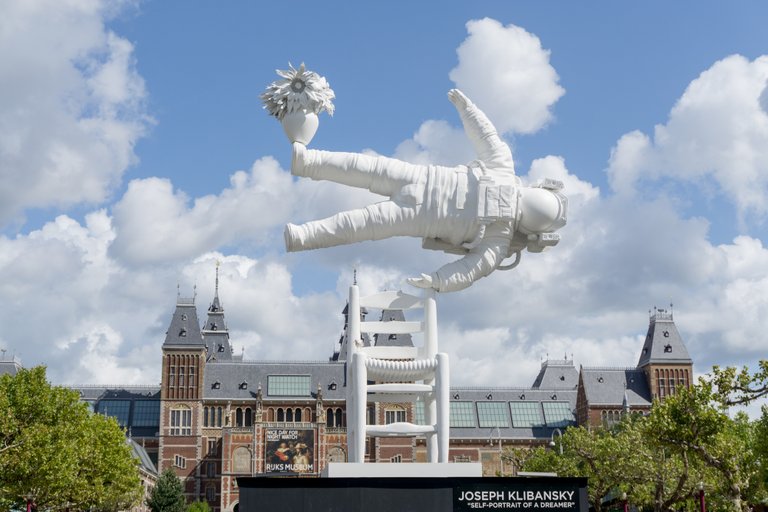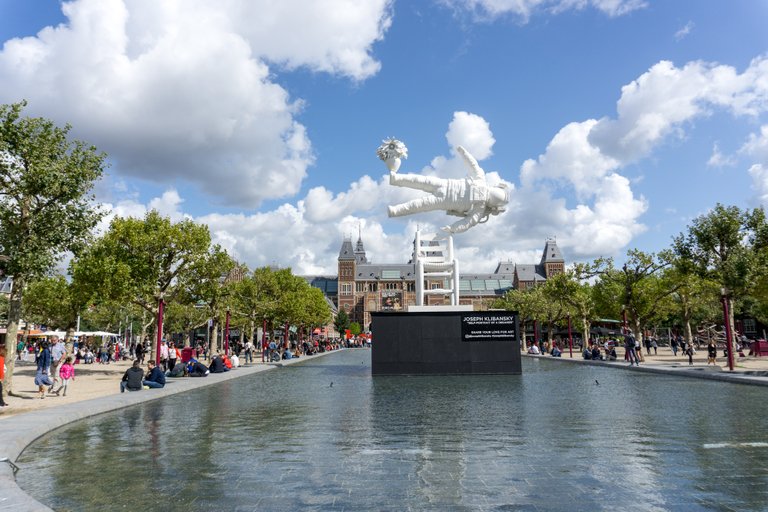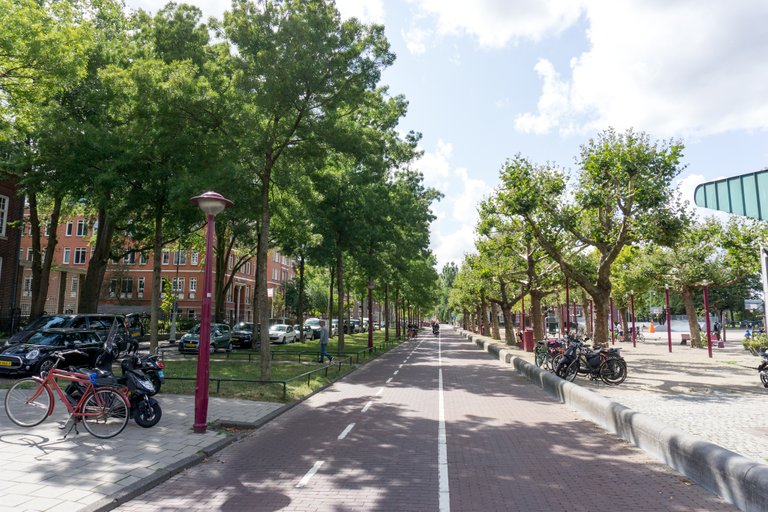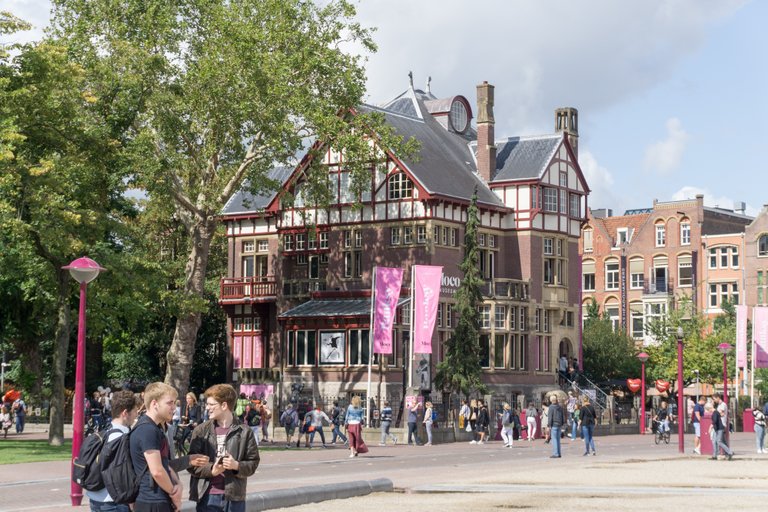 Museo Moco - Independent museum, also located in Spain in Barcelona, dedicated to modern and contemporary art.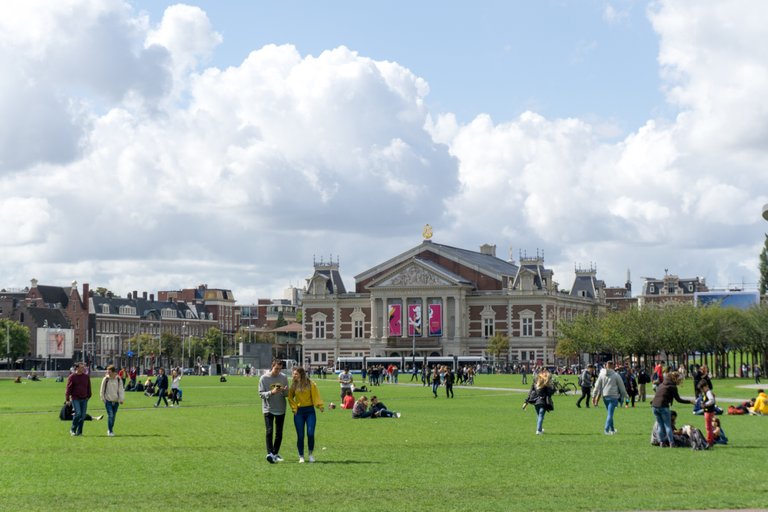 Concertgebouw - This is the main concert hall in Amstersam, considered to be among the first in the world for quality.

One thing that you cannot miss when you are in this area is to pass under the splendid old gallery that crosses the Rijksmuseum, which can only be passed by bicycle or on foot, which takes you directly to the heart of the city, between the canals lined with millions of bicycles that have always characterized this city.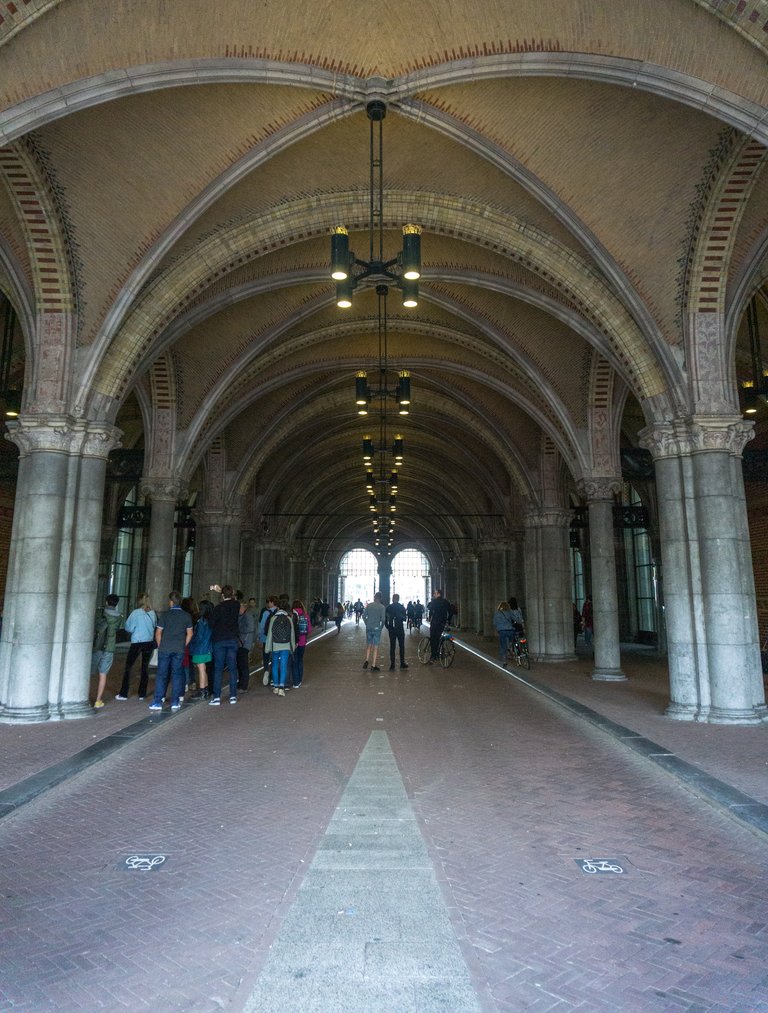 Some photos that my friend Fabio and I took, walking through the canals of the city center, where you can observe some of the most characteristic and beautiful buildings in the city, as well as how much boats are used for the movement of citizens and not just as a tourist attraction.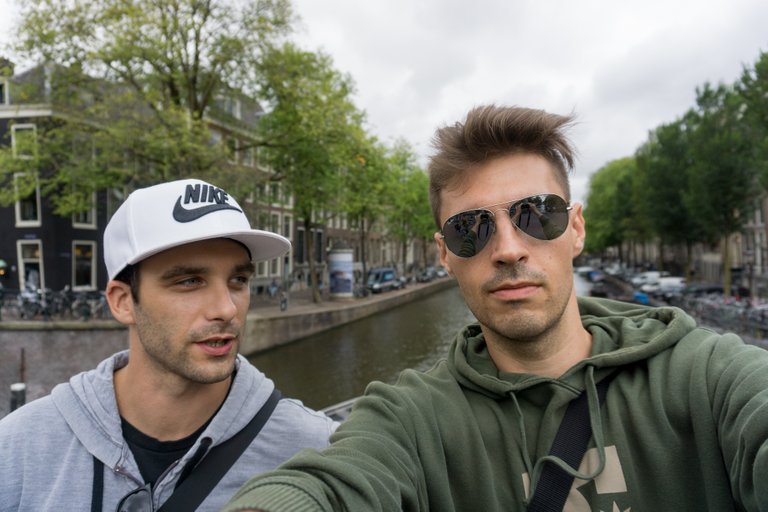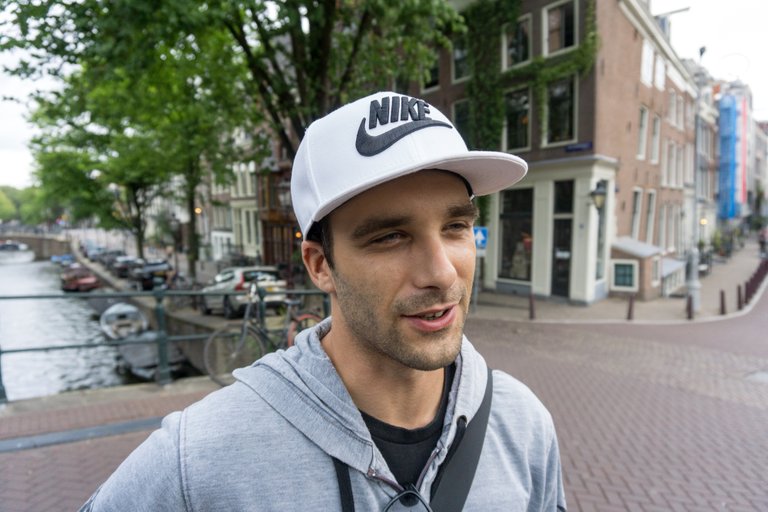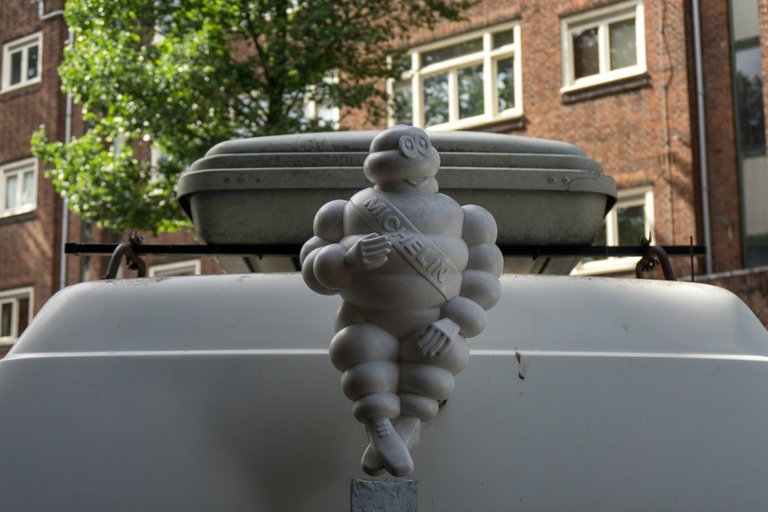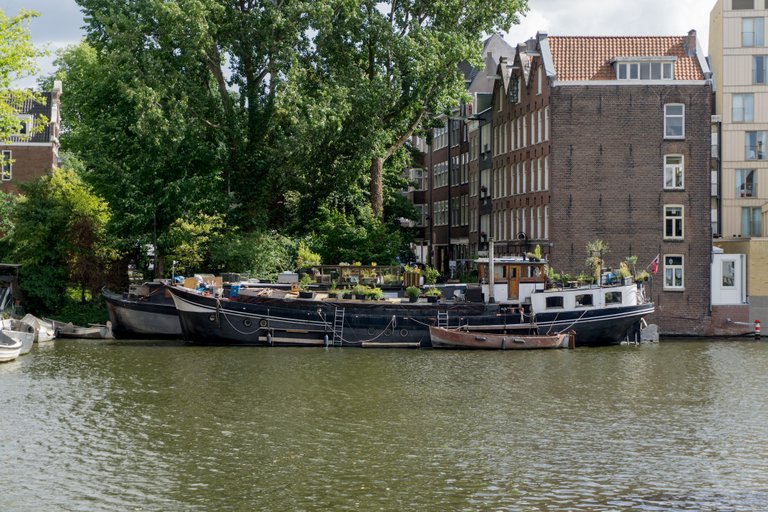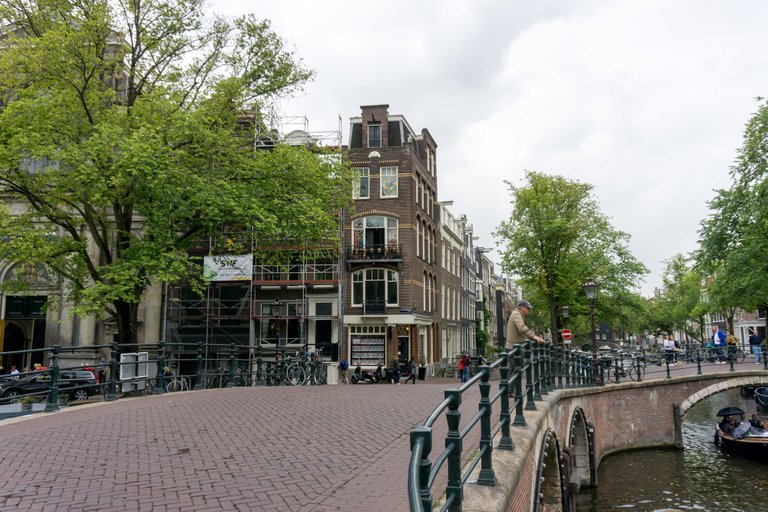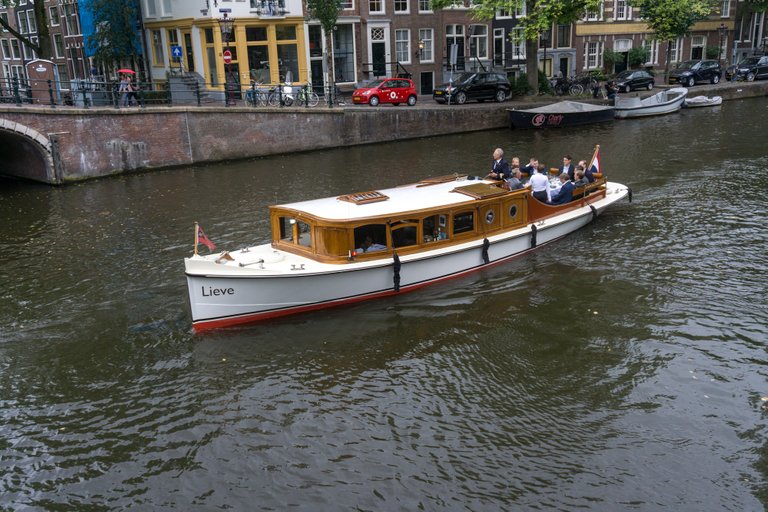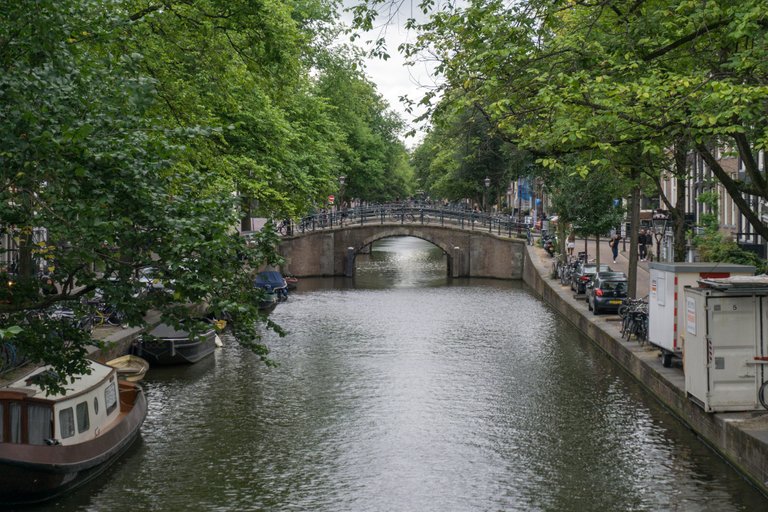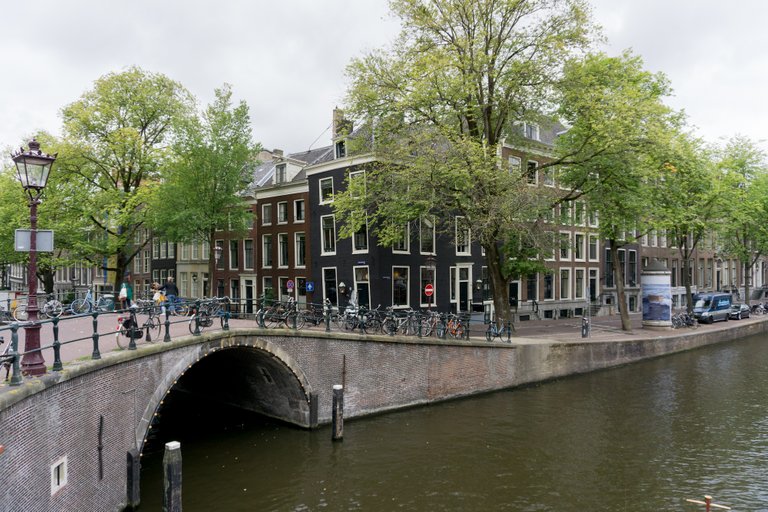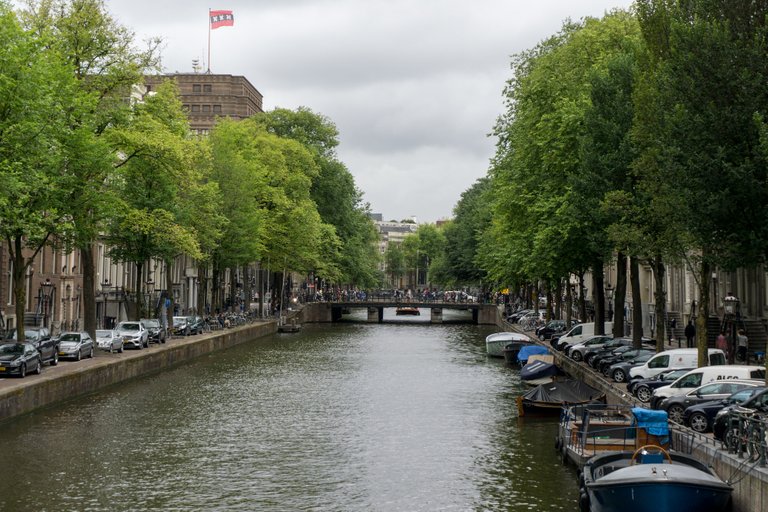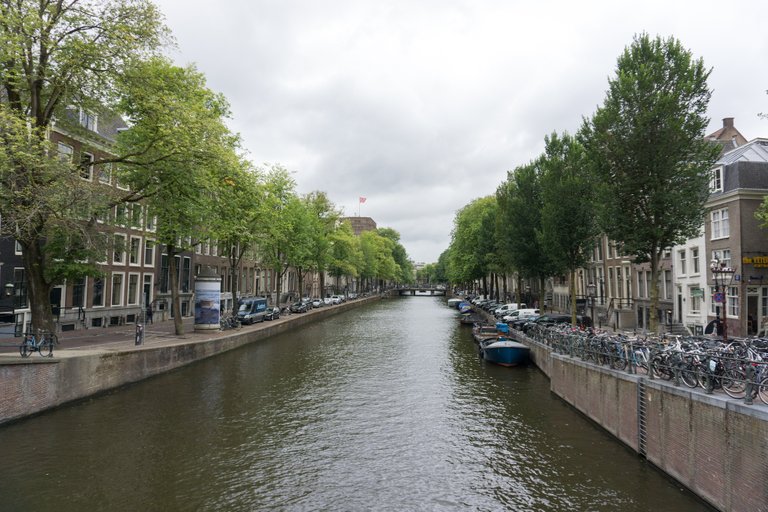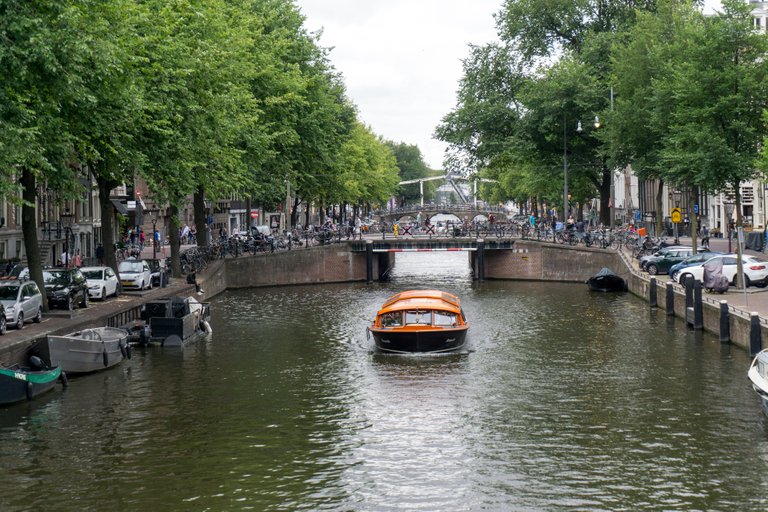 As with the canals and dams, which allowed Holland to reclaim land from the sea and build important ports and cities on a lower level than the sea itself, this idea of the basket and build pendants houses also demonstrates how much ingenuity and inventiveness has always had over the centuries the Dutch people, who have been able to build unique works in the world. In the photos I took you can clearly observe all these characteristics that I find fascinating, collected while walking through these streets bordered by canals and the typical floating houses that can be admired moored in most of the complex articulation of canals, immersed in sensations of amazement that transport you in another dimension.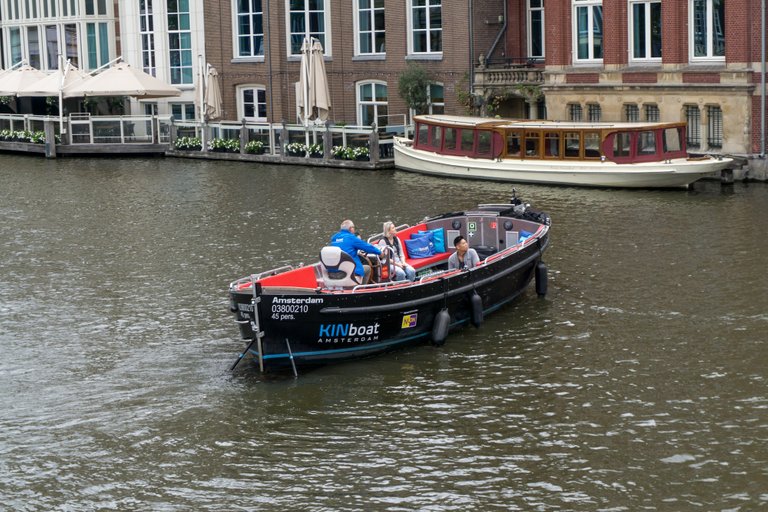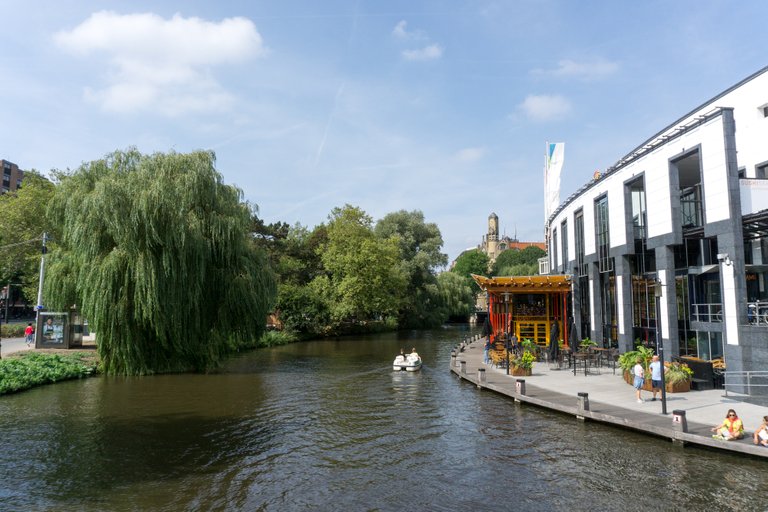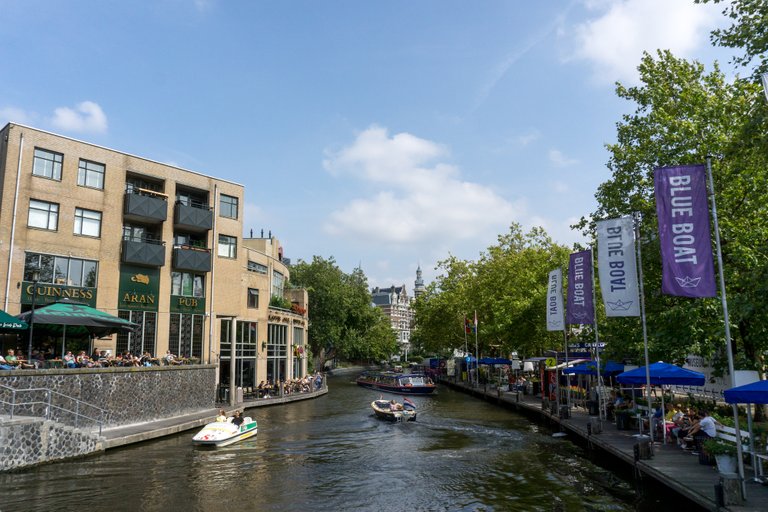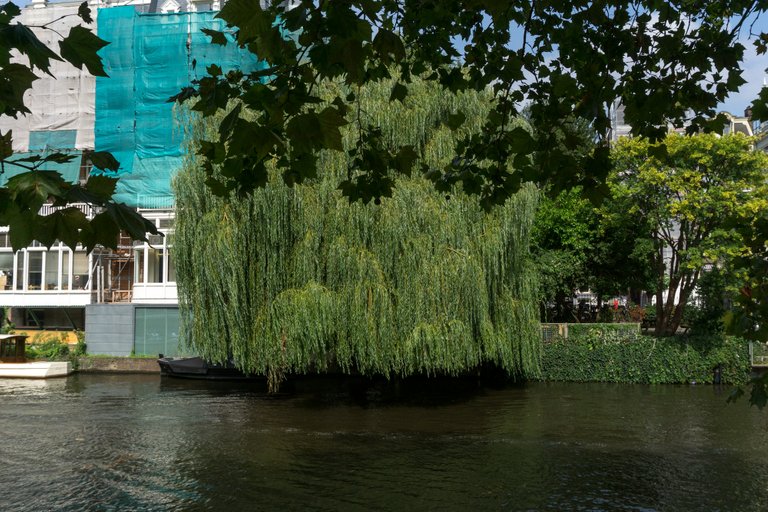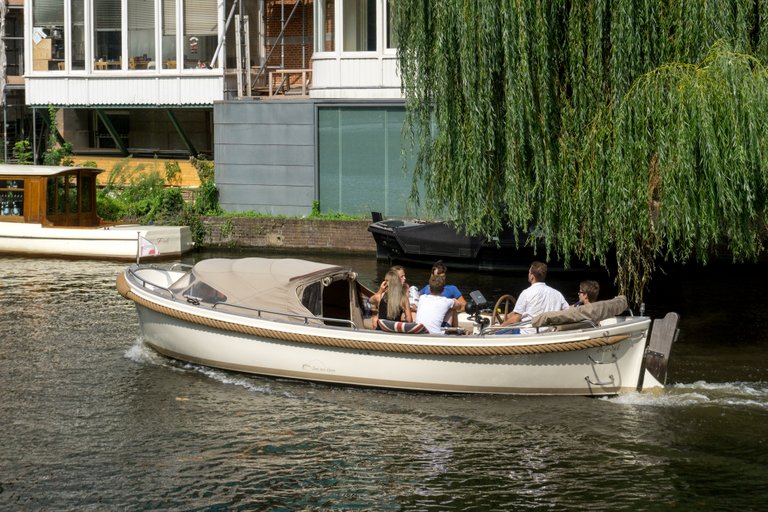 Guys, Do you remember Bitconnect? That huge cryptocurrency scam that happened in 2019? Here, walking through Amsterdam, more precisely at the end of the Overtoom towards the center, we also came across an office of that scam, at that moment it had happened recently, in fact there was no one inside, they must have run away...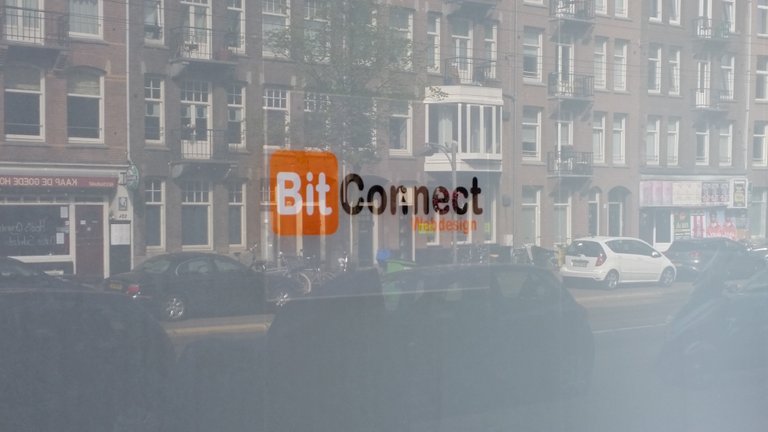 Now tell me how beautiful is this house? It too is located along the Overtoom, when I saw it it was love at first sight, just a pity that it is located in one of the busiest streets of the city, but it is too pretty, all small and well cared for, a wonder.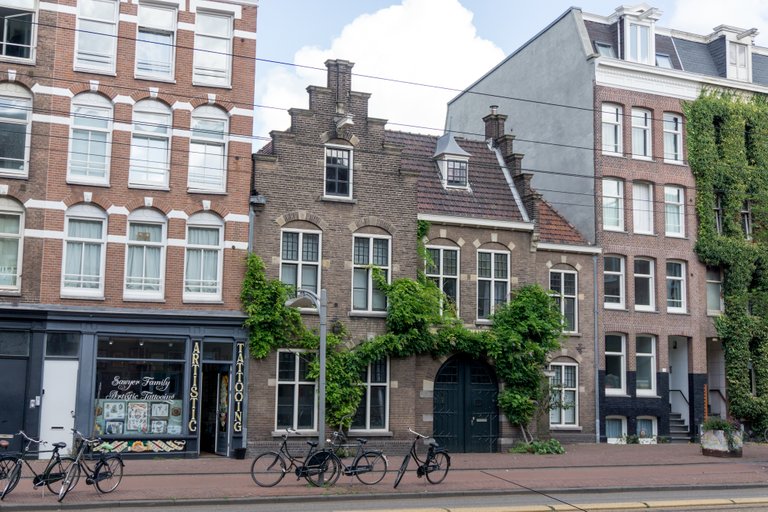 A very fascinating place in Amsterdam I think is the great Amstel canal seen from the Halvemaan Bridge, where you can observe on one side the majestic building called Stopera, headquarters of the De Nationale Opera company and on the other side the De Munt Tower, built around 1620, it is a splendid Renaissance tower located in the Muntplein.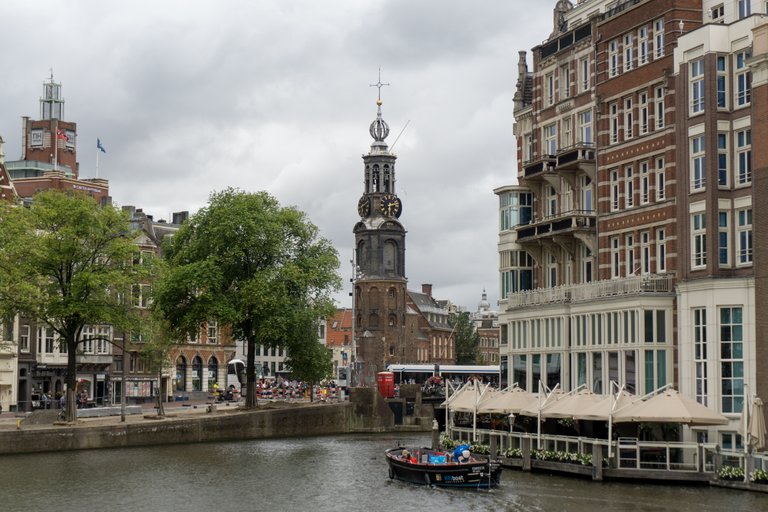 De Munt Tower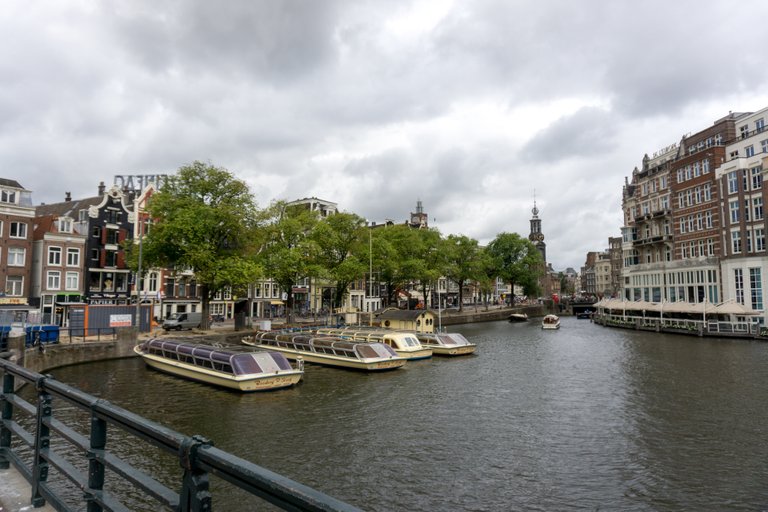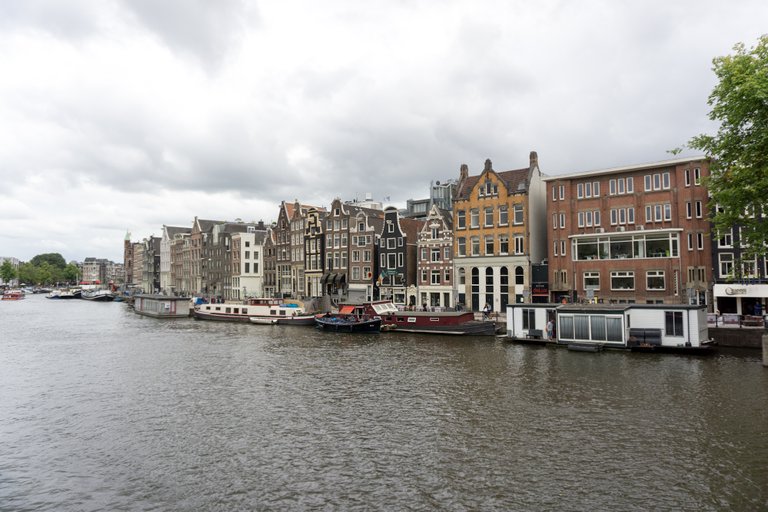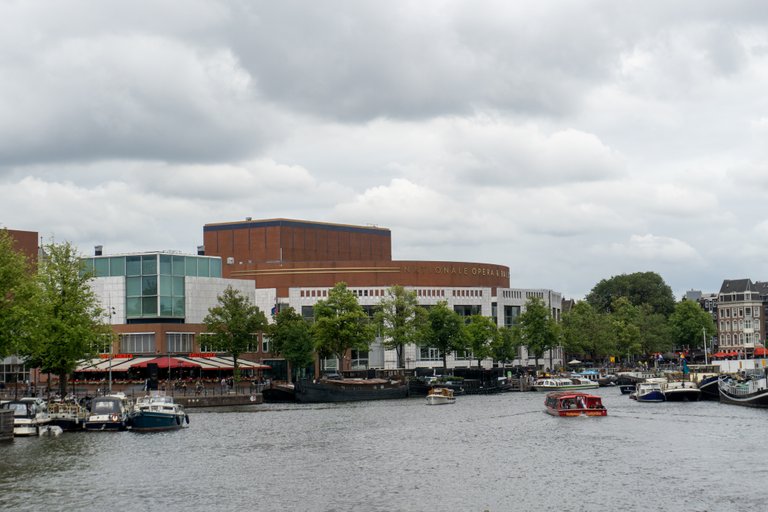 Stopera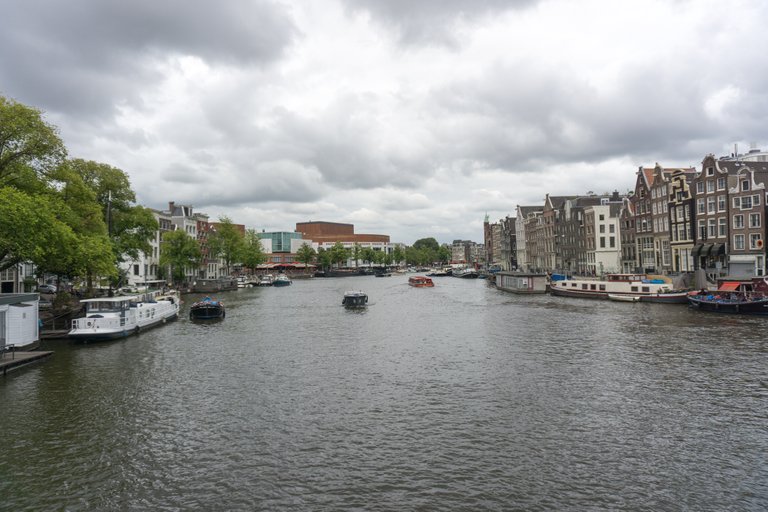 The Vondelpark
We visited the city for 5 days, during the period of August, where however we found mostly cloudy days, but the luck would have it that it didn't rain despite the overcast sky and this is an excellent opportunity for a photographer to take unique photos. thanks to the not too intense lights that create a perfect natural exposure. We were staying in a hotel which was located at the foot of the beautiful Vondelpark in Amsterdam, a wonderful 48-hectare English park surrounded by greenery, which runs the length of the city for about 2km, full of vegetation, canals and lakes where I also photographed these wonderful carp that swam peacefully in the waters of the park. It is frequented daily by many people who want to spend some time in the open air surrounded by nature, many walk and jog along the street path that surrounds the entire park, while other people enjoy picnics under the shade of impressive trees that are present throughout the area, which are of 130 different species.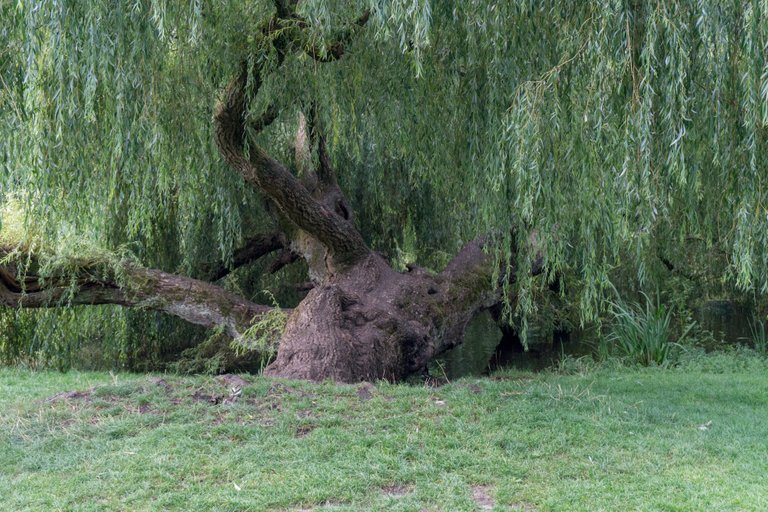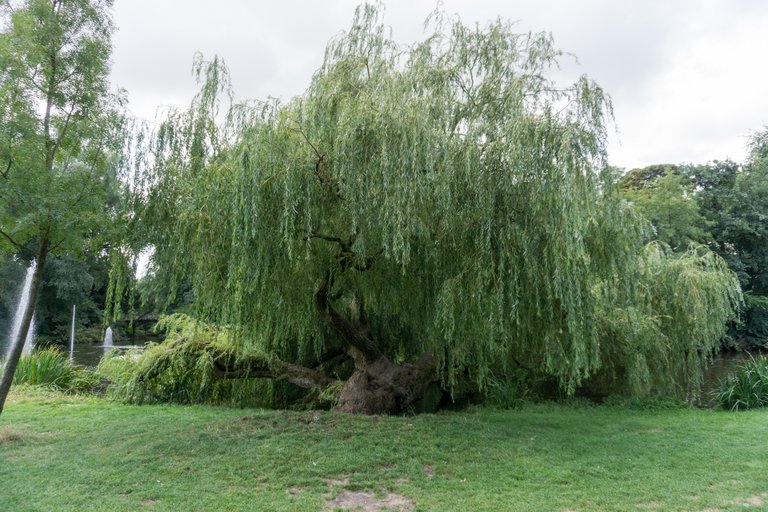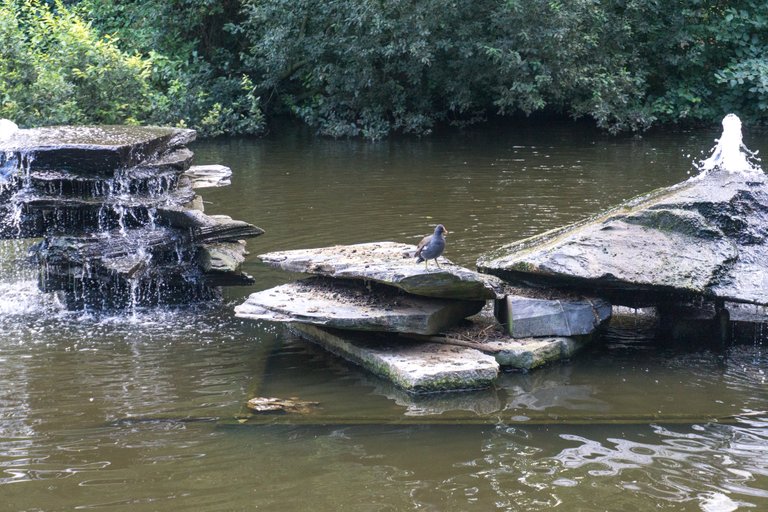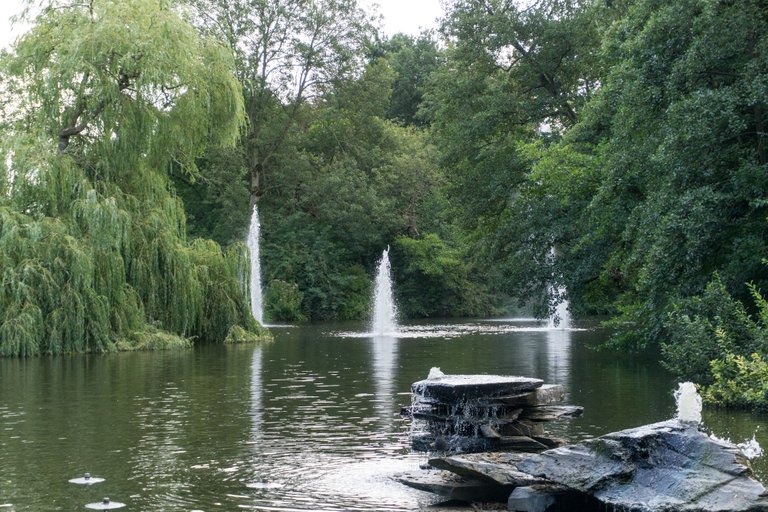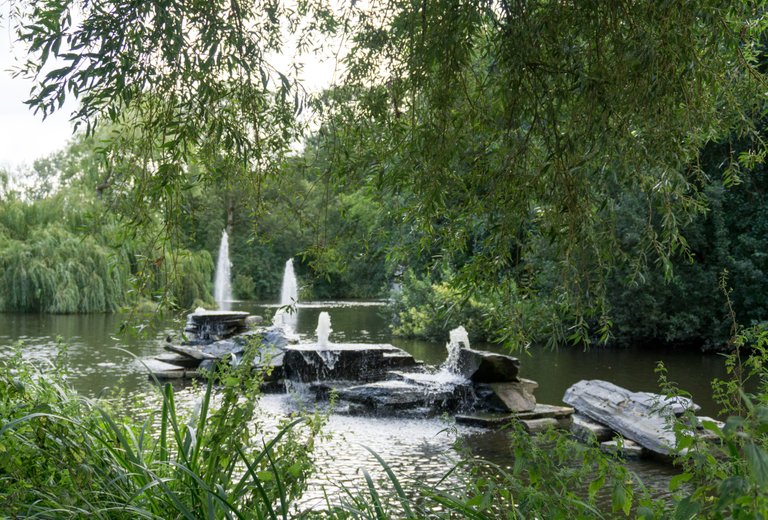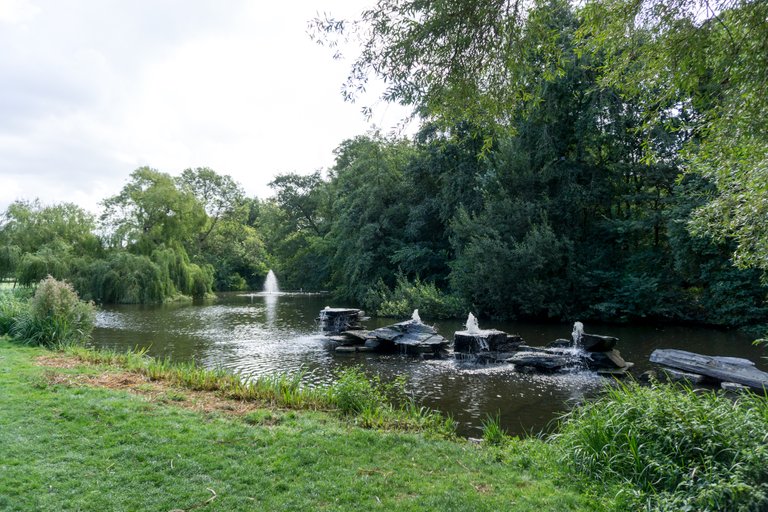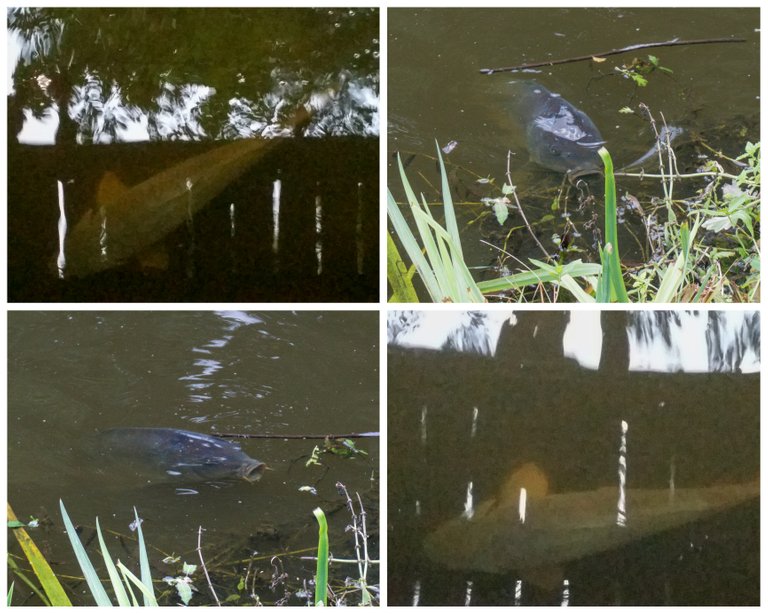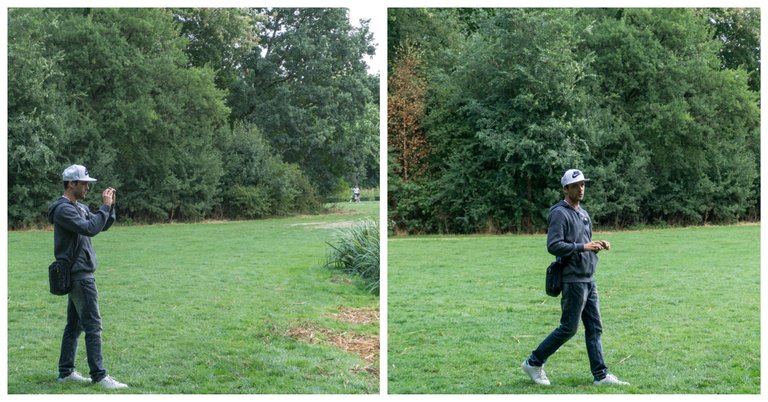 My friend Fabio before this trip, accustomed to Italian society, could not believe my words, how sunny and kind the people we had met in Amsterdam were, a completely different way of facing and living life, which immediately captivated also the heart of Fabio, who in turn fell in love with the city. Walking through the park, people would stop us to talk, ask how our day was going etc. One day while walking we met a gentleman who was playing with his dog, throwing a stick into the water and the dog went to retrieve it, from a simple greeting, we stayed more than an hour to converse and playing with his dog, which resulted strangely spontaneous in that situation and in that place, while we Italians are prone to a frenetic life, where people never have time for you, or almost, in most cases...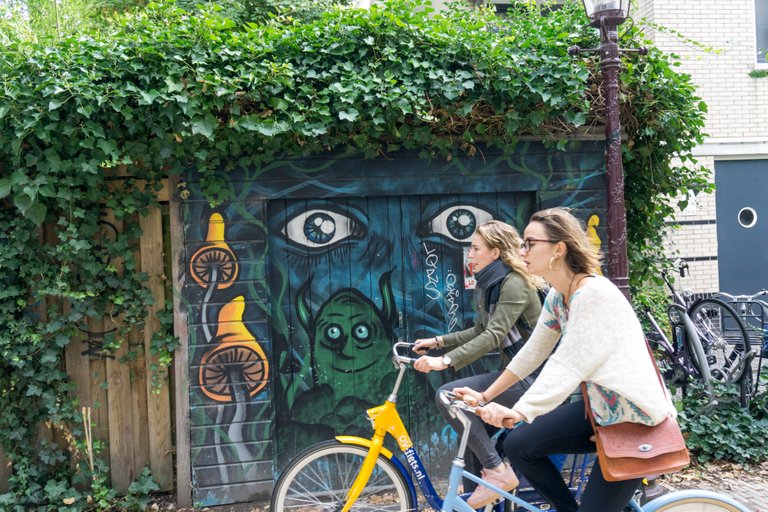 During my third stay in the city I had the opportunity to discover several murals that are everywhere hidden throughout Amsterdam, among these there is the one I fell in love with, for its psychedelic and fascinating impact, which I have used since then as a background image of the my profiles and even my own phone, I like it too much. But others were also beautiful works of art, but this one in particular you can see in person in one of the side entrances of the Vondelpark coming from the main street of Amsterdam, the Overtoom.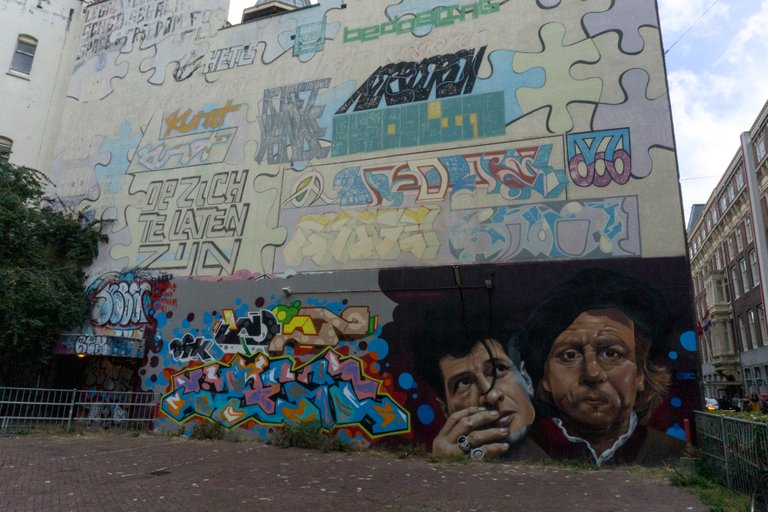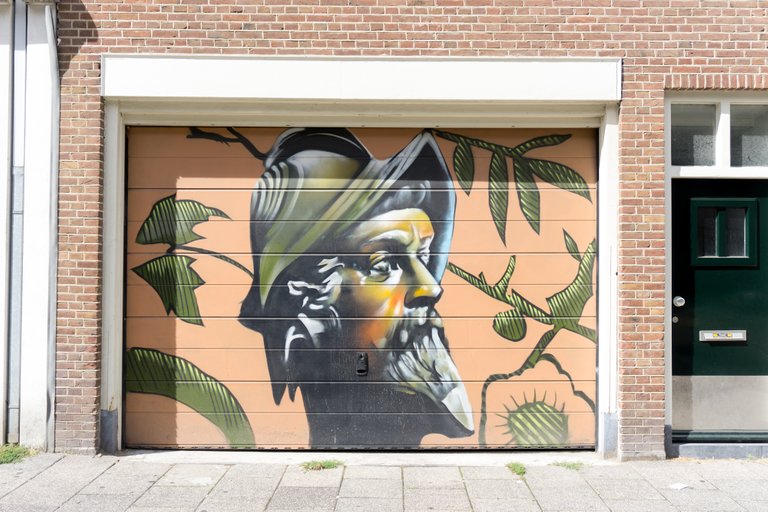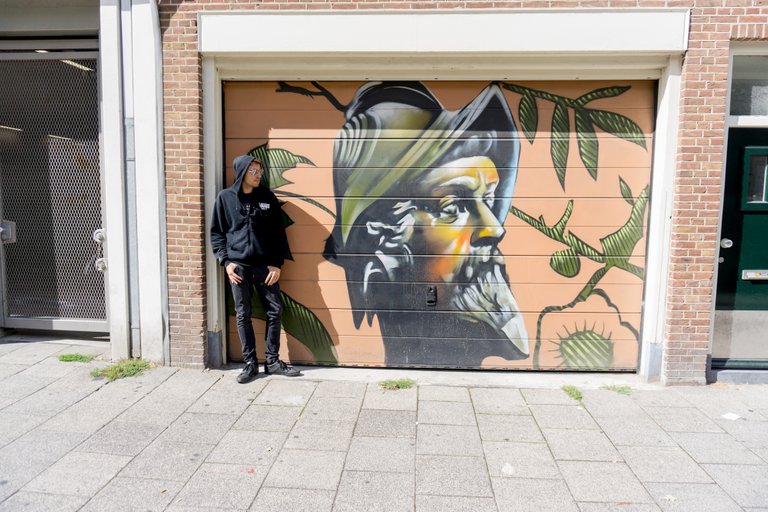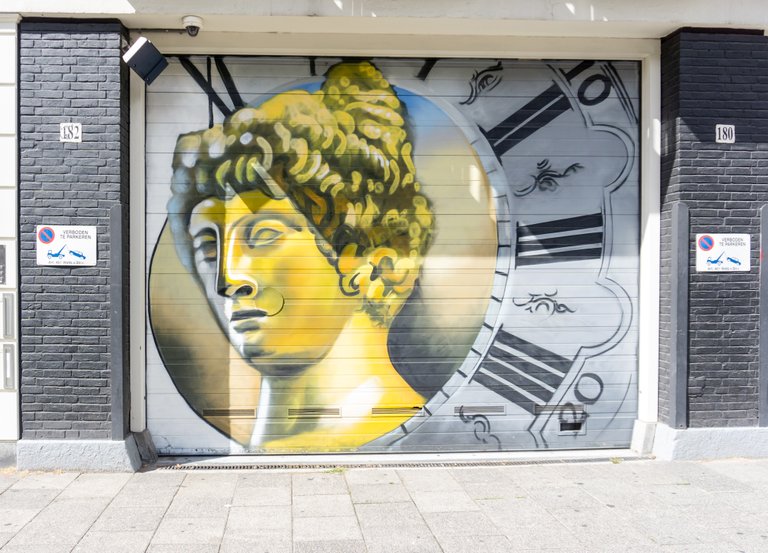 It would take millions of photos and I don't know how many posts to rightly pay homage to this wonderful city, in this post I wanted to share many of the places that I Fabio @fabiosketty have visited and we particularly liked. I hope you have enjoyed this short tour of Amsterdam, that it has given you an emotion or brought you something new. I love this city and I invite you to visit it at least once in your life, even if it wouldn't be enough to discover it completely, its culture and art are immense, in three different visits I still have to explore a good part of the city...
The only negative note of this trip was only the return by plane, where we encountered a violent storm with strong turbulence, so much so that at one point the plane had started to lose altitude and for a few seconds the power had gone out and we felt the absence gravity, scary enough, but luckily I'm still here to share this post ;).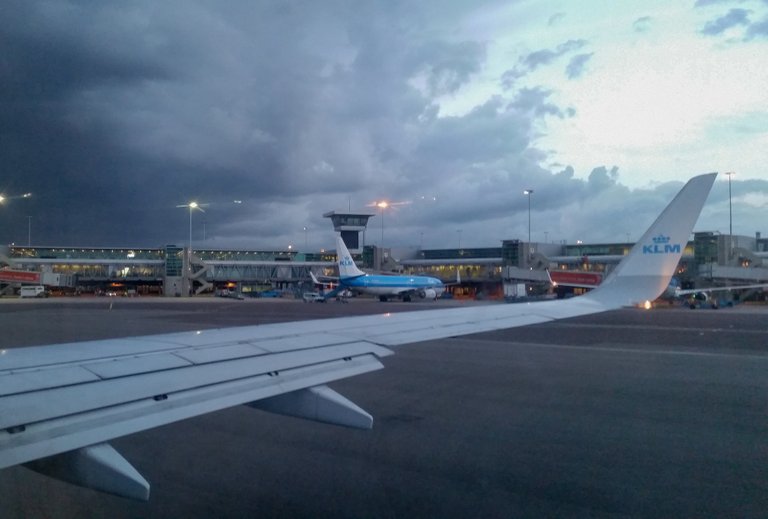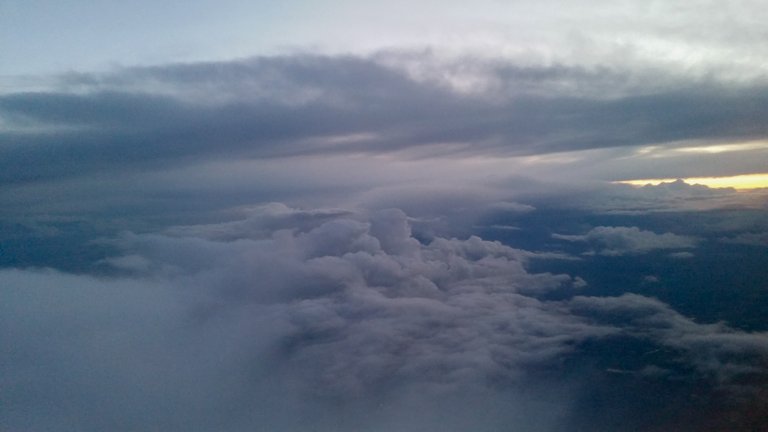 Dear readers and Hivians friends, that's all for today, I hope I was able to take you with me to discover a little bit of Amsterdam, thank you for your time and support, a greeting and a hug from your @stea90.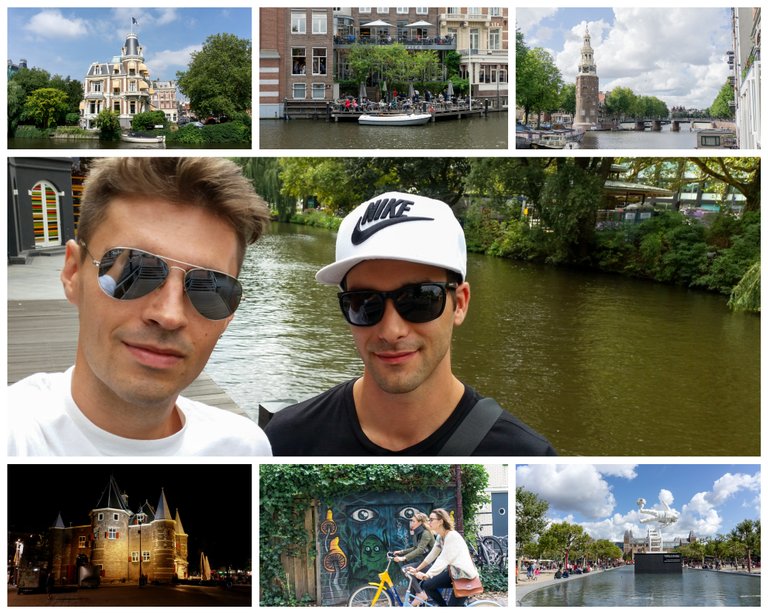 All texts, photos, videos and images in this post are property of the author @stea90 - For CCO images that may be used, the source is always declared.
| Camera | Sony Alpha 6000 |
| --- | --- |
| Type | Mirrorless |
| Lens | SELP 16-50mm Power Zoom |

Programs used
Image processing: GIMP and Inkscape
Photo processing and development: Photoshop Express
---
Favorite communities

Olio di Balena
Pinmapple
Black and White
Foodies Bee Hive
LeoFinance
---
Social link
Instagram Dalla Stella Federico
Twitter Crypto Stea
Youtube Crypto Stea
---
If you want to support a good Witness and his great work to help so many users on Hive, vote for @Discovery-it as Witness.
You can also help with a delegation for @Discovery-it.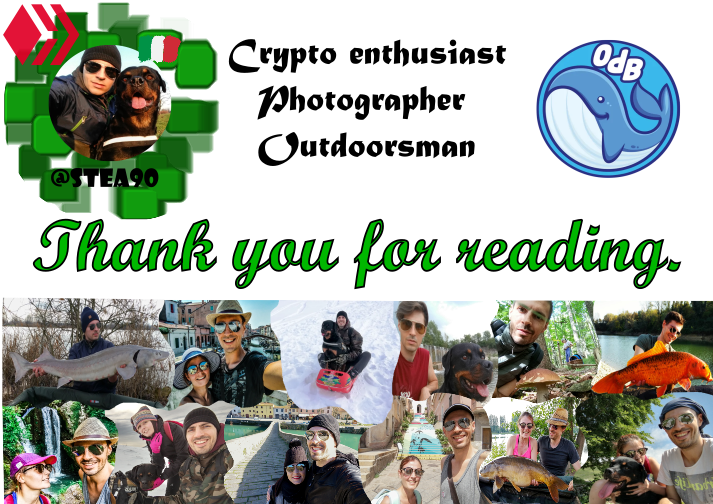 ---
---