Home grown lotus flower plant - Fascinated by its water repellency. [ENG-ITA]
Good evening Hive friends. As many of you well know, I have loved taking care of plants and nature all my life. Today I would like to share with you an experience I had last year, where I put my heart as a farmer.
This summer I tried to grow lotus flowers, which I wanted to give to my partner @giovi86, who really like them. But I must admit that despite having a good green thumb, I was unable to get the flower, despite having developed a luxuriant vegetation.
---
Buona sera amici di Hive. Come molti di voi ben sanno, amo da tutta la vita prendermi cura di piante e natura. Oggi vorrei condividere con voi un'esperienza che ho vissuto lo scorso anno, dove ho messo il mio cuore da coltivatore.
Quest'estate ho provato a coltivare i fiori di loto, che volevo poi regalare alla mia compagna @giovi86, alla quale piacciono molto. Ma devo ammettere, che nonostante abbia un buon pollice verde, non sono riuscito ad ottenere il fiore, nonostante avessi sviluppato una rigogliosa vegetazione.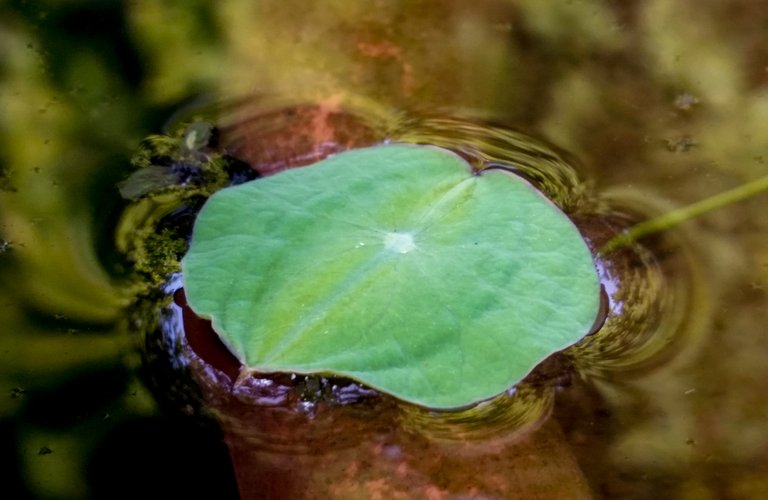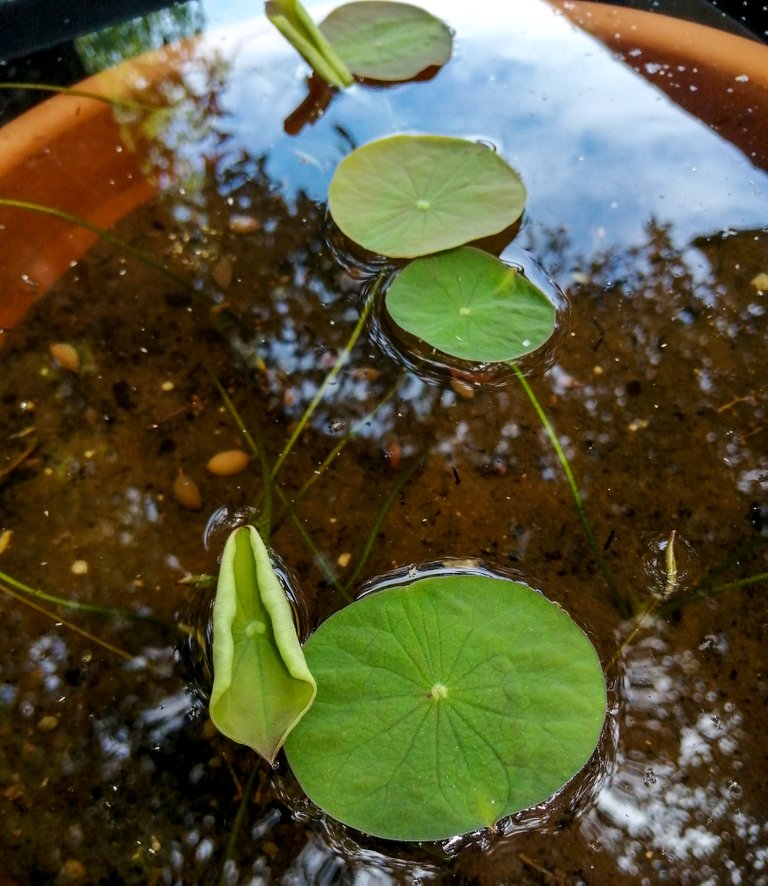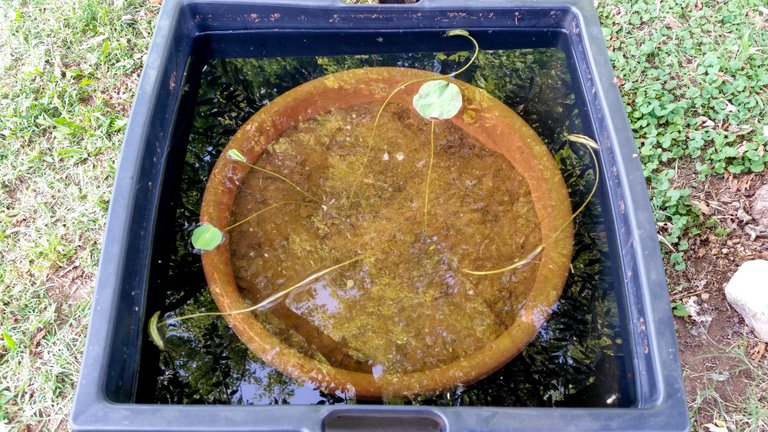 I poured the lotus seeds into the water, and after a day they started to swell and sprout.
As soon as they developed a little and started to generate roots, I took a normal vase and filled it with clayey earth, I inserted the seeds into the earth at a depth of 1 centimetre. I took the vase and placed it in an airtight container higher than the vase. It should then be filled with water, slowly so as not to move the seeds, up to 15 centimeters above the ground level of the vase.
---
Ho versato nell'acqua i semi di loto, che dopo un giorno hanno iniziato a gonfiarsi e fare uscire il germoglio.
Appena si sono sviluppati un po' e hanno iniziato a generare radici ho preso un normale vaso e riempito di terra argillosa, ho inserito nella terra i semi a 1 centimetro di profondità. Ho preso il vaso e l'ho inserito in un recipiente ermetico più alto del vaso. Successivamente va riempito di acqua, facendo piano per non smuovere i semi, fino a 15 centimetri sopra il livello della terra del vaso.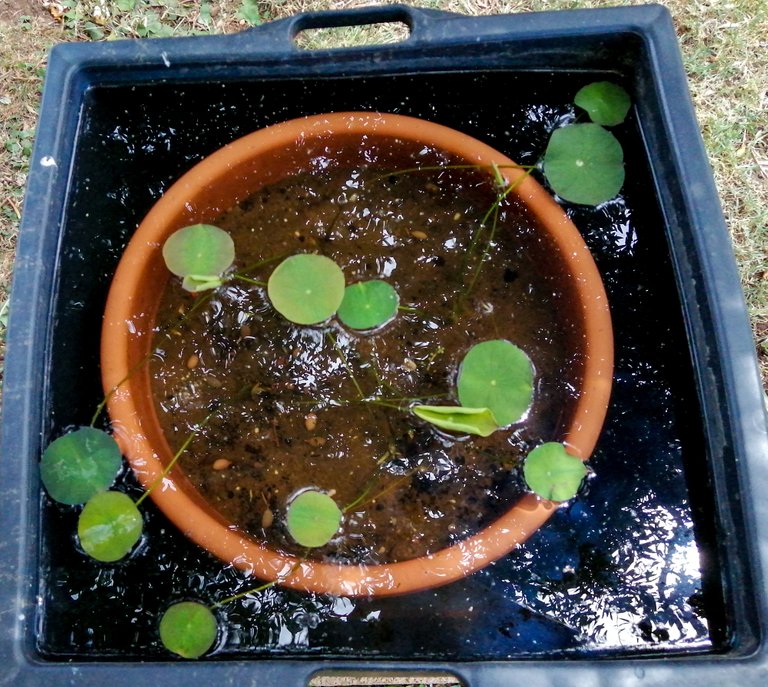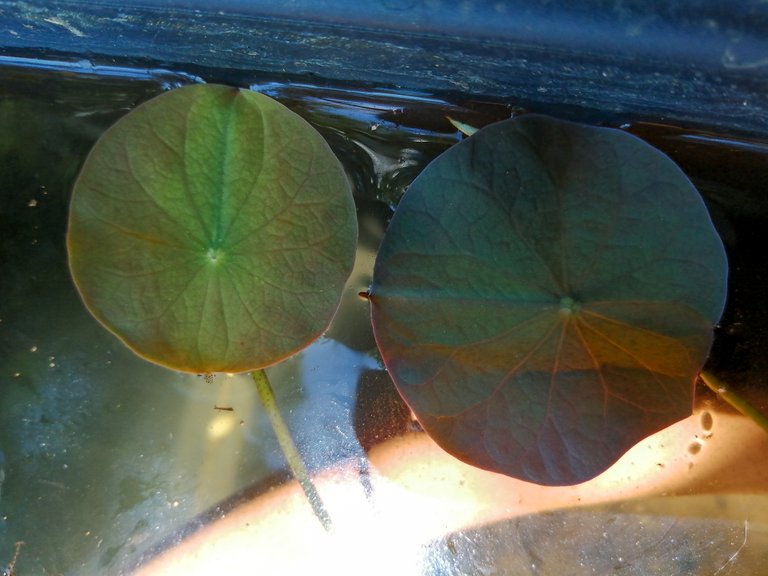 In the following summer weeks, the aquatic leaves grew more and more, developing new stems and new leaves every week.
In August the pot was full of beautiful floating emerald leaves, which from how many they were you could no longer see the surface of the water. But the flowers didn't grow.
---
Nelle seguenti settimane estive, le foglie acquatiche sono cresciute sempre di più, sviluppando ogni settimana nuovi steli e nuove foglie.
Ad agosto il vaso era ricolmo di bellissime foglie galleggianti colore smeraldo, che da quante erano non si vedeva più la superficie dell'acqua. Ma i fiori non crescevano.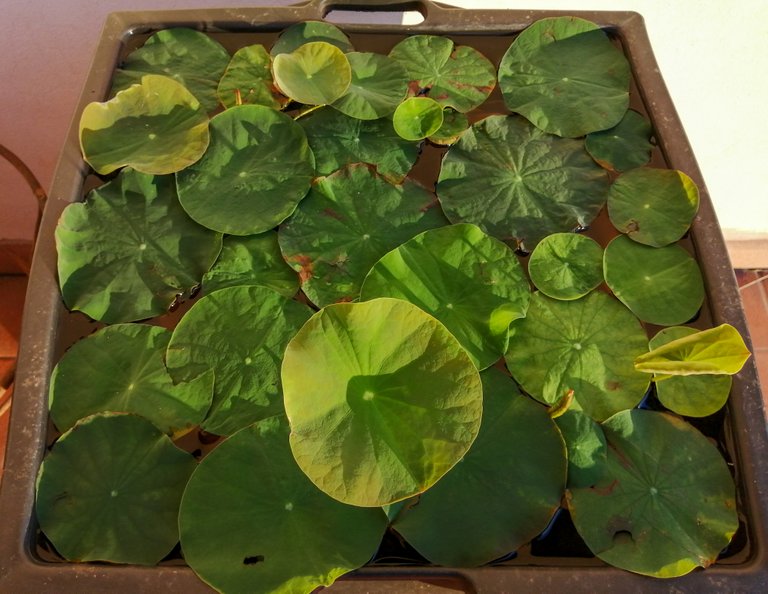 Time passed and the vase was more and more luxuriant, but the flowers were never seen until winter was reached, where the leaves rotted forever, because nothing blossomed in spring.
I don't know why I couldn't get the flowers, the vase was really lush with leaves, very nice to see, but I would have liked to see at least one flower... Maybe I put too many seeds in the vase? Or maybe I should have kept the vase warm during the winter? I don't know, because even in nature flowers survive the winters peacefully, where lakes and ponds freeze.
---
Passava il tempo e il vaso era sempre più rigoglioso, ma i fiori non si sono mai visti, fino al raggiungimento dell'inverno, dove le foglie sono marcite per sempre, perché in primavera non è più sbocciato nulla.
Non so perché non sia riuscito ad ottenere i fiori, il vaso era davvero rigoglioso di foglie, molto bello da vedere, ma avrei voluto vedere almeno un fiore... Forse ho messo troppi semi nel vaso? O forse avrei dovuto tenere al caldo il vaso durante l'inverno? Non so, perché comunque anche in natura i fiori sopravvivono tranquillamente agli inverni, dove i laghi e gli stagni ghiacciano.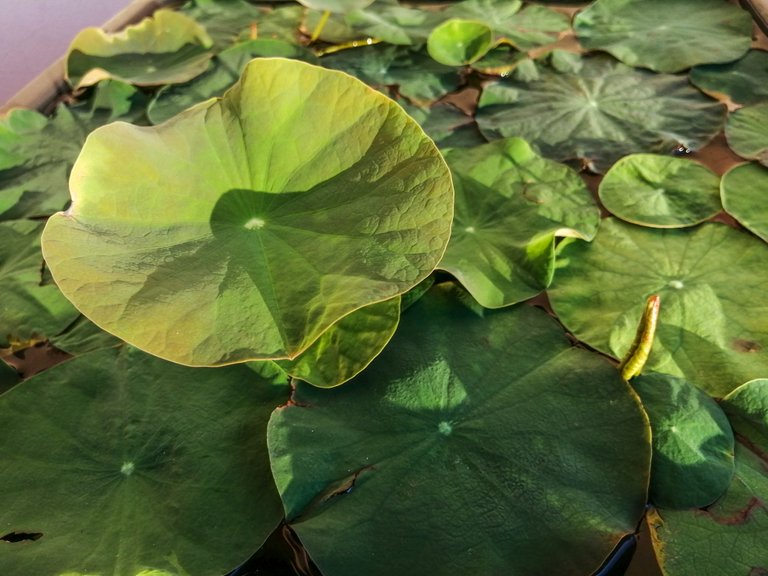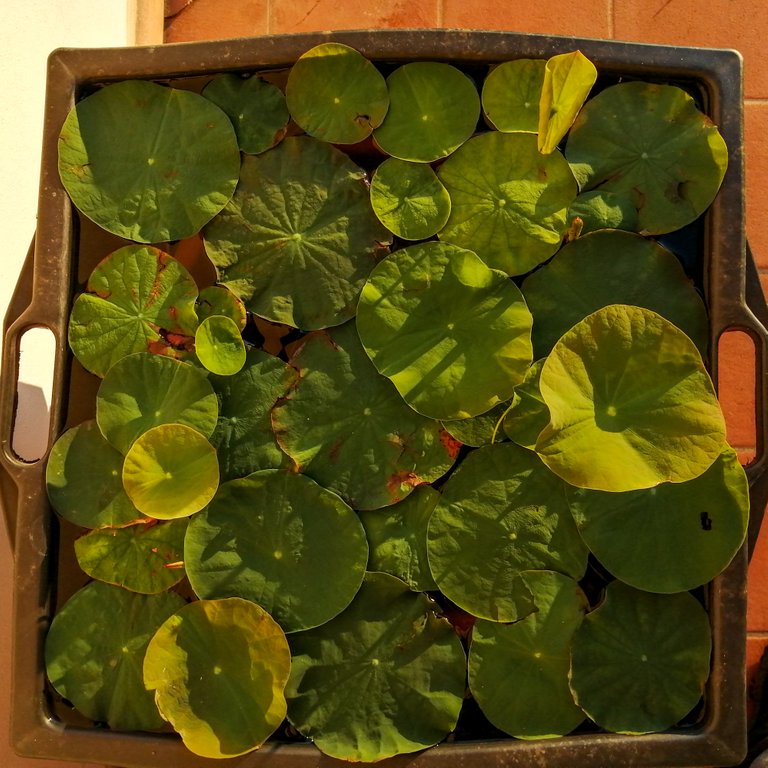 I'll try again this summer, maybe I'll start earlier, maybe it takes longer and I'll certainly try to put fewer seeds in a single pot, albeit a large one. Also because a single seed multiplies into multiple plants during growth. In any case I will try again, I want to see the lotus flower.
Ah... I almost forgot... A beautiful peculiarity of this plant is the water repellency of the leaves, a feature that allows the plant to float and not absorb water and consequently rot. I've always enjoyed playing with drops of water, which if placed on the leaves become round spheres for water repellency, which look like shiny pearls. This feature has always fascinated me a lot.
---
Quest'estate ci riproverò, magari inizio prima, magari ci vuole più tempo e sicuramente proverò a inserire meno semi in un solo vaso, seppur grande. Anche perché un singolo seme si moltiplica in più piante durante la crescita. In ogni caso ci riproverò, voglio vedere il fiore di loto.
Ah... Quasi dimenticavo... Una bellissima particolarità di questa pianta, è l'idrorepellenza delle foglie, caratteristica che permette alla pianta di galleggiare e non assorbire acqua e di conseguenza marcire. Io mi sono sempre divertito a giocare con le gocce di acqua, che se poste sopra le foglie diventano delle sfere rotonde per l'idrorepellenza, che sembrano lucenti perle. Questa caratteristica mi ha sempre affascinato molto.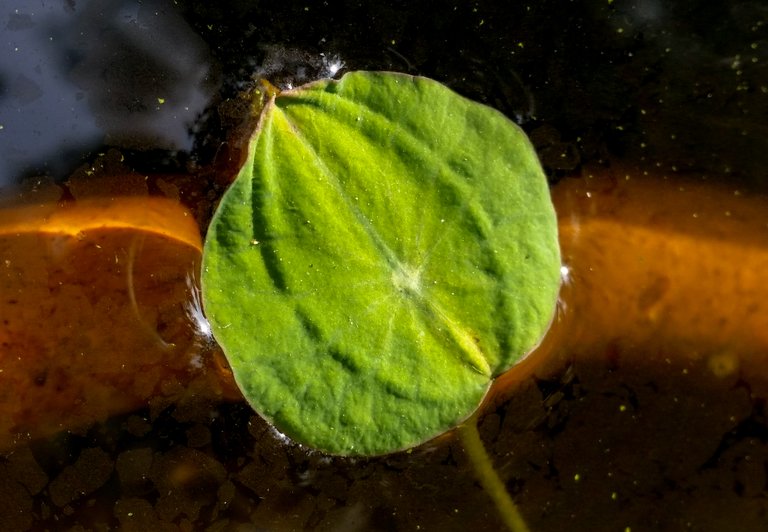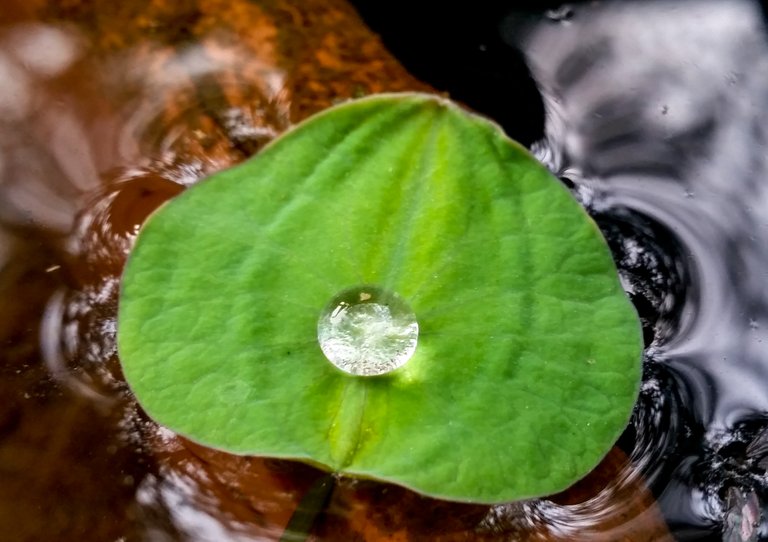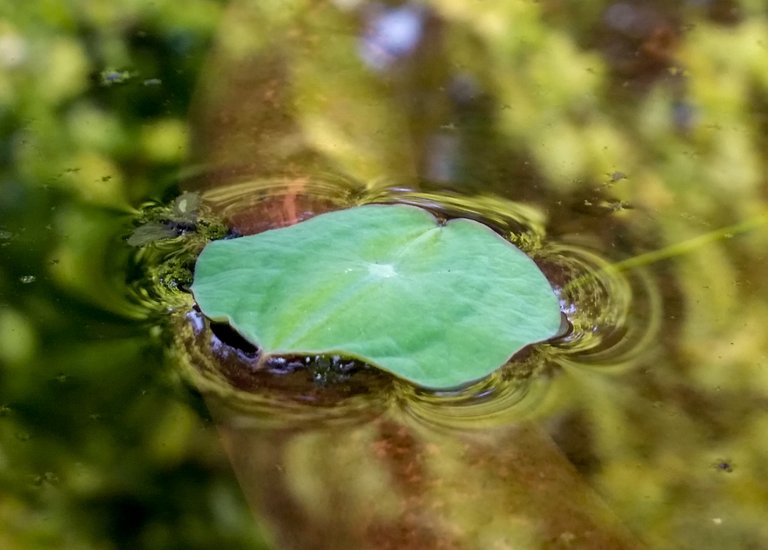 That's all for this post my dear friends. I hope you enjoyed sharing my experience, thank you for your precious time, stay connected for the new full immersion in nature with @stea90, a hug.
---
Per questo post è tutto miei cari amici. Spero che vi sia piaciuta la condivisione di questa mia esperienza, vi ringrazio per il vostro prezioso tempo, rimanete connessi per le nuove full immersion nella natura con @stea90, un abbraccio.

All texts, photos, videos and images in this post are property of the author @stea90 - For CCO images that may be used, the source is always declared.

Programs used
Image processing: GIMP and Inkscape
Photo processing and development: Photoshop Express
---
Favorite communities

Olio di Balena
Pinmapple
Black and White
Foodies Bee Hive
LeoFinance
---
Social link
Instagram Dalla Stella Federico
Twitter Crypto Stea
Youtube Crypto Stea
---
If you want to support a good Witness and his great work to help so many users on Hive, vote for @Discovery-it as Witness.
You can also help with a delegation for @Discovery-it.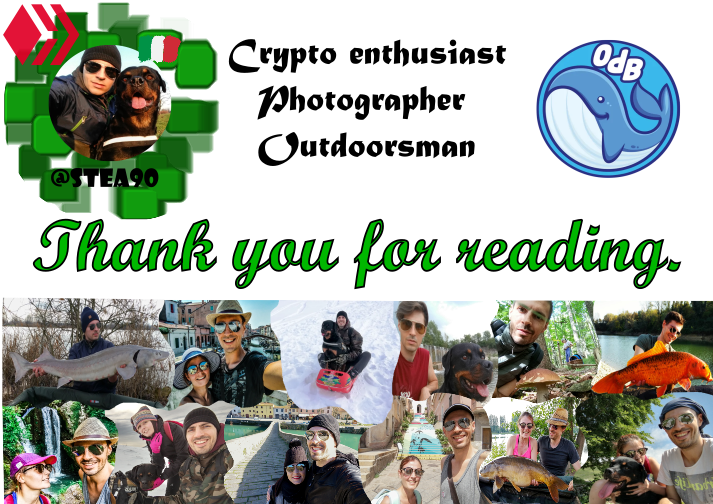 ---
---