TIPS TO OPTIMIZE YOUR UPVOTE - SUPPORTING QUALITY ON HIVE. 🇬🇧 / CONSIGLI PER OTTIMIZZARE IL TUO UPVOTE - SUPPORTANDO LA QUALITÀ SU HIVE. 🇮🇹
🇬🇧 ENGLISH VERSION 🇬🇧
Hello world of Hive, today I would like to talk to you about an important issue, let's leave aside my travel sharing, recipes and various experiences for a moment, to talk about how to support quality and not let your voting power go to waste and therefore lose your rewards as an author.
Between ups and downs, periods of presence and long absences, I have been living this platform since the dawn of 2016 when its previous version was born. To my regret I wasted a lot of time for various events, which if I would have dedicated to the platform now would have allowed me to be in a much more advanced and profitable position, but that's okay, let's learn from the past and treasure it for the future. Despite this, I have never had any doubts about the potential of this fantastic platform, which has always given me so much, even from a human point of view.
During all these years I have sown far and wide over 50k of votes, which in my small way have distributed 420 Hive, the same as my total curation rewards, as you can see from the image I took on @hivebuzz, checking my data profile. hivebuzz.me/@stea90.
---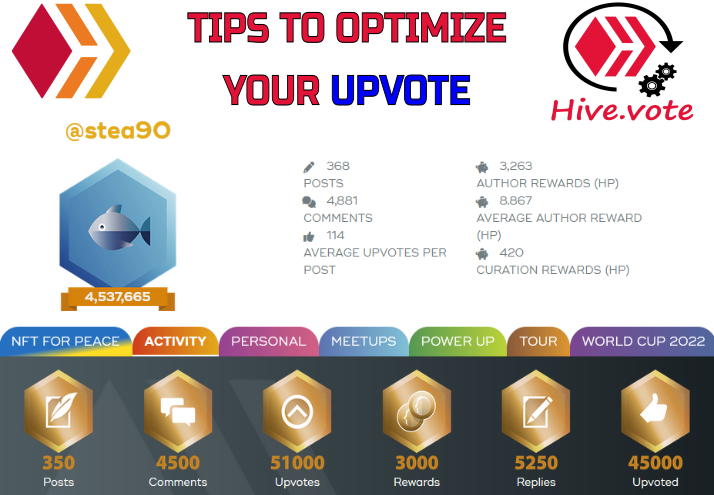 Let's get to the point, your upvote, which perhaps often remains unused because you don't have the time to follow hive or for any other reason you are unable to. As you've seen, over the years I've had to step away several times, in fact I've only written 368 posts, 369 with this one, but I've still managed to consistently support quality content on Hive.
To do this I relied on the wonderful free service offered by @mahdiyari, Hive Vote which replaced @steemauto, with which you can vote for your favorite bloggers even when you don't have the chance.
Find the service at https://hive.vote.
Where you can choose whether to follow a Voting Trail, i.e. entrust your upvote to curators you consider trustworthy, who will support quality content. As I did, by supporting the Witness Trail @discovery-it, a team of very capable people who have been supporting quality content for years and do an excellent job. I fully trust their judgment and have given them my input to support the growth of Hive users.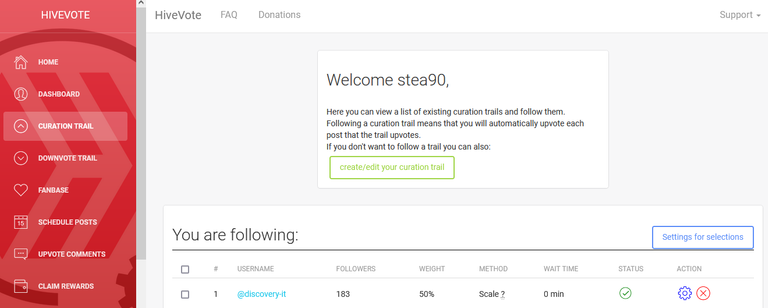 Here you can set the percentage of the vote scaled to that of the trail to your liking or a fixed vote and when to start your vote after the trail account has voted.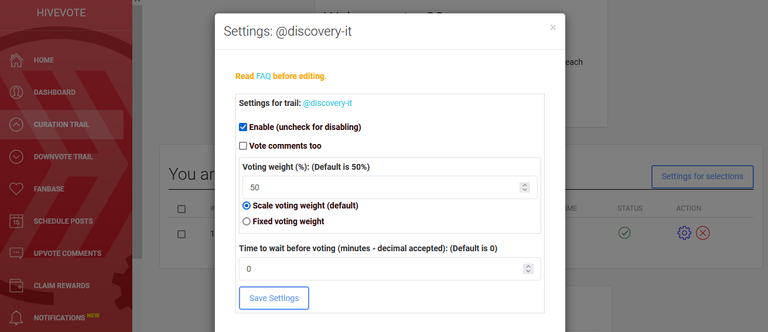 Also, if you go to the "fanbase" item on the left, you can add accounts of people you always want to support.



Here I bring you my example, where I set a 100% vote on every post that @libertycrypto27 publishes, setting the vote 30 minutes after publication, with a maximum of 2 per day and 99 per week (which is irrelevant in this case ). So you can set the vote to your liking, to vote for those people you don't want to miss the opportunity to support.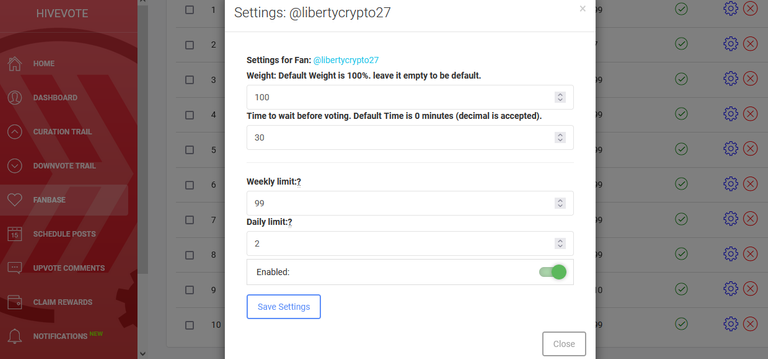 One thing is important, keep an eye on your VOTING POWER, you need to know how to regulate your votes, so that you don't find yourself empty after a short time and distribute votes that are of no use to you or to others.
Keep in mind that a 100% vote consumes 2% of voting power.

While it takes about 24 hours to recharge 10% of your voting power, which is about 10 votes at 100%.
Do the math well if you decide to use these services, in order to keep the voting power at least above 80%.
To conclude, I would like to tell you that although I use these services, I am convinced that manual voting is the best, where you can express your approval in a targeted way and based on the quality of each individual post, but in all those circumstances where it is impossible to be always present, it becomes an excellent tool to be able to always support the people you want and also obtain a greater curation reward. I try to balance the two, so that I can always be there in one way or another. I hope it was useful for those who weren't aware of this possibility, a hug to everyone.
---
Image source. - https://hivebuzz.me/@stea90 - https://hive.vote.
Dear friends this is all, I hope you found this post interesting. Stay tuned for the next news, Thanks for your attention.

🇮🇹 VERSIONE ITALIANA 🇮🇹
Buongiorno mondo di Hive, oggi vorrei parlarvi di una questione importante, lasciamo da parte per un momento le mie condivisioni di viaggi, ricette ed esperienze varie, per parlare di come dare supporto alla qualità e non lasciare sprecato il vostro potere di voto e quindi perdere le vostre ricompense da autore.
Tra alti e bassi, periodi di presenza e lunghe assenze, vivo questa piattaforma dagli albori del 2016 quando nacque la sua precedente versione. A mio rammarico ho sprecato molto tempo per varie vicende, che se avrei dedicato alla piattaforma ora mi avrebbe permesso di essere in una posizione molto più avanzata e proficua, ma va bene così, impariamo dal passato e facciamone tesoro per il futuro. Nonostante ciò non ho mai avuto dubbio sul suo potenziale di questa fantastica piattaforma, che mi ha dato sempre tanto, anche sotto il punto di vista umano.
Durante tutti questi anni ho seminato in lungo e largo oltre 50k di voti, che nel mio piccolo hanno distribuito 420 Hive, il pari delle mie totali curation reward, come potete vedere dall'immagine che ho preso su @hivebuzz, controllando i dati del mio profilo. hivebuzz.me/@stea90.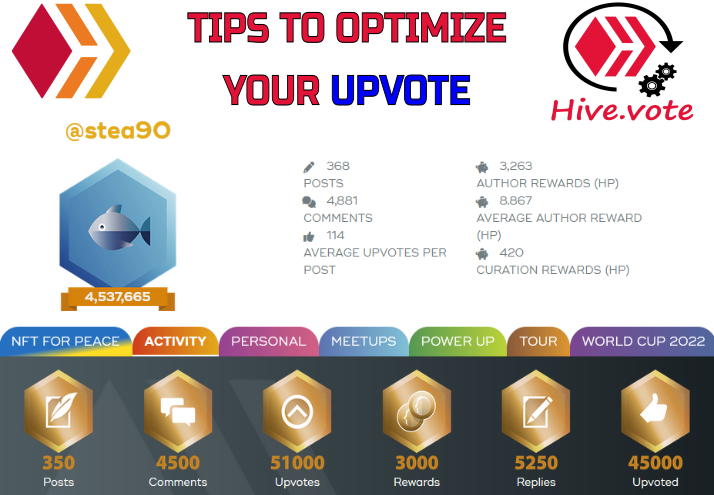 Veniamo al dunque, il vostro upvote, che magari spesso rimane inutilizzato perché non avete il tempo di seguire hive o per qualsiasi altro motivo siete impossibilitati. Come avete visto, negli anni nonostante mi sia dovuto allontanare più volte, infatti ho scritto solo 368 post, 369 con questo, ma sono riuscito ugualmente a supportare costantemente i contenuti di qualità su Hive.
Per far questo mi sono appoggiato al meraviglioso servizio gratuito offerto da @mahdiyari, Hive Vote che ha preso il posto di @steemauto, con il quale potete votare i vostri blogger preferiti anche quando non avete le possibilità.
Trovate il servizio al sito https://hive.vote.
Dove potete scegliere se seguire un Trail di voto, cioè affidare il vostro upvote a dei curatori che ritenete fidati, i quali andranno a supportare i contenuti di qualità. Come ho fatto io, fornendo il mio supporto al Trail del Witness @discovery-it, un team di persone molto capaci, che supportano contenuti di qualità da anni e svolgono un ottimo lavoro. Mi fido a pieno del loro giudizio e ho dato a loro il mio contributo per supportare la crescita degli utenti di Hive.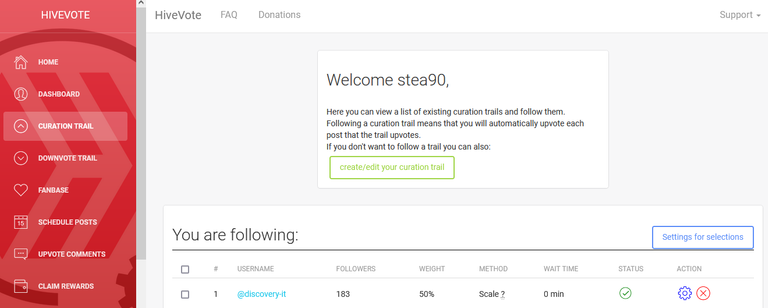 Qui potete settare a vostro piacimento la percentuale del voto in scala a quello del trail oppure un voto fisso e quando fare partire il vostro voto dopo che l'account del Trail ha votato.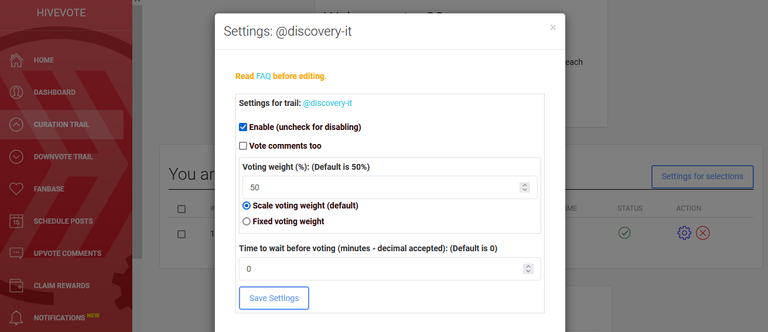 Inoltre se andate sulla voce a sinistra "fanbase", potete aggiungere account di persone che volete supportare sempre.



Qui vi porto il mio esempio, dove ho impostato un voto del 100% su ogni post che pubblica @libertycrypto27, impostando il voto dopo 30 minuti dalla pubblicazione, con un massimo di 2 per giorno e 99 a settimana (che è irrilevante in questo caso). Dunque potete settare il voto a vostro piacimento, per votare quelle persone che non volete perdere l'occasione di supportare.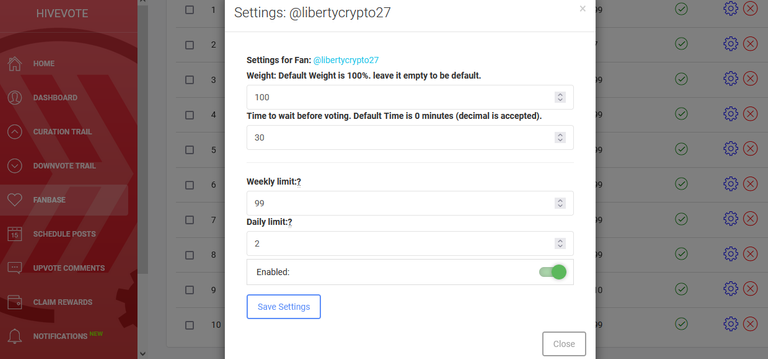 Una cosa è importante occhio al vostro VOTING POWER, dovete sapere bene come regolare i voti, per non trovarvi scarichi dopo poco tempo e distribuire voti che non servono ne a voi ne agli altri.
Tenete in considerazione che un voto al 100% consuma il 2% di voting power.

Mentre per ricaricare il 10% del vostro voting power, che sono circa 10 voti al 100%, occorrono 24 ore circa.
Fatevi bene i conti se decidete di usare questi servizi, in modo da mantenere il voting power almeno al di sopra del 80%.
Per concludere, vorrei dirvi che nonostante io usi questi servizi, sono convinto che il voto manuale sia il migliore, dove puoi esprimere il tuo gradimento in modo mirato e in base alla qualità di ogni singolo post, ma in tutte quelle circostanze dove è impossibile essere sempre presenti, diventa un ottimo strumento per poter supportare sempre le persone che desiderate e ottenere anche una maggiore curation reward. Io cerco di bilanciare le due cose, in modo da poter comunque essere sempre presente in un modo o nell'altro. Spero che sia stato utile per chi non era al corrente di questa possibilità, un abbraccio a tutti.
---
Sorgente immagini. - https://hivebuzz.me/@stea90 - https://hive.vote.
Cari amici con questo è tutto, spero che abbiate trovato interessante questo post. Rimanete connessi per le prossime novità, Grazie per la vostra attenzione.
---
---