Gradually My HBD Savings Giving Me Hope.

The best sight for an individual is to watch its money growing. It makes them happy as well as give them hope for the future. Last few days were too harsh for all the Investors. Crypto markets or stock markets all were tumbling like a house of cards. It is not a good time to check out on your portfolio as it might have taken a strong beating. However, it is in human nature to peep inside the wallet now and then. Likewise, when I did peeped inside my #Hive wallet I was quite happy to see my HBD balance growing handsomely. I earned 55.2 HBD in last one month.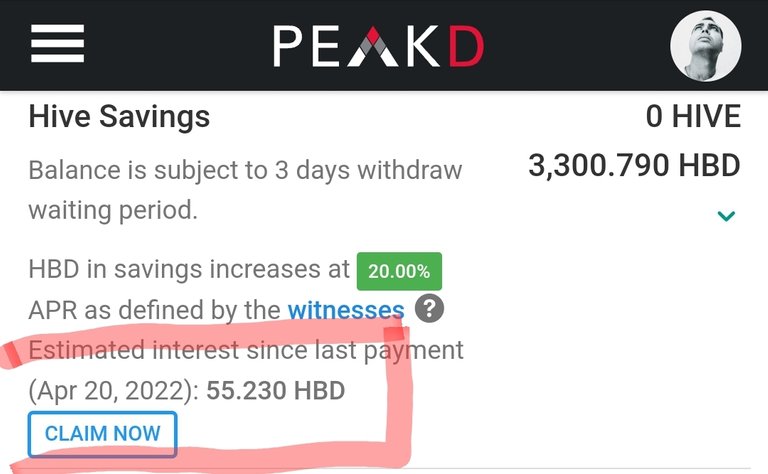 When I began my HBD saving, I never hoped to get such a huge return. I started at 10 % APR. It was one of the best rate I had ever comes across all the investment option. And soon it was changed to 20% and my eye lits up to accumulate more and more. Every month I keep Increasing my HBD balances into saving account and simultaneously adding on the interest earned into it. It allow me to have a balance of 3300 HBD.
Nevertheless which direction the crypto market is swaing, it feels good to watch my HBD is still pegged to around a $1. And earning the interest thereon at 20% allows me to see my money talking handsomely. It is great to have a green HBD wallet even in the downtrend time. These are good sign for all the Investors. The HBD balances does allow me to stay positive and not to panic. Even though my little portfolio taken a gard beating g but this HBD sighting give me hope to sustain for long duration into crypto market. A hope is enough to for a turnaround. And this massive HBD earning does give me hope of balancing out my crypto portfolio.
Looking at the handsome income, there is o harm I'd adding more to HBD pool. And soon I am focussing to add more fuel to my HBD to get a higher interest next month.
Stay Positive
Peace
Posted Using LeoFinance Beta
---
---