Michael Bay's Style in 6 UNDERGROUND (2019) | Movie Review
Good Day Hiverians!
Are you a Michael Bay fan? You must have watched many films from him, and the most popular ones are Bad Boys and Transformers. If you feel you need a "touch of the hand" Bay, then you deserve to watch this one movie, on Netflix.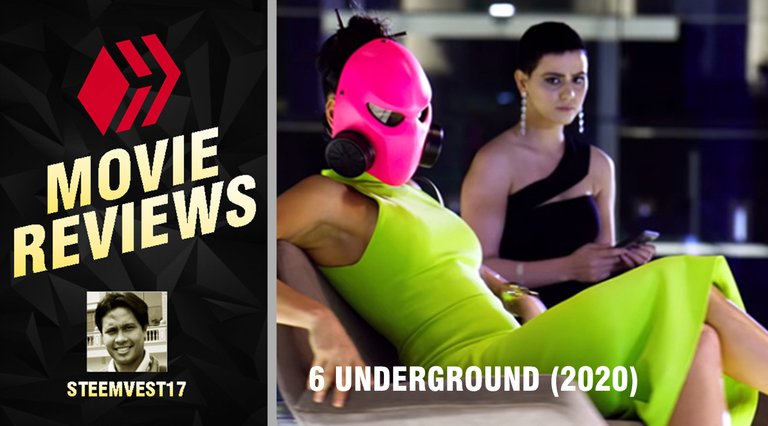 6 UNDERGROUND (2019)
Actually, Michael Bay's style was predictable, I myself can guess a film that I just watched, if it was Micheal Bay that made it then I know. No exception for this one movie, 6 Underground. Car chases and explosions emanating from fireworks are one of his styles, not to mention the way helicopters fly and noise. And a little more, conversations between characters are absurd and fast in a situation. Complete!
The film opens with a little story about who is the One (Ryan Reynolds) he is shown flying a plane and then moved to a racing scene that shows a precarious situation, filled with blood and violence. Rating R has made Bay happy to act as he pleases in this movie.
From around 2h 8min of the film, one hour after the car chase and explosion, which reflects the distinctive style of Michael Bay, then we are brought to the main story. We will know that there are 6 people who are struggling to overthrow the government of the dictator of Turgistan, Rovach Alimov (Lior Raz).
6 is an association (a kind of superhero) consisting of 6 people who are desperate and don't know where to go, but they are equipped with their respective skills. So, to become a special gang without names that would interfere in the affairs of other countries, they were ready. They consider themselves "dead", there is no digital trace they leave behind, with the expertise of the One (Reynolds) creating technology, they are not tracked at all.
---
For those of you fans of action-packed action films, then you are not wrong choosing the film. Don't ask about the story, because that doesn't apply to this film, we will only be taken to some super dangerous scenes. Actually this is a cliché of Michael Bay itself.
I myself miss the acting of Ryan Reynold, who is funny and always has dirty words. LOL Actually, Reynold was the savior of this film, even though all the characters in this film would be good if explored and displayed deeper and wider. Happy watching!
---
6 Underground Official Trailer from Netflix
---
Movie Title: 6 UNDERGROUND
Year: 2019
Release Date: 13 December 2019 (UK)
Genre: Action, Thriller
Director: Michael Bay
Stars: Ryan Reynolds, Mélanie Laurent, Manuel Garcia-Rulfo
Duration: 2h 8min
Distributed: NETFLIX
Rating from me: 6.2/10
---
---
---
---