Project Power (2020) Movie Review [EN/IN]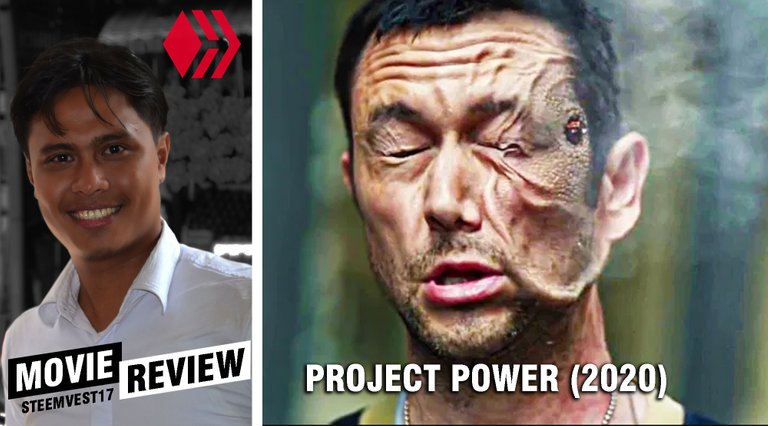 ---
If you are a fan of Limitless (2011) and Lucy (2014), at least you must have imagined the storyline of the film that I will tell you now. Limitless and Lucy are both about a new type of drug that can cause the user to have power.
In Limitless, the power to get from the "drug" pill is extraordinary intelligence to optimize someone's memory. Any detail will be remembered due to the pill effect, and new things will also be stored properly in the user's brain. But it won't last long.
The same thing happened with Lucy, there, drugs consumed by a person will optimize their memory as well as will give strength to understand the universe. Well, we'll move on to the film I'm going to review.
---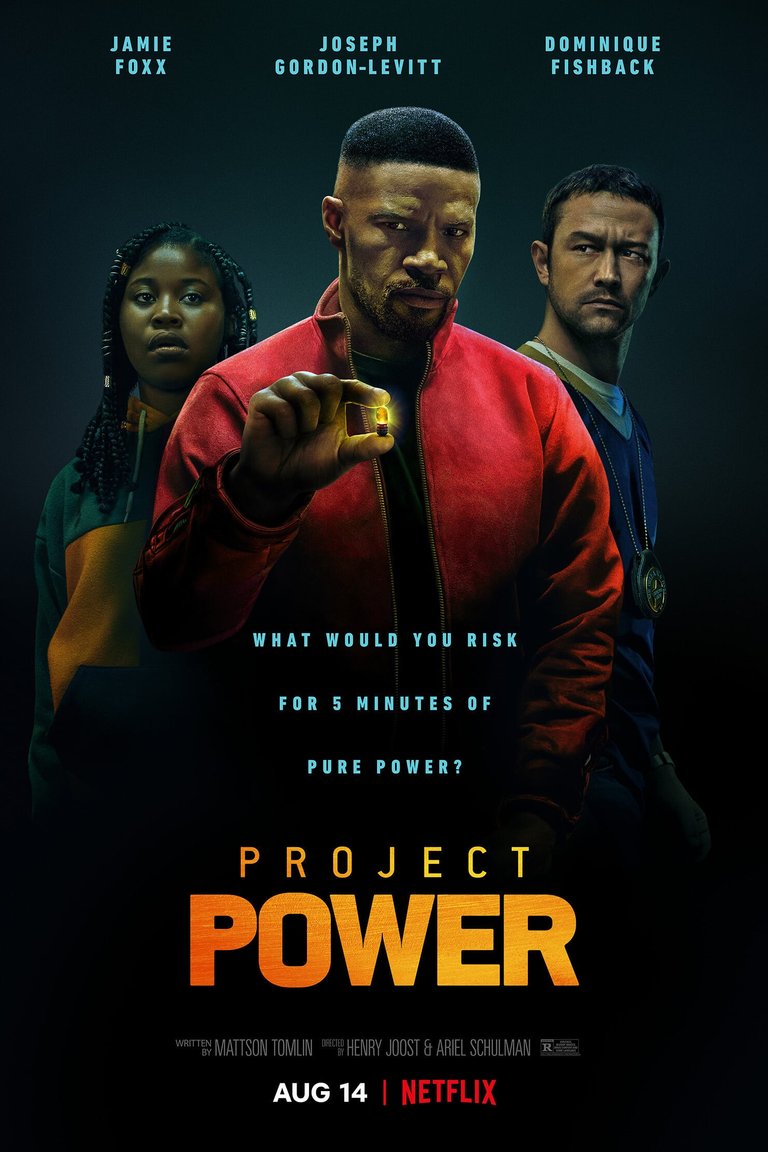 CREDIT
---
PROJECT POWER (2020)
This is a new original from Netflix, starring classy actors like Jamie Foxx, Joseph Gordon-Levitt, and teenager Dominique Fishback. Foxx plays as Art, a father who is looking for his daughter in the midst of the sale and use of the super-powered drug in New Orleans.
Levitt himself plays an idealistic cop (Frank) who is always looking for the truth. Seeing this role, I am reminded of his role as Robin in The Dark Knight Rises (2012), he also plays a cop who working optimally. If we compare, it will be very in harmony with the role he took in this movie.
One more person, a black teenager Dominique Fishback (who in my opinion is a newcomer) an play as Robin, a Raper girl and smart, she is in charge of selling the drugs to the community, and she's close friends with Frank, the police.
---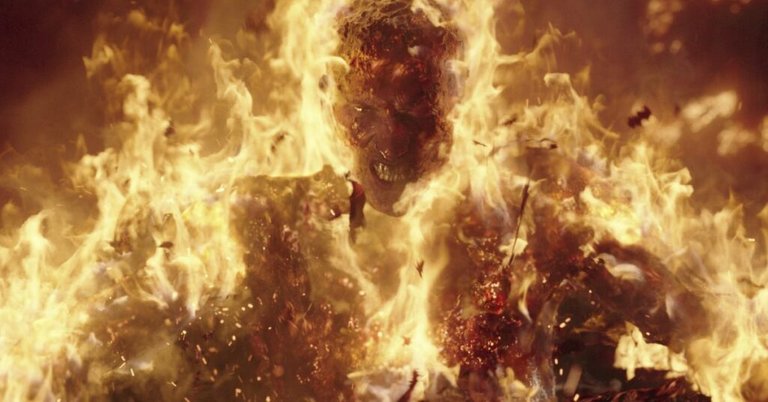 CREDIT
---
Project Power tells the story of a surprising discovery in the world of drugs, but the benefits provided by the "drugs" are not just for fun, but the superpower abilities which can last for a while.
But unfortunately, this film does not tell the origin of these pills, since when has it been circulating in the community, considering the people of New Orleans are used to it, even been traded by many people illegally. The pill was made from animal DNA that could somehow be mixed in such a way and put into a pill. But, automatically, the powers that exist in certain animals can enter the human body and can be controlled.
---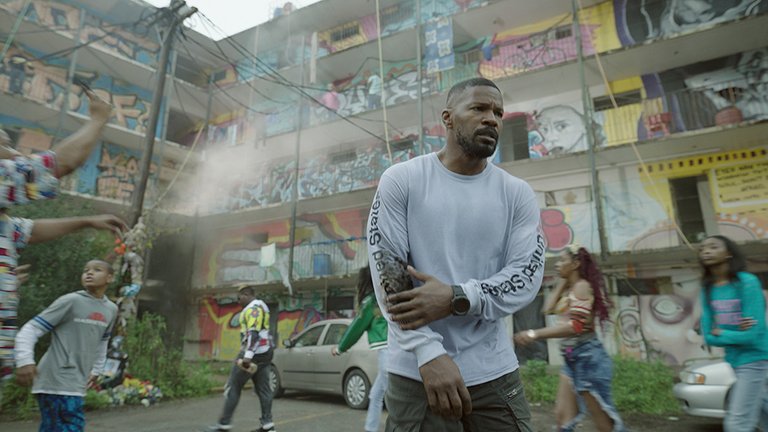 CREDIT
---
The effect given by the pill is varied, not all pills provide the same strength, and depending on who is the user, because this pill can also cause fatal accidents for the user because it's without clinical trials and is still in the experimental stage. The distributors of the drug were in a hurry to make a generous profit, so without thinking of side effects, they sold it.
Actually, what makes this film unique is the packaging and theme alone, the "not too new" story will be covered by director Hanry Joost's shrewdness in packaging each scene of this film, he knows which ones should be shown earlier, and in the end, it can become surprised for the audience.
In essence, this Project Power film is a "typical" story about a father's attempts to save his daughter. You could say it's similar to Taken, played by Liam Neeson and other similar films. I think the storyline of this film is good, cool. So, switch your channel to Netflix, and watch it.
---
Project Power Official Trailer by Netflix
---
Movie Title: Project Power
Year: 2020
Release Date: 14 August 2020 (UK)
Genre: Action, Crime, Sci-Fi
Director: Henry Joost, Ariel Schulman
Stars: Jamie Foxx, Joseph Gordon-Levitt, Dominique Fishback
Duration: 1h 51min
Distributed: Netflix
Rating from me: 6.8/10
---
---
---
B A H A S A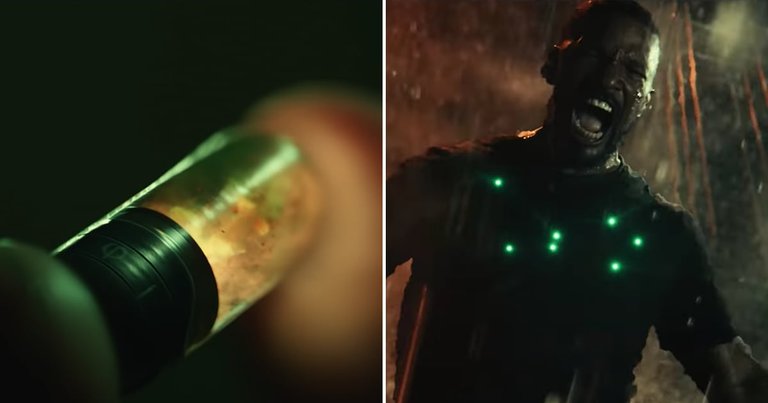 sumber
---
Jika anda adalah penggemar Limitless (2011) dan Lucy (2014), anda pasti sudah bisa membayangkan bagaimana perjalanan film yang akan saya ceritakan sekarang. Limitless dan Lucy sama-sama film bercerita tentang obat narkoba jenis baru yang bisa mengakibatkan konsumennya memiliki kekuatan.
Dalam Limitless, kekuatan yang didapat dari pil "narkoba" tersebut adalah kecerdasan luar biasa untuk menoptimalkan ingatan seseorang. Hal sedetail apapun akan diingat, dan hal baru juga akan tersimpan dengan baik di dalam otak pemakainya. Dan itu tidak bertahan lama.
Sama halnya dengan Lucy, di sana, narkoba yang dikonsumsi akan mengoptimalkan ingatan, sekaligus akan memberi kekuatan untuk memahami alam semesta. Baiklah, kita akan beralih ke film yang akan saya review.
PROJECT POWER (2020)
Ini adalah sebuah film original terbaru dari Netflix, dibintangi oleh aktor berkelas seperti Jamie Foxx dan Joseph Gordon-Levitt, serta seorang remaja Dominique Fishback. Foxx memerankan Art, seorang ayah yang sedang mencari anaknya, ditengah maraknya penjualan dan pemakaian narkoba bertenaga super tersebut di New Orleans.
Levitt sendiri memerankan seorang polisi idealis (Frank) yang selalu mencari kebenaran. Melihat peran ini, saya teringat dengan perannya sebagai Robin di The Dark Knight, ia juga memerankan seorang polisi yang bekerja maksimal. Jika disandingkan, maka akan sangat serasi sekali dengan peran yang ia ambil di film ini.
Satu lagi, remaja kulit hitam (yang menurut saya adalah pendatang baru) memerankan Robin, seorang cewek Raper dan pintar, ia bertugas menjual obat-obatan tersebut ke masyarakat, dan ia berteman dekat dengan Frank, sipolisi.
Project Power bercerita tentang sebuah temuan mengejutkan di dunia narkoba, tetapi khasiat yang diberikan oleh "narkoba" tersebut bukan kesenangan, melainkan kamampuan super yang bertahan selama beberapa saat saja.
Sayang sekali, film ini tidak menceritakan asal mula pil tersebut, sejak kapan sudah beredar di masyarakat, mengingat masyarakat New Orleans sudah terbiasa dengan itu, bahkan sudah dijajakan oleh banyak orang secara gelap. Pil itu terbuat dari DNA binatang yang entah bagaimana bisa diramu sedemikan rupa dan dimasukkan kedalam pil. Tapi, secara otomatis, kekuatan yang ada pada binatang-binatang tertentu bisa masuk ke tubuh manusia dan bisa dikendalikan.
Efek yang diberikan oleh pil tersebut berbeda-beda, tidak semua pil memberikan kekuatan yang sama, dan tergantung pada siapa yang menjadi pemakai, karena pil ini juga bisa mengakibatkan kecelakaan fatal bagi penggunanya, karena tanpa uji klinis dan masih dalam tahap percobaan. Distributor obat itu terburu-buru untuk mendapatkan keuntungan yang berllimpah, maka tanpa memikirkan efek samping, mereka menjualnya.
Sebenarnya, yang membuat film ini unik adalah kemasan dan temanya saja, cerita yang "tidak terlalu baru" itu akan tertutupi dengan kelihaian sutradara Hanry Joost dalam mengemas setiap scene film ini, ia tahu mana yang harus ditampilkan lebih awal, dan pada akhirnya itu bisa menjadi kejutan bagi penonton.
Pada intinya, film Project Power ini adalah cerita "biasa" tentang usaha seorang ayah yang mencoba untuk menyelamatkan anak perempuannya. Bisa dibilang mirip seperti Taken yang diperankan oleh Liam Neeson, serta film-film serupa. Alur cerita film ini menurut saya bagus, keren. Jadi, pindahkan saluran anda ke Netflix, dan tontonlah. Selamat menonton.
---
---
---
---