01-12-2022 - Short Crypto News [EN]-[IT]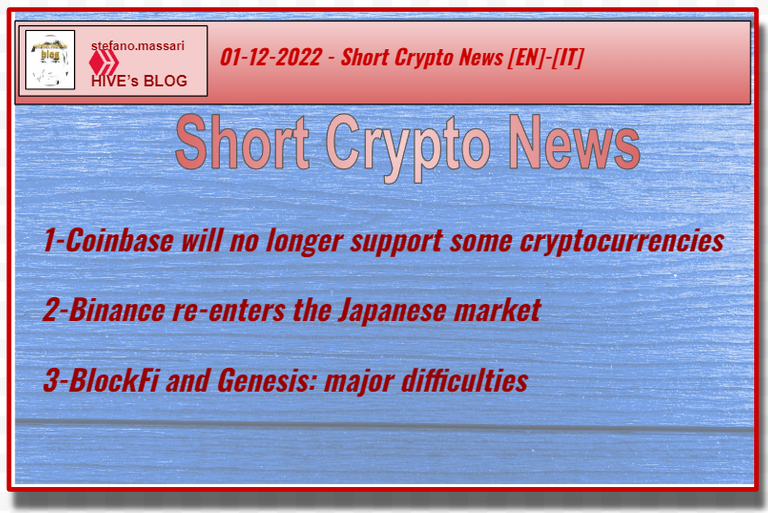 ---
~~~ La versione in italiano inizia subito dopo la versione in inglese ~~~
---
ENGLISH
Short news from the world of cryptocurrencies
1-Coinbase will no longer support some cryptocurrencies
Coinbase is experiencing low usage of some cryptocurrencies and for that reason it no longer plans to support them. The list of cryptocurrencies that will no longer be supported is as follows: BCH, ETC, XLM and XRP.
The message specifies that assets executed on those assets will not be lost.
The deadline is December 5, 2022, after which sending or receiving cryptocurrencies that are not supported by Coinbase Wallet will result in the loss of those cryptocurrencies.
Any cryptocurrency held, but not supported, will remain in the user's possession and will still be linked to their address and accessible through their Coinbase Wallet recovery phrase.
2-Binance re-enters the Japanese market
A few days ago Binance, which to date is the world's largest centralized digital exchange, announced that it has acquired Sakura Exchange BitCoin (SEBC). SEBC is a Tokyo-based cryptocurrency exchange registered with the Japan Financial Services Agency. It supports trading of some well-known cryptocurrencies against the Japanese yen. This move was made because it is likely believed that Japan will play a key role in the cryptocurrency-based digital finance economy. The CEO of SEBC said that Binance has a strong compliance system, and this will allow Japanese users to have no problems in managing their cryptocurrencies and incentivize mass adoption.
3-BlockFi and Genesis: major difficulties
After the now unsolvable problems for BlockFi, bankruptcy may also be near for Genesis.
Genesis is an institutional financial services company for digital assets.
The failure of BlockFi has worsened the sentiment that investors currently have in the cryptocurrency sector. It would appear that Genesis is currently seeking $500 million in emergency funding to be raised in short order from cryptocurrency investors or companies.
The current interim CEO of Genesis said that comparisons have been initiated with potential investors and Genesis' major creditors, including Gemini and DCG. These confrontations are aimed at strengthening liquidity.
My opinion
1-I see this move by Coinbase as a move to defend against further deterioration of the situation. That is, if the market drops again, it would probably lack the funds to run several wallets within the app, so in my opinion, it decided to cut support for those cryptos that don't have many transactions within the exchange. This will definitely cut some maintenance costs.
2-Binance with this move clearly wants to expand into Asia and go through what are precisely the backbone economies of that continent. In my view this is a sign of health and a new demonstration of the potential that Binance has. In the whole of centralized exchanges it seems that Binance will be unrivaled for perhaps another full year.
3-As a result of the FTX fiasco, liquidity within the crypto world seems to have shrunk exposing several exchanges to difficult situations, some close to bankruptcy, some in situations where in order to stay standing you have to ask other exchanges for help. We will see if Genesis can get away with some good deals.
Question
What do you guys think about these three pieces of news? What is your opinion on them?
Previous Posts
https://hive.blog/hive-146620/@stefano.massari/25-11-2022-short-crypto-news-en-it
https://hive.blog/hive-146620/@stefano.massari/29-10-2022-short-crypto-news-en-it
https://hive.blog/hive-146620/@stefano.massari/20-10-2022-short-crypto-news-en-it
Referral
My HIVE referral link:
https://hiveonboard.com?ref=stefano.massari

ITALIAN
Notizie brevi dal mondo delle criptovalute
1-Coinbase non supporterà più alcune criptovalute
Coinbase registra un basso utilizzo di alcune criptovalute e per tale motivo non ha più intenzione di supportare. La lista delle criptomonete che non verranno più gestite è la seguente: BCH, ETC, XLM e XRP.
Nel messaggio viene specificato che le attività eseguite su quegli asset non andranno perse.
Il termine ultimo è il 5 dicembre 2022, dopodiché l'invio o la ricezione di criptomonete non supportate da Coinbase Wallet causerà la perdita delle criptomonete stesse.
Qualsiasi criptomoneta posseduta, ma non supportata, rimarrà in possesso dell'utente e sarà comunque legata al proprio indirizzo e accessibile attraverso la frase di recupero del proprio Coinbase Wallet.
2-Binance rientra nel mercato giapponese
Qualche giorno fa Binance, che ad oggi è il più grande exchange centralizzato digitale al mondo, ha annunciato che ha acquisito Sakura Exchange BitCoin (SEBC). SEBC è un exchange di criptovalute con sede a Tokyo, registrato presso la Japan Financial Services Agency. Esso supporta il trading di alcune criptovalute molto conosciute contro lo yen giapponese. Questa mossa è stata fatta perché probabilmente si ritiene che il Giappone avrà un ruolo chiave nell'economia della finanza digitale basata sulle criptovalute. Il CEO di SEBC ha affermato che Binance ha un solido sistema di conformità e questo permetterà agli utenti giapponesi di non aver problemi nella gestione delle proprie criptomonete ed incentivare l'adozione di massa.
3-BlockFi e Genesis: grosse difficoltà
Dopo i problemi ormai irrisolvibili per BlockFi, il fallimento potrebbe essere vicino anche per Genesis.
Genesis è una società di servizi finanziari istituzionali per gli asset digitali.
Il fallimento di BlockFi ha peggiorato il sentiment che gli investitori hanno attualmente nel settore delle criptovalute. Sembrerebbe che Genesis sia attualmente alla ricerca di 500 milioni di dollari di finanziamenti di emergenza da raccogliere in breve da investitori o società di criptovalute.
L'attuale CEO ad interim di Genesis ha dichiarato che sono stati avviati dei confronti con potenziali investitori e con i maggiori creditori di Genesis, tra cui Gemini e DCG. Questi confronti hanno l'obiettivo di rafforzare la liquidità.
La mia opinione
1-Vedo questa mossa di Coinbase come una mossa per difendersi da un ulteriore peggioramento della situazione. Cioè se il mercato dovesse calare ancora, mancherebbero probabilmente i fondi per la gestione di diversi wallet all'interno dell'applicazione, così, secondo me, ha deciso di tagliare il supporto a quelle cripto che non hanno molte transazioni all'interno dell'exchange. In questa maniera si tagliano sicuramente dei costi di manutenzione.
2-Binance con questa mossa vuole chiaramente espandersi in Asia e passa attraverso quelle che sono proprio le economie portanti di quel continente. A mio avviso è segno di salute ed una nuova dimostrazione del potenziale che ha Binance. Nell'insieme degli exchange centralizzati sembra che Binance non avrà rivali per forse ancora un anno intero.
3-A causa del fallimento di FTX la liquidità all'interno del mondo cripto sembra essersi ridotta esponendo diversi exchange a situazioni difficili, alcune vicine al fallimento, alcune in situazioni in cui per rimanere in piedi bisogna chiedere aiuto ad altri exchange. Staremo a vedere se Genesis riuscirà a cavarsela con qualche buon'accordo.
Domanda
Voi cosa ne pensate di queste tre notizie? Qual'è la vostra opinione a riguardo?
Post precedente
https://hive.blog/hive-146620/@stefano.massari/25-11-2022-short-crypto-news-en-it
https://hive.blog/hive-146620/@stefano.massari/29-10-2022-short-crypto-news-en-it
https://hive.blog/hive-146620/@stefano.massari/20-10-2022-short-crypto-news-en-it
Referral
Il mio referral link di HIVE:
https://hiveonboard.com?ref=stefano.massari
---
source news 1:
https://help.coinbase.com/en/wallet/getting-started/what-types-of-crypto-does-wallet-support
source news 2:
https://coingape.com/breaking-binance-acquires-sakura-exchange-bitcoin-re-enters-japanese-market/
source news 3:
https://coingape.com/genesis-bankruptcy-crypto-brokerage-could-be-next-after-blockfi/
THE END
---
---