12-01-2023 - Cryptocurrency dominance [EN]-[IT]


Source of charts and data: https://coinmarketcap.com/charts/#dominance-percentage
---
ENGLISH
Analysis
Cryptocurrency dominance is a figure that represents which cryptocurrencies have the most capitalization, thus those that currently dominate the cryptocurrency market.
The market capitalization of a cryptocurrency is the total value of its coins in circulation in the market. This figure is usually referred to as the "market cap." Market capitalization is an easy way for investors both to determine the size of a blockchain project's current value and to try to assess investment risk.
Below are two rankings regarding the dominance discourse of cryptocurrencies; stablecoins are excluded in these two rankings.
On November 27, 2022, the situation was as follows:
1-BTC: 37.88%
2-ETH: 17.67%.
3-BNB: 5.96%
4-XRP: 2.39%
5-DOGE: 1.41%
6-ADA: 1.29%
7-MATIC: 0.89%
Today, January 12, 2023, dominance has changed as follows:
1-BTC: 39.60%
2-ETH: 18.77%
3-BNB: 5.07%
4-XRP: 2.11%
5-ADA: 1.16%
6-DOGE: 1.16%
7-MATIC: 0.85%
BITCOIN
Let's check the graph of Bitcoin set to ALL.
The chart taken from https://coinmarketcap.com/ shows us declining dominance since 2014.
Right now it looks like a bearish triangle has formed and dominance is almost resting on the base of the triangle, near the support line. It has been since mid-2021 that Bitcoin's dominance has not changed much and on average has always remained close to 40 percent or slightly above.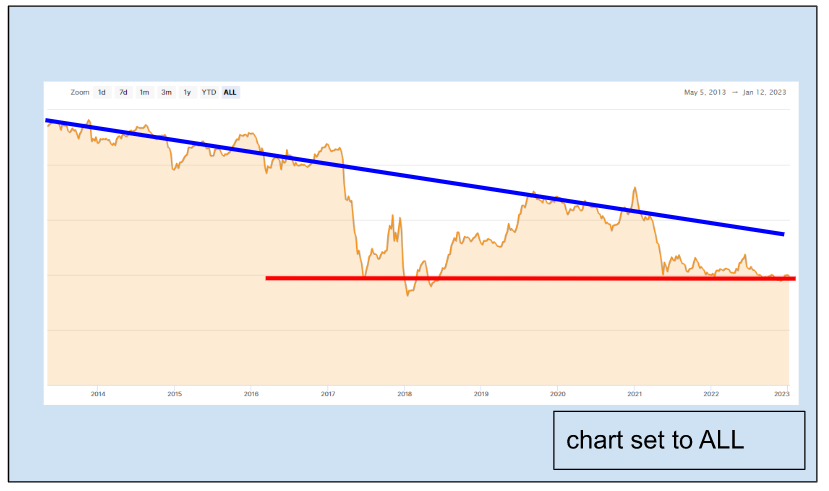 ETHEREUM
Ethereum's dominance has tended to always be on the rise since 2015, since it began to have a dollar countervalue. In mid-2017 the two dominances, Bitcoin's and Ethereum's were very close, then they resumed their trend which they are still following today.
In the last few months Ethereum is still approaching Bitcoin's dominance, there is a percentage difference of 21% to be bridged, but the path seems really marked. That is, it looks like Ethereum may further approach Bitcoin's dominance.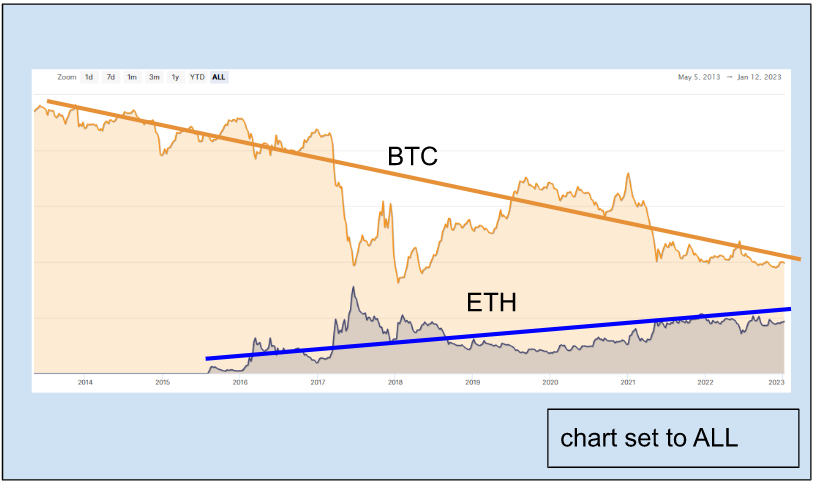 BNB
As for BNB, we can say that it is continuing its growth and has had pauses, but it never has any worrying slumps. Its chart set on ALL shows dominance with an upward trend.
XRP
In 2017 XRP had almost come close to 20% dominance, then failed to achieve that again. It has been trending downward most of the time since that date. In 2019 XRP was back to having a dominance of 10%, but from that point it began a descent that brought it to the value it has today, which is 2.11%
ADA
By 2021 Cardano had reached a dominance of 4%, but it has been declining ever since. Today it has a dominance of 1.16%. It made a 2022 all downhill starting from a dominance of 2% until precisely reaching the value mentioned before.
Conclusions
In the cryptocurrency market Bitcoin has the most dominance of all. Right now Bitcoin's dominance is slightly under 40%. It is followed by Ethereum with 18% dominance and then in third place is BNB with 5% dominance. Compared to November 2022, the dominance percentages have changed slightly, but the three cryptocurrencies with the most dominance still remain, Bitcoin, Ethereum, and BNB.
Question
Does Cardano's dominance think it will be able to get back to 4%, the dominance it had around September 2021?
Previous post
https://leofinance.io/@stefano.massari/27-11-2022-cryptocurrency-dominance-en-it
https://leofinance.io/@stefano.massari/01-11-2022-cryptocurrency-dominance-en-it
https://leofinance.io/@stefano.massari/05-08-2021-cryptocurrency-dominance-en-it
https://leofinance.io/@stefano.massari/15-12-2021-analysis-of-bitcoin-s-dominance-en-it
https://hive.blog/hive-167922/@stefano.massari/11-november-2021-analysis-of-bitcoin-s-dominance-en-it
https://leofinance.io/@stefano.massari/en-26-june-2021-analysis-of-bitcoin-s-dominance
https://leofinance.io/@stefano.massari/stem73-news-bitcoin-dominance-analysis-en-it-cyq8k

ITALIAN
Analisi
La dominanza delle criptovalute è un dato che rappresenta quali sono le criptomonete con più capitalizzazione, quindi quelle che attualmente dominano il mercato delle criptovalute.
La capitalizzazione di mercato di una criptovaluta è il valore totale delle sue monete in circolazione sul mercato. Questo dato solitamente si indica come "market cap". La capitalizzazione di mercato è un modo semplice per gli investitori, sia per determinare le dimensioni dell'attuale valore di un progetto blockchain, sia per cercare di valutare il rischio dell'investimento.
Qui sotto ci sono due classifiche che riguardano il discorso dominanza delle criptomonete, in queste due classifiche sono escluse le stablecoin.
Il 27 novembre 2022 la situazione era la seguente:
1-BTC: 37,88%
2-ETH: 17,67%
3-BNB: 5,96%
4-XRP: 2,39%
5-DOGE: 1,41%
6-ADA: 1,29%
7-MATIC: 0,89%
Oggi 12 gennaio 2023 la dominanza è cambiata come segue:
1-BTC: 39,60%
2-ETH: 18,77%
3-BNB: 5,07%
4-XRP: 2,11%
5-ADA: 1,16%
6-DOGE: 1,16%
7-MATIC: 0,85%
BITCOIN
Andiamo a controllare il grafico di Bitcoin impostato su ALL.
Il grafico tratto da https://coinmarketcap.com/ ci mostra una dominanza in calo dal 2014.
In questo momento sembra che si sia formato un triangolo ribassista e la dominanza è quasi appoggiata sulla base del triangolo, vicino alla linea di supporto. E' da metà del 2021 che la dominanza di Bitcoin non subisce grosse variazioni ed in media è rimasta sempre vicino al 40% o poco sopra.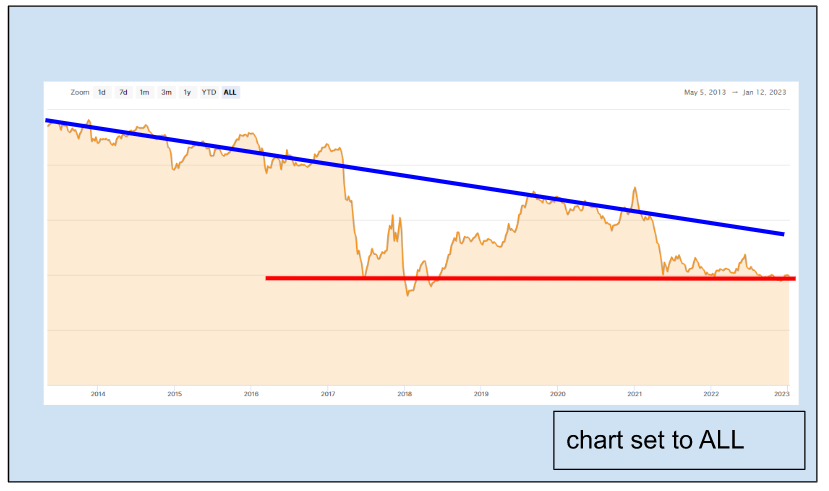 ETHEREUM
La dominanza di Ethereum è tendenzialmente sempre stata in crescita sin dal 2015, da quando ha iniziato ad avere un controvalore in dollari. A metà del 2017 le due dominanze, quella di Bitcoin e quella di Ethereum erano molto vicine, poi hanno ripreso il loro trend che stanno seguendo tuttora.
In questi ultimi mesi Ethereum si sta avvicinando ancora alla dominanza di Bitcoin, c'è una differenza percentuale del 21% da colmare, ma la strada sembra proprio segnata. Cioè sembra che Ethereum possa ulteriormente avvicinarsi alla dominanza di Bitcoin.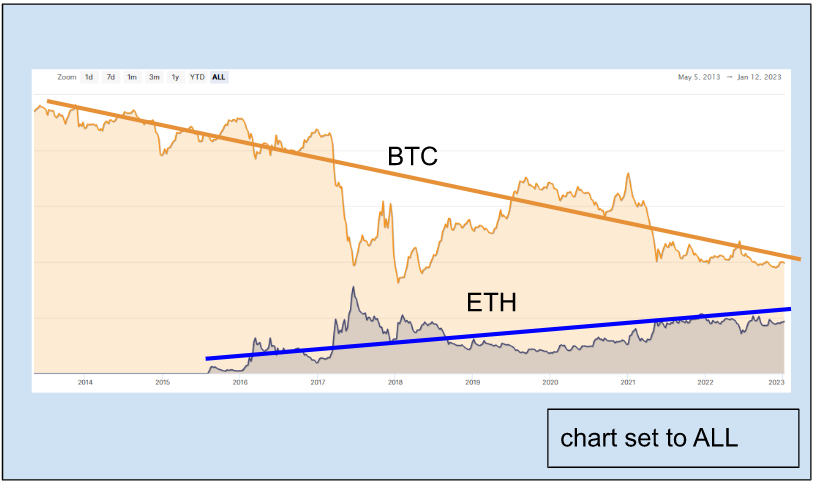 BNB
Per quanto riguarda BNB, possiamo dire che sta continuando la sua crescita e che ha avuto delle pause, ma non ha mai dei crolli preoccupanti. Il suo grafico impostato su ALL mostra una dominanza con un trend al rialzo
XRP
Nel 2017 XRP aveva quasi sfiorato una dominance del 20%, poi non è più riuscita ad ottenere quel risultato. Tendenzialmente da quella data è quasi sempre stata in calo. Nel 2019 XRP era tornata ad avere una dominance del 10%, ma da quel punto è iniziata una discesa che l'ha portata al valore di oggi, cioè di 2,11%
ADA
Nel 2021 Cardano aveva raggiunto una dominance del 4%, ma da allora è in calo. Oggi ha una dominanza di 1,16%. Ha fatto un 2022 tutto in calo partendo da una dominanza del 2% fino appunto a raggiungere il valore citato prima.
Conclusioni
Nel mercato delle criptovalute Bitcoin è quello che ha più dominance di tutti. In questo momento la dominanza di Bitcoin è leggermente sotto al 40%. Segue poi Ethereum con una dominanza del 18% e poi al terzo posto troviamo BNB con una dominanza del 5%. Rispetto al novembre 2022 sono cambiate leggermente le percentuali di dominanza, ma le tre criptomonete con più dominanza rimangono sempre, Bitcoin, Ethereum e BNB.
Domanda
Secondo la dominanza di Cardano riuscirà a tornare sul 4%, quella che aveva verso settembre del 2021?
Post precedenti
https://leofinance.io/@stefano.massari/27-11-2022-cryptocurrency-dominance-en-it
https://leofinance.io/@stefano.massari/01-11-2022-cryptocurrency-dominance-en-it
https://leofinance.io/@stefano.massari/05-08-2021-cryptocurrency-dominance-en-it
https://leofinance.io/@stefano.massari/15-12-2021-analysis-of-bitcoin-s-dominance-en-it
https://hive.blog/hive-167922/@stefano.massari/11-november-2021-analysis-of-bitcoin-s-dominance-en-it
https://leofinance.io/@stefano.massari/en-26-june-2021-analysis-of-bitcoin-s-dominance
https://leofinance.io/@stefano.massari/stem73-news-bitcoin-dominance-analysis-en-it-cyq8k
THE END
Posted Using LeoFinance Beta
---
---