All Quiet on the Western Front - A Grim Nudge of Reality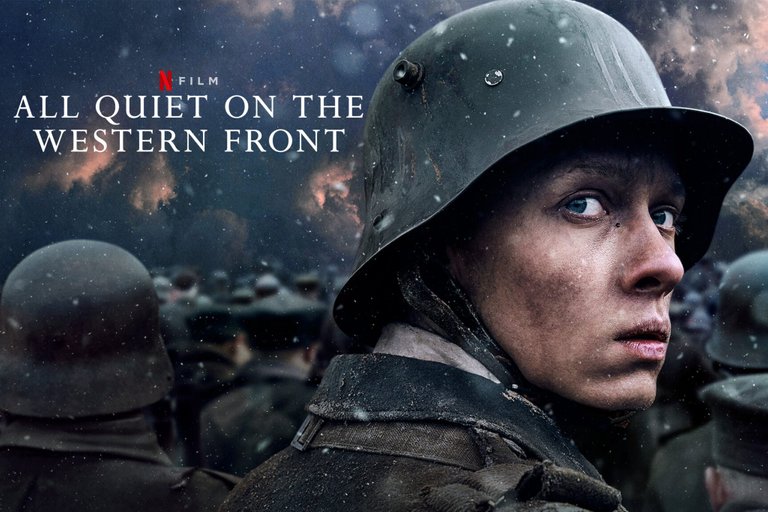 Image Source

This is one of those movies that really hit home. I know it's kind of surprising that I am writing many movie reviews lately, but it is because I have some time on my hands, and I thought I should get caught up on my downloaded Netflix playlist. For example, I just saw Gray Man after so long, and boy it was fire. I can't say the same for The Curse of Bridge Hollow though. Normally I wouldn't share too much about all the movies I see, as it takes away the specialty and mystery in them. But this!!! This is a classy movie; horrific, but classy.
ABOUT
The movie is about a 17-year-old german lad, excited to go out to the western front with his friends during world war 1, to defend his country. On getting to the trenches, reality dawned on him, and it turned out to be everything opposite of what he was expecting. The situation only seemed to get worse at every single step of the way, until the climax.
THE BAD
This is one of those movies I have seen, where I start to wonder if there is any negative side to it. Apart from the grim horror, and graphic scenes, I don't think anything is wrong with this movie. Even those are expected. It's a freaking war movie, but I am just going to take it as bad because there is no other thing to put here.
THE GOOD
The reason why this is a good movie is endless. Turns out all that nationalism, and patriotism crap is all BS. It's just a way for the elite in society to manipulate people to lose their lives for trivial reasons, sometimes. Sometimes it can be in defense of your country from invaders. That in my opinion is a noble thing to do, but not when it becomes a political struggle. For territory, or induced by some power-drunk psychopath with utter disregard for human life. (I reckon someone comes to mind now). Do you know what really makes this movie a good watch? Unlike regular war movies, this one depicts war for exactly what it is; horrific. It did not paint any hero or glorify the idea of war or whatever. It was a deep dive into the horrors and dread of war. A classic anti-war movie. Nothing about the idea of war in this movie was enticing. The movie did not even have a happy ending.
STREAM OR SKIP
You should stream this one, but I will warn you, it can be really difficult to watch. Apart from the combat and killings, it is a really sad and tragic story. Would really put you in the zone. But I don't think that would deter you would it? A great movie around. Acting, plot, cinematography, everything.
Thank you for reading my post, I don't think I gave too many spoilers. I actually tried to not let out too much. Just enough to get you interested. Have a go at it. Enjoy. Cheers.
---
---