USE YOUR WEAKNESS AS A WEAPON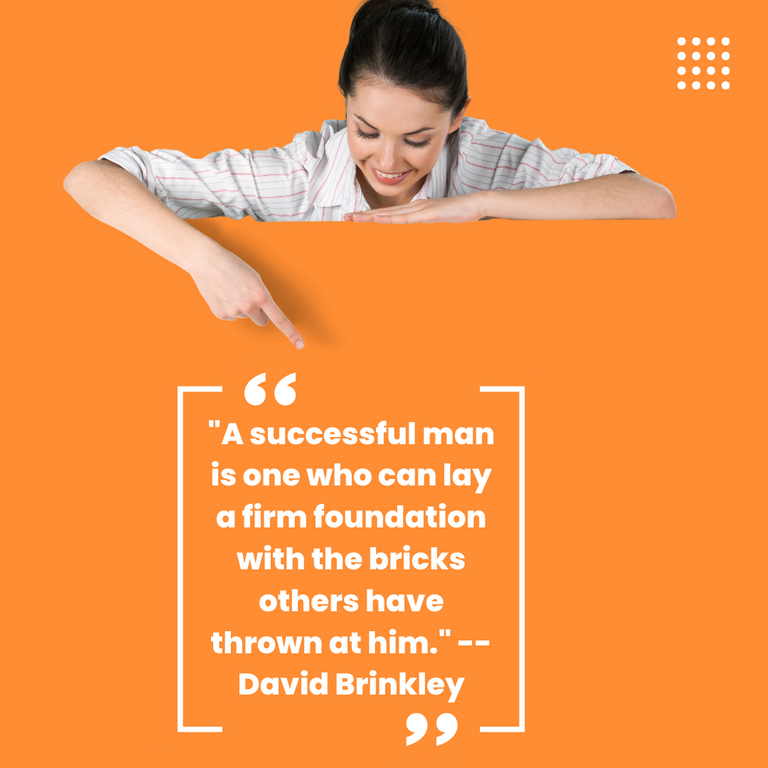 made with canva

Today I was actually wondering what I'd share. With my inability to go out and shoot at the moment, I try every day to 'be creative' and conjure up something. The rain was relentless today. I could hardly go out. I then remembered I signed up for this awesome newsletter by
@shadowspub
, sharing daily prompts to help you write something. I decided to go with the quote of today. oh, you can sign up
here
.
"A successful man is one who can lay a firm foundation with the bricks others have thrown at him." -- David Brinkley
I feel like people would interpret this differently, and it's what makes this quote interesting. We all go through hardships, it's really what life is about, pain and suffering; well not just that, but these are part of life. There is a season for everything, the holy book says. Our ability to actually take these pains and hardships and fashion them into propellers to help us achieve our aim is what distinguishes us from other people. Life is a b*tch, but you can't go on whinging about that all the days of your life. You gotta take control, be in control. Tough times don't last, tough people, do. You must have heard that one before, and it does sound cliche but it's true. Provided you find meaning in your suffering.
At the moment I am reading Victor Frankl's Mans search for meaning. I would say less about the book. Basically, it's the idea of Logotherapy, finding meaning in your sufferings. Living a purposeful life. Tyrion Lannister, a character from the famous Game of thrones series embodies this quote perfectly. He grew to the top with all the shit and suffering he took. One of his famous quotes goes;
Never forget what you are. The rest of the world won't. Wear it like armor and it can never be used to hurt you.
You take all that mockery, insults, criticism, etc. and you learn from it, improve of it and become better. You can choose to give up or you can choose to strive on, one thing is for you, YOU MAKE THE CHOICES.
Well, I hope I have made sense to you today, come back another day to learn another thing. Cheers
---
---