Stick Up Boys Arts and Music Curation Highlights - April 29, 2022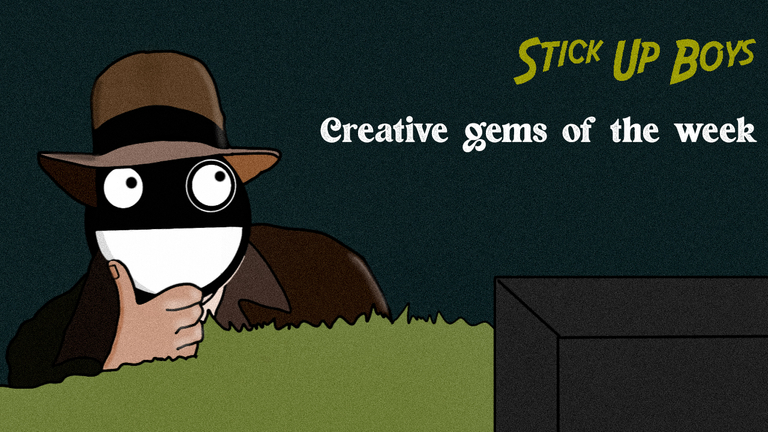 Introduction
The Stick Up Boys Curation Team believes that art and music are a world within themselves, and has a language that everyone can understand. For the last couple of months, the Stick Up Boys Curation team has been hard at work picking 5-10 music and art posts every single day. For each post we curate we:
| upvote | reblog | leave a friendly comment |
| --- | --- | --- |
| send a slice of pizza | drop fun GiFs | and promote |
Art and Music lovers alike! Join us in spotting HIVE bloggers showcasing music and art.
But we aren't stopping there - we've taken a good look at some of the posts we've curated and wanted to highlight our 5 favorite music and art posts from this week!
---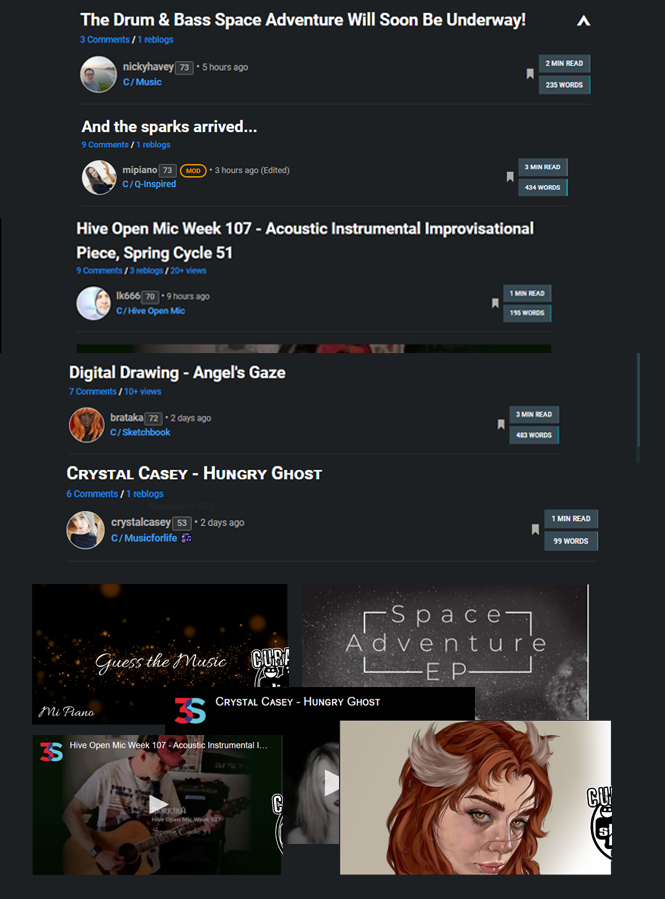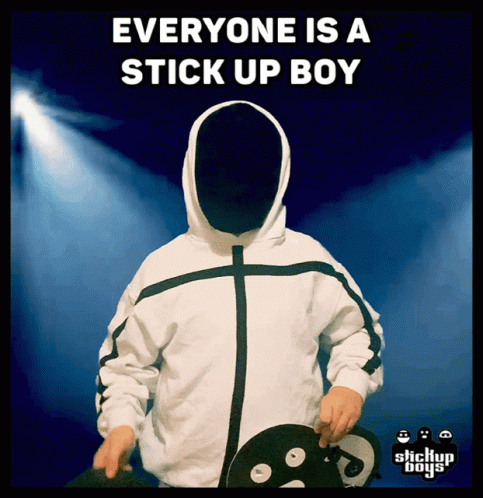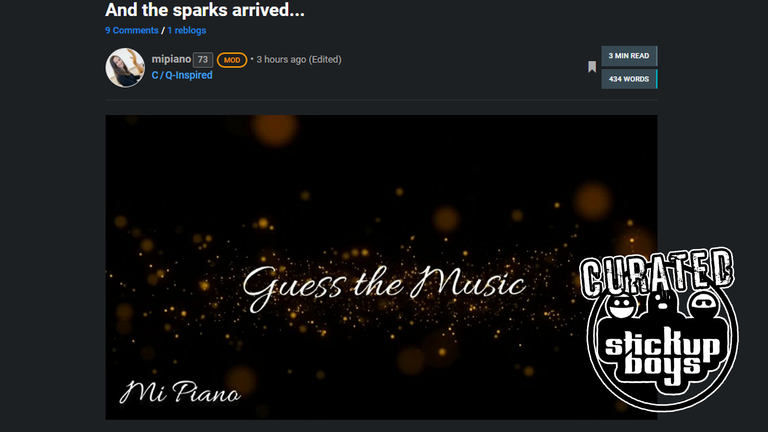 @mipiano is having a guessing music game on the post. Put your guesses on what music is presented on the piano cover!
Ironically, the mind in question was working more than it would like to, I pushed it to limits and it just responded to me with emptiness. In a huge space, lost among all the things one can not handle anymore. It gave me back just a black background.read more
Blog post link: https://peakd.com/hive-192806/@mipiano/fjykyghj
---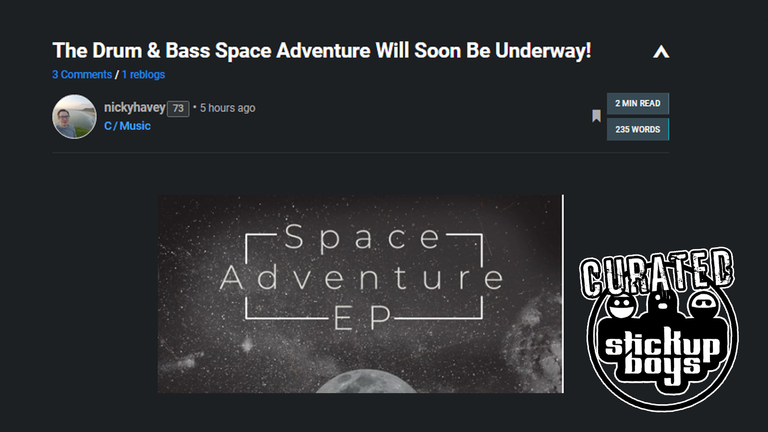 Enjoy an adventure to space with Drum and Bass! Join @nickyhavey as he brings you to musical space adventure of your life.
It's been a long time coming but tomorrow will see the start of music releases every couple of weeks from me as the Space Adventure is getting underway tomorrow! read more
Blog post link: https://peakd.com/hive-193816/@nickyhavey/the-drum-and-bass-space-adventure-will-soon-be-underway
---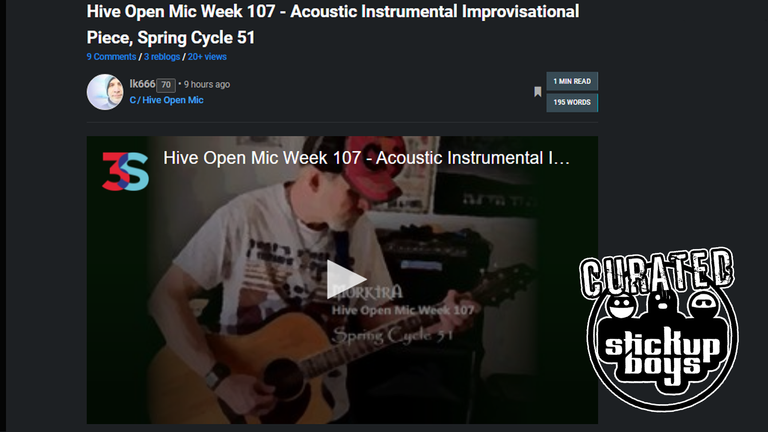 Watch @lk666 perform his Spring Cycle 51 and feel the spring vibes while he plays you to some chill acoustic music.
I recorded and attempted to upload this performance a week ago, but due to high winds and smoke from the various wildfires going off around me, it effected my wifi signal, which is the only internet worth anything out here in the boonies. So, instead I'm posting the performance this week.read more
Blog Post link: https://peakd.com/hive-105786/@lk666/jhekqibe
---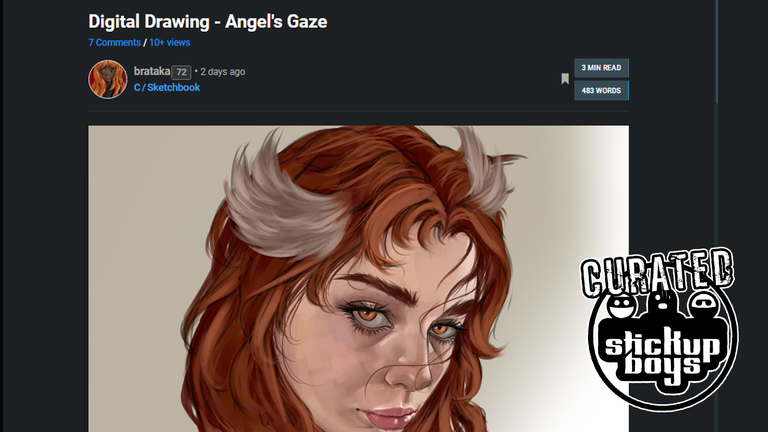 See how @brataka gives life to an angelic digital art using the sketchbook app. Brataka gives a detailed explanation of how the coloring is done in the art. A good reference for artists who want to learn more about coloring.
What's up people, how are you, welcome to a new post, hope you like it, today I was working on an angel theme, something light without wings on the back as it normally is, just some small wings coming out of the hair, hope you like the process. read more
---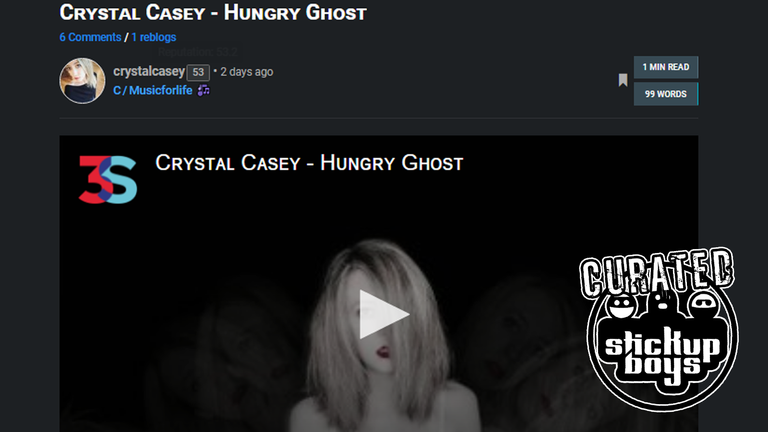 It's never too early for some spooky vibes Listen to @crystalcasey's track the hungry ghost. You might find yourself wanting to be looking for a ghost.
Iɴ ᴛʜᴇ ᴅᴀʀᴋ ᴡʜᴇɴ ɴᴏ ᴏɴᴇ ɪs ᴀʀᴏᴜɴᴅ, ᴛʜᴇ ʜᴜɴɢᴇʀ ᴏᴠᴇʀᴄᴏᴍᴇs. Sʜᴇ sᴄʀᴀᴘᴇs ᴛʜᴇ ᴍᴏʀsᴇʟs ᴏғ ʜɪs ᴇᴠᴇʀʏ ᴄᴀʟʟ, ᴛʜᴇ sɪʟᴇɴᴄᴇ ʙᴇᴛᴡᴇᴇɴ ᴇᴀᴄʜ ᴏɴᴇ ɢᴀɪɴɪɴɢ ᴇxᴘᴀɴsᴇ. Uɴᴛɪʟ ғɪɴᴀʟʟʏ ᴛᴏ ɴᴏ ᴀᴠᴀɪʟ. Eᴠᴇɴ ɢʜᴏsᴛs ᴇᴠᴇɴᴛᴜᴀʟʟʏ ᴍᴏᴠᴇ ᴏɴ.. read more
Blog Post Link: https://peakd.com/hive-175836/@crystalcasey/kakmwkha

---
And Finally
We love curating great music and art content! Follow @stickupcurator if you'd like to see the best of both that we find on Hive each day!
And if you're an art or music content creator we'd be honoured to count you among our friends as we really value the amazing community on Hive and the great quality stuff we get to read here!
---
SUPPORT THE CURATION TEAM THROUGH DELAGATION
You can always support music and the arts and follow this curation trail or support us even more by delegating!
Big up all the music and art on Hive
the Stick Up Boys
Check out more here: https://linktr.ee/StickUpBoys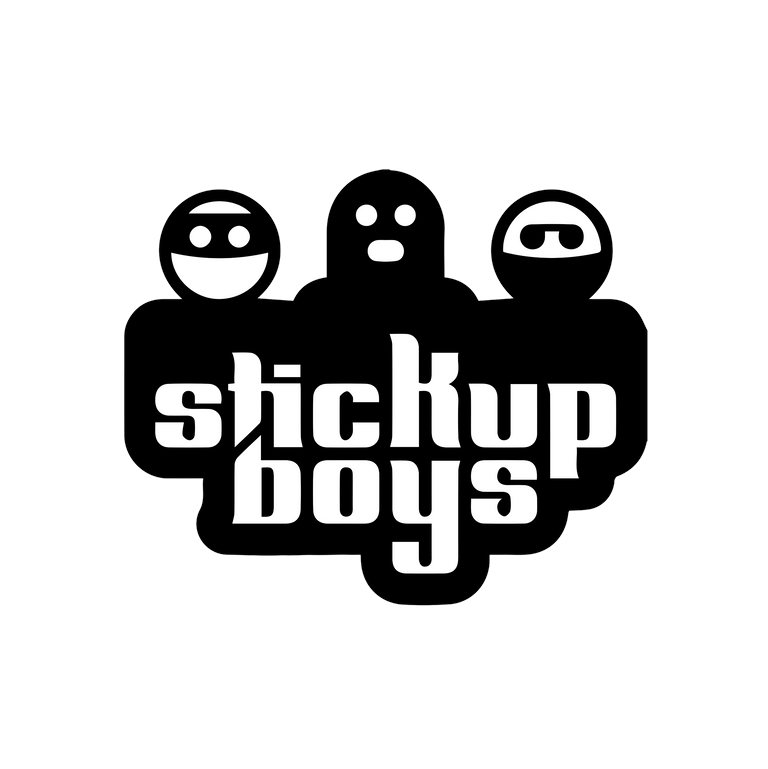 ---
---