A funny thing happened on the way home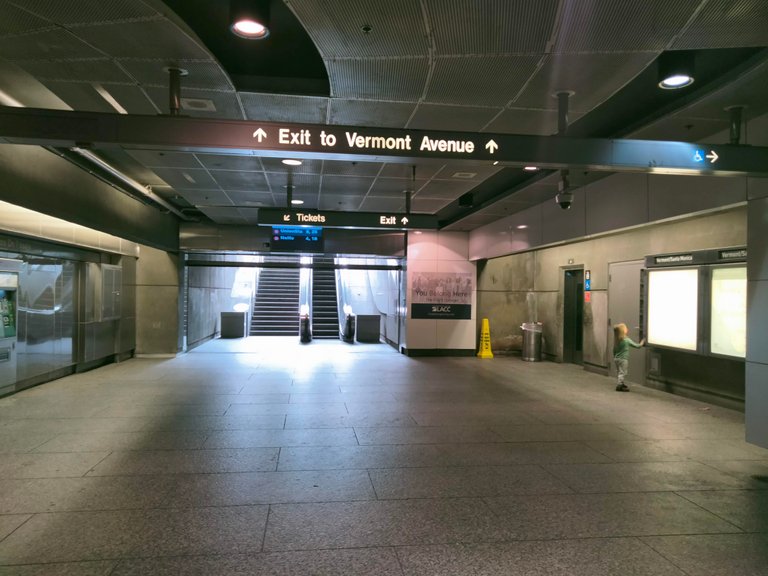 This is a funny thing that happened to me one day as I was leaving the Metro train station near our home. I've only ever recounted the story verbally to Brendan and a friend or two, but it's a memory I'd like to live on and hopefully bring someone a chuckle.
I had my bike with me leaving the train station and I took the escalator up from the platform level to the mezzanine level. I had the vague sense that someone was walking a not too great distance behind me. On the mezzanine level, I was headed for the elevator off to the right when I noticed that there was someone inside the elevator and they appeared to be pulling their pants back up, so I veered left last second to continue on to the next up escalator. There was indeed someone walking behind me and they were even closer now that I had taken a slightly wider path.
A few moments later, that person started walking up the escalator. When they got to the point of passing me, they said, "Excuse me." I glanced over my shoulder and saw a young man with long dark curly hair, holding a skateboard.
"Sorry," I said, as I moved my bike further over to the right and pressed my body closer to it so he would have room to pass.
"That's all right," he responded with kind of a lazy southern California skater drawl. "You have a nice..."
I automatically filled out his sentence in my head with the word "day" and was already mentally preparing to respond, "you too!" when, instead, he said:
"...behind."
I burst out laughing, it caught me so by surprise, then said, "Thanks."
And up he walked and then hopped on his board, and then off the escalator I walked and hopped on my bike to ride the last couple blocks home.
---
If he'd said the word "ass" or even "butt," it probably would have come across very differently, but there was something so innocent about his tone and the word "behind" that it just felt funny. So I hope you find it funny, too.
---
---