Malay food at the beach. English/Espanol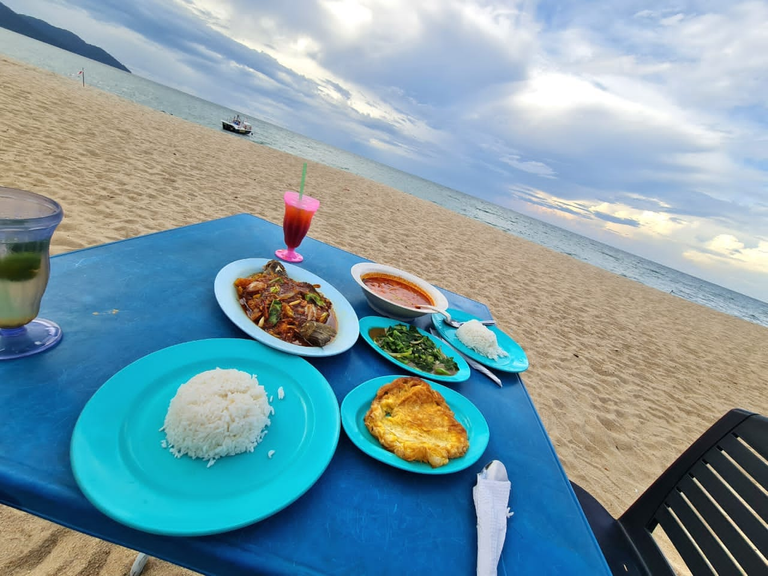 Malaysian cuisine is a rich and diverse blend of cultural influences, showcasing the country's history as a melting pot of different ethnic groups. From the spicy and savory dishes of the Malay Peninsula to the sweet and aromatic flavors of Chinese and Indian cuisine, Malaysian food is a true feast for the senses.
Here we have Thai styled fried fish, egg fu yoong, kangkung veg and tom yam soup with a side of rice.
Thai style fried fish is a popular dish in Thai cuisine that is enjoyed for its crispy exterior, juicy and flaky flesh, and the delicious blend of spices and herbs that make up the coating. This dish is typically made with whole fish, which is cleaned and scaled before being seasoned and coated in a mixture of flour, cornstarch, and spices.
Tom Yam Soup is a popular dish in Thai cuisine known for its sour, spicy, and savory flavors. This soup is made by combining ingredients such as lemongrass, kaffir lime leaves, chili peppers, shallots, and galangal, to create a broth that is both sour and spicy.
The base of the soup is typically made from a mixture of chicken or shrimp stock, which is then seasoned with fish sauce, palm sugar, and lime juice to create the signature sour and spicy flavor. To this broth, ingredients such as mushrooms, tomatoes, and fresh herbs, such as cilantro, are added to give the soup depth and complexity.
One of the key ingredients in Tom Yam Soup is the chili peppers, which add a spicy heat that balances the sourness of the lime juice. This makes the soup a perfect match for those who enjoy bold, flavorful dishes with a touch of heat.
Tom Yam Soup is a popular starter or main dish in Thai restaurants, but it is also easy to make at home with a few simple ingredients. The soup is typically served with rice, making it a complete and filling meal.
Egg Fu Yung is a classic Chinese dish that is made with eggs, vegetables, and meat, often served as a main dish or as a side dish. The dish gets its name from the Cantonese phrase "fu yung" which means "winged bean."
The dish is typically made by beating eggs together with a mixture of diced vegetables, such as onions, carrots, and green beans, and then cooking them in a wok or frying pan. Once the eggs are set, they are folded over and served as a savory omelette.
One of the most popular variations of Egg Fu Yung is made with shrimp or other seafood, giving the dish a delicious, slightly sweet flavor that pairs well with the eggs and vegetables. Other variations may include diced chicken, beef, or ham, making this dish a versatile and satisfying meal for any time of day.
Egg Fu Yung is often served with rice or noodles and a side of stir-fried vegetables, making it a complete and filling meal. It is a popular dish in Chinese restaurants, but it is also easy to make at home with a few simple ingredients.
One of the key ingredients that sets Thai style fried fish apart from other fried fish dishes is the addition of Thai herbs and spices such as lemongrass, coriander, and chili powder. These ingredients not only add flavor to the dish, but also contribute to the aroma that is so characteristic of Thai cuisine.
The fish is then deep-fried until it is golden brown and crispy, creating a perfectly balanced texture that is both crunchy and juicy. This dish is often served with a side of steamed rice, a tangy dipping sauce, and a variety of vegetables such as cucumber and lettuce.
Another popular variation of Thai style fried fish is the "pla pao," which involves grilling the seasoned fish over an open flame until it is cooked through and slightly charred. This method creates a smoky flavor that perfectly complements the crispy exterior and juicy flesh of the fish.
.................................................................
Espanol
La cocina malaya es una mezcla rica y diversa de influencias culturales, muestra de la historia del país como crisol de diferentes grupos étnicos. Desde los platos picantes y sabrosos de la península malaya hasta los sabores dulces y aromáticos de la cocina china e india, la comida malaya es un verdadero festín para los sentidos.
Aquí tenemos pescado frito al estilo tailandés, huevo fu yoong, verduras kangkung y sopa tom yam con guarnición de arroz.
El pescado frito al estilo tailandés es un plato popular de la cocina tailandesa que se disfruta por su exterior crujiente, su carne jugosa y hojaldrada y la deliciosa mezcla de especias y hierbas que lo recubren. Este plato suele elaborarse con pescado entero, que se limpia y escama antes de sazonarse y rebozarse en una mezcla de harina, maicena y especias.
La sopa Tom Yam es un plato popular de la cocina tailandesa conocido por sus sabores ácidos, picantes y sabrosos. Se elabora combinando ingredientes como hierba limón, hojas de lima kaffir, guindillas, chalotas y galangal, para crear un caldo ácido y picante.
La base de la sopa suele ser una mezcla de caldo de pollo o gambas, que luego se sazona con salsa de pescado, azúcar de palma y zumo de lima para crear el característico sabor ácido y picante. A este caldo se añaden ingredientes como setas, tomates y hierbas frescas, como el cilantro, para darle profundidad y complejidad.
Uno de los ingredientes clave de la sopa Tom Yam son las guindillas, que añaden un picante que equilibra la acidez del zumo de lima. Esto la convierte en la sopa perfecta para quienes disfrutan con platos atrevidos y sabrosos con un toque picante.
La sopa Tom Yam es un entrante o plato principal popular en los restaurantes tailandeses, pero también es fácil de preparar en casa con unos pocos ingredientes sencillos. La sopa suele servirse con arroz, lo que la convierte en una comida completa y saciante.
El Egg Fu Yung es un plato clásico chino a base de huevos, verduras y carne, que suele servirse como plato principal o guarnición. Debe su nombre a la expresión cantonesa "fu yung", que significa "judía alada".
El plato se suele preparar batiendo huevos con una mezcla de verduras cortadas en dados, como cebollas, zanahorias y judías verdes, y cociéndolos después en un wok o una sartén. Una vez cuajados, los huevos se doblan y se sirven como una sabrosa tortilla.
Una de las variantes más populares del Egg Fu Yung se prepara con gambas u otros mariscos, lo que da al plato un delicioso sabor ligeramente dulce que combina bien con los huevos y las verduras. Otras variantes pueden incluir dados de pollo, ternera o jamón, lo que convierte a este plato en una comida versátil y satisfactoria para cualquier momento del día.
El Egg Fu Yung suele servirse con arroz o fideos y verduras salteadas, lo que lo convierte en un plato completo y saciante. Es un plato popular en los restaurantes chinos, pero también es fácil de preparar en casa con unos pocos ingredientes sencillos.
Uno de los ingredientes clave que distingue al pescado frito al estilo tailandés de otros platos de pescado frito es la adición de hierbas y especias tailandesas como la hierba limón, el cilantro y el chile en polvo. Estos ingredientes no sólo añaden sabor al plato, sino que también contribuyen al aroma tan característico de la cocina tailandesa.
El pescado se fríe hasta que queda dorado y crujiente, creando una textura perfectamente equilibrada, crujiente y jugosa a la vez. Este plato suele servirse con arroz al vapor, una salsa picante y verduras variadas, como pepino y lechuga.
Otra variante popular del pescado frito al estilo tailandés es el "pla pao", que consiste en asar el pescado sazonado al fuego hasta que esté bien hecho y ligeramente carbonizado. Este método crea un sabor ahumado que complementa a la perfección el crujiente exterior y la jugosa carne del pescado.
---
---