CineTV Contest: The Tragedy of Man - Heavy Philosophy With Impressive Animation

In this week's CineTV Contest the topic is our favorite animated feature film. Not even that easy, since there are many noteworthy animations out there, especially recently. However, there is one particular animated feature I'd like to pick as my favorite, simply because it had been growing on me for a really long time, way before it was first released... (how is that even possible? Keep reading and I'll explain!) Though I should warn you, it is by no means for everyone, and I believe especially children could get bored easily by it. The film I'm talking about is none other than The Tragedy of Man, animated by Marcell Jankovics.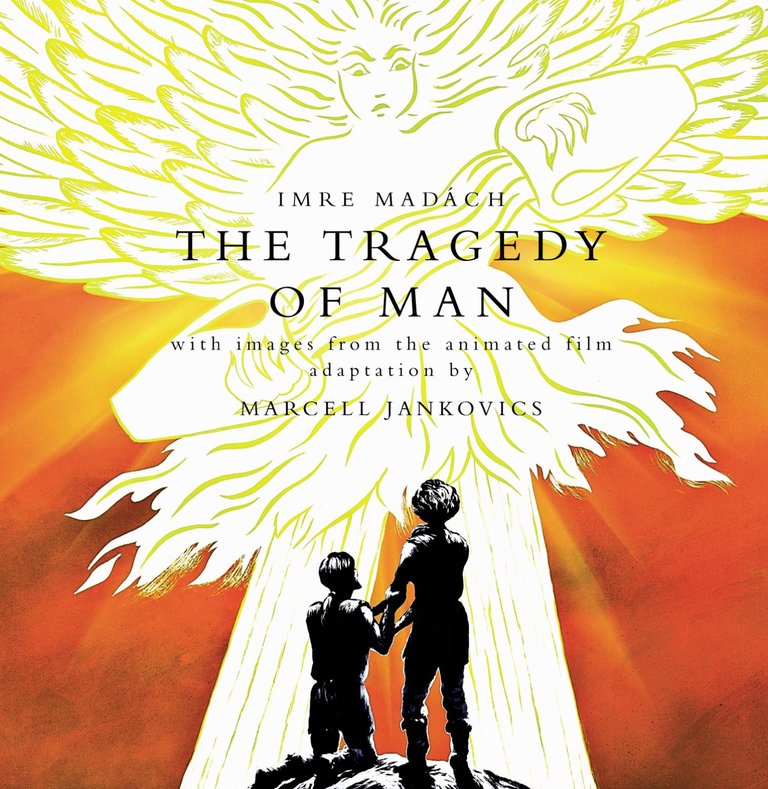 image source
An Animation Based on a Famous Stage Play
The basis of the movie is a play written by the Hungarian playwright Imre Madách in the 19th century. That itself is a hard to digest work, laden with deep philosophy, which however doesn't diminish its popularity. In fact, I have met Hungarians who like to read it every year(!) While I'm not nearly as enthusiastic about it, I have to admit that I've read it several times, first when I was fifteen, had numerous debates and conversations about it (something Hungarians love doing), and even watched a couple of stage adaptations... none of which did any justice to the way I visualized the story in my mind. Not so with this animated adaptation...!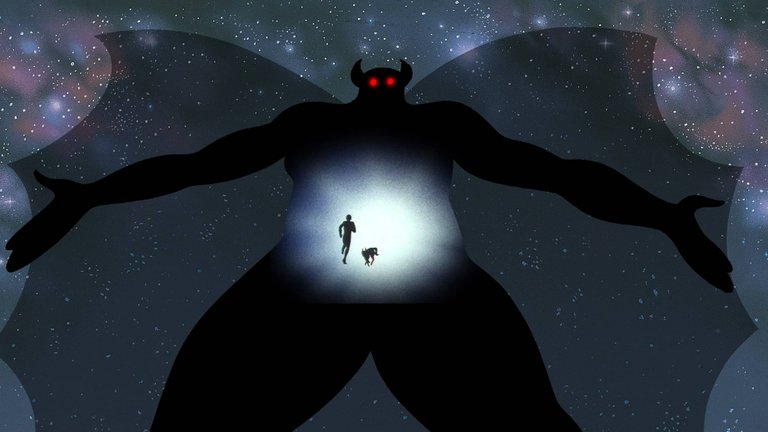 image source
Then Long-Awaited Animated Feature Film
Talking about The Tragedy of Man, one of the most common things that used to come up was the seemingly never-ending wait for the animated version. Allegedly Marcell Jankovics, one of Hungary's most highly acclaimed animators, had been "working on it" since the 1980's... giving further validation to the underlying notion of the play, that all human activity is essentially in vain. But then in 2011 the great work had finally been completed, and the country was in awe. I remember other animated films by Jankovics, such as the epic poem János Vitéz, a staple of everyone growing up in Hungary, or the folk tale Son of the White Mare. Both were very impactful, maybe even a bit frightening. So I entered with fairly high expectations, which in the end were not disappointed one bit!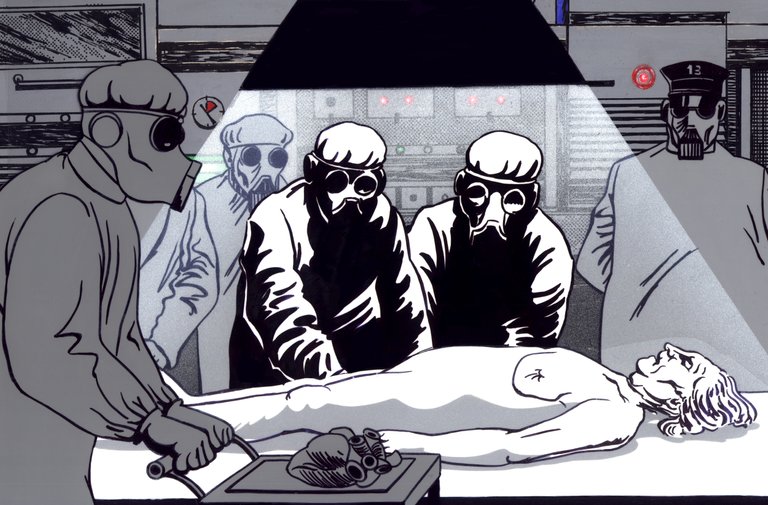 image source
Adam's Journey Through the Ages
To summarize the story, it is an interaction between Adam and Lucifer, as they travel through different historical epochs, each with its own challenges and opportunities. In the beginning it bears close resemblance to the familiar biblical story of the creation, the war in heaven, and the fall of Adam. However, Lucifer is portrayed as a reasonable character, far from being malicious, just someone who is not afraid of pointing out the obvious yet unpleasant truth. So when Adam and Eve are cast out from the garden of Eden, he offers Adam to show him all that he is capable of doing without relying on god... up to the point of his own inevitable limitations.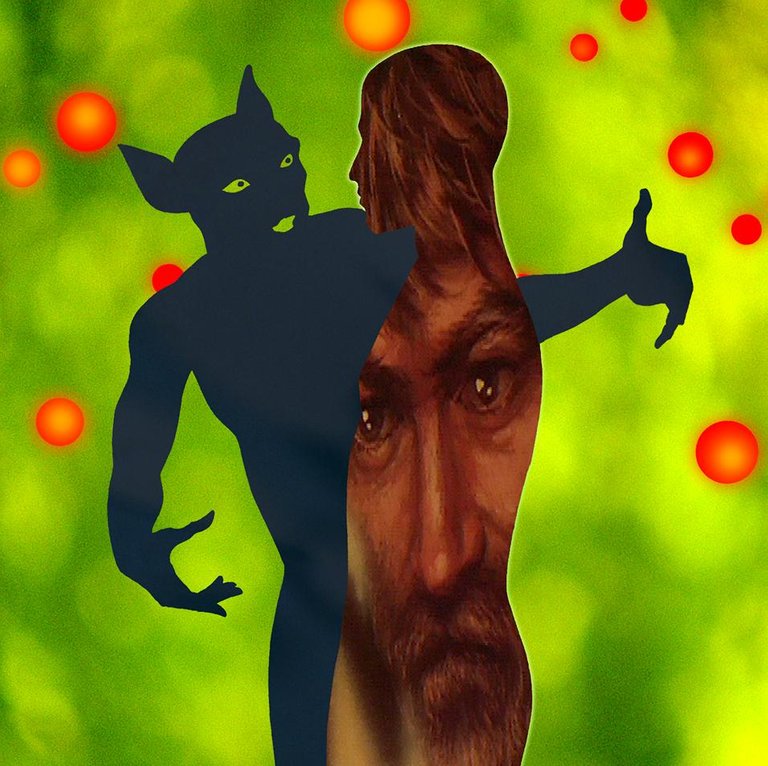 image source
What follows are various chapters, where Adam finds himself representing different personages in each age. In Egypt he is the pharaoh, in the middle ages a crusader, in 19th century London just a regular Joe, while in 17th century Prague he is the famous astronomer Kepler. In each time period Lucifer is also there, in form of another appropriate personage, helping Adam understand the basic premise: That even though each era offers its own hope and aspiration for something better, eventually it will end up in futility, simply because of human nature.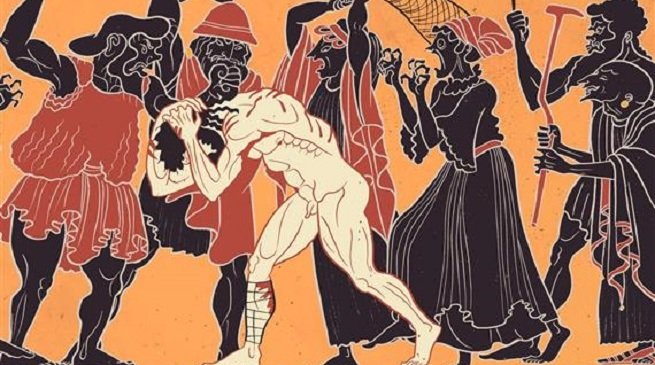 image source
As such, we get to experience how the French revolution eats its own children, or how Greek democracy takes on the form of a fanaticized lynch mob. Most interestingly, playwright Madách takes the story beyond "contemporary" London, representing the idea of capitalism, into a future of science and reason, where children are taken from their parents to be raised by the state. This eerie utopia of enforced rationalism is soon revealed to be more akin to technocratic socialism, which fans of the work often link either to late 20th century Soviet style communism, or more recently to a very sinister immediate future still in store for us... In either case it's brilliantly visionary for a play that was first published in 1861.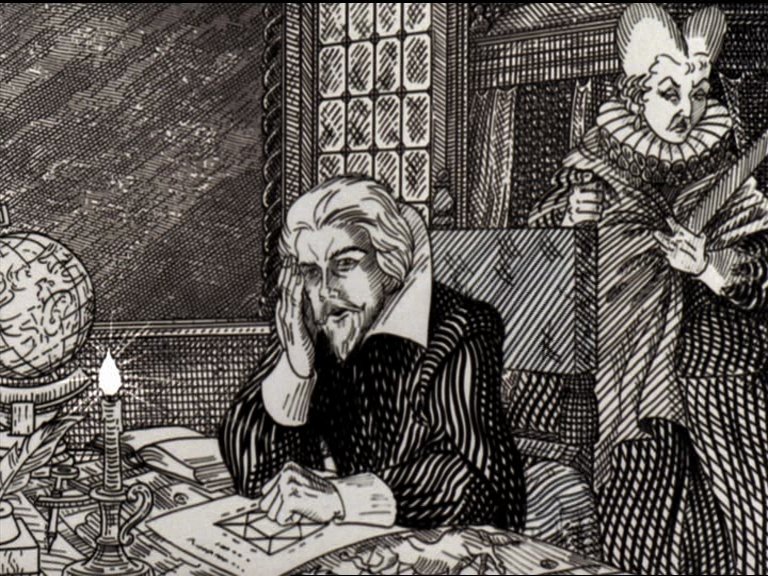 image source
Incredible Visual Interpretation
So what about the animation? Indeed, Jankovics seems to have outdone himself. Though the lengthy production time was more due to financing issues, you can see the amount of work and careful detail that went into the animated images. What I particularly enjoyed were the different approaches applied to each epoch, representing the distinct artistic style of each era. For the classical Greek part, for example, the images look like painted vases, though far from being still images, they move about like in a proper animation. Similarly, the Roman times are illustrated by moving floor mosaics, and the medieval images look like embroidered tapestry.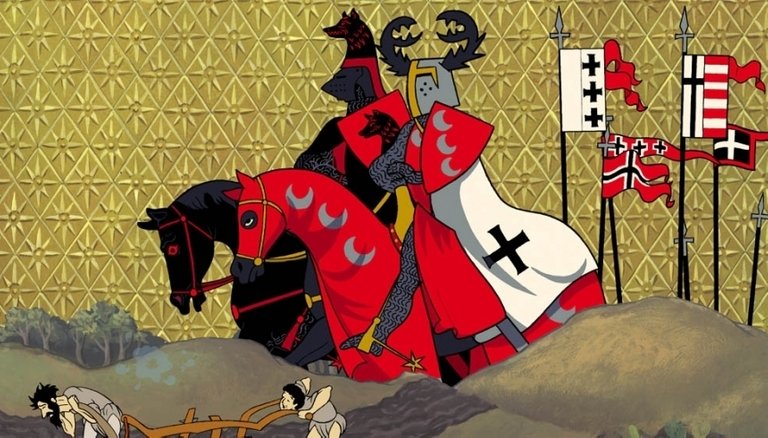 image source
The contemporary London scene is illustrated in a weird 19-20st century mix: Adam and Lucifer get on a gigantic ferris wheel (London Eye?) where they discuss the capitalist world they observe. Meanwhile a huge clown wearing Stars and Stripes keeps walking on top of the wheel, conjuring a wide array of imagery symbolizing events, people, and notions from the world of science, military, entertainment, economy, politics, and pop culture. All of these things fall as quickly as they arise, further emphasizing our fleeting experience in this modern day madness.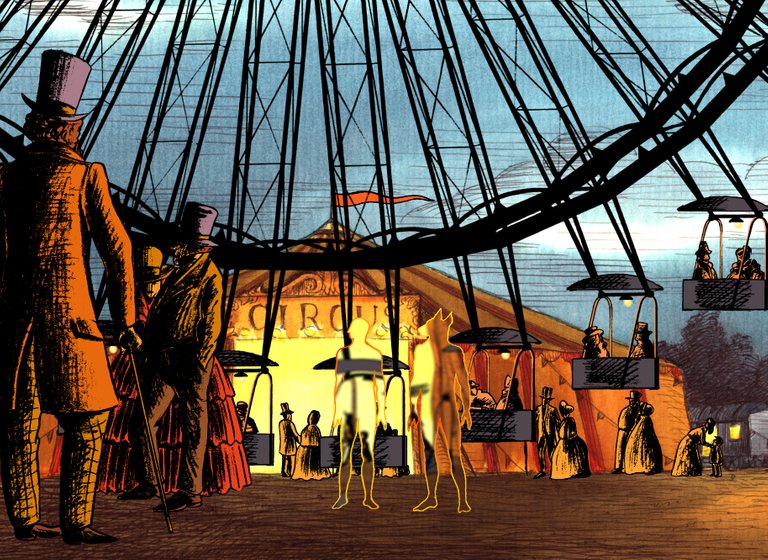 image source
Amazing Film, But Not For Everyone
As much as I enjoyed Tragedy of Man, especially in this latest animated adaptation, I should stress again that it is by no means for everyone. If you are not familiar with the work itself, get ready to be overwhelmed, or possibly bored. Otherwise take the time to give the play a read before you watch it. Even then, I would discourage you from watching the whole film from start to finish. What I found most interesting, is to focus on one segment, ideally with someone else who is also interested, and discuss it in detail. Having a printed copy at hand comes in super useful! But what I don't suggest you do, is to put on this movie for the whole family "to experience an impressive film together". That will most likely result in disappointment, and would be a waste of an otherwise potentially super interesting philosophical journey.
Check Out the Trailer:
---
---