First Time Voting on XPOLYCUB Governance
I can't believe I've done it: I placed my X-mark, I pulled a lever, I cast my ballot... and then I proudly displayed a sticker about it, to rub it into everyone's face: Yeah, I'm participating in our democracy here! with the underlying implication: How about you?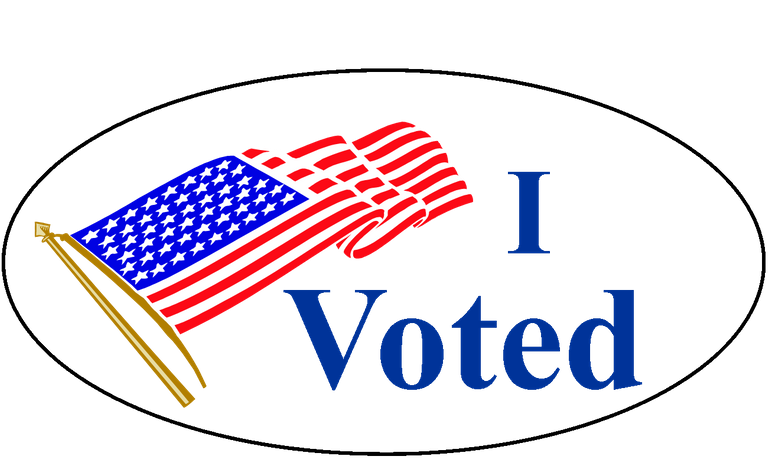 image source
For those who know me, or have followed my posts carefully, this should strike you as a surprise, as I am probably the least likely person to turn up at any election, even in places where I would be eligible to vote. The part about the sticker (I'm not even surprised that an image search of "I voted" brings up almost exclusively Stars & Stripes pics) is just additional irony. So the clarifying good news here is: I did not vote in a political election.
Voting on XPOLYCUB
Instead, I tried my hand at voting on which Liquidity Pools should be favored on Polycub, following the very detailed and well laid out post by @leofinance. In it they even encourage us not only to participate in this decentralized decision making process, but to write a post giving some feedback about our experience. Hence this post.
The Voting Procedure
To be honest, the mechanism of casting my vote was much easier than I had anticipated. It literally just involves sending a minuscule amount of MATIC to a specific governance address, using your Metamask wallet (or whichever wallet you use to access the Polygon Mainnet). The exact amount of the transaction determines which of the six options you choose. And that's it! Here are the corresponding pools you can vote for: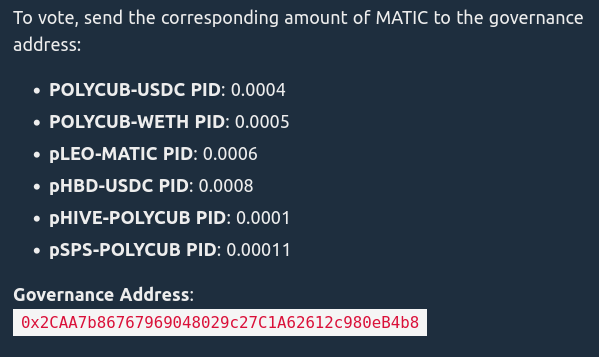 image source
Each holder of XPOLYCUB can cast two votes. To change your vote all you have to do is vote a third time, which erases your first one, keeping the last two ones valid. It could not be simpler! The only thing I could imagine that would improve this voting experience even further, is getting some sort of verification or reminder: What did I actually vote for? Not that such a simple thing had already slipped my mind, but once things start getting more complex, such a verification can be useful. So much about my experience.
Does My Vote Really Count?
The funny thing about this particular voting experience is, that even though I believe that my vote counts a lot more than any national (or even municipal) elections, I know that it won't affect me directly, since I am not using any of the liquidity pools on Polycub at the moment. I'm not saying that I have no intention in using them in the future, but at the moment all I've done since the launch of Polycub, was take my airdrop, convert it to XPOLYCUB, and ... well ... hodl it like a champ.
In a way I kinda feel like the typical uneducated voter, who decided who to vote for based on the candidate's cute dog, the party colors, or some fired up speech they happened to hear one day. But that's not true! I know a little bit about stable coins, such as USDC or our own HBD on the Hive blockchain. I also know pSPS - the Polygon wrap of the Splinterlands token SPS, of which I happen to own a little. So while I'm more or less on the sidelines, I am not completely unaffected. In fact, the parliamentary elections in Germany, where I could have rightfully voted, affect me in a much smaller way.
A Glimpse into the Future
The reason I became enthusiastic about participating in this governance vote, was for the simple reason of becoming familiar with it. As much as I have given up on the farce game we are being sold as "democracy", I am getting more and more excited about smart contracts and blockchain governance. Today we merely decide which Liquidity Pools to favor, but in the same way we could not only choose who our leaders are going to be (leaders? really???), but in fact come up with ideas on how certain day-to-day situations could be handled, hear what everyone thinks about it, decide in a way that includes everyone who is affected, and get it done quickly, simply, and transparently, without relying on middlemen such as representatives or media spin-doctors, or huge expensive campaigns rife with fraud and corruption.
So yeah, voting on the XPOLYCUB governance was simple and easy, and I have gotten more enthusiastic to participate in the next one. Let's hope the blockchain technology will let us make laws and organize our own government(s) in the physical reality, hopefully soon.
---
---