Surrealist Buildings in the Mexican Jungle - Las Pozas de Xilitla
Eccentricity is not only perfectly acceptable, but downright encouraged, if you happen to be a member of the British ruling class. This is particularly true if you meet any other points in the Elite Nutwing Bingo such as:
being the illegitimate son of the Prince of Wales himself (extra points if you're ALSO his grandson)
being passionate about surrealist poetry, painting, architecture, and other art forms
having gone to the best elite schools all over Britain and continental Europe
having inherited a large fortune before coming of age
having worked in diplomatic relations only long enough to be dismissed for a major international mess-up
being a patron to the weirdest type of art in the early 20th century
getting divorced by your performing-artist-star-commoner wife because of mutual cheating
being homosexual (extra points for being bisexual)
liquidating your assets in order to finance a huge surrealistic construction project in a remote part of Mexico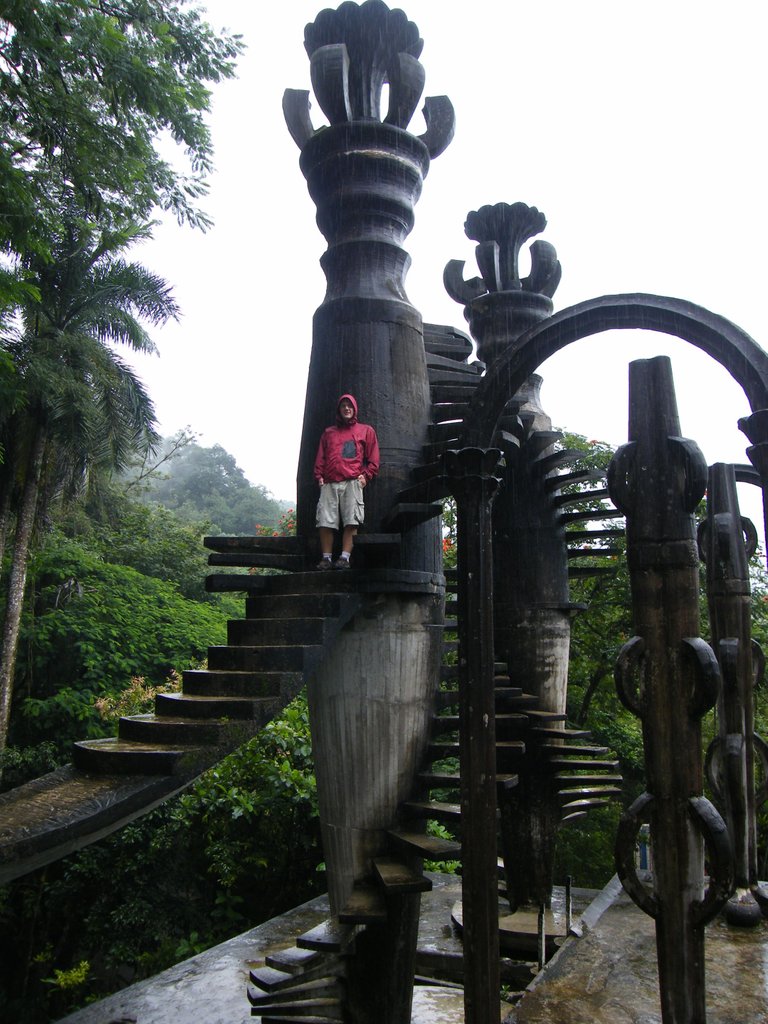 Well, all of these points (and possibly many others) apply to a certain Edward James. The most noteworthy, and for this post most relevant point is the last one, which prompted me to introduce Las Pozas near the town of Xilitla in the Mexican state of San Luis Potosí. It's been more than twelve years that I visited that site, but just the other day I recommended it to a friend of mine who's coming to visit to Mexico, and I'm sure he will enjoy the crazy architecture of that British weirdo. It was then that I realized: I haven't even posted about Las Pozas on Hive! So please enjoy my old photos, and let the strangeness of the structures speak for itself.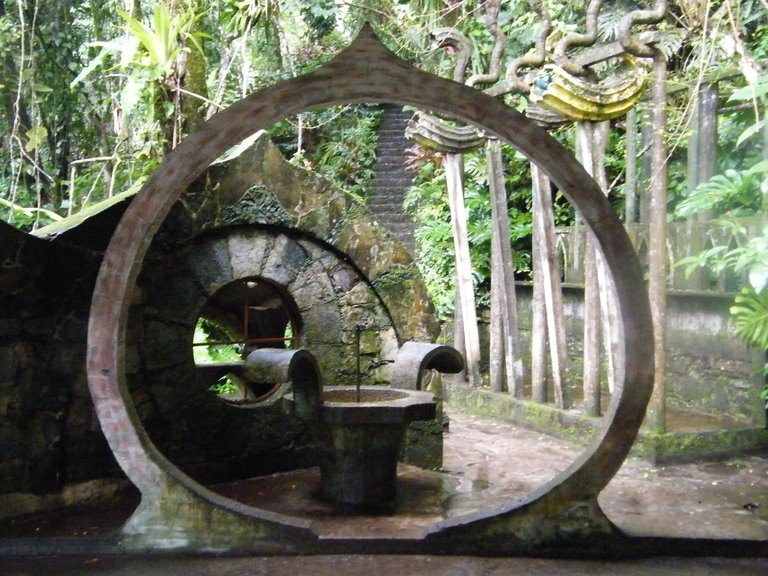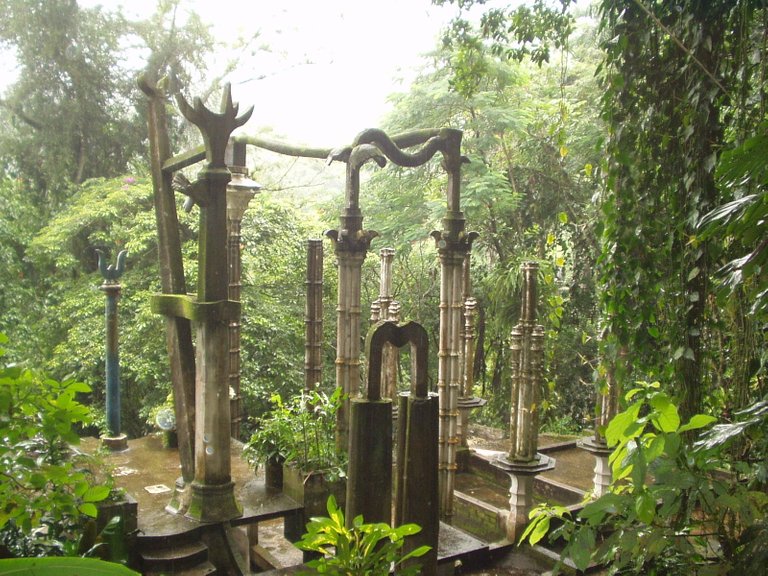 Surrealist Mexico
Having worked closely with many artists of the surrealist movement, such as Salvador Dali and René Magritte, Edward James can certainly be said to know his surrealism. This makes it even more interesting how he considered Mexico as a country to be surrealistic in itself, even more so than Southern California, where he happened to be living in the early 40s, while his countrymen were trying to keep their island from getting overrun by the Nazis. But James' main concern at the time had more to do with finding the ideally surrealist place to build the work he would be remembered for more than anything: his "house" in the tropical forest.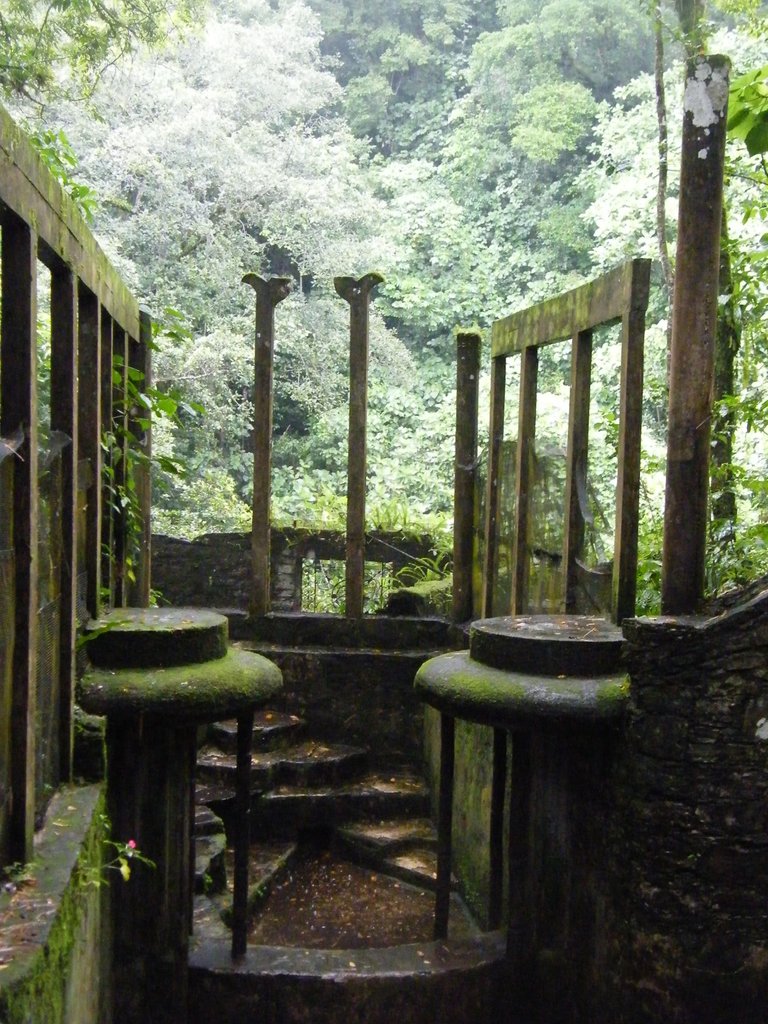 Las Pozas can be translated as "the puddles", and refers to the numerous bodies of water in the area, formed by rivers, ponds, and waterfalls, which truly come to life during the extensive rainy season between June and November. It is there, in midst of the lush forest that grows out of the moist environment, that he conceived his monument of eccentricity, which was built gradually between the 1940s and 80s. After his death in 1984 further construction was halted, and since then the place has remained in its uncompleted stage. Though honestly, it's hard to tell which parts are finished and which ones aren't... kinda like with Beethoven's ninth symphony.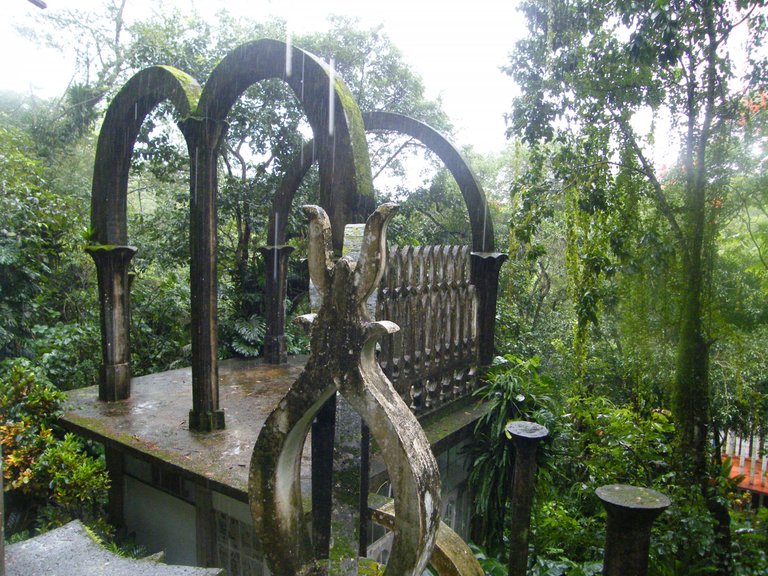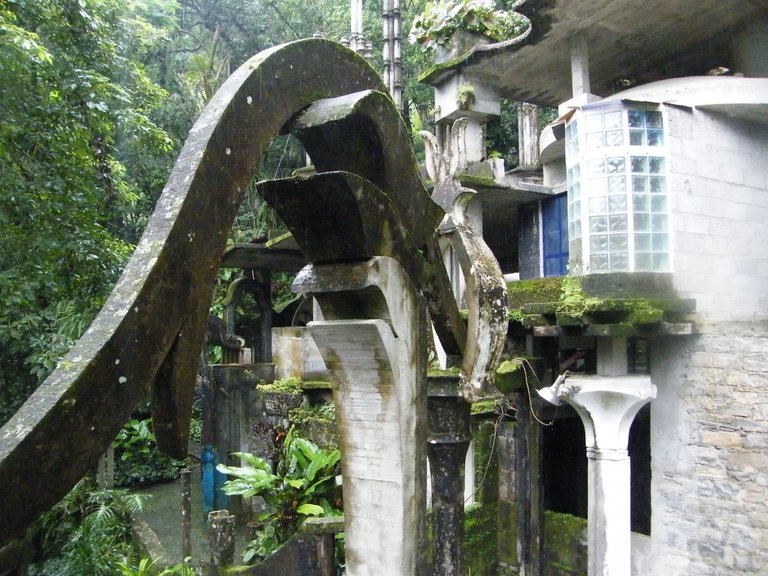 Inspired in part by nature, and extended by architectural features from various regions and epochs, the structures feature numerous stairways, columns, windows, towers, and floors. Though it should be added that many of the stairways don't lead anywhere, the columns do not support anything, the windows are mere frames without adjacent rooms behind them, and the floors are really hard to count. Apparently this was fully intended in its design, which can be seen on one of the names he gave his weird building: The House on Three Floors Which Will in Fact Have Five or Four or Six.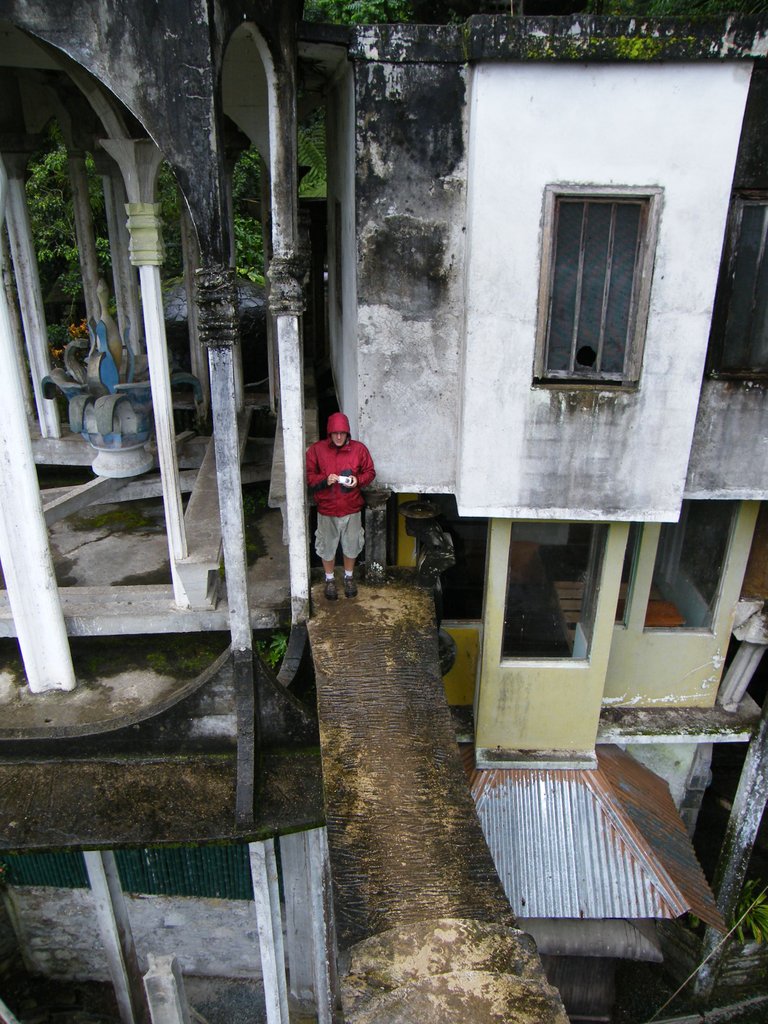 Two other monikers of the place include the very appropriately chosen The Staircase to Heaven (notably pre Led Zeppelin) and The House with a Roof like a Whale which I didn't really see, but as it is the case with interesting art, these things tend to be in the eyes of the beholders. And beholding the place is certainly worth it!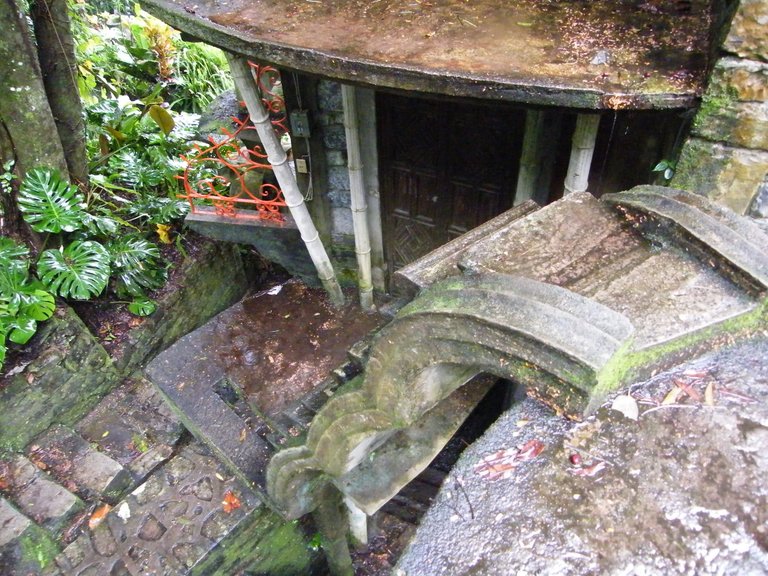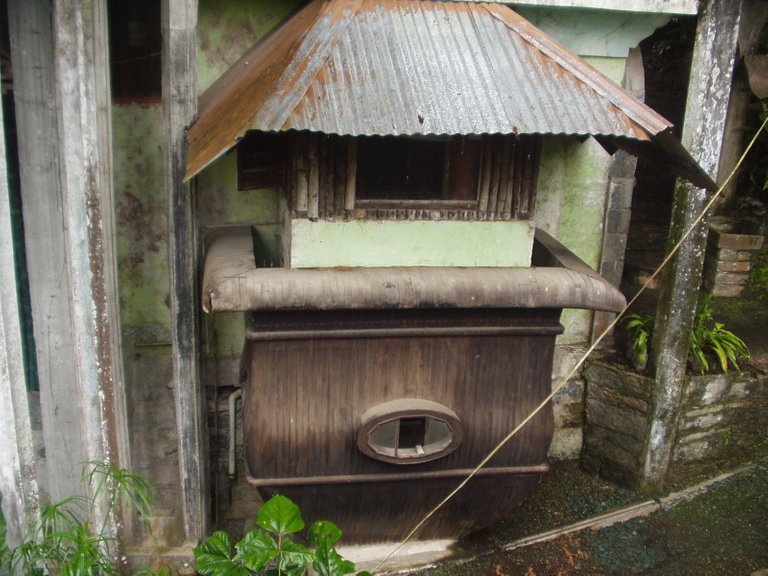 Not Without Its Own Risk
Looking at the photos you may get the feeling that visiting Las Pozas doesn't come without its own risk factors. After all, railings and other such features to protect the careless visitor from plunging several stories into the river, are hard to find there. Instead, much more emphasis was placed on creating nature-like arches and spires winding themselves to breathtaking heights. It is also not clear which features were meant to be walked upon, and which weren't. Added to all this, the constant film of wetness, and of course the natural flora growing in it, makes the already smooth and floors even more slippery. Fortunately, its Mexican location is more concerned with cashing in on tourists dollars than restricting their free movement in and on the building. I'm not even sure if I remember any "your own risk" signs.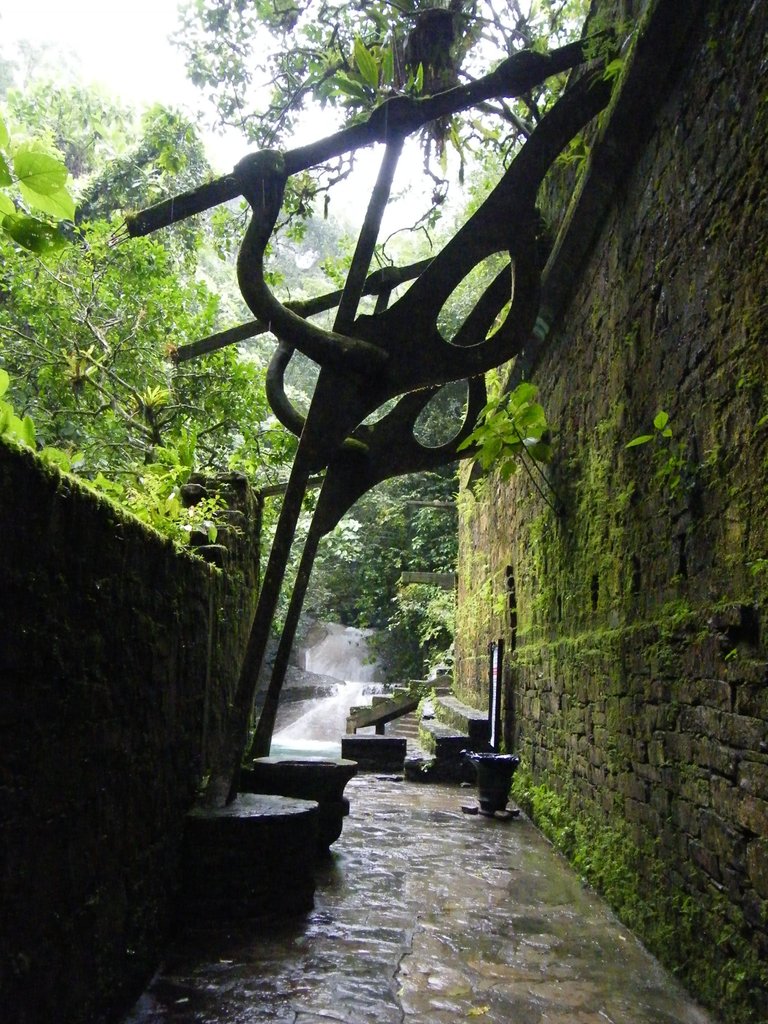 Thanks to the Las Pozas or la Casa de Edward James as the site is commonly known, Xilitla itself has grown into its own tourist attraction, offering various types of food and accommodation to visitors. Many of them follow the same artsy-hippie style, certainly eccentric enough, that was laid out by James himself. Another thing that speak for a visit to Xilitla is the fact that there really is little else noteworthy in the area, other than nature growing rampantly, which means it really is as remote as one would expect it to be from such a place. As a result, you are bound to meet people who appreciate these kinds of places, and may even be inspired to similarly crazy architecture. Now I feel like visiting again...!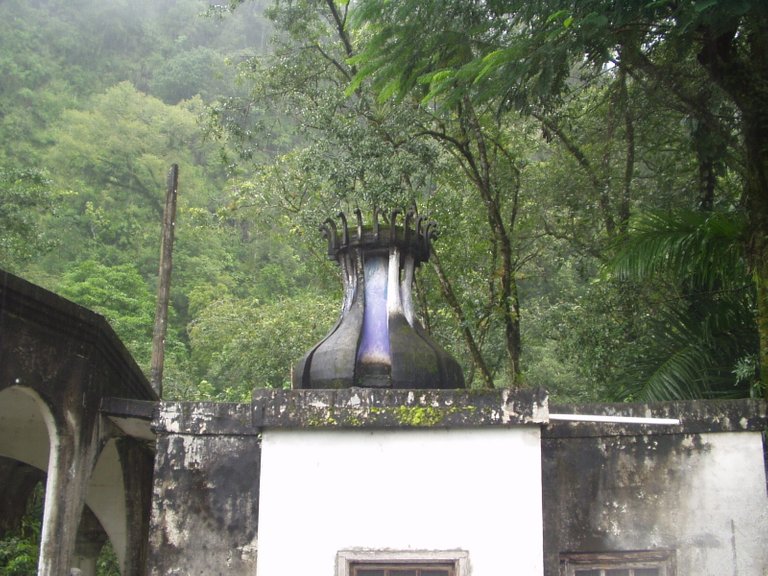 [//]:# (!pinmapple 21.39711 lat -98.99662 long d3scr)a
---
---