A Delicious Christmas Celebration and How to Make All Foods on Food Containers Visible on Photos
Merry Christmas!
I mean, Christmas is already over but I haven't made a post about it so here's a late greeting for you all. Please accept my Merry Christmas. 😂
Every Christmas season, we celebrate the birth of Jesus Christ by going to church to pray. Aside from that, this is the time of having reunions with families and friends. And what's the best companion for reunions and Christmas? Foods, of course!
Covid cases has been going down in my country recently, so rules have become lax and more people are coming out and meeting. However, in our household, and just like before pre-pandemic, we celebrated Christmas with only us. No visitors. But we did have lots of foods this time.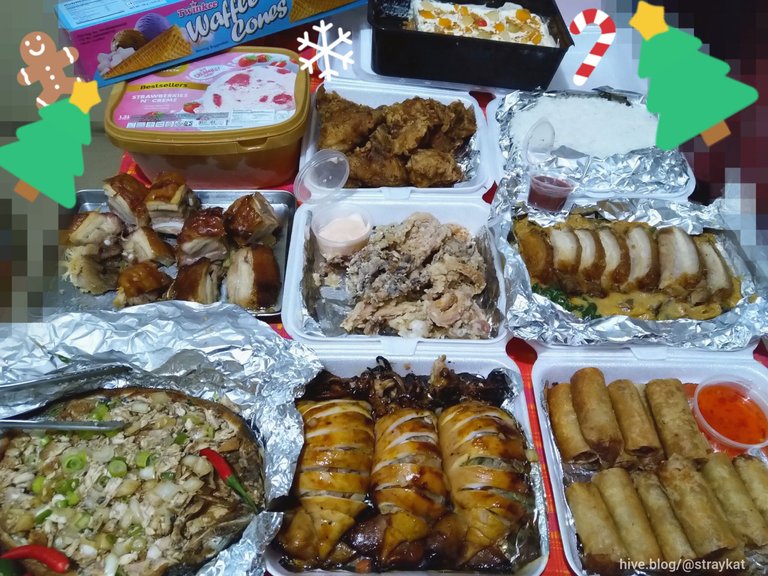 Like most of our Christmas celebration, all our foods were bought. Well, except for the graham cake.
It was my brother who suggested the restaurant where we got this food. He ordered it morning of 24th and it arrived in our home around lunch through delivery service. Since we can't use our dining table at the dining are (might tell in the future why) and so we made use of the small table in the bedroom. My mother was starting to get stressed of how all the foods would fit into the table so lend a hand and showed her a trick to fit them all and make them look neat at the same time.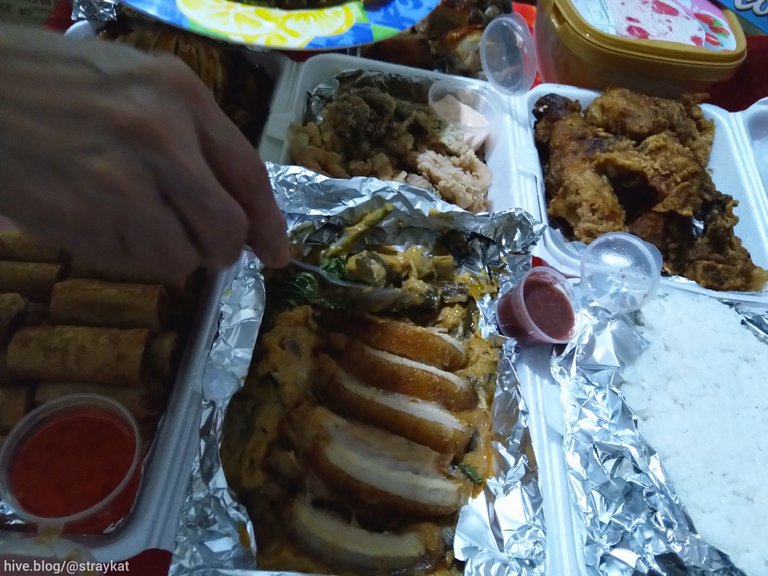 I'm not sure where I've seen this technique but I know I've seen it somewhere on the internet. The make all the foods visible on the photo and avoid the flaps of containers, I stacked them together by putting the second container on top of the upper flap of the first, then the third on the upper flap of the second. And tadah! It looked more neat than having the upper flaps standing, right? All the foods in it are visible too. :)
So now let's have a mini review of the foods!
Bangus Sisig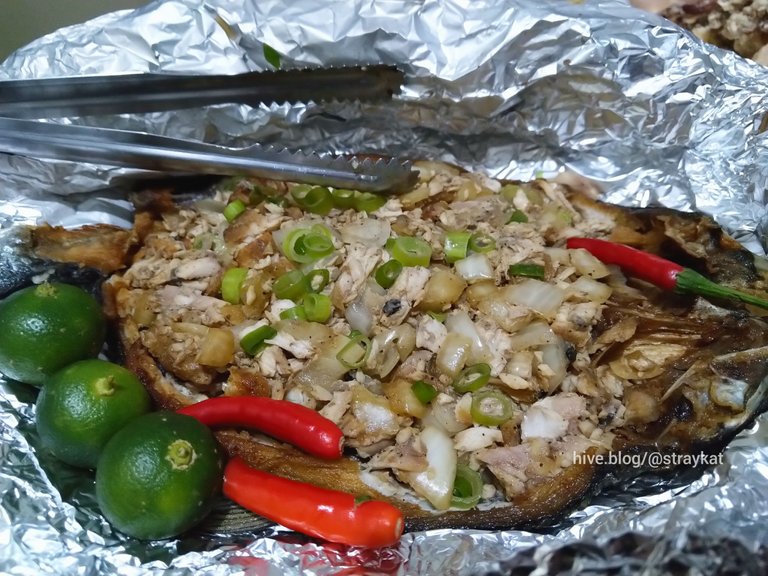 First is the bangus (milkfish) sisig. Sisig is a Filipino dish which usually uses pork but other options have been available including beef, tuna, mushroom, tofu, and so on. The meat is chopped into chunks cooked in spices with lots of onions and chili, then squeezed with lime.
For the dish we ordered, the milkfish was fried then the meat was scraped and cooked into sisig, then brought back to its body. The chili and lime wasn't still mixed on the meat. This gives the customer the option whether you want to add it or not.
When it comes to the taste, it tastes good even though I didn't add chili and lime. The fish was also deboned well, something important when you eat milkfish or any kinds of fishes because removing bones while eating just takes a lot of time.
Grilled Squid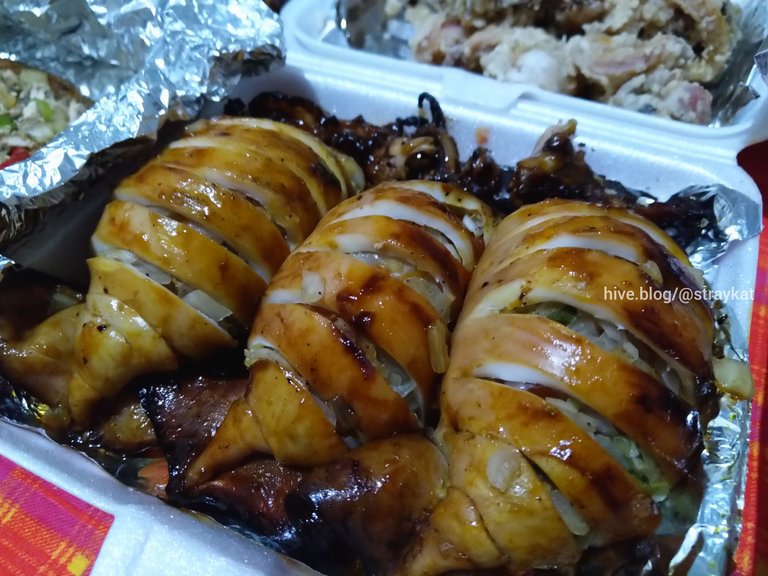 Ah, just look at these puffy squids enticing you to take a bite! Well, these squids did not disappoint. They're as good as they were in the photo. It's delicious and the squid meat is easy to chew, not rubbery. Inside of the squid are chopped tomatoes and onions. However, I only ate two rings only so I'll still have some spare space on my stomach for the other foods. :)
Lumpiang Shanghai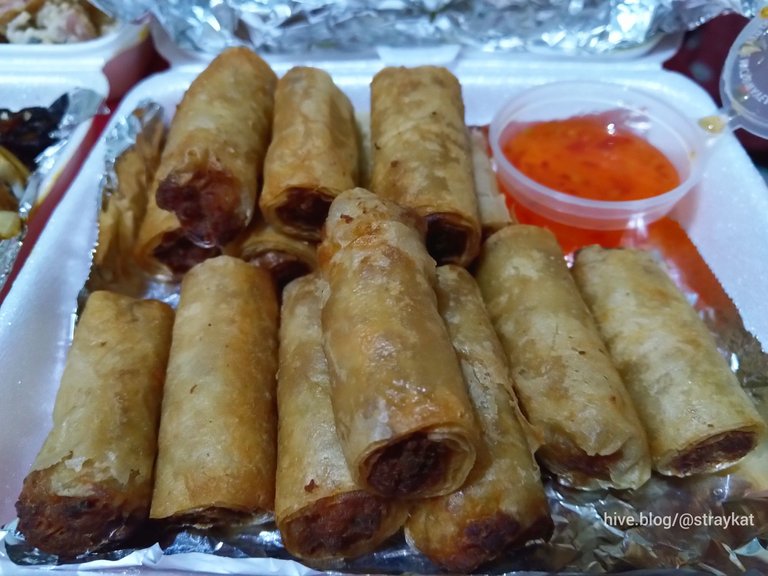 Of course, the ultimate party favorite! Lumpiang Shanghai or spring rolls is a mixture of minced onion, garlic, carrots, ground meat (usually pork), eggs, salt, pepper, and other spices. Then wrapped into a lumpia wrapper and fried. Lumpiang Shanghai is best paired with a sweet and sour sauce.
It's rare to have a bad-tasting lumpiang shanghai as it's easy to make. One of the reasons why I love this food is that it's easy to eat. It's just like a snack. I was already eating it even before dinner began. 😂
Crispy Kare-Kare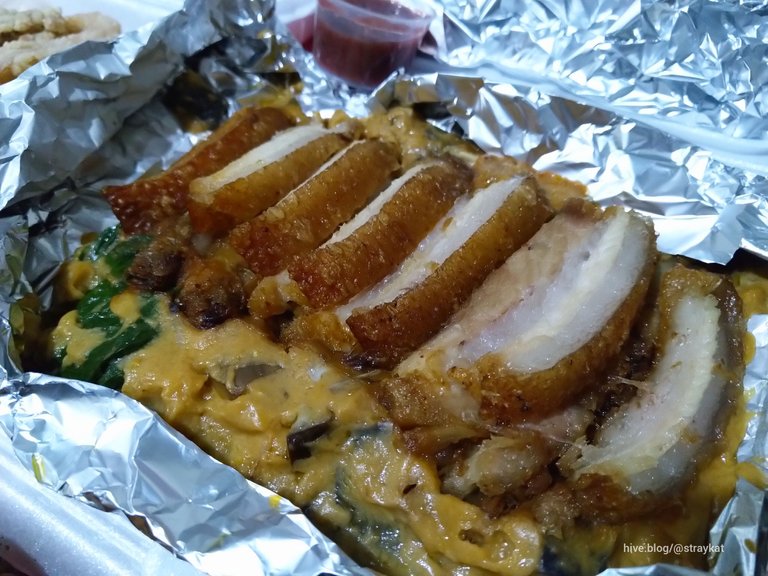 I'm not a huge fan of Kare-Kare (Meat stew in peanut sauce) even though it tastes good so I'd say this Crispy Kare-kare is just alright. The pork meat they used for this recipe is liempo and it tastes great. Of course, this Filipino dish isn't complete without agamang (shrimp paste). Anyway, people who loves Kare-kare might like this a lot and on the other hand, the liempo meat placed on top made the dish look really appetizing. :)
Calamares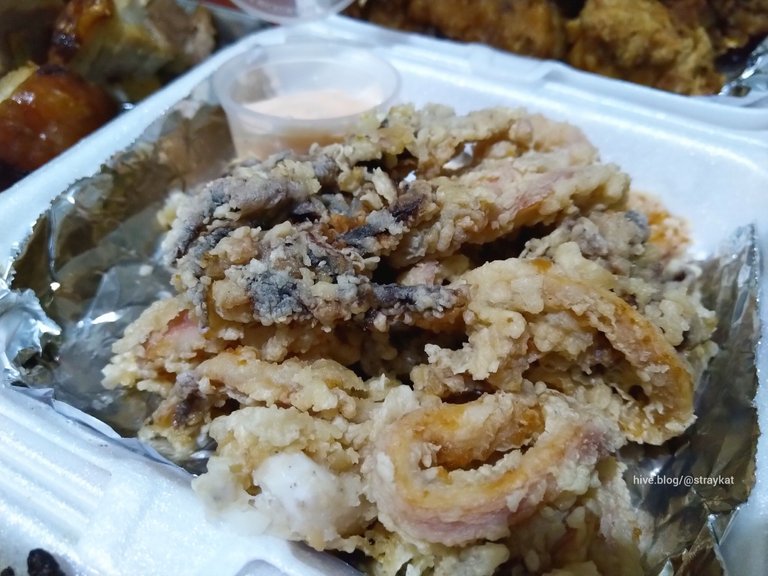 My most favorite among the dishes we ordered. The squid meat is not rubbery and tastes just right. It comes with a ketchup and mayo dip, a perfect dip for the calamares. I feel like I could finish all of this for dinner but of course, I wouldn't, because it must be shared with the family.
Lechon Belly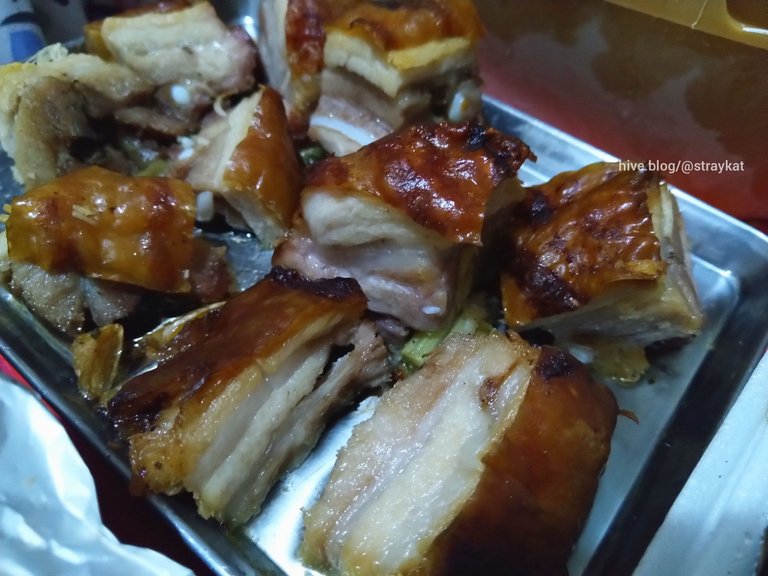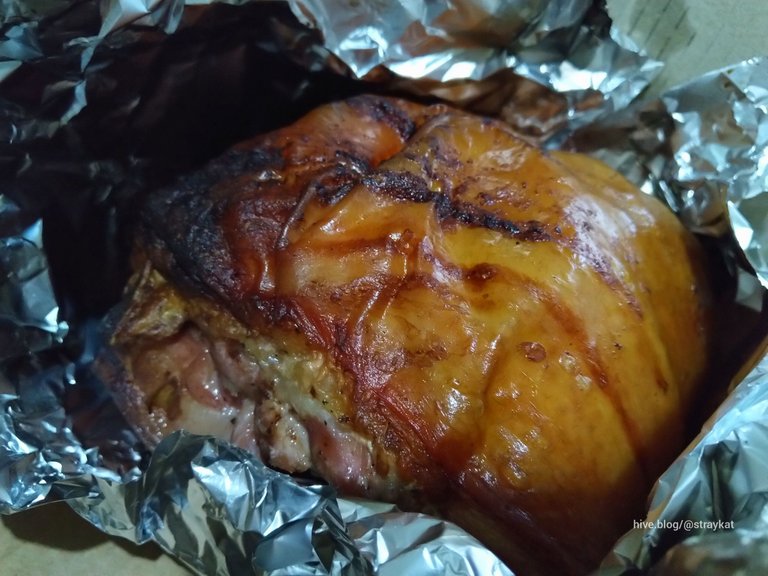 Thank goodness we were able to buy lechon belly a day before Christmas Eve. It was supposed to be a Christmas ham but the restaurant we used to order the ham already ran out of stocks. Meanwhile, the grocery nearby have also ran out of Christmas hams. Oh, well, there's nothing we could do with that.
The lechon belly or roasted pig belly tasted quite salty. I don't know if it's just my taste buds or what. The meat, however, is tender and the skin is crunchy.
Buttered Chicken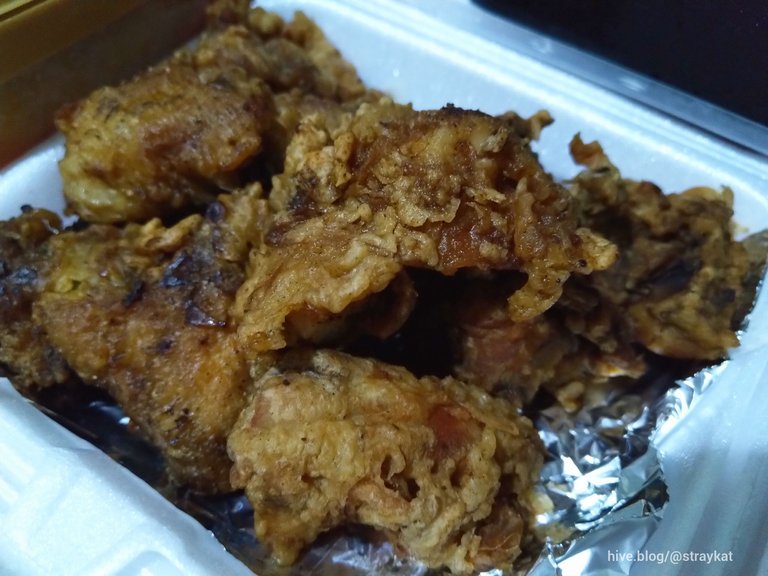 I think this was the first time I've eaten buttered chicken. I was looking forward to its taste but I was a little bit disappointed because it tasted just like a regular fried chicken. Meat is tender though.
Ice Cream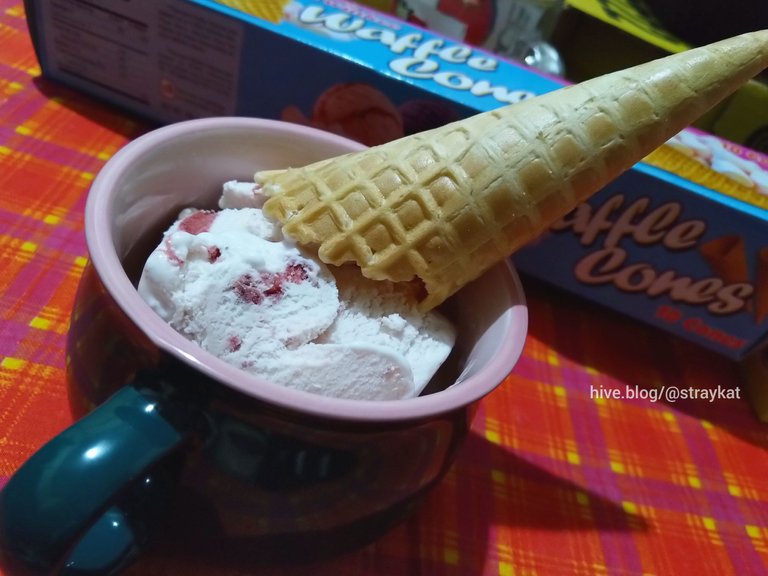 We bought three tubs of ice creams but we only brought out one since we are only eating one flavor that night. The other two might be for New Year's Eve instead. The flavor we tasted was the Strawberries n' Creme. Just reading the name makes you drool, right? However! I'm not sure if the 'Creme' should taste almost bland because that's how it tasted for me. Good thing there's a few chunks of strawberry here and there. The ice cream tastes okay, it's just not something I would eat again.
Queso de Bola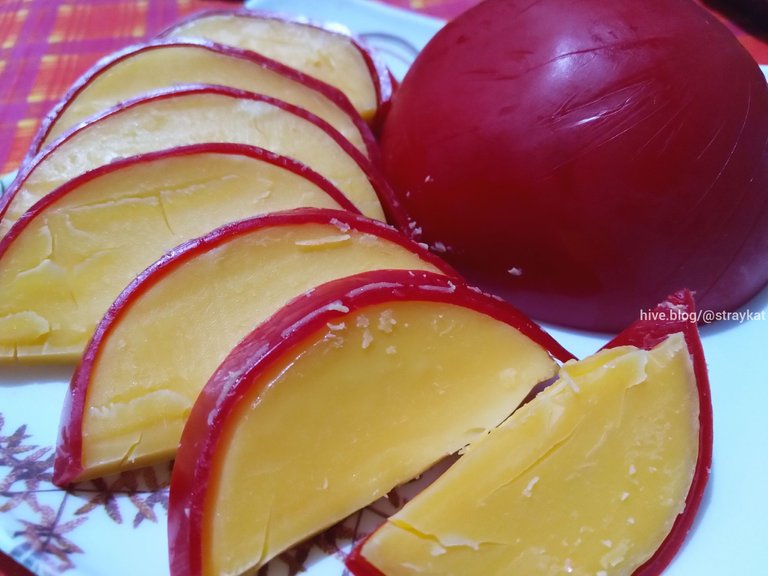 While we didn't have the Christmas ham, we do have its partner, the Queso de Bola. We didn't eat it at Christmas Eve because we already have a lot on the table. We ate it during breakfast of Christmas day instead.
Pizza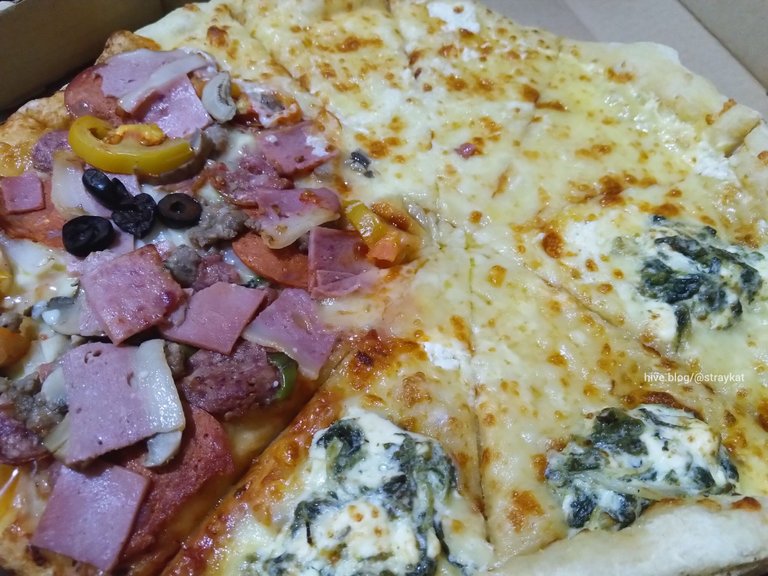 We were supposed to order this for Christmas Eve but they have already closed their orders when we tried to buy. Instead, we just bought it on the Christmas Day itself. We got 4 boxes of this 3-Flavored Family Pizza of Angel's Pizza which consists of Creamy Garlic & 5 Cheese, Overload, and my favorite Creamy Spinach Dip. Now that I've tasted the other two pizza flavors, I am more convinced the the Creamy Spinach Dip is still my favorite. 😂
Fruit Graham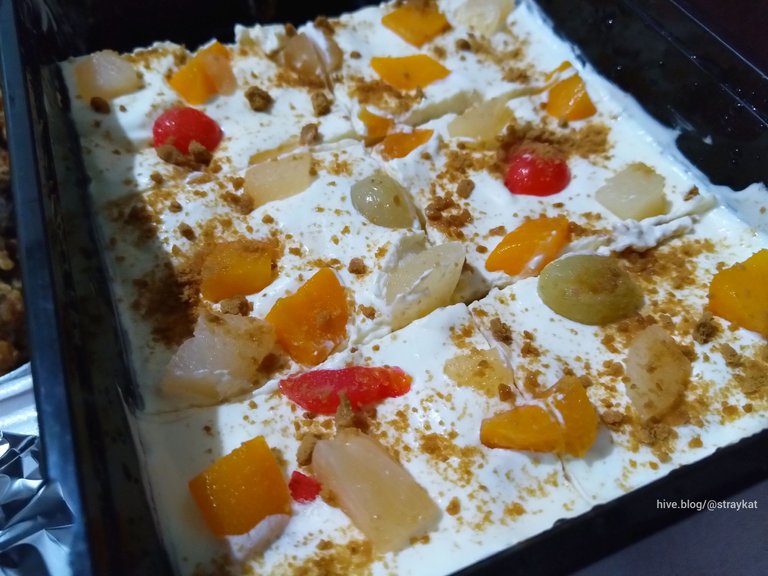 Last but not the least is the fruit graham made by my mother. She made used of the fruit cocktail for the toppings. I don't know how and what she made with the cream but it tasted good. The whole graham cake tasted almost like a cake. ❤️
---
And that, my friends, was how I celebrated Christmas. Just munching on foods, and oh! I did watch Santa Claus deliver gifts around the world through Google's Santa Tracker. I remember when I woke up and checked back on Santa, he was already done delivering gifts and was only 5 minutes away from returning to North Pole. Maaan, I wish I live like Santa. Staying on a secluded cold island, showing up only once a year and still being loved and remembered by many.
Anyway, I love the foods we had for this year's Christmas. I forgot to mention that we also ordered rice as you can see on the first photo. I think I no longer have to include it on my list above since it's something we always have during meals especially for us Asians.
So that's all. What foods did you have during Christmas?
---
---