Cooking Filipino Style Chicken Curry for The Second Time

What's up? Chef Straykat here for today's post!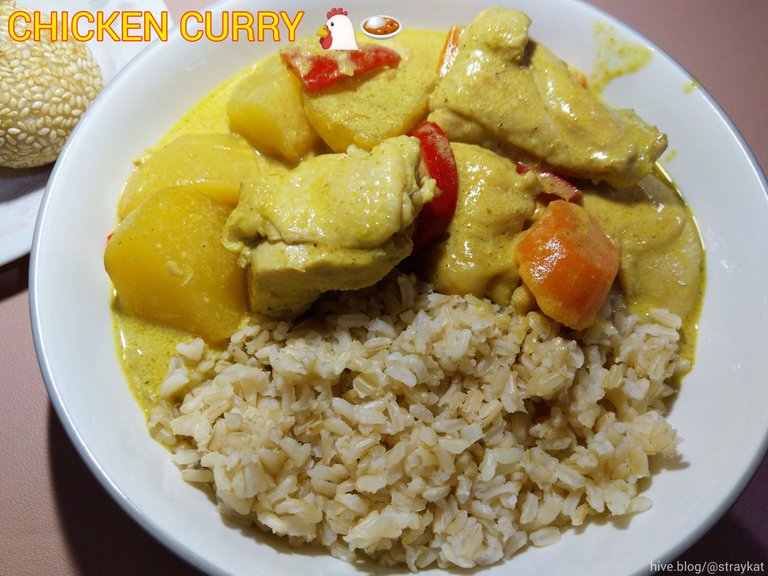 Curry is among my favorite meals and I always get excited whenever my mama cooks it. The sauce is thick and creamy, you'll be asking for another cup of rice!
This week's Asean Hive Community challenge, The Great Curry Cook-Off, is the perfect chance to show off my cooking skills. People around me were worried who would cook meals now mama is no longer around. I think they've underestimated me too much.
As a newbie chef in my kitchen, it is but understandable to fail at first attempt. The recipe I followed was something I found on the internet but then I wasn't saisfied with the result. So for the second time, I tried to follow the recipe written behind the curry powder pouch. Well, I didn't follow everything. He he!
I believe curry differs in every country. Here in the Philippines, curry sauce is usually yellowish in color and chicken is usually preferred as the ingredient. Meanwhile in other countries like Japan, the sauce is brown in color and the meat used is beef or pork. There's also Indian curry, Thai curry, and a lot more. I've only tasted Japanese curry when I ate at Botejyu. (However, I noticed there are Thai characters at the bottom right of the curry powder packaging. Does that mean the curry powder is based on Thai curry? Hmmm..)


Here are the ingredients for Straykat's Chicken Curry:
| | | |
| --- | --- | --- |
| | 400 ml Coconut Milk | |
| | 1 pack Green Curry Mix | |
| | Chicken Fillet | |
| | Potatoes | |
| | Carrots | |
| | Bell Pepper | |
| | Onion | |
| | Ground Pepper | |
| | 2 Tbsp Oil | |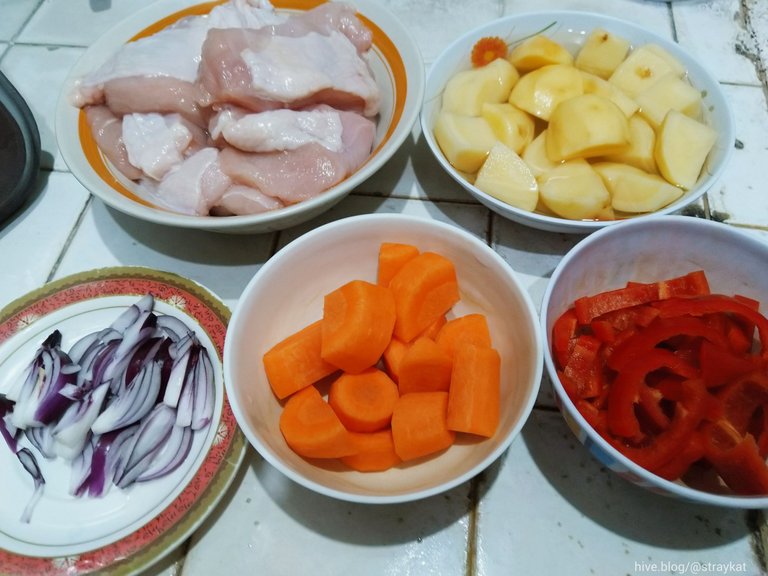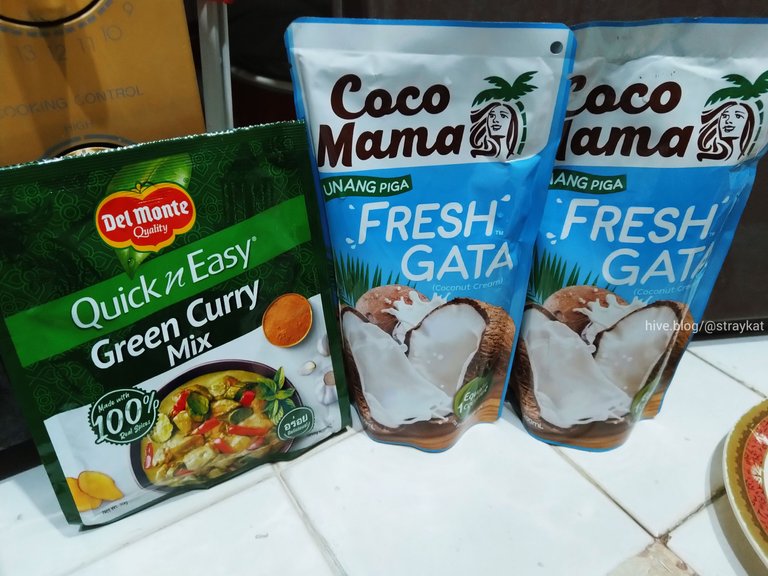 Ingredients
PROCEDURE
Slice chicken fillet according to the size you prefer.






a hot pan, put oil and fry chicken. Don't try to make fried chicken, okay. Just fry it until the meat is cooked or some parts get slightly brown. Set aside.






Saute sliced onions.






Add the green curry powder mix. Mix.






Add coconut milk. Simmer for 3 minutes and stir occasionally.






Add sliced carrots and potatoes. Wait until carrots and potatoes become tender. Simmer and add ground pepper or any other spices to adjust the taste according to your preference.






Add chicken fillet. Mix and simmer for 12 minutes.






Add bell pepper. You can have red or green or both. In my case, I only used red bell pepper. Simmer for 1 minute and serve.





---
And here it is!!!
Tada! Straykat's Filipino Style Chicken Curry! The recipe on the curry mix has eggplant and thai basil but I don't have that eggplant, and my mama doesn't add eggplant to her curry recipe so that's what I did as well. I added carrots and potatoes instead just like how my mama does it. However, I think I forgot to add bay leaves as a substitute for thai basil. The curry still tastes the same though.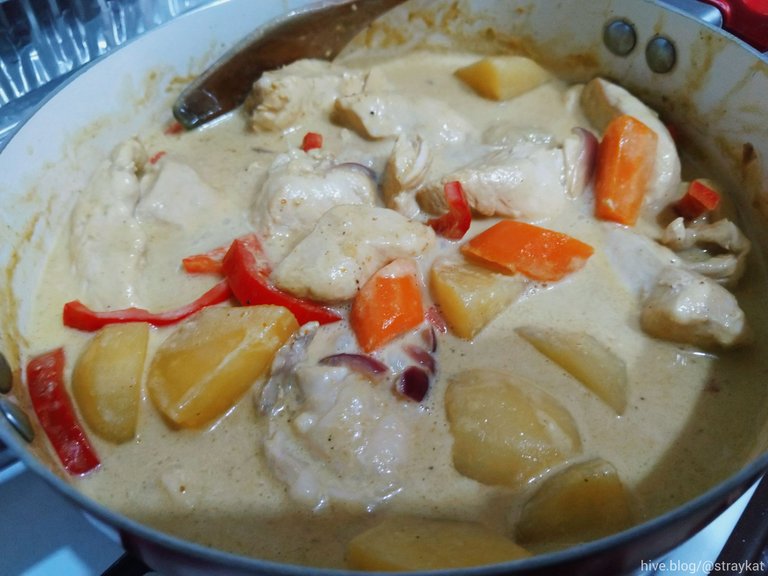 Chef Straykat was very pleased with her cooking as the chicken curry turned out delicious. Of course, this meal is best eaten with warm rice but in my case, I still have left over rice so I turned it into fried rice.
I also had some sesame balls for dessert. <3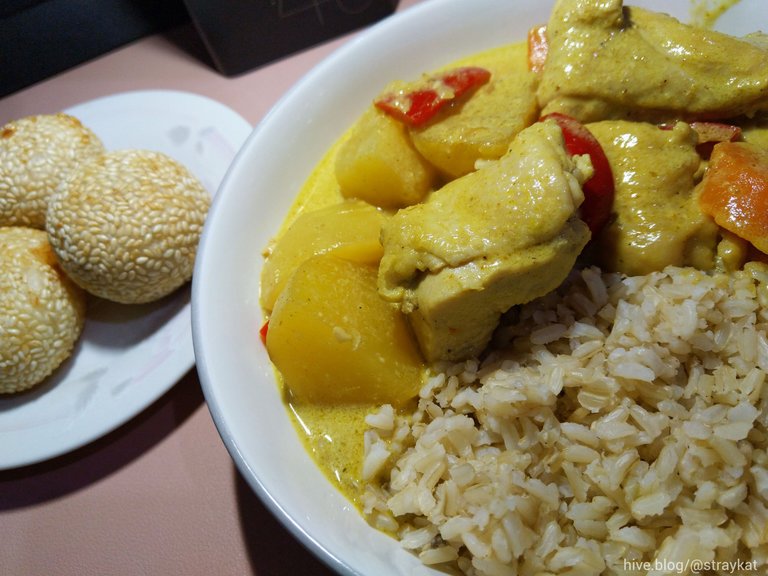 Yum! It was another successful day in Chef Straykat's kitchen.
Until next time! :)
🐾
Straykat
---
---