New Year's Eve Feast and Gaining 2 Kg!
Happy New Year! Yup, this is the third time I'm greeting everyone a Happy New Year. A week has passed since the calendar was changed and earth has completed another revolution around the sun but this milestone our planet has achieved and us humans making it through another year wouldn't be complete without a celebration. Filipinos are huge foodies! In my country, Philippines, occasions aren't celebrated without foods. Because lots of foods bring good conversations and means more time spent together.
Families and relatives gather together during the long holidays to catch up with each other's lives. They cook together and do family parties. It's fun, however, my introvert self is just thankful we don't do it that way. For my family's case, we don't have other relatives come over to celebrate the holidays with us. Sure, it's not that lively but we feel more at peace and don't spend a lot for the foods.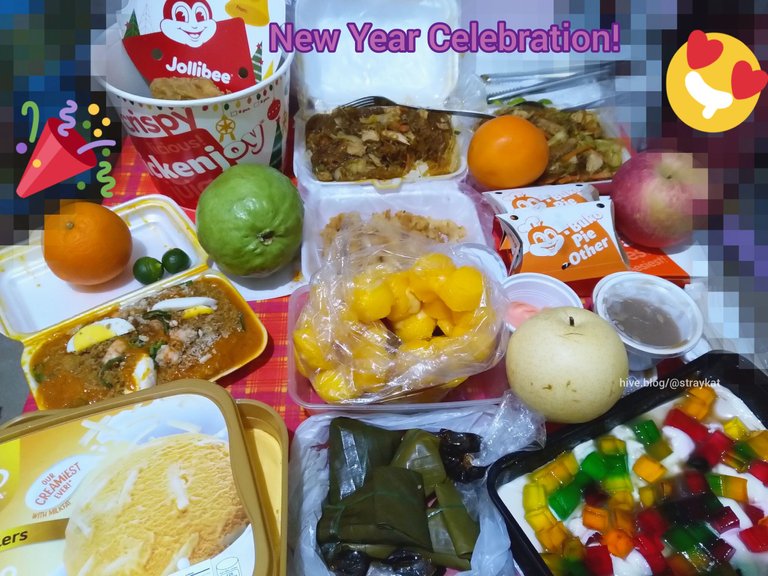 Since it's only us, we only ordered food in small volumes. We were supposed to order again from the restaurant where we ordered our Christmas foods but on the morning of the 31st, they were already fully booked, and so there's no choice but to look for another. Fortunately, one restaurant was still accepting orders so that's where we got the foods you see in a styrofoam container. We also tried ordering some Fresh Lumpia but they already ran out, sadly. And unfortunately, we still can't use our dining table so we have to use this extra table instead.
I know you came here for the foods, so here they are!
♦ Pancit Bihon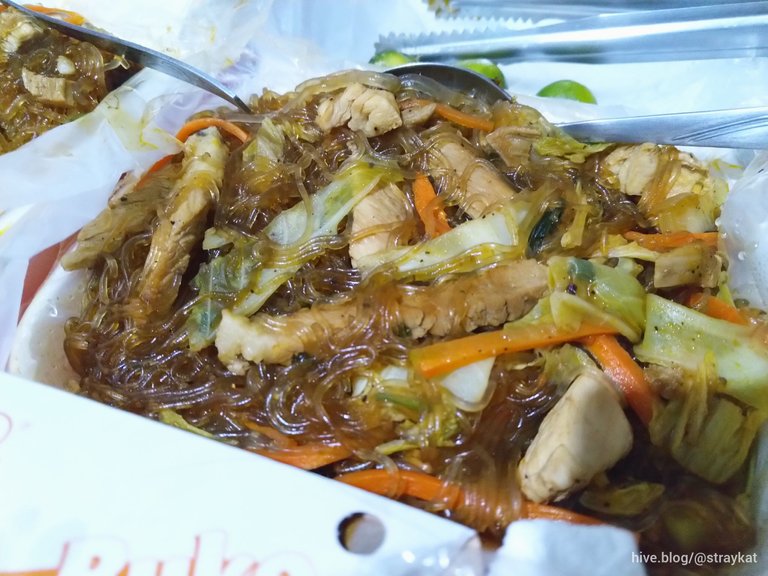 First on the list, of course, the Pancit Bihon. This is a stir-fry rice noodles cooked with soy sauce, vegetables, pork or chicken meat and other spices. Although Filipinos have our own beliefs, we tend to have adopted some Chinese beliefs too, one of which is having noodles during New Year's Eve which symbolizes long life. There's this belief that you should eat noodles on New Year's Eve so you'll live a long life.
♦ Pancit Palabok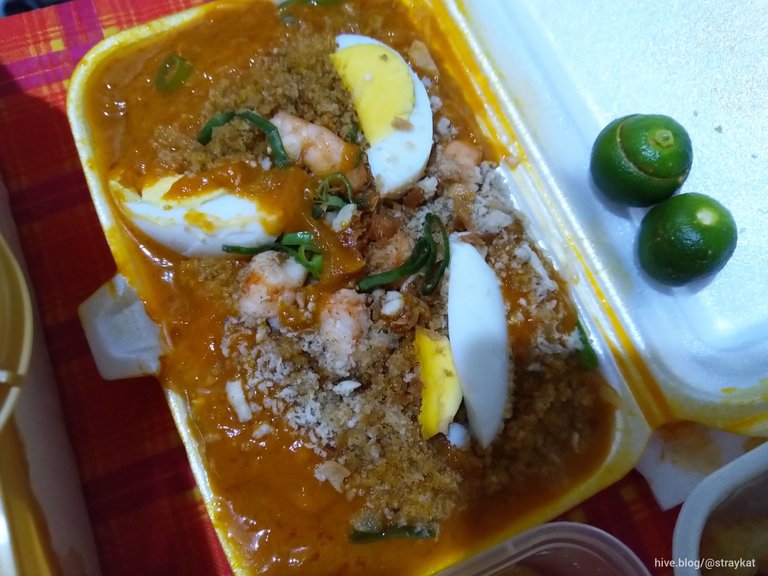 Another noodle on the table is the Pancit Palabok. ("Pancit" means "noodles", in case you're wondering what this word means.) Pancit Palabok is rice noodles with ingredients like shrimp sauce, smoked fish flakes, boiled egg, shrimp, pork cracklings, and scallions. The orange color of the sauce is due to the annatto powder. This is one of my request for the New Year's Eve and I'm happy the restaurant still have them available that time. When eating palabok, don't forget to squeeze some lime on it. Then you have to mix the noodles along with all the ingredients before eating.
♦ Calamares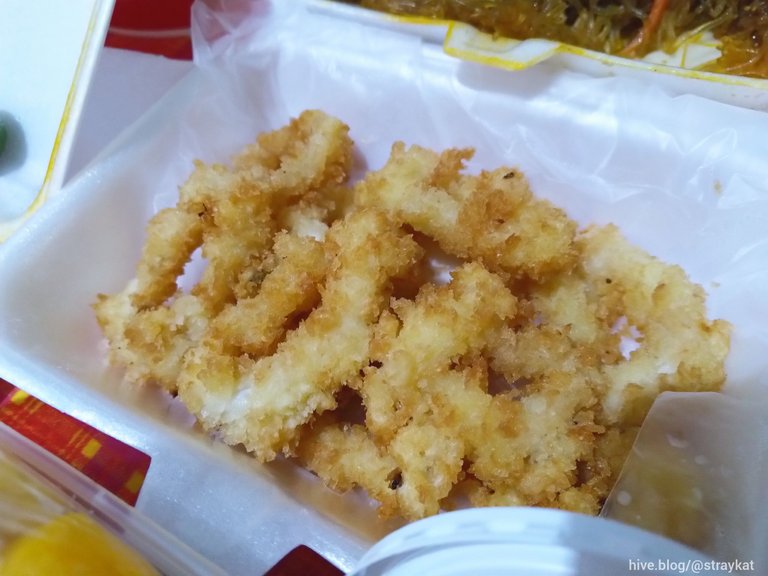 Another food on my request list. The Calamares, a breaded sliced squid with mayonnaise and ketchup dip. The calamares from this restaurant were all the good parts, I mean.. the ring-like ones. Unlike from the previous restaurant which included the other parts of the squid.
♦ Puto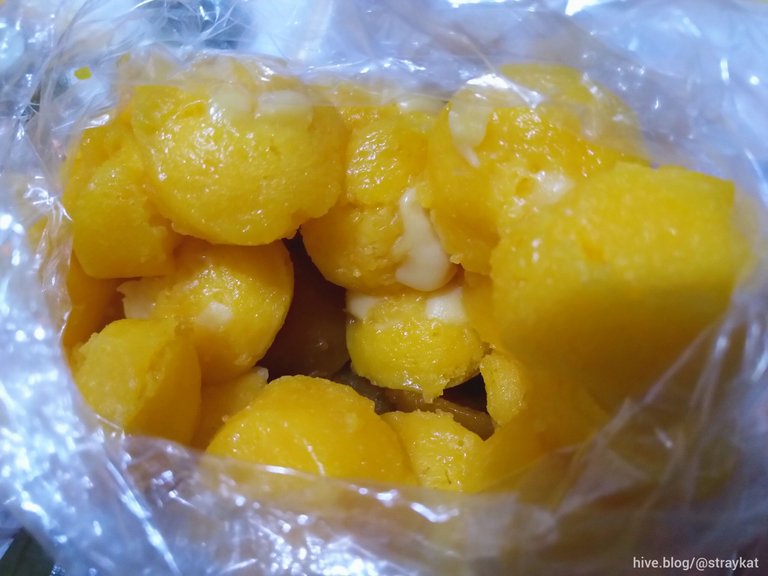 Puto is a glutinous rice cake usually a bit larger than the size of a coin. There are a handful of puto flavors but by the time my brother went to the store, only the mango flavor was available. At least it has cheese on it! Puto tastes better when it has cheese on it. Well, that's a tip! Other flavors I know are ube (purple yam), pandan, strawberry, and plain. A town here in our province is known to make the most delicious puto in the country. One of their product is what you're seeing on the photo. :)
♦ Suman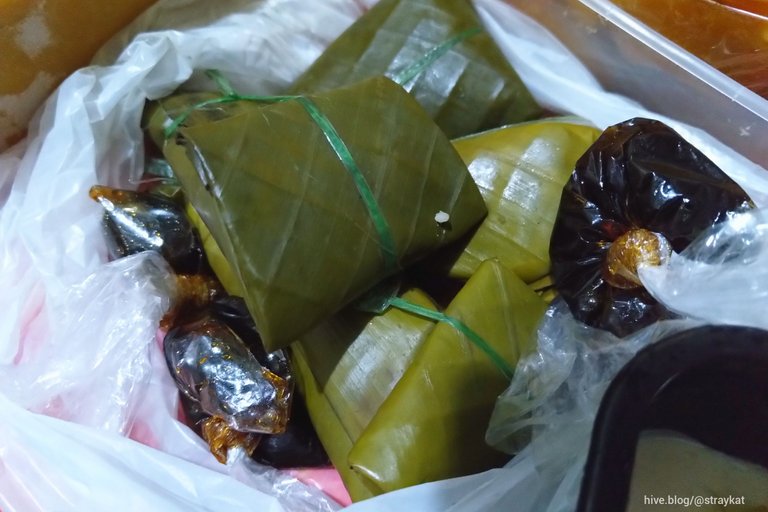 Another is another rice cake called Suman. This classic rice cake is made of glutinous rice and coconut milk then wrapped in banana leaves and steamed. To eat it, you have to unwrap the banana leaves then pour some caramel sauce or dip it on sugar. This is usually eaten as a snack or breakfast paired with coffee.
It is also from the Chinese belief that you should have some rice cakes on New Year's Eve so that relationships remain tight.
♦ Chickenjoy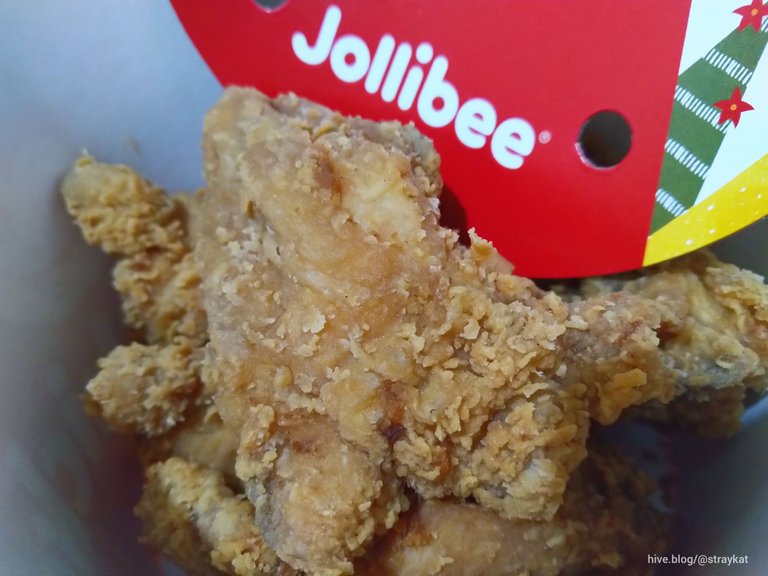 Oh, now that I am writing this post, I remember that you shouldn't have chicken on New Year because the Chinese believe that it would bring bad luck in your finances. Well, who cares. We're having Jollibee's Chickenjoy whatever belief there is. Chickenjoy is what Jollibee calls their fried chicken. Sorry, the photo didn't give justice to how delicious this fried chicken is.
This reminds me of the Japanese people during New Year's Eve. They celebrate New Year with a bucket of KFC fried chicken. I don't know why a KFC fried chicken is the main food for them on New Year's Eve but it's kind of cute. lol.
♦ Pies and Spaghetti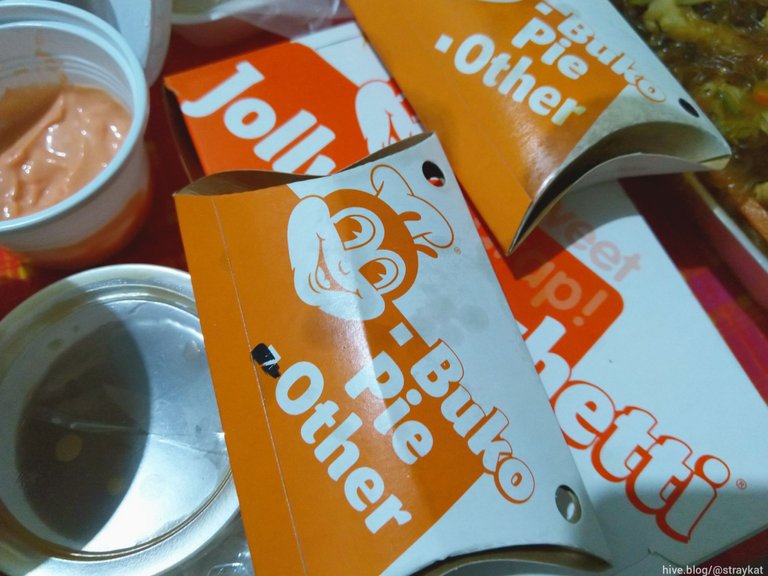 Aside from the Chickenjoy, I ordered their new pie on the menu. The Strawberry and Cheese Pie. Well, it's delicious but I still prefer their classic Peach Mango Pie. Meanwhile, we're happy to receive a serving of spaghetti along with our order. They said it was free in celebration for the New Year. Cool! This was the first time Jollibee included a free meal.
♦ Cathedral Window Gelatin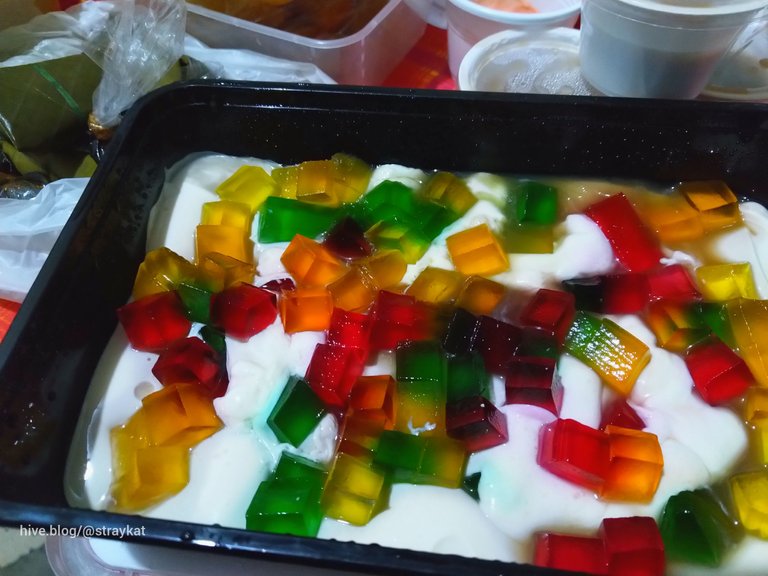 The Cathedral Window Gelatin is a dessert mainly made from * surprise * .. gelatin. Other ingredients are evaporated milk, condensed milk, sugar, and cream. My mother and I made this and it didn't come out like the usual cathedral window because the white gelatin my mother cooked wasn't enough so the gelatin cubes on top weren't fully covered. I might do a separate post on our experience making this dessert.
♦ Ice Cream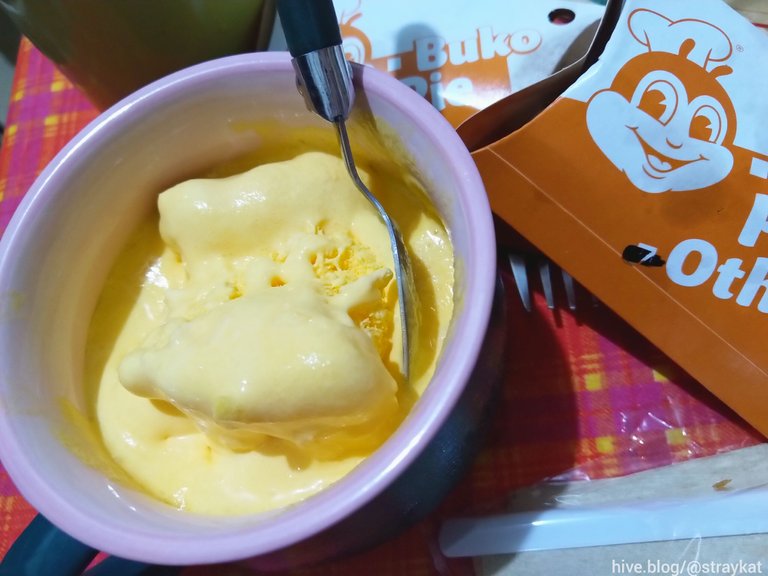 Of course, our celebration wouldn't be complete without an ice cream! This was actually one of the three ice cream tubs we bought for Christmas. Cheese is one of my favorite flavors but this one kind of tastes a bit sweet than usual. I didn't like it much but it's alright. My favorite flavor among the three tubs we got is the vanilla.
♦ Hamon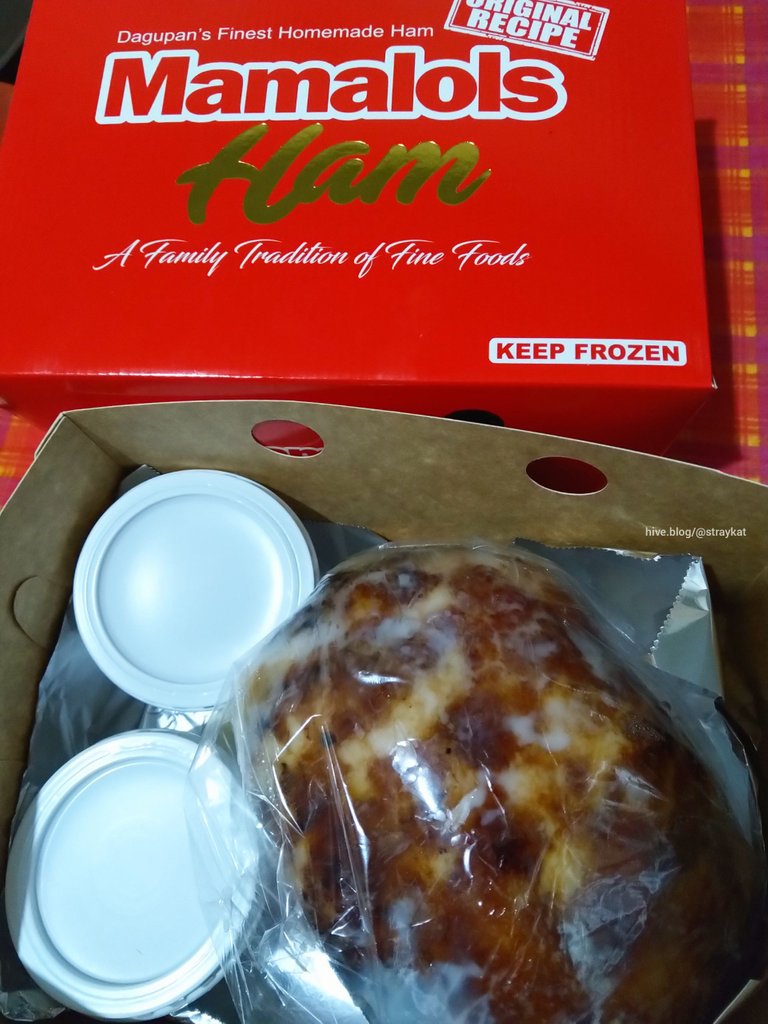 Well, you can't find this on the first photo as it no longer fits on the table. Besides, we're eating it for breakfast. Hamon or Hamon de Bola is a Christmas ham and the "star of Noche Buena". This food is special because it is prepared months before Christmas. Since we weren't able to get hamon for Christmas, we're having it for New Year instead.
This Christmas ham from this specific restaurant is my most favorite. It tastes better than the ones you can get on groceries. I find it hilarious when my mother called her high school classmate, one of the owners of the restaurant, when one of the restaurant staffs she talked over the phone was kind of making excuses. Few minutes later, the hamon was delivered to our house.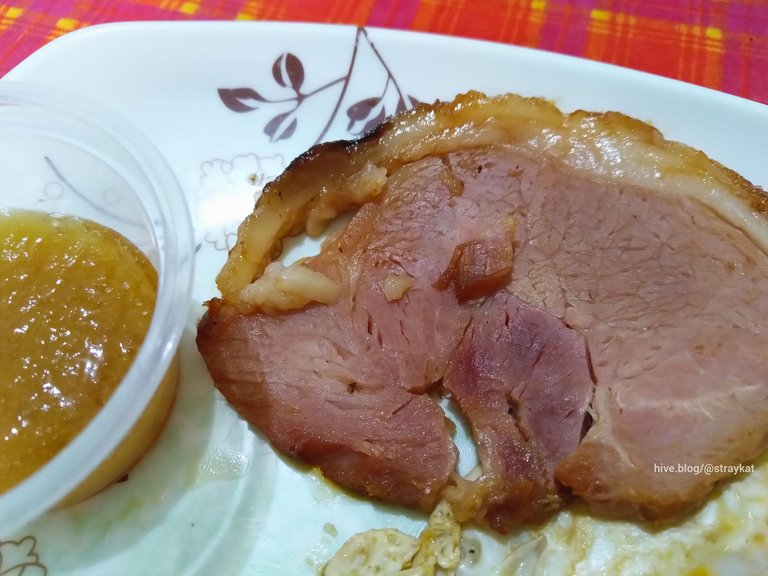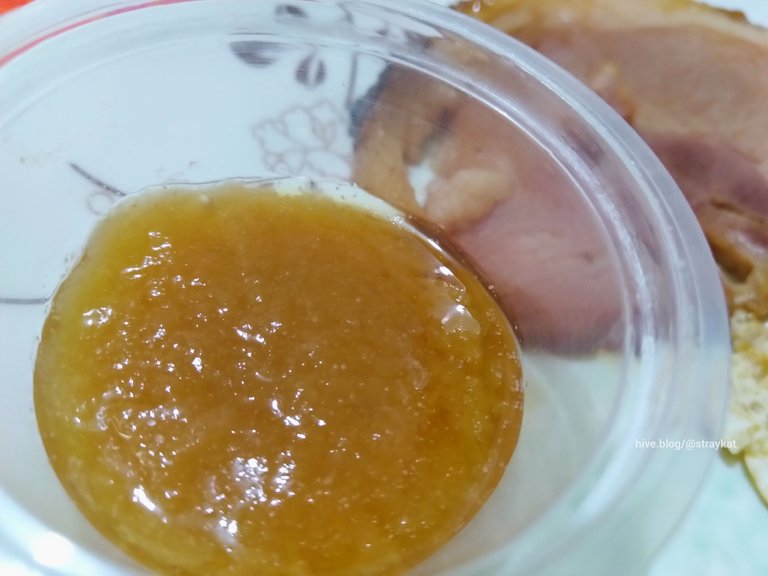 The hamon comes with a sauce which tastes very delicious, by the way. The sauce makes the meat taste 10x better. I believe the sauce is mostly made of pineapple juice and sugar. My mother also told me that their Christmas ham is available all through out the year. I told her that I'll have a hamon cake for my birthday then!
---
Indeed, holiday foods are difficult to resist! It's a time for feast and enjoy food to your heart's content. Fatty and sugary foods. Yes, bring those in! And since holiday made us devour food in an unusual amount than we used too, don't get surprised if you gained some pounds or kilograms. In my case, I surprisingly gained 2 kg over the holidays. I'm actually trying to lose weight as I am already beyond the normal weight for my height. Before the holidays, I have already shed 4 kg but then gained back 2 kg after the holiday. Well, that's life. Hopefully, I can lose a kilo every week again.
So that's all for our New Year's celebration this 2022. Our celebration for this year felt better than last year, actually. I wish this is a sign of a great year ahead!
How about you? What did you have for dinner? Do you believe that certain foods bring good luck when served during New Year's Eve?
---
---