¡Feliz Navistenia! - Front Lever Para Principiantes [ESP | ENG]
Entrenamiento de Front Lever
Front Lever Training
---
---
| Spanish | English |
| --- | --- |
| Rutina Navideña para el Front Lever | Christmas Routine for the Front Lever |
---
¡Hola amigos y atletas de la comunidad de Hive! Es un placer para mí presentarles en esta oportunidad, un entrenamiento navideño básico para los atletas que nos estamos adentrando en el mundo de las posturas corporales estáticas, como por ejemplo, lo es en éste caso, el Front Lever.
Hello friends and athletes of the Hive community! It is a pleasure for me to present you in this opportunity, a basic Christmas workout for athletes who are getting into the world of static body postures, such as, for example, in this case, the Front Lever.
---
El Front Lever es una postura corporal que involucra principalmente el uso de los músculos de la espalda y el core al hacer tensión en estos para generar una mecánica de palanca que permita el levantamiento y contrapeso, obteniendo una postura estática totalmente horizontal. En este contenido, les dejaré algunos ejercicios y progresiones clave para iniciar el camino hacia el Front Lever, cabe acotar que yo aún no lo he desbloqueado, y que podemos recorrer este camino juntos si aún no lo tienes y deseas obtenerlo. Mi nombre es Stiffen Paternina
@stypaternina
y este contenido es para todos, espero les sea de ayuda.
The Front Lever is a body posture that involves mainly the use of the muscles of the back and core by making tension in these to generate a lever mechanics that allows the lifting and counterweight, obtaining a static posture completely horizontal. In this content, I will leave you some key exercises and progressions to start the path to the Front Lever, it should be noted that I have not yet unlocked it, and that we can walk this path together if you still do not have it and want to get it. My name is Stiffen Paternina
@stypaternina
and this content is for everyone, I hope you find it helpful.
---
▶️ Watch on 3Speak
---
---
| Resistencia en Tuck Front Lever | Tuck Front Lever Resistance |
| --- | --- |
---
| Tuck Front Lever Pull Ups | Tuck Front Lever Pull Ups |
| --- | --- |
---
| Tuck Front Lever Raises | Tuck Front Lever Raises |
| --- | --- |
---
| Tuck Front Lever Pull Ups con Agarre Supino | Tuck Front Lever Pull Ups with Supine Grip |
| --- | --- |
---
| Front Lever Muscle Up | Front Lever Muscle Up |
| --- | --- |
---
| Máximo aguante en Tuck Advance | Maximum endurance in Tuck Advance |
| --- | --- |
---
| Aguante isométrico a 90 Grados en Tuck | Isometric hold at 90 Degrees at Tuck |
| --- | --- |
---
| Front Lever Asistido con Liga | League Assisted Front Lever |
| --- | --- |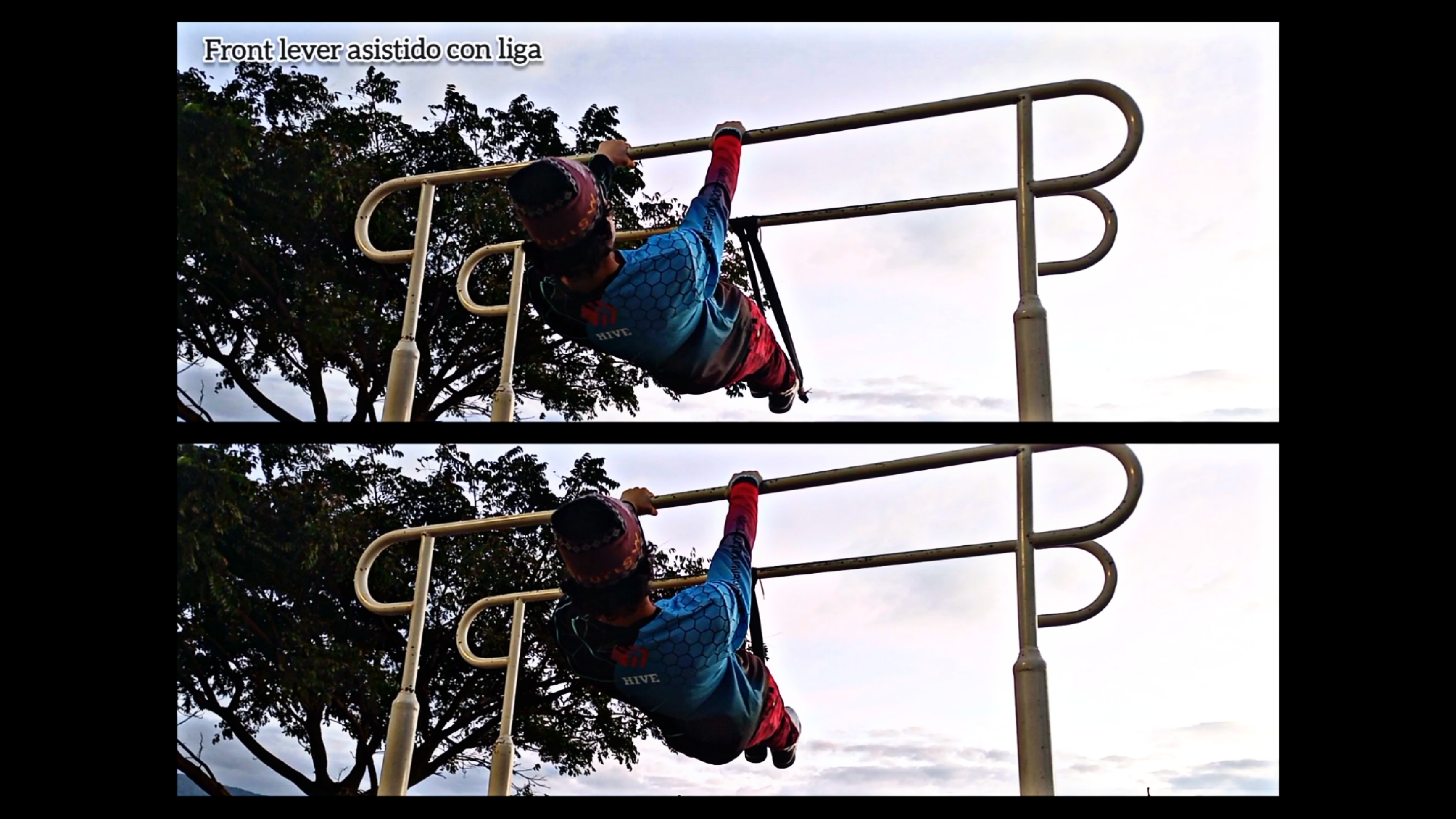 ---
Antes de cualquier entrenamiento no olviden hacer previamente el estiramiento y acondicionamiento físico para obtener un mejor rendimiento y evitar posibles lesiones a la hora de ejecutar alguno de los ejercicios. Este es un entrenamiento básico con ejercicios de nivel principiante e intermedio, pueden adaptar los segundos de resistencia, las repeticiones y las series según la condición física en la que se encuentren, les recomiendo trabajar de 3 a 4 series de cada ejercicio, resistencia de mínimo 4 segundos en los aguantes, y mínimo 4 repeticiones en los ejercicios de bombeo. Los descansos pueden ser de 60-90 segundos para darle descanso a la articulación.
Before any workout do not forget to previously do the stretching and physical conditioning to obtain a better performance and avoid possible injuries when executing any of the exercises. This is a basic workout with beginner and intermediate level exercises, you can adapt the seconds of resistance, repetitions and series according to the physical condition in which you are, I recommend working 3 to 4 series of each exercise, minimum resistance of 4 seconds in the endurance, and minimum 4 repetitions in the pumping exercises. The rests can be 60-90 seconds to give the joint a rest.
---
Si te gustó el contenido o tienes alguna duda, déjame un comentario. Amigos de toda la comunidad, hasta acá el post de ésta oportunidad, espero que les haya gustado el contenido, gracias por ver el video. Hasta el próximo post, saludos y bendiciones para todos.
If you liked the content or have any questions, leave me a comment. Friends of the whole community, so far the post of this opportunity, I hope you liked the content, thanks for watching the video. Until the next post, greetings and blessings to all.
---
***
---
---