(ESP/ENG) Viendo la película SING 2 / Watching the movie SING 2
¡Hola a todos los amantes del cine, sobre todo de las películas animadas! Hace ya un tiempo, vi la primera parte de ésta película SING y debo decir que me gustó bastante. No había tenido la oportunidad de mirar su secuela, hasta hace poco que fui a visitar a mi hermana y durante una tarde de descanso, me propuso mirar una película para relajarnos. Como me había gustado la primera parte, no dudé en escogerla y debo decir que fue bastante entretenida.
Hello to all movie lovers, especially animated movies! Some time ago, I saw the first part of this movie SING and I must say that I quite liked it. I hadn't had a chance to watch her sequel, until recently when I went to visit my sister and during a lazy afternoon, she asked me to watch a movie to relax. As I had liked the first part, I did not hesitate to choose it and I must say that it was quite entertaining.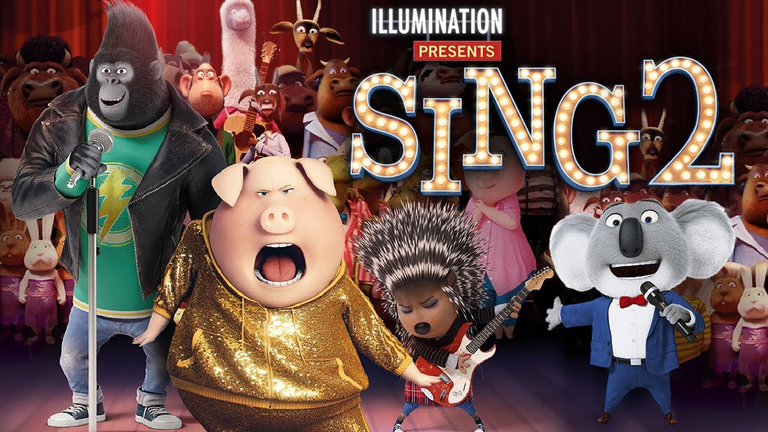 Fuente
La trama comienza mostrándonos cómo el teatro de Buster Moon parece estar prosperando, los shows que ofrece siempre están a casa llena y todos los integrantes de su elenco, parecen estar muy felices y satisfechos con su lugar en el escenario. Moon se emociona al saber que en una de las presentaciones que considera más exitosas, Suki Lane, una cazatalentos de renombre, se encuentra entre el público. Lo ve como una excelente oportunidad, piensa en grande y quiere llevar a su equipo a las grandes ligas, ya que sabe que ellos tienen el talento suficiente para triunfar... Sin embargo, inesperadamente la mujer se retira de la sala antes de que finalice la función. Moon, quien ha estado observándola desde lejos, a la búsqueda de cualquier cambio en sus emociones, se alarma al darse cuenta de esto y va tras ella. Una vez que la intercepta en la entrada del teatro, le pregunta sobre el show, a lo que ella le dice que es bueno, pero no lo suficiente como para formar parte de la industria tan grande a la que representa.
The plot begins by showing us how Buster Moon's theater seems to be thriving, the shows he puts on are always packed houses and all the members of his cast seem to be very happy and satisfied with their place on stage. Moon is thrilled to learn that at one of the performances he considers the most successful, Suki Lane, a renowned talent scout, is in the audience. He sees it as an excellent opportunity, thinks big and wants to take his team to the big leagues, since he knows they have enough talent to succeed... However, the woman unexpectedly leaves the room before the end the function. Moon, who has been watching her from afar, looking for any change in her emotions, becomes alarmed at this realization and goes after her. Once he intercepts her at the theater entrance, he asks her about the show, to which she tells him it's good, but not good enough to be part of the big industry he represents.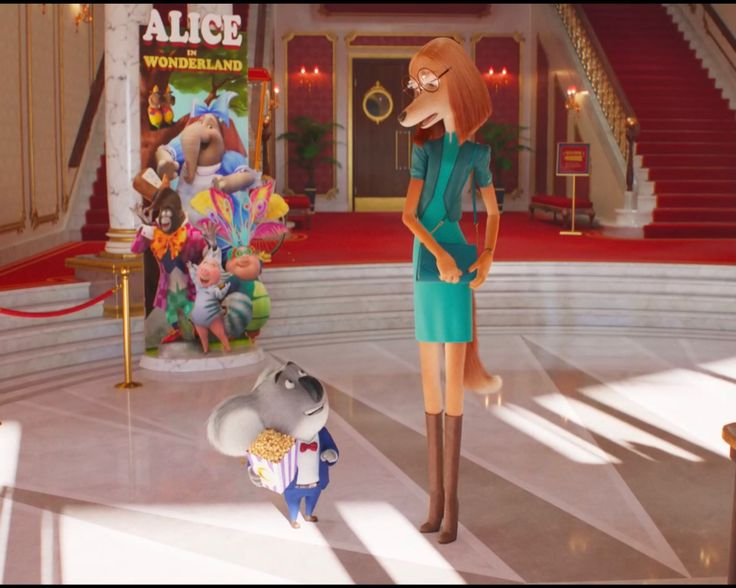 Fuente
Aquellas palabras, devastan por completo a Moon, quien considera que es su culpa que el show no lograra encantar por completo a Suki. Pero, él es bastante persistente y considera que su equipo tiene el suficiente talento como para triunfar en la gran ciudad. Así que apoyado por su amiga Nana Noodleman, decide no rendirse y reúne a todos su elenco y le dicen que van a irse a la ciudad a presentarse directamente con las oficinas Crystal, para demostrarle a Suki que estaba equivocada con su veredicto y entrar por la puerta grande del mundo del entretenimiento. Obviamente aquella decisión apresurada por parte de Moon, no convence del todo a los cantantes, acostumbrados ya a la fama que tienen en el teatro. Pero pronto, los ánimos de cada uno se va uniendo hasta que deciden ir a la ciudad y apostarlo todo por el todo.
Those words completely devastate Moon, who considers it her fault that the show failed to fully enchant Suki. But, he is quite persistent and considers his team talented enough to make it big in the big city. So supported by his friend Nana Noodleman, he decides not to give up and gathers all his cast and they tell him that they are going to go to the city to report directly to the Crystal offices, to prove to Suki that she was wrong with her verdict. and enter the world of entertainment through the front door. Obviously, that hasty decision on Moon's part does not entirely convince the singers, already accustomed to the fame they have in the theater. But soon, the spirits of each one are coming together until they decide to go to the city and bet everything for everything.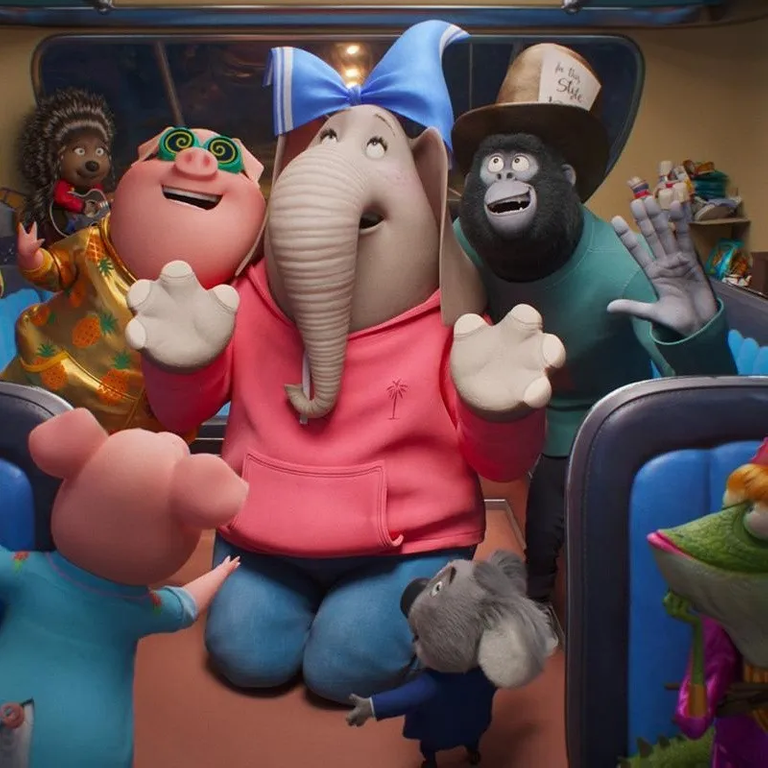 Fuente
Una vez que llegan a la ciudad, se dirigen a las instalaciones del famoso Jimmy Crystal en donde tienen que infiltrarse, dado que no cuentan con una cita. Cuando logran presentarse ante Jimmy, este demuestra un desinterés casi de inmediato, hasta que antes de marcharse, escucha la propuesta de uno de los integrantes del equipo, que involucra a la estrella de rock Clay Calloway, quien ha estado fuera de los escenarios por 15 años, desde el fallecimiento de su esposa. Fascinado con la posibilidad de contar con la vuelta de la estrella, Jimmy apoya por el financiamiento completo del show de Moon, a la espera de no ser decepcionado... Los problemas comienzan, pues deben encontrar a Clay y convencerlo de que vuelva a los escenarios y que participe en el show... sólo que nadie sabe su paradero, ni cómo hacer que vuelva.
Once they arrive in the city, they go to the facilities of the famous Jimmy Crystal where they have to infiltrate, since they don't have a date. When they manage to introduce themselves to Jimmy, he shows almost immediate disinterest, until before he leaves, he overhears a proposal from one of the team members, involving rock star Clay Calloway, who has been out of town. the stages for 15 years, since the death of his wife. Fascinated by the possibility of having the star return, Jimmy supports the full financing of Moon's show, hoping not to be disappointed... Trouble begins, as they must find Clay and convince him to return to the show. stages and to participate in the show... only nobody knows his whereabouts, or how to get him back.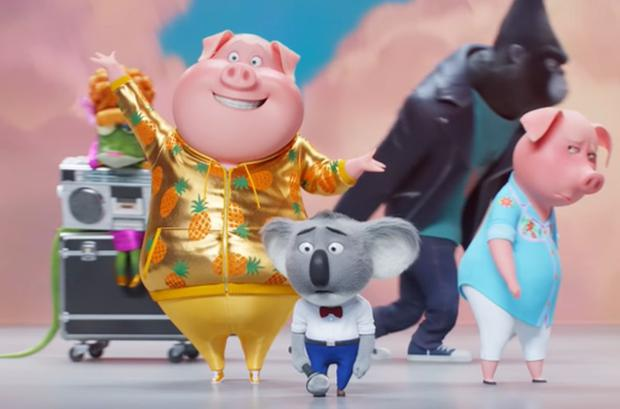 Fuente
La película te atrapa entonces en la forma en la que se va desarrollando los preparativos para un show que aún no cuenta con su estrella principal, mostrándonos las aventuras de cada personajes con maravillosas canciones de fondo. Lo que más me gustó del filme, fue ese espíritu de superación de los personajes, en donde se esfuerzan al máximo por hacer realidad lo que tanto desean, que es cantar en un gran escenario. Ese momento en el que se arriesga todo con la entera convicción de que se va a lograr lo que se quiere, es algo que muy pocos se atreven a hacer, pero que sin duda, es una emoción que debe ser indescriptible.
The film then catches you in the way in which the preparations for a show that still does not have its main star unfold, showing us the adventures of each character with wonderful background songs. What I liked the most about the film was that spirit of overcoming the characters, where they make every effort to make what they want so much come true, which is to sing on a big stage. That moment in which you risk everything with the complete conviction that you are going to achieve what you want, is something that very few dare to do, but without a doubt, it is an emotion that must be indescribable.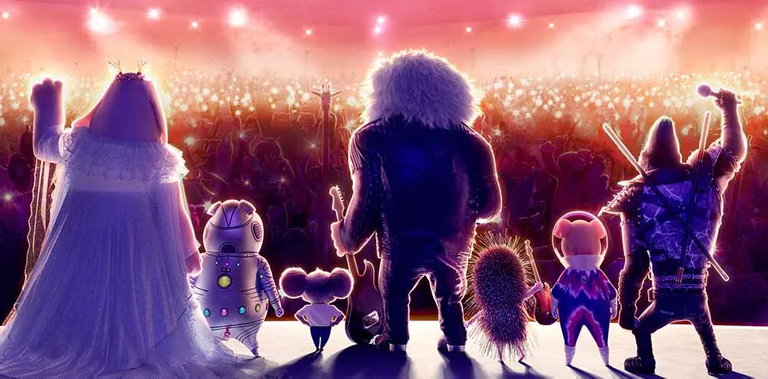 Fuente
Sin duda una película bastante entretenida para amantes de los musicales. Aquí les dejo el trailer, para que se animen a verla:
Undoubtedly a very entertaining movie for lovers of musicals. Here I leave the trailer, so that you are encouraged to see it:
Muchas gracias por haber visitado mi publicación. Espero que les haya parecido interesante.
¡Hasta una próxima oportunidad!
Thank you very much for visiting my publication. I hope you found it interesting.
See you next time!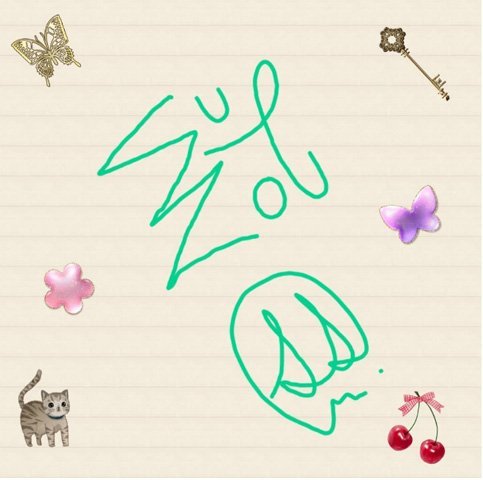 ---
---