Bought a New Card
From my last post I was running shortage of 120 fans to start a new mission.
Since I am playing Rising Star game regularly and accumulated nice amount of Starbits.
I have 2 option either I should buy a pack or buy a card, I thought buying a pack and getting card that will fulfill my requirement will might need element of "luck". I decided not to try my luck by buying pack but instead to go forward to buy a card that can give me nice fan count for my Starbits.
Finally I decided to buy a card to increase my fan count , I was not looking much on skill on card because I can add skill easily by doing the music lessons.
What I noticed that cards on RisingStar on "Vehicle" tab have large number of cards that can give huge boost to your fan count. There are many cards that can easily give the boost of more then 1000 fans with just a single card. But checking upon my Starbits balance and the card that look affordable to me I finally bought the below card.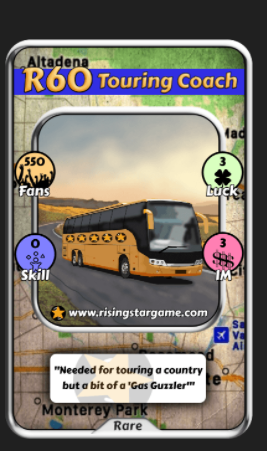 This card provides me 550 fans 0 skills and 1 luck.
I checked the prices of these cards in Market and I found that Touring coach is priced for 29800 Starbits.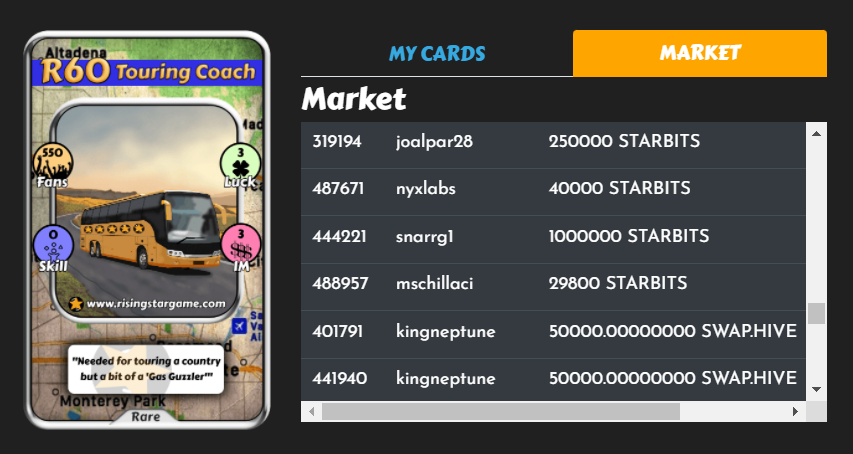 So after buying a new card my total number of fans is 1180. Now I can start a new mission in Local Gig Circuit.

Hope you all enjoyed my post and if you like to play RisingStar game, then you can play the game here.
Posted Using LeoFinance Beta
---
---