➤ Fedora's House / La Casa de Fedora【Parte 1】
Life circumstances will lead this little girl to live in an old family house, where she will discover a dark world that begins to haunt her, opening her eyes to other things
Las circunstancias de la vida conducirán a esta pequeña niña a vivir en una vieja casona familiar, en donde descubrirá un mundo oscuro que comienza a acecharla abriendo sus ojos a otras cosas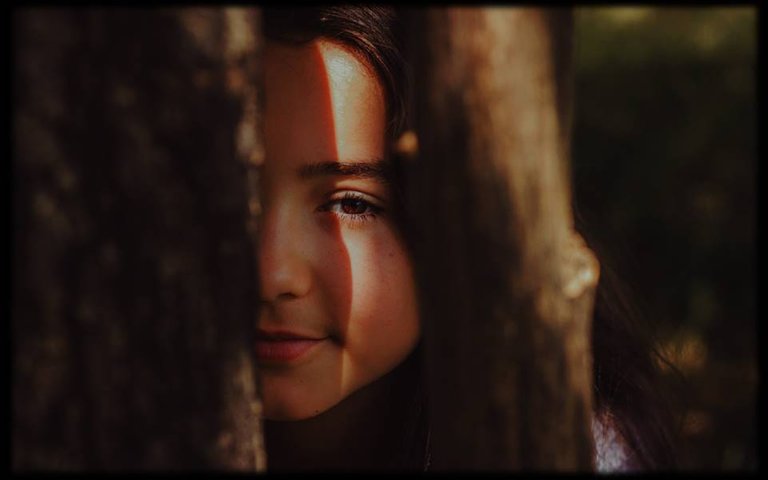 Foto de Aline Viana Prado en Pexels Image with own edition from a free source

ENGLISH
  Circumstances in life can take many turns by simple events of destiny that no one can control, the powerful invisible forces of time and the universe can place us through unexpected events on a path, pushing us towards a specific direction in the development of our humanity, although almost always in appearance at least, these situations are fortuitous matters unrelated, as explained by the theory of everything, every action has an objective in the master plan of the Great Architect, God or Destiny, whatever you decide to call that higher energy.
  Perhaps it was these magical forces that moved the world so that the little girl with black hair, tanned skin, almond-shaped amber eyes, and a cheerful temperament named Fedora, arrived at the house when she was only 11 years old. This old family house that once belonged to her grandmother was very old, so old that no one remembers when it was built, its history, or how it came into the hands of the nanny, but since always have been told as rumors among their descendants, thousands of strange things that happen in that place, which is why it was empty for a long time, without anyone venturing to want to inhabit it. But the complicated economic situation, after the loss of his father's job, forced the couple and their children to move there, to try to overcome the crisis they were going through.
  It was a Friday afternoon when the moving truck brought all the family belongings, the sun tinged the sky with reddish tones in the background and a soft drizzle of cold rain slowly precipitated soaking the whole road, while Dad's car parked in front of the gloomy residence, whose exterior appearance alone was already so gloomy that it could scare anyone, just by directing their gaze to the large windows full of dust, or the wooden columns on the porch adorned by so many cobwebs that they could be mistaken for a forced decoration for Halloween, but in reality, the appearance was natural, a product of the years of neglect to which it had been subjected.
Translated with DeepL free version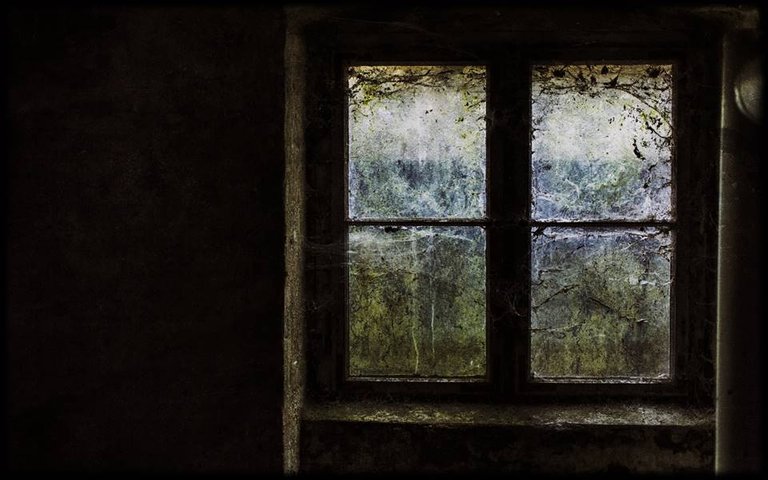 Foto de Denny Müller en Unsplash Image with own edition from a free source
   The unwavering optimistic will of a daring girl was a decisive engine for the darkness of the new house, did not discourage her in the least, little time passed for her to have her room perfectly clean and arranged. However, it was not a good idea to underestimate the evil present for some reason in the walls of this place, who knows, maybe at some point someone was killed there or its construction as such was the result of hundreds of illegal acts that caused much damage to people who with their sorrows cursed it for centuries, maybe it is an open portal to another unknown dimension, but the truth is that the diabolic energy present in the place is so strong that even the most insensitive person can feel it as decadence in the environment.
  Not even a month has passed since they moved into the house, but every one of the members of this group already has many stories to tell of horrifying experiences that haunt them. But undoubtedly the most affected is Fedora, her natural magic of light is like an incandescent beacon for the zoo of astral parasites that are added in herds in every corner, these hungry monsters constantly attack her, trying to devour her divine energy, which is very damaged and contaminated by instants, making her feel very weak and almost always with symptoms of diseases that never materialize in reality.
  It did not take long for the perversions that inhabit the place to show themselves physically. A night that at first seemed calm, turned into a real nightmare when the famous time-out hour approached, 3:00 A.M. Fedora was trying to sleep, when suddenly she saw a gigantic shadow that passed swiftly through the ceiling just above her bed, to then go inside the wall, that caused her a lacerating fear that hurt her mind as she felt alone and unprotected at the mercy of something dark that she could not explain. To calm down, she closed her eyes tightly and tucked herself up to her head, it was then when she felt something scratching the walls inside, it was like a rat, but much bigger, the sound was so terrifying that it seemed more like the claws of a bear that wanted to go through the blocks, the little girl could not stand for a moment the disturbing situation that terrifyingly made her scream and runs to her parents' room, crying for help.
Translated with DeepL free version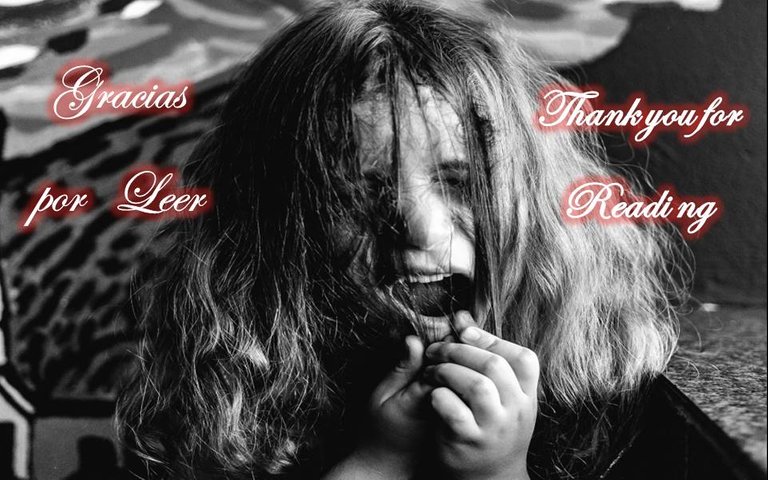 Foto de Lucas Pezeta in Pexels Image with own edition from a free source

Thank you for reading
This story is fictional and does not represent anyone in particular.
This is an Original Story written by @susurrodelmisterio for Hive

ESPAÑOL
  Las circunstancias en la vida, pueden dar muchas vueltas por simples acontecimientos del destino que nadie es capaz de controlar, las poderosas fuerzas invisibles del tiempo y el universo son capaces de colocarnos mediante eventos inesperados en un sendero, empujándonos hacia un rumbo específico en el desarrollo de nuestra humanidad, aunque casi siempre en apariencia al menos, estas situaciones sean asuntos fortuitos sin relación alguna, tal como lo explica la teoría del todo, cada acción tiene un objetivo en el plan maestro del Gran Arquitecto, Dios o Destino, como quiera que decidas llamar a esa energía superior.
  Tal vez estas fuerzas mágicas, fueron las que movieron el mundo para que la pequeña niña de cabellos negros, piel tostada, ojos almendrados color ámbar y temperamento alegre llamada Fedora, llegara a la casona cuando tenía tan solo 11 años de edad. Esta vieja casa familiar que alguna vez perteneció a su abuela, era muy antigua, tanto que nadie recuerda cuando se construyó, su historia o cómo llegó a manos de la nana, pero desde siempre se han contado como rumores entre sus descendientes, miles de cosas extrañas que pasan en ese lugar, razón por lo cual estuvo mucho tiempo vacía, sin que nadie se aventuró a querer habitarla. Pero la situación económica tan complicada tras la pérdida del empleo de su padre, obligó que la pareja y sus hijos debieran mudarse allí, para intentar superar la crisis por la que estaban pasando.
  Fue una tarde de viernes, cuando el camión de mudanzas trajo todas las pertenencias familiares, el sol teñía de tonos rojizos el cielo de fondo y una garúa suave de lluvia fría, se precipitaba lentamente empapando todo el camino, mientras el auto de papá se estacionaba frente a la sombría residencia, cuyo aspecto exterior por sí solo ya era tan lúgubre que podría asustar a cualquiera, con tan solo dirigir su mirada a los grandes ventanales llenos de polvo, o a las columnas de madera en el pórtico adornadas por tantas telarañas que podrían confundirse con una decoración forzada para Halloween, pero en realidad el aspecto era totalmente natural, producto del abandono de años al que fue sometido.

  La voluntad optimista inquebrantable de una niña audaz, fue un motor decisivo para que la oscuridad de la nueva casa, no la amilanó en lo más mínimo, poco tiempo pasó para que ya tuviera perfectamente limpio y arreglado su cuarto. Sin embargo, no fue una buena idea subestimar la maldad presente por algún motivo en las paredes de este sitio, quien sabe, tal vez en algún momento alguien fue asesinado allí o su construcción como tal, fue el resultado de cientos de actos ilícitos que ocasionaron mucho daño, a personas que con sus penas la maldijeron por siglos, a lo mejor puede que es un portal abierto a otra dimensión desconocida, pero lo cierto es que, la energía diabólica presente en el lugar es tan fuerte que hasta la persona más insensible, puede sentirla como una decadencia en el ambiente.
  No ha pasado ni un mes desde que se mudaron a la casona, pero todos y cada uno de los miembros de este grupo, ya tiene muchas historias que contar como vivencias horripilantes que los acechan. Pero sin duda la más afectada es Fedora, su magia natural de luz es como un faro incandescente para el zoológico de parásitos astrales que, se suman en manadas por cada rincón, estos monstruos hambrientos constantemente la atacan, intentando devorar su energía divina, la cual se ve muy dañada contaminándose por instantes, haciéndola sentirse muy débil y casi siempre, con síntomas de enfermedades que no se materializan en la realidad nunca.
  Poco tardaron en mostrarse físicamente las perversidades que habitan en el paraje. Una noche que en principio parecía tranquila, se tornó en una verdadera pesadilla cuando se acercaba la famosa hora del tiempo muerto, las 3:00 A.m. Fedora trataba de dormir, cuando repentinamente vio una sombra gigantesca que pasó velozmente por el techo justo encima de su cama, para luego internarse dentro de la pared, eso le causó un miedo lacerante que lastimó su mente al sentirse sola y desprotegida a merced de algo tenebroso que no podía explicar. Para tranquilizarse cerró los ojos con fuerza y se arropó hasta la cabeza, fue entonces cuando sintió que algo rasguñaba las paredes por dentro, era como una rata, pero mucho más grande, el sonido se escuchaba tan aterrador que parecían más bien las garras de un oso que quisieran atravesar los bloques, la pequeña niña no pudo aguantar ni un instante la perturbadora situación que, la hizo gritar de manera aterradora y salir corriendo al cuarto de sus padres, llorando en busca de ayuda.

Esta historia es ficticia y no representa a nadie en particular.
Dedicada a mi amiga @tarot911
La Investigación, Redacción e Historia es contenido original de calidad creado por @susurrodelmisterio para HIVE
Todos los Derechos Reservados
© Copyright 2022 Susurro del Misterio
Unete a la comunidad de escritores

---
---