➤ HispaUp: Learn how to transfer from LeoFinance.io to join the community PowerUp 【ENG-ESP】

Tutorial guide on how to transfer from Leo Finance, to join the HispaUp initiative and participate in the PowerUp contest.
Guía tutorial sobre como transferir desde Leo Finance, para sumarte a la iniciativa HispaUp y así participar en concurso de un PowerUp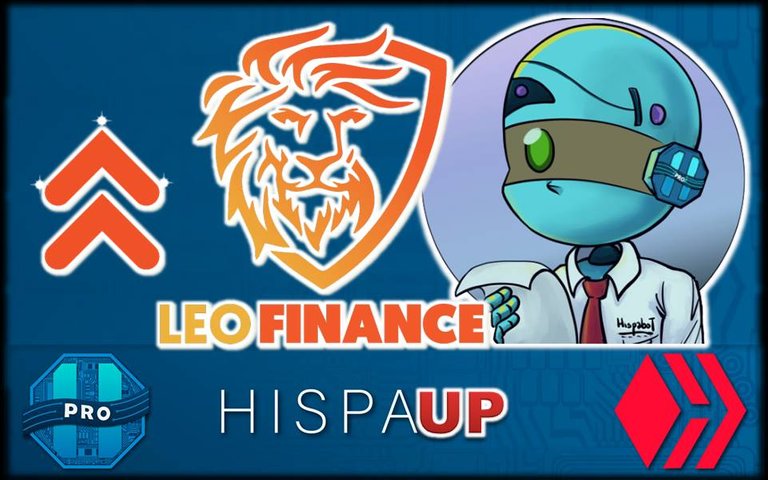 Image with own edition from a source

ENGLISH / ESPAÑOL
   As many know every 1st of the month, there is a project designed by @arcange called @hivebuzz through which various activities within Hive are rewarded with badges, but there is a very special one which is the PowerUp Day #HivePUD medal that invites all content creators who make life in the blockchain, to join the support of our platform by increasing their HP through a simple process called PowerUp, something with which you can win prizes and delegations, that's great and also very fun.
You can check your achieved badges in this link HIVE BUZZ
Hispaup: Aprende como transferir desde LeoFinance.io para sumarte al PowerUp comunitario
Como muchos saben cada 1 de mes, existe un proyecto diseñado por @arcange-es llamado @hivebuzz-es a través del cual se premian diversas actividades dentro de Hive con insignias, pero existe una muy especial que es la medalla PowerUp Day #HivePUD que invita a todos los creadores de contenido que hacen vida en la blockchain, a sumarse al respaldo de nuestra plataforma aumentando su HP a través de un proceso sencillo llamado PowerUp, algo con lo que puedes ganar premios y delegaciones, eso es genial y también muy divertido.
Puedes consultar tus insignias logradas en este enlace HIVE BUZZ
However, we must recognize that many people, especially in the Spanish-speaking part, do not know how to do this procedure, despite the great efforts made by our friend @victoriabsb , whom I heartily congratulate for the work she is doing to add more and more participants to the initiative and especially for the didactic guides she has created.
Especially among the new Hive users there is apathy, maybe even fear to execute these procedures, it may be due to lack of knowledge, lack of information, stage fright, difficult economic conditions or who knows why, but even with the advantages of this process and the diffusion that is given, I believe that the participation has statistical possibilities of being much higher and high goals of integration to PowerUp could be achieved.
This is precisely the spirit that the @hispapro project wants to promote, with the realization of a raffle where everyone can participate, adding just one Hive coin per month, you have the option to win a fairly large accumulated pot, — "the last one reached almost 40 HP" —, which allows you to make a substantial PowerUp while generating community, integrating more people in the activities of the ecosystem and of course, strengthen the platform.
Now, through this easy guide I will try to show some concepts in a friendly way using simple words that anyone can understand, and I hope to motivate you to use the powerful Font End of leofinance.io to execute the transfer, in a process that I will show graphically step by step.
Sin embargo, debemos reconocer que muchas personas, sobre todo en la parte de habla hispana, desconocen como hacer este procedimiento a pesar de los grandes esfuerzos que hace la amiga @victoriabsb, a quien felicito de corazón por el trabajo que realiza para sumar cada vez más participantes a la iniciativa y especialmente por las guías tan didácticas que ha creado.
Sobre todo entre los nuevos usuarios de Hive existe apatía, incluso tal vez por algo de temor a ejecutar estos procedimientos, puede que sea por desconocimiento, falta de información, miedo escénico, condiciones económicas difíciles o quien sabe por qué, pero incluso con las ventajas que supone este proceso y la difusión que se le da, creo que la participación tiene posibilidades estadísticas de ser mucho mayor y se pudieran lograr metas altas de integración al PowerUp
Esto es precisamente el espíritu que el proyecto Hispapro quiere promover, con la realización de una rifa o sorteo donde todos pueden participar, sumando tan solo una moneda Hive al mes, tienes la opción de ganar un pote acumulado bastante grande, — "el último llegó casi a 40 HP" —, lo que te permite hacer un PowerUp sustancioso al mismo tiempo que generas comunidad, te integras a más personas en las actividades del ecosistema y por supuesto, fortaleces la plataforma.
Ahora bien, mediante esta guía fácil intentaré mostrar algunos conceptos de manera amigable usando palabras sencillas que cualquiera pueda comprender, además espero motivarlos a usar el poderoso Font End de leofinance.io para ejecutar la transferencia, en un proceso que mostraré gráficamente paso a paso.
What is a PowerUp?
  It is a procedure that you can understand as putting a fixed amount of money in a bank, traditionally it is promoted to be done on the 1st of each month, originating a whole movement full of hope and joy within the platform, because by increasing your HP you are giving support to Hive and yourself, because your voting power increases and with it also the rewards.
So you can see it this way, the higher the HP, the higher the dividends too, just as if you were somehow charging interest to a commercial bank in the old traditional financial system, but this is the way to do it in the field of cryptocurrencies, this concept is also known by the name of Staking.
If you want to know more details of this process, I leave you the link to the official publications of @victoriabsb-leo click on the link premios and reglas power up day
and of @traciyork
¿Qué es un PowerUp?
Es un procedimiento que puedes entender como poner a plazo fijo una cantidad de dinero en un banco, tradicionalmente se promueve que se haga los días 1 de cada mes, originando todo un movimiento lleno de esperanzas y alegría dentro de la plataforma, ya que al aumentar tu HP le estás dando respaldo a Hive y a ti mismo, porque tu poder de voto aumenta y con él también las recompensas.
Así que puedes verlo de esta manera, a mayor HP, mayores dividendos también, tal como si de alguna forma estuvieras cobrando los intereses a un banco comercial en el viejo sistema financiero tradicional, pero esta es la manera de hacerlo en el ámbito de criptomonedas, a este concepto también se le conoce con el nombre de Staking
Si quieres conocer más detalles de este proceso, te dejo el enlace a las publicaciones oficiales de @victoriabsb
y de @traciyork
What is Leo Finance?
@leofinance is much more than just a community of great people talking about the financial world, just like other Hive communities, it has its own Front End by which they give access to the blockchain, but unlike other portals, this one is really powerful and supports tons of information, as it has its own token projects, such as Leo and even farm systems linked to the Polygon network, mainly represented by PolyCub which has resulted in a highly successful experiment for its investors.
¿Que es Leo Finance?
Leo Finance es mucho más que solo una comunidad de gente grandiosa que habla del mundo financiero, al igual que otras comunidades de Hive, tiene su propio Front End por el cual dan acceso a la cadena de bloques, pero a diferencia de otros portales, este es realmente poderoso y soporta montones de información, ya que tiene sus propios proyectos de token, como el Leo e incluso sistemas de granjas enlazados con la red Polygon, representados principalmente por PolyCub el cual ha resultado en un experimento sumamente exitoso para sus inversionistas.
Because when you trade and publish from this portal, you generate Leo tokens, which you can also Staking and leverage internal HP within the Leo ecosystem.
Moreover, I am sure that initiatives such as HispaUp could be interesting to be studied by @khaleelkazi and its ambassadors as @onealfa.leo , @finguru , with whom I have had more dealings for the contests he does where I had the pleasure to participate in several of them.
The HispaUp can give inclusion and promotion within the Hispanic community to Leo Finance and vice versa, as there are many, many creators of quality content that only speak Spanish and probably want to be part of the pack, but language barriers have surely prevented them, it would be interesting also that he HispaUp is also possible to do with the Leo Token and the power of internal HP within the community.
I think that the Hispapro project to which I belong can be that gateway to the Hispanic world that Leo Finance needs working hand in hand.
The live healing programs that take place on the @hispapro Discord server, bring together hundreds of users every week in a single space, which generates an ideal scenario for advertising and promoting the activities where Leo Finance wants Spanish speaking people to participate, expanding the horizons of the community and opening the doors to the inhabitants of this side of the world.
Por qué transferir desde @leofinance ?
Porque al realizar operaciones y publicar desde este portal, generas token Leo, los cuales también puedes hacer Staking y potenciar el HP interno dentro del ecosistema de Leo
Es más, estoy seguro de que iniciativas como el HispaUp podrían ser interesantes para ser estudiadas por Leoalfa y sus embajadores como finguru, con el cual he tenido más trato por los concursos que hace en donde tuve el gusto de participar en varios de ellos.
El HispaUp puede darle inclusión y promoción dentro de la comunidad hispana a Leo Finance y viceversa, ya que hay muchísimos creadores de contenido de calidad que solo hablan español y es probable que quieran formar parte de la manada, pero las barreras del idioma seguramente se lo han impedido, sería interesante además que él HispaUp es posible hacer también con el Token Leo y el poder del HP interno dentro de la comunidad.
Pienso que el proyecto Hispapro al cual pertenezco puede ser esa puerta de entrada al mundo hispano que necesita Leo Finance trabajando de la mano.
Los programas de curaciones en vivo que se realizan en el servidor de Discord de Hispapro, aglutinan en un solo espacio a cientos de usuarios cada semana, lo que genera un escenario ideal para hacer publicidad y promoción de las actividades donde Leo Finance quiera que participen las personas que hablamos español, expandiendo los horizontes de la comunidad y abriendo las puertas a las habitantes de este lado del mundo.
What is HispaUp?
It is a community accumulation promoted and supported by the Hispapro project, which brings together members of the Hispanic Community or anyone who wants to join. Every month it creates a fund where all the contributions made by the participants are added.
Each person makes a contribution of one hive token to the fund, which automatically grants him/her a place in the random raffle that HispaBot front @hispaplus will carry out in a transparent and automated manner. The winner will receive a Power Up for the total accumulated pot on the 1st of each month.
Official Publication and Publication of the winner
¿Qué es HispaUp?
Es un acumulado comunitario promovido y respaldado por el proyecto Hispapro, que agrupa a miembros de la comunidad hispana o a quien quiera sumarse. Todos los meses crea un fondo donde se suman todos los aportes que efectúan los participantes.
Cada persona hace un aporte de un token hive al fondo, lo cual le otorga automáticamente un cupo en la rifa aleatoria que hará de manera transparente y automatizada el HispaBot de @hispaplus , el ganador recibirá un Power Up por el total del bote acumulado para el día 1 de cada mes.
Publicacion de presentación y Publication de ganadores
How do I do the procedure for HispaUp?
First of all you must open your hive user on LeoFinance.io for this you can use @keychain as you normally do to login to @peakd or @ecency .
Once your user is open, click on the right side where the arrow next to your profile picture is.
There you will see a menu similar to the one you probably already saw in hive.
Select wallet
¿Cómo hago el procedimiento para el HispaUp?
Primero que nada debes abrir tu usuario de hive en leofinance.io para ello puedes usar @keychain como haces normalmente para entrar a @peakd o @ecency
Una vez abierto tu usuario, haz click en el lado derecho donde está la flecha junto a tu foto de perfil.
Allí se desplegará un menú igual al que seguramente ya viste anteriormente en hive.
Selecciona wallet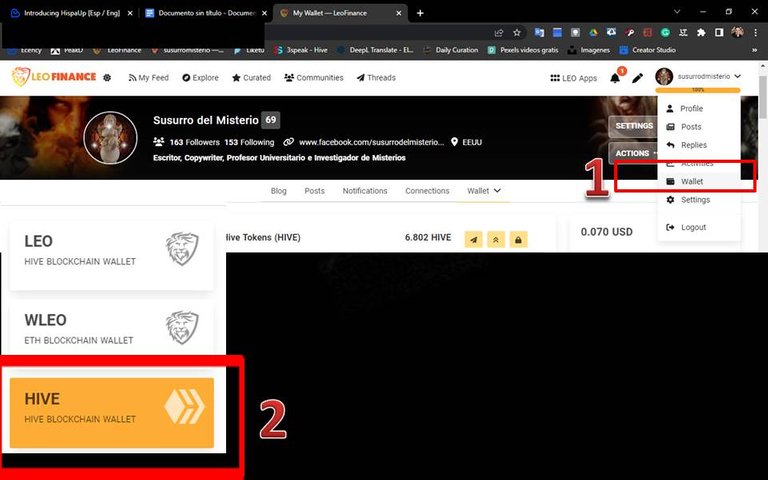 This image is real and original, it is a screenshot from my computer
The page initially loads your default Leo wallet, but for this transfer you must use the hive token wallet, so go to the menu on the left side and select this option.
Once in the correct wallet as long as you have hive tokens available you can request to make the transfer.
La página carga inicialmente tu wallet Leo por defecto, pero para esta transferencia debes usar la wallet de hive token, así que ve al menú en la parte izquierda y selecciona esta opción.
Una vez en la wallet correcta siempre y cuando tengas disponible tokens hive puedes solicitar hacer la transferencia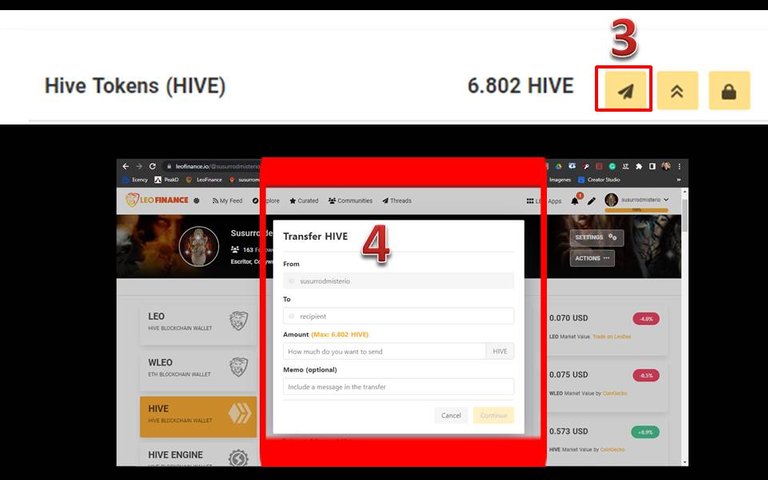 This image is real and original, it is a screenshot from my computer
A menu will open where you should enter the sending instructions
Recipient: hispaplus
Amount: 1
Memo: hispaup
Then you just have to click continue, please remember to check that everything is correct before confirming.
Se abrirá un menú donde debes colocar las instrucciones de envío
Destinatario: hispaplus
Cantidad: 1
Memo: hispaup
Luego solo tienes que darle continuar, por favor recuerda verificar que todo esté correcto antes de confirmar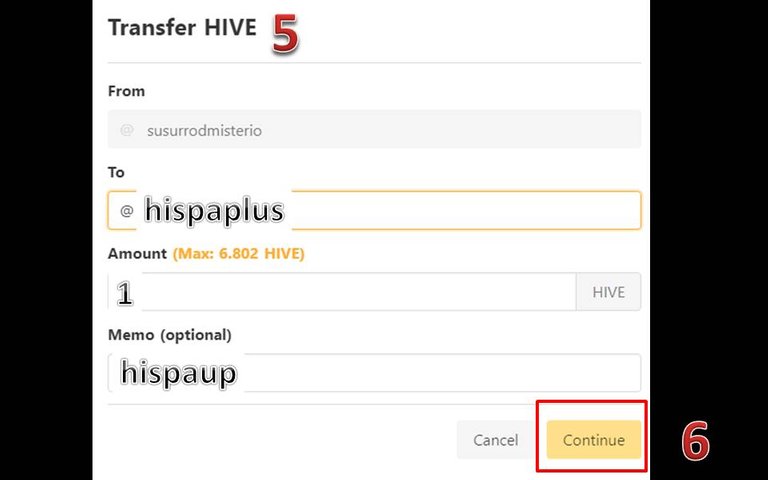 This image is real and original, it is a screenshot from my computer
@keychain will open and ask you to confirm the transaction by authorizing with your password.
Once accepted, the transfer will be made and you will get a message saying that everything is ready.
keychain se abrirá y te pedirá confirmar la transacción autorizando con tu clave
Una vez aceptada, se hará la transferencia y te dará un mensaje diciendo que todo está listo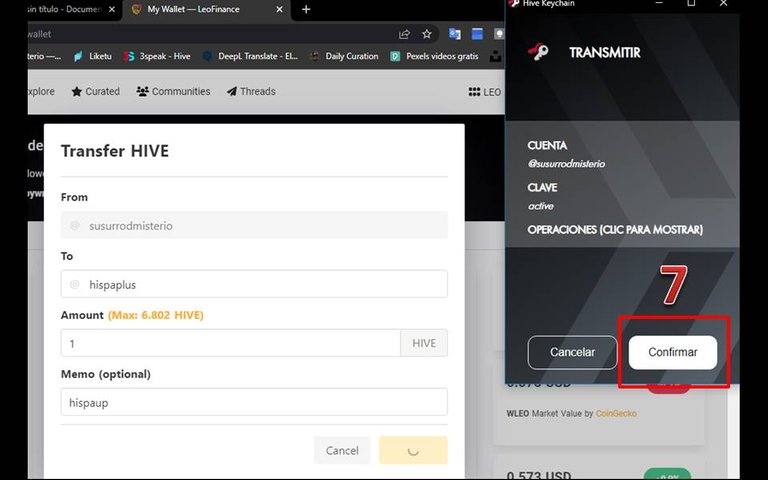 This image is real and original, it is a screenshot from my computer
En pocos segundos aparecerá en tu billetera el registro de la transacción y listo ya estás participando en el HispaUp así que bienvenido y mucha suerte en el próximo sorteo.
In a few seconds will appear in your wallet the record of the transaction and ready you are participating in the HispaUp so welcome and good luck in the next draw.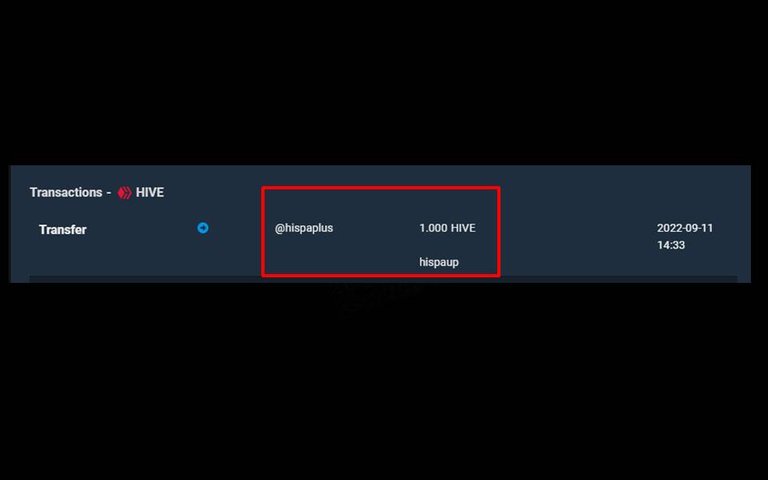 This image is real and original, it is a screenshot from my computer
I hope you find this guide to use the transfers through Leo Finance helpful, but remember with this I do not intend to give you any financial advice, nor encourage you to make investments, that is your sole responsibility. See you soon
Espero que te sea de ayuda esta guía para usar las transferencias a través de Leo Finance, pero recuerda con esto no pretendo darte ningún tipo de consejos financieros, ni incentivarte a realizar inversiones, eso es algo de tu exclusiva responsabilidad. Hasta pronto

Thank you for reading
This is an Original Content written by @susurrodelmisterio for Hive

La Investigación, Redacción e Historia es contenido original de calidad creado por @susurrodelmisterio para HIVE
Todos los Derechos Reservados
© Copyright 2022 Susurro del Misterio

Posted Using LeoFinance Beta
---
---