Segundo día hacer hallacas - Second day of making hallacas ES // EN
Saludos a todos mis queridos #hive, espero que estén teniendo un fin de semana lleno de éxitos y bendiciones; hoy les contaré el mío bastante activo en el que seguimos con nuestro emprendimiento de hacer las hallacas para la venta. Gracias a Dios hemos tenido buena recepción y se han vendido las primeras. A continuación les cuento a detalle cómo fue este día lleno de trabajo.
Greetings to all my dear #hive, I hope you are having a weekend full of successes and blessings; today I will tell you about my very active one in which we continue with our venture of making hallacas for sale. Thank God we have had a good reception and the first ones have been sold. Below I will tell you in detail how this day full of work went.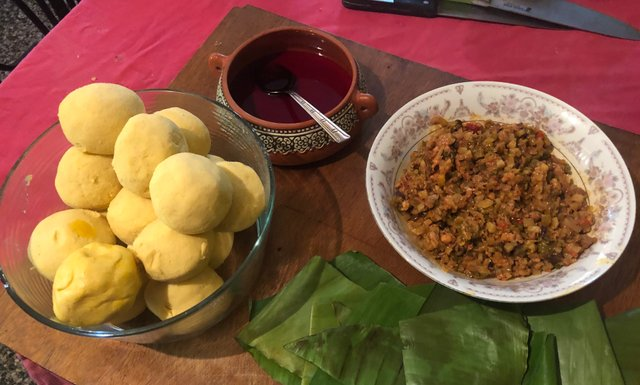 Los primeros encargados. Foto de mi propiedad.
The first commissioners. Photo of my property.
Este día me levanté temprano para ayudar a mi mamá. Desayuné una deliciosa arepita, con un poco de pan y verduras, y a las 8:30, descansé un rato y atendí a mi hermano, que se acababa de levantar, así que le serví el desayuno y lo acompañé a comer.
This day I got up early to help my mum. I had a delicious arepita for breakfast, with some bread and vegetables, and at 8:30, I rested for a while and took care of my brother, who had just got up, so I served him his breakfast and accompanied him to eat.
En ese momento, mi mamá nos llamó para venirnos a buscar e ir a ayudarla con las hallacas en la casa de mi abuela. Para quitarme el sueño, tomé una ducha y me arreglé; al estar lista, inmediatamente llegó y en cuestión de un minuto estábamos en la casa de abuela.
At that moment, my mother called us to come and pick us up to help her with the hallacas at my grandmother's house. To get rid of sleep, I took a shower and got ready; when I was ready, she arrived immediately and in a matter of a minute we were at my grandmother's house.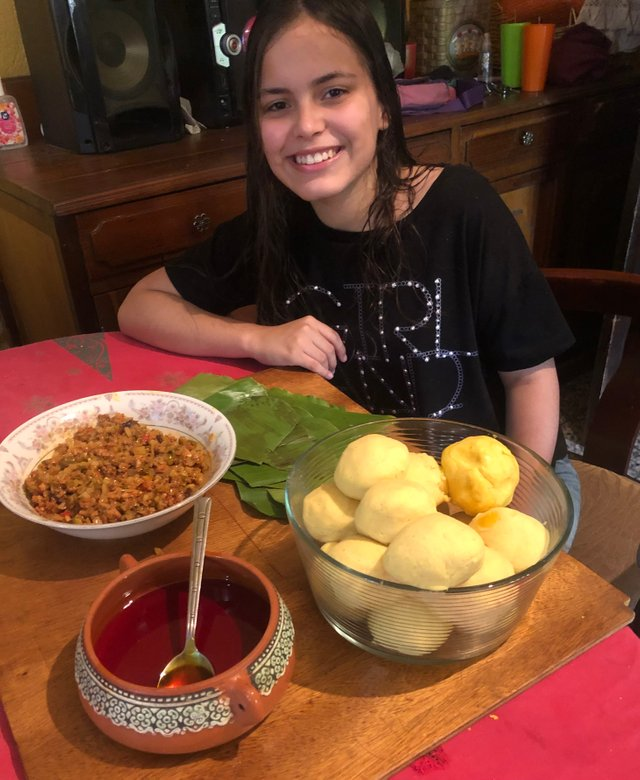 El área de trabajo. Foto de mi propiedad.
The work area. Photo of my property.
Una vez en la casa de abuela, el trabajo estaba a toda máquina; en la mesa estaba desplegada una tabla con el guiso, las hojas de plátano y las bolitas de masa de maíz que próximamente se convertirían en hallacas. Ayudé a mamá a armar algunas hallacas, ya que estábamos bastante apurados de entregar dos pedidos: uno de 10 hallacas y otro de cinco. Estos fueron los primeros encargos, cosa que nos animó a trabajar con más ganas y ánimo.
Once at grandma's house, work was in full swing; on the table was spread out a board with the stew, the banana leaves and the little balls of corn dough that would soon become hallacas. I helped mum to assemble some hallacas, as we were in a hurry to deliver two orders: one for 10 hallacas and the other for five. These were the first orders, which encouraged us to work harder and with more enthusiasm.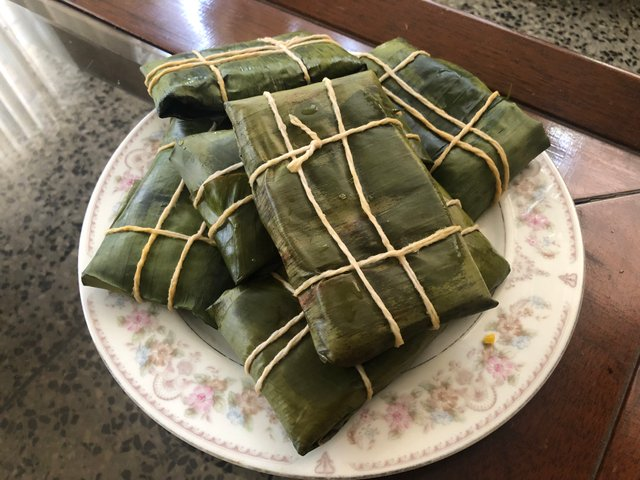 Los primeros encargados. Foto de mi propiedad.
The first commissioners. Photo of my property.
A continuación comparto con ustedes una bonita galería de fotos del proceso de armar las hallacas.
Below I share with you a nice photo gallery of the process of making the hallacas.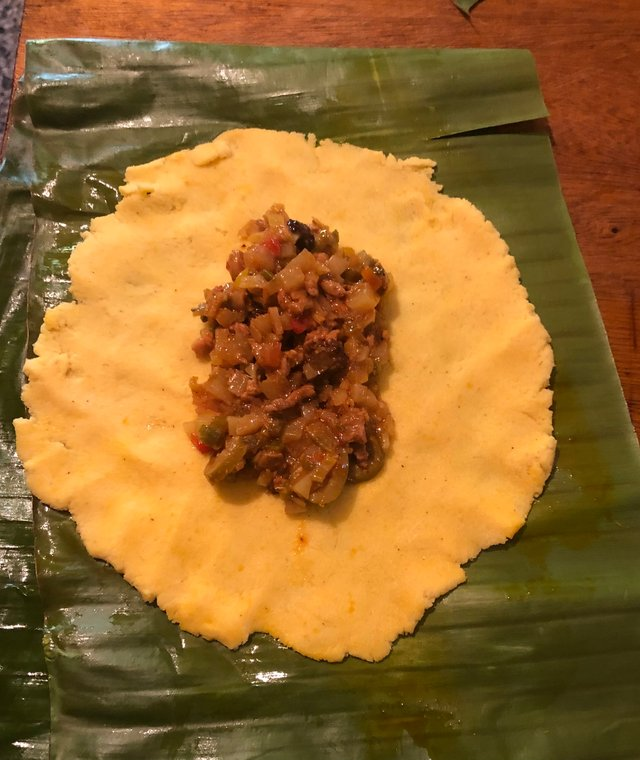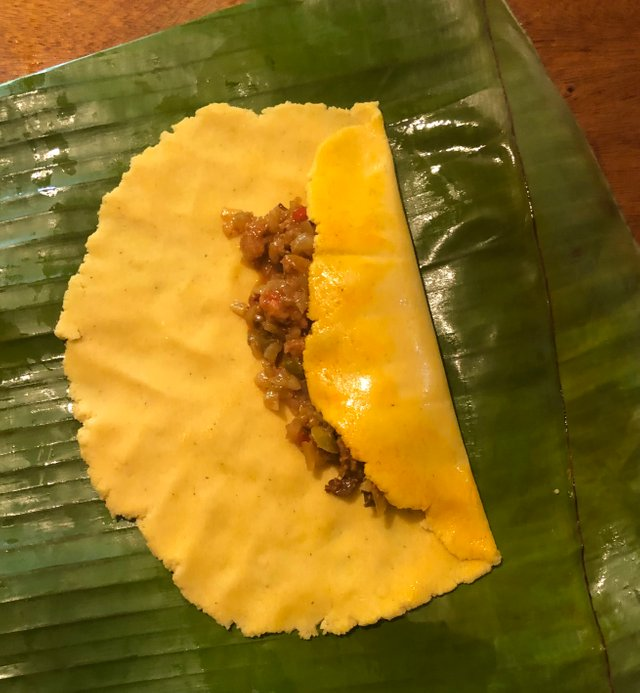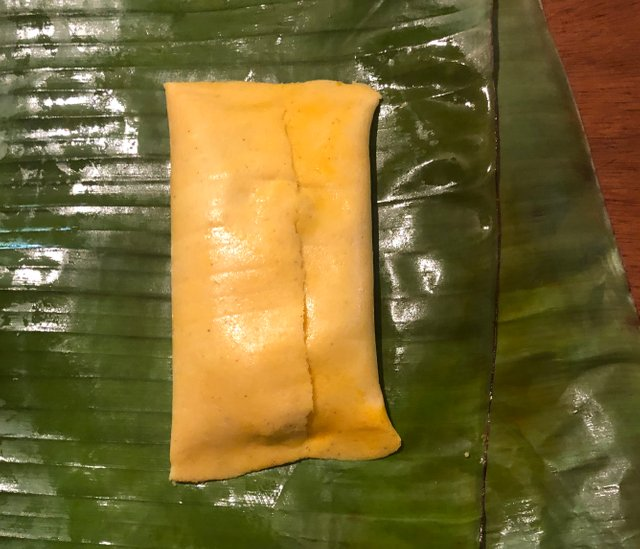 Fotografías de mi propiedad.
Photographs of my property.
Y les comparto fotos de nuestra primera venta, un encargo de 10 hallacas.
And I share with you photos of our first sale, an order of 10 hallacas.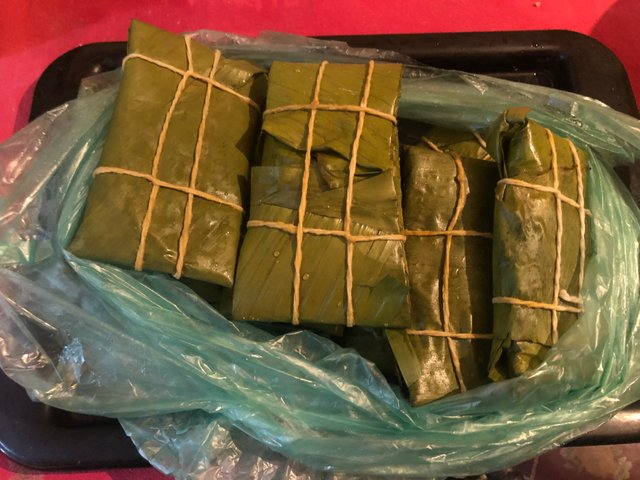 Primera venta. Foto de mi propiedad.
First sale. Photo of my property.
Cuando mi mamá puso las manos en la masa, yo, por otro lado, empecé a trabajar
When my mum got her hands on the dough, I, on the other hand, started to work.
Eran las 5 de la tarde y el almuerzo no estaba listo. Les cuento: sufro de una alergia muy rara y el maíz me hace daño estomacal, por lo que por orden natural yo no podría comer hallacas; sin embargo, mi abuela tuvo la idea salvadora de preparar hallacas con harina de arroz, la cual no me da alergia y puedo comer libremente. Mi abuela, que siempre me consiente, dijo que nadie podía comer hallacas de maíz hasta que mis hallacas de arroz estuvieran listas, porque les daba mucha lástima, ya que a mí me fascinan las hallacas. Cuando mis hallacas especiales estuvieron listas, todos nos sentamos a comer las primeras hallacas del año.
It was 5 o'clock in the afternoon and lunch was not ready. Let me tell you: I suffer from a very rare allergy and corn makes me sick to my stomach, so by natural order I could not eat hallacas; however, my grandmother had the saving idea of preparing hallacas with rice flour, which does not make me allergic and I can eat freely. My grandmother, who always spoils me, said that no one could eat corn hallacas until my rice hallacas were ready, because they felt very sorry for me, as I love hallacas. When my special hallacas were ready, we all sat down to eat the first hallacas of the year.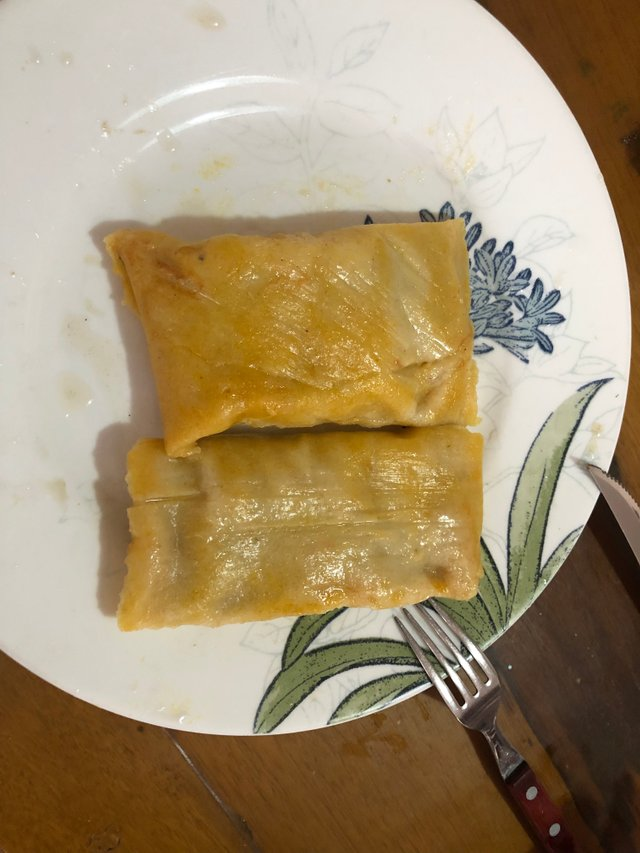 Hallacas de arroz. Foto de mi propiedad.
Rice Hallacas. Photo of my property.
No fue sorpresa decir que estaban deliciosas, y mi abuela incluso dijo «son las mejores hallacas que he hecho». ¡Palabras mayores!
It was no surprise to say that they were delicious, and my grandmother even said "they are the best hallacas I have ever made". Big words!
El día de hacer hallacas terminó a las 7 de la noche. A esa hora, mi mamá y yo volvimos a casa, donde nos dedicamos a descansar luego de muchísima actividad. Yo, por mi parte, trabajé en hive leyendo y comentando sus posts más recientes
The day of making hallacas ended at 7pm. At that time, my mum and I returned home, where we rested after a lot of activity. I, for my part, worked on hive reading and commenting on your most recent posts.
Muchas gracias por leer. Conóceme más en mi logro me encanta escribir para ustedes.
Thank you very much for reading. Get to know me more on my achievement I love writing for you.
---
---