Reporte de Curación de SWC | Julio 2023 | [ESP - ENG]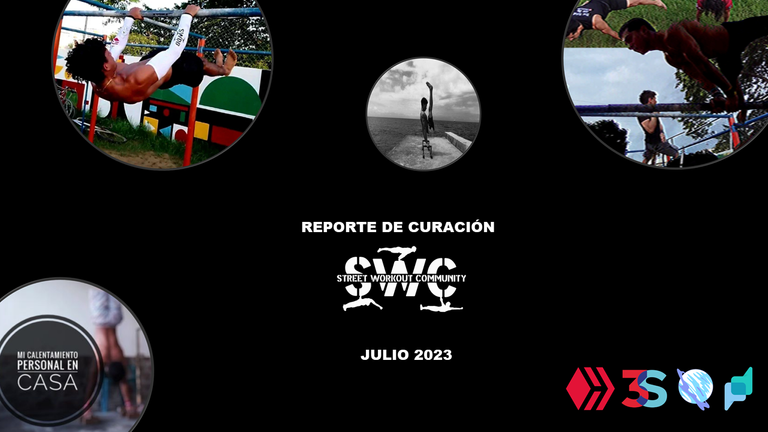 ---
| Reporte de Curación y Actividades | Curation and Activities Report |
| --- | --- |
| Julio 2023 | July 2023 |
Street Workout Community
es la primera comunidad que integra a jóvenes atletas de una disciplina deportiva con la Blockchain Hive.
SWC
después de más de un año de actividades ininterrumpidas en el entorno digital y en el plano presencial, sigue realizando una extraordinaria labor junto a los jóvenes en sus diversos espacios.
Street Workout Community
is the first community that integrates young athletes of a sports discipline with Hive Blockchain.
SWC
more than a year of uninterrupted activities in the digital environment and in person, it continues to do extraordinary work with young people in its various spaces.
---
SWC ha crecido sostenidamente durante su primer año de existencia. La cantidad de nuevos atletas se ha incrementado a medida que se llevan a cabo los eventos y se realizan diversas campañas de captación de atletas por parte de la comunidad. Cabe destacar que en este período seguimos valorando contenido original y de calidad. Hoy podemos decir que SWC está promoviendo el uso de las diferentes aplicaciones que existen dentro de la Blockchain Hive.
SWC has grown steadily during its first year of existence. The number of new athletes has increased as events take place and various athlete recruitment campaigns are carried out by the community. It should be noted that in this period we continue to value original and quality content. Today we can say that SWC is promoting the use of the different applications that exist within Hive Blockchain.
---
Este Reporte de Curación compila la actividad desarrollada en nuestra Comunidad desde el 03/07/2023 hasta el 09/07/2023, arrojando como resultado la cantidad de 53 publicaciones. Cada semana se incrementa la cantidad de usuarios que se unen a Hive por medio de
SWC.
This Curation Report compiles the activity developed in our Community from 03/07/2023 to 09/07/2023, resulting in 53 publications. Every week the number of users joining Hive through the
SWC
increases.
---
Publicaciones de la semana 3 del mes de Julio (03/07/2023 hasta el 09/07/2023)
Posts for week 3 of July (03/07/2023 to 09/07/2023)


Nº

Usuario

Publicación

Imagen

Nº

User

Publication

Image

1

@johnlinares

Fortalece Tus Tendones Conmigo




2

@alvis-sw

Fotografías de estático increíble




3

@dilanbrad

Fotografias calistenicas 📸 - Calisthenics photographs




4

@jisus-swyc

Domingo De Estilo Libre




5

@yisus-sw

Eres Tu Propia Competencia #SWC - You Are Your Own Competition #SWC




6

@jesusbermudez

Variaciones de flexiones para tus entrenamientos 💪🏼




7

@isaaccrsw

2DO MES de DESCANSO ACTIVO - ¡SUBIDA DE NIVEL!




8

@jose-sw31

Lunes pesado : Plancha, front lever y Hefesto




9

@arreaza-sw

Rutina de plancha para principiantes 💪😎




10

@josef-999

Progreso Semanal




11

@alexdro-sw

Rutina básica con Robert y Manuel




12

@cristofercj-sw

Competencia de fondos




13

@alvis-sw

Empezando la semana con ejercicio de estiramientos




14

@joanfh-workout

Entrena con lo que tengas a tu disposición




15

@david-mora

Entrenando Front Lever Pull Up




16

@dilanbrad

Entrenamiento despues de la lluvia -Training after rain




17

@manuelcancine

Domingo de entrenamiento




18

@jose-sw31

Compartiendo con mis compañeros




19

@isaaccrsw

PECTORALES y TRÍCEPS - Nivel INTERMEDIO - Fuerza y Resistencia




20

@arreaza-sw

Rutina de front lever para principiantes 💪😎 🌙




21

@kelvinh-sew

4 ACCIONES QUE AUMENTARÁN TU RENDIMIENTO (Antes de Entrenar)




22

@stypaternina

Entrenamiento de Fuerza y Resistencia




23

@josef-999

Martes de Frontlever




24

@angelrvzl

Mi rutina de Front Lever




25

@jisus-swyc

Mejorando Los Estáticos




26

@bertnez

RUTINA FULL BODY CON DOS AMIGOS /a>




27

@stypaternina

Método Piramidal en Pull Ups




28

@arreaza-sw

Rutina de front para principiantes 💪😎




29

@jisus-swyc

Mi Rutina Actual De Front Lever




30

@isaaccrsw

Probando REPETICION MAXIMA - Método PIRAMIDAL - Reto de PIERNAS




31

@cesarg17

Highlights de las SWDB 2° Edición.🌪️




32

@stypaternina

Entrenamiento Completo de Tren Inferior




33

@manuelcancine

Entrenando en solo paralelas




34

@magic-crespo

Entrenamiento en el Parque




35

@dilanbrad

Trabajo duro motivación calistenia-Hard work motivation calisthenics




36

@jsanuelswc

mejora y entrena tu front level con estos ejercicios




37

@jisus-swyc

Agregando Algunos Ejercicios A Mi Rutina De Plancha




38

@alvis-sw

Excelentes fotografías de dinámico y estáticos del S.W




39

@yisus-sw

Rutina de Empuje Intermedia #SWC - Intermediate Push Routine #SWC




40

@arreaza-sw

Rutina de básicos para el tren superior 💪




41

@jose-sw31

Rutina de espalda (nivel intermedio)




42

@joscar-sw

Entrenamiento para el fortalecimiento de las escapulas




43

@cesarg17

¡Set de Ejercicios explosivos!💣




44

@stypaternina

Entrena Hombros con Calistenia




45

@isaaccrsw

EMOM - Pull Ups, Dips and Lean Planche Push Ups - 6min Intensisty




46

@kelvinh-sew

¡CALENTAMIENTO IDEAL PARA ANTES DE ENTRENAR!




47

@isaac-mir

Practica estos 3 pasos para Girar el 540°




48

@manuelcancine

Captó algunas mortales




49

@jose-sw31

Tus bíceps explotarán con esta rutina




50

@nestorrdz-30

Participacion del jurado duals Battles 2 edicion 🦾🦾




51

@jisus-swyc

Fotos Favoritas De Mi Galería




52

@rousbertsw99

Circuito de Empuje Explosivo ¡Da lo mejor de ti!




53

@alvis-sw

Algunas fotografía de mis estáticos




---

Usuarios que publicaron la semana del 03/07/2023 al 09/07/2023

Users who posted the week of 03/07/2023 to 09/07/2023

---

---

| Padrinos de la Comunidad | Community Sponsor |
| --- | --- |

---

| Comunidad Aliada | Allied Community |
| --- | --- |

---

| Equipo de la Comunidad SWC | SWC Community Team |
| --- | --- |

---

| Líder y Fundador de la Comunidad | Community Leader and Founder |
| --- | --- |

---

| Moderador / Contenido | Moderator / Content |
| --- | --- |

---

| Moderadora / Curación de Contenido | Moderator / Content Curation |
| --- | --- |

---

Redes Sociales

Social Networking
---
---